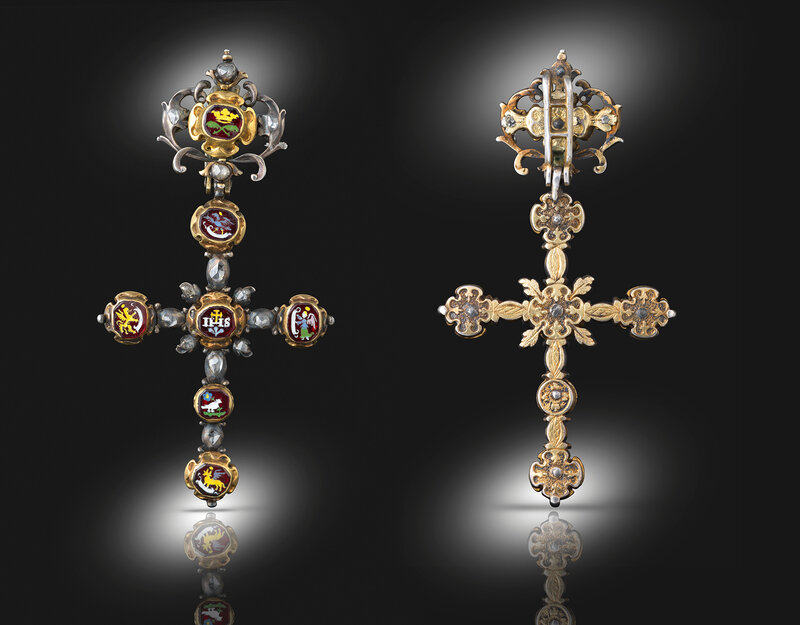 SANDRA CRONAN LTD. 17th century cruciform pendant. Courtesy Sandra Conan Ltd.
A 17th century pendant in the form of a cross. Carved gold on the reverse, silver on the front, set with petal shaped rose cut diamonds. Each point of the cross is set with a garnet engraved with a different devotional scene, and enamelled. From below upwards and across the settings represent: 1. The winged bull of St. Luke with scroll ( signifying writing) 2. The dove of the Holy Spirit or as there is a flowering wand it could be the symbol of St. Joseph 3. At the intersection IHS ( monogram of the Holy Name ) with three nails, badge of the Jesuits 4. The angel with scroll for St. Matthew 5. The winged lion with scroll of St. Mark 6. The eagle with scroll for St. John 7. The twin palms crowned for the victory of Christ the King.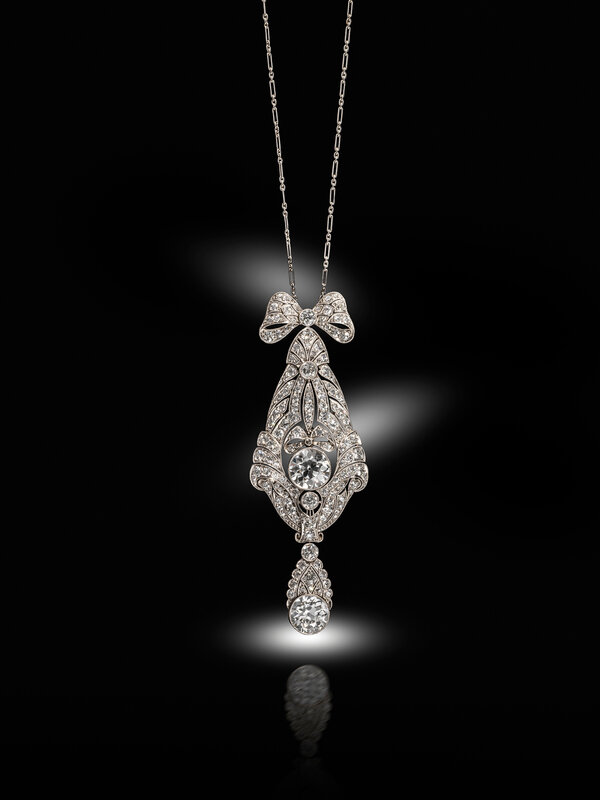 SANDRA CRONAN LTD. Belle Epoque diamond pendant, American, circa 1905. Courtesy Sandra Conan Ltd.
A Belle Epoque pendant of elongated design; pavé diamond set throughout. A bow suspends the decoratively pierced platinum drop which is fully articulated and centres on a substantial old cut diamond, and a further large old cut at the bottom. Millegraine edged platinum setting, American, circa 1905.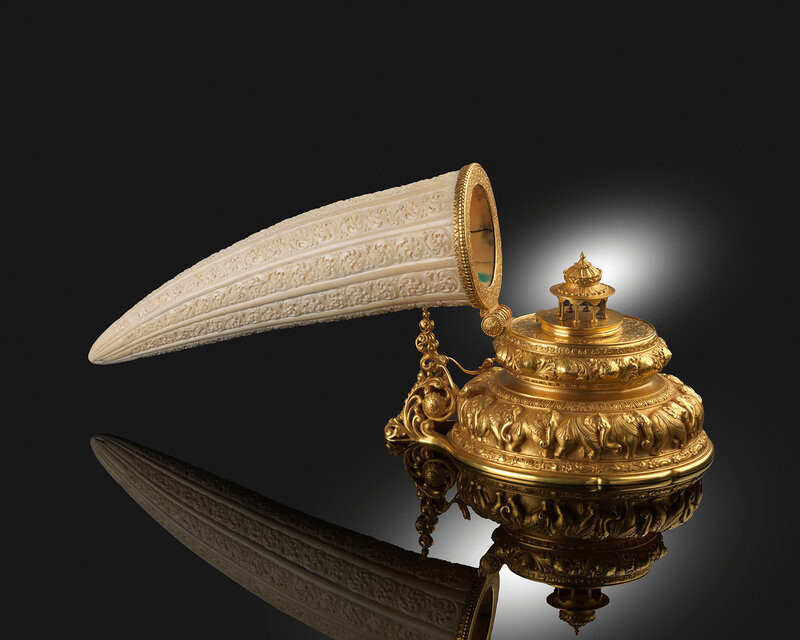 East Indian Ink Well, by Paulding Farnham for Tiffany & Co. Courtesy Sandra Conan Ltd.
An exquisite Inkwell, fashioned from an intricately carved ivory tusk on a decorative solid gold base featuring marching elephants, designed by Paulding Farnham. Labelled by Tiffany as The East Indian Ink Well, composed of repoussé gold and carved ivory. This piece has an extraordinary provenance; it was manufactured to exhibit at the 1904 St. Louis Purchase Exhibition, or 'World's Fair' as a demonstration of the skill and artistry of Paulding Farnham and Tiffany & Co. Furthermore, the inkwell was photographed and featured in the October 1904 edition of Town & Country magazine, as a highlight of the Exhibition.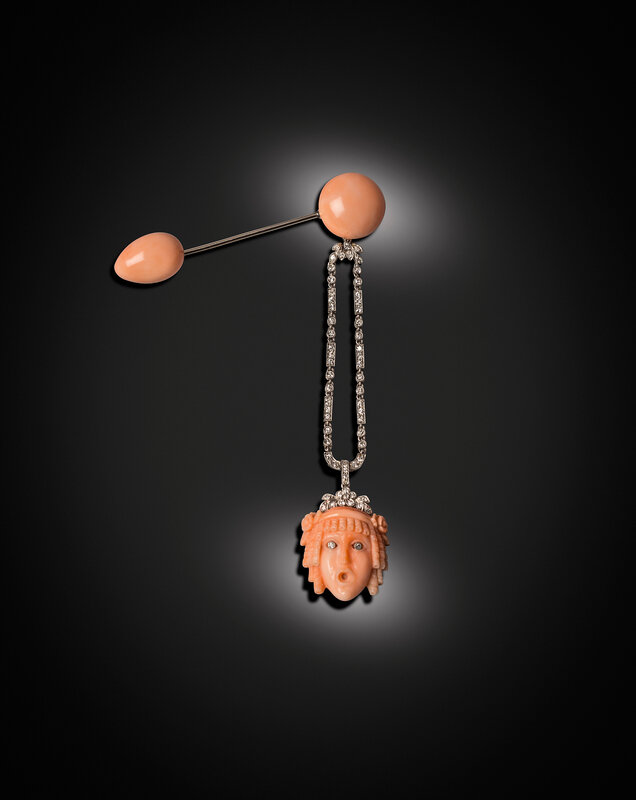 An asymmetrical jabot pin with a carved angel skin coral Greek mask drop, and platinum set diamonds. Cartier New York, signed and numbered, circa 1910. Courtesy Sandra Conan Ltd.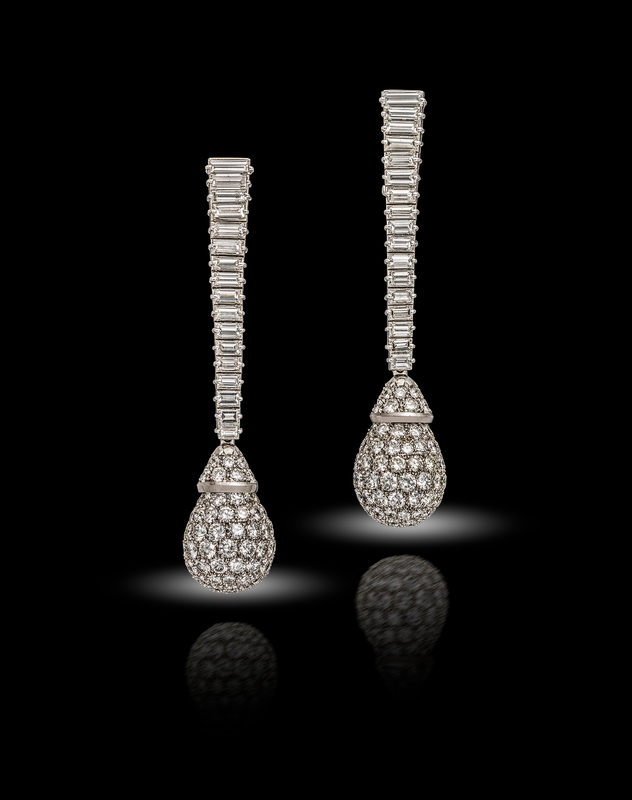 A pair of diamond drop earrings with long articulated graduating baguette cut diamond tops leading to detachable pavé set diamond ball drops, mounted in platinum. American, circa 1960.
Stand B34 at Masterpiece London 2018 (28 June - 04 July 2018).