Sir Stanley Spencer, The Crucifixion, oil on canvas, 36 x 30 in. (91.5 x 76.2 cm), Painted in 1934. Sold for 2,001,250 GBP at Christie's London, 26 May 2011, lot 50. © Christie's Images Limited 2018
LONDON.- As part of the June Season at Christie's, Sacred Noise, a major exhibition that explores religion, faith and divinity through artists including Francis Bacon, Maurizio Cattelan, Lucio Fontana, Damien Hirst, Pablo Picasso, Gerhard Richter, Sir Stanley Spencer, and Francisco de Zurbarán, is now on view in the King Street Galleries until 21 July 2018. These themes have pervaded art throughout the centuries, and across the world. The means of expression are many and varied, and – in today's multi-cultural society – are more relevant than ever. Referencing key figures in Western art history, with Francisco de Zurbarán's dramatically-lit paintings as a springboard, Sacred Noise charts the reinvigoration and subversion of these themes in the twentieth century. From Francis Bacon's anthropomorphic Popes writhing in existential anguish, to Damien Hirst's formaldehyde disciples and Lucio Fontana's image of birth and regeneration in his celestial Concetto spaziale, La fine di Dio, the exhibition will explore how the European legacy of religious painting was reborn and redefined in the urban landscape of post-war and contemporary art.
Zurbarán's compositions – often minimal and formed of muted colour schemes – betray the influence of Caravaggio through a heightened sense of mysticism and intensity. By using strong contrasts of light and shade, his compositions were transformed into dramatic tableaux vivants, giving the faithful a sense of direct access to the scenes depicted. Titian's earlier Ecce Homo variations had been similarly emotive, depicting Christ alone and at close range in a manner that blurred the boundaries between the human and the divine. Lucas Cranach the Elder's Law and Grace, meanwhile, employed vivid colours, sweeping panoramic vistas and expressive figures in its illustration of doctrine. Such careful dramatization was soon modified and sanctioned by the church for its ability to shock the senses and stir the soul.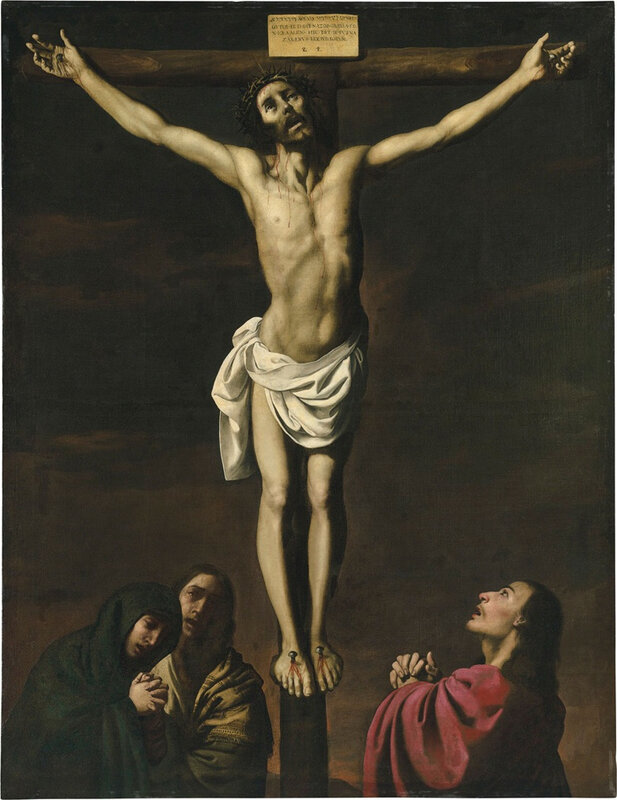 Francisco de Zurbarán (1598– 1664), Christ on the Cross, with the Virgin and Saints Mary Magdalene and John the Evangelist. Oil on canvas. 83½ x 64¼ in (212 x 163 cm). Private Collection.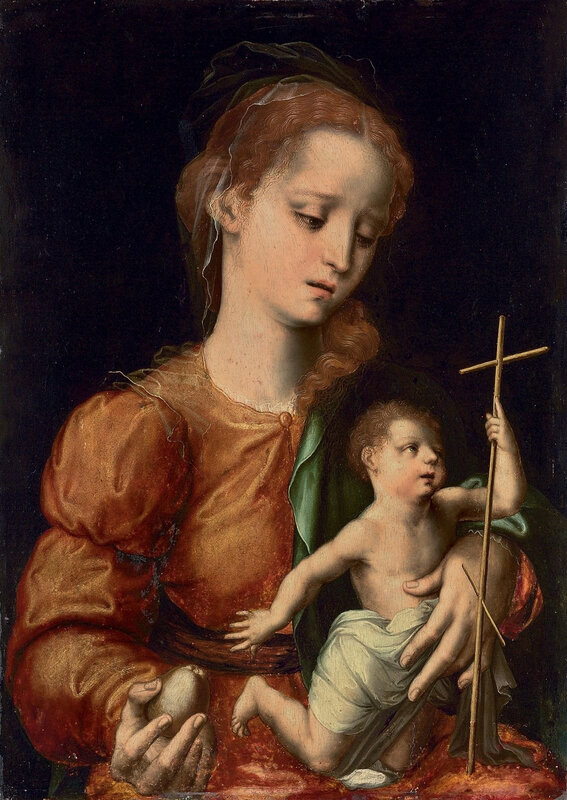 Luis de Morales (?Badajoz 1520-1586), The Virgin and Child, oil on panel, 19 x 13 5/8 in. (48.3 x 34.5 cm.). Sold for 265,250 GBP at Christie's London, 6 July 2010, lot 4. © Christie's Images Ltd 2010
Nearly 400 years later, Bacon, too, set out to explore the notion of staged sanctity. Pursued over nearly two decades, and numbering more than 50 canvases, his Papal portraits are widely regarded as his finest achievements, and stand today among the foremost images of the twentieth century. 'It's true, of course, the Pope is unique', he explained. 'He's put in a unique position by being the Pope, and therefore, like in certain great tragedies, he's as though raised onto a dais on which the grandeur of this image can be displayed to the world.'i Elsewhere, artists such as Fontana believed the new understanding of matter and the universe catalysed by space exploration had given spirituality a new context. He proclaimed, 'Today it is certain, because man speaks of billions of years, of thousands and thousands of billions of years to reach, and so, here is the void, man is reduced to nothing … Man will become like God, he will become spirit.'ii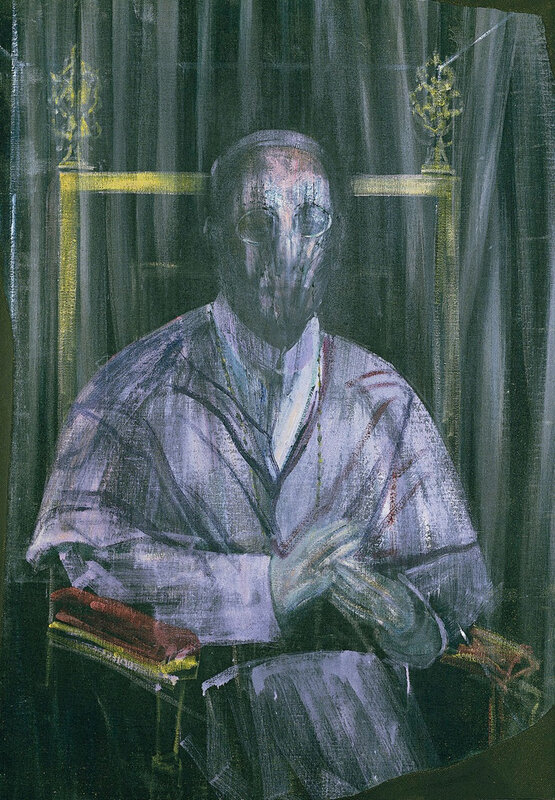 Francis Bacon (1909–1992), Study, 1955. Oil on canvas. 42¾ x 29¾ in. (108.6 x 75.6 cm). Robert and Lisa Sainsbury Collection, Sainsbury Centre for Visual Arts, University of East Anglia (UEA 30) © The Estate of Francis Bacon. All rights reserved, DACS/Artimage 2018. Photo: Prudence Cuming Associates Ltd
Also in the 1950s, Mark Rothko sought to create a pure visual language of emotion and feeling. Making colour the sole 'protagonist' of his work, Rothko instilled in his audience a near-mystical sense of communing with the infinite. It was this extraordinary ability that made Rothko's work suitable to be put in chapels, religious spaces and other sites of reverence and contemplation. Rothko saw his paintings as humanist responses to the post-apocalyptic, post-Holocaust, post-atomic bomb nature of his times. Though not intended to be religious in any way, a strong undercurrent of sacrifice, suffering and even redemption runs through his paintings.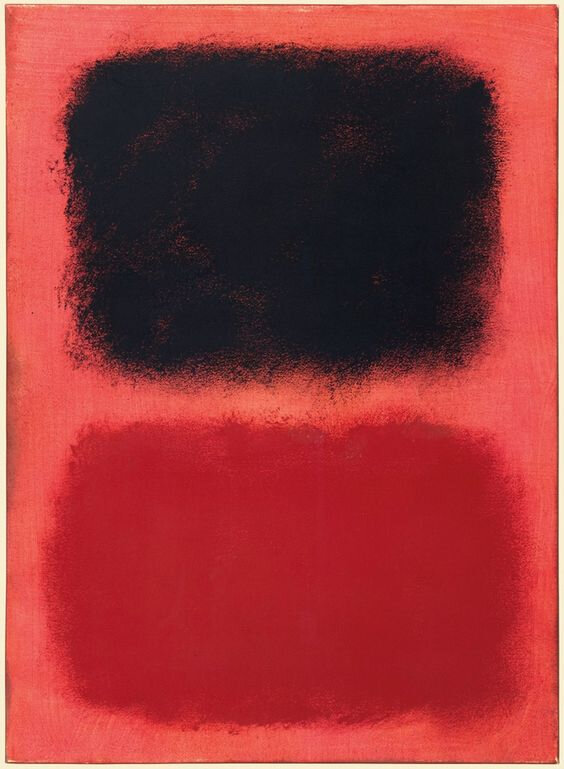 Mark Rothko (1903–1970), Black and Red on Red, 1962. Oil on paper laid on canvas. 29⅝ x 21⅝ in. (75.3 x 54.9 cm). Private Collection © 1998 Kate Rothko Prizel & Christopher Rothko ARS, NY and DACS, London.
Elsewhere, artists such as Lucio Fontana believed the new understanding of the universe catalysed by space exploration had given spirituality a new context. As man entered a new space age, Fontana reasoned, he would also enter a new dimension of mental space. In this intellectual space, man would be compelled to leave all earth-bound concerns behind — including his earth-centred concept of God. For Fontana, the culmination of these theories was the series of canvases he made between 1963 and 1964, entitled La fine di Dio (The End of God). These egg-shaped works represented the end of man's earth-bound thinking; the end of art and the end of God; and a moment of genesis: the beginning of man's immaterial adventure in space.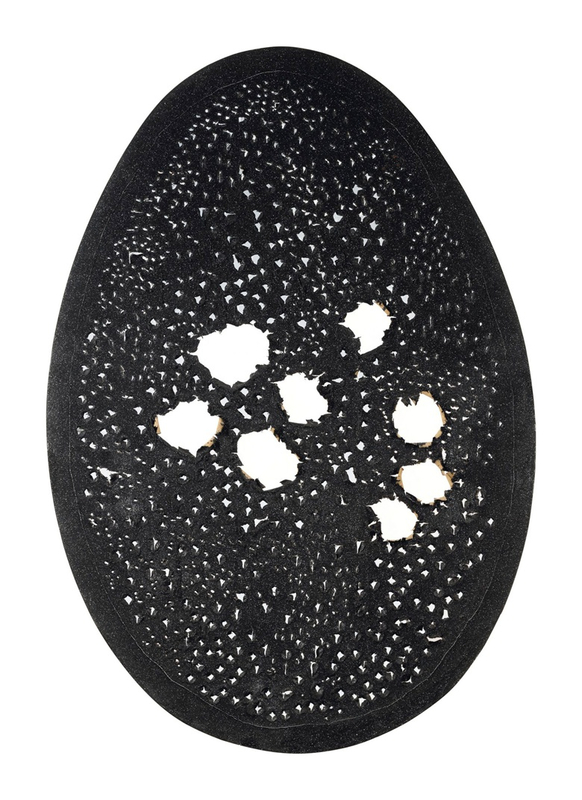 Lucio Fontana (1899–1968), Concetto spaziale, La fine di Dio, 1963. Oil and glitter on canvas. 70⅛ x 48⅜ in (178 x 123 cm). Private Collection © Lucio Fontana/SIAE/DACS, London 2018
In the early 1980s, religious imagery and themes of memento mori resurfaced in Andy Warhol's art as he began to confront his mortality. Religious figures and paintings came to appear in his art, including depictions of the Madonna. Later that same decade, Biblical references would come to punctuate Hirst's art too. 'They are great stories ... it is about the ends of those guys', he has explained. 'Cut just like a group of people who all meet these terrible ends. But I think you can use something like that. Everyone is a martyr really in life. So, I think you can use that as an example of your own life, just that kind of involvement with the world. Just trying to find out what your life actually amounts to, in the end.'iii Juxtaposing the empirical and clinical aesthetic of the anatomical laboratory with familiar religious stories, Hirst's work highlights the points of conjunction and discord that exist between art, science and religion.
Andy Warhol (1928–1987), Last Supper, 1986. Synthetic polymer paint and silkscreen ink on canvas. 40 x 40 in (101.6 x 101.6 cm). Private Collection © 2018 The Andy Warhol Foundation for the Visual Arts, Inc./Licensed by DACS, London.
Later that decade, biblical references would come to punctuate Damien Hirst's work too. Hirst took as his central theme the idea that art, science and money had come to supplant religion in the West, becoming the dominant new faiths of our age. Like the faiths of old, his work suggested, it is these that now claim to provide access to the realm of the sacred and the immortal. Hirst's art often openly emulates the visual kitsch of the Roman Catholic art he grew up with: its altarpieces, stained-glass windows and martyrs. His mix of cold scientific classification, pharmaceutical packaging, candy colours and clichéd romanticism is at once a half-sincere parody of his childhood faith and a veiled assault on medicine's false claims of omnipotence.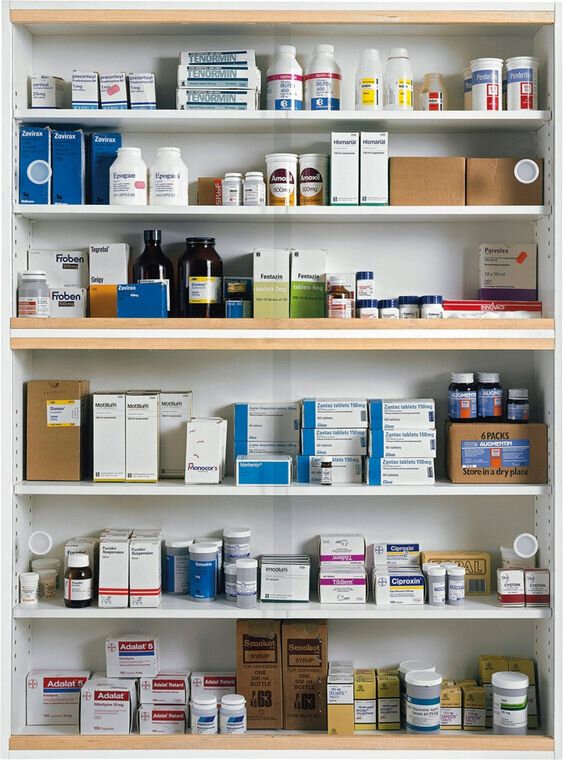 Damien Hirst (b. 1965), God, 1989. Glass, faced particleboard, ramin, plastic, aluminium and pharmaceutical packaging. 54 x 40 x 9 in (137.2 x 101.6 x 22.9cm). Private Collection, Europe © Damien Hirst and Science Ltd. All rights reserved, DACS/Artimage 2018. Photo: Prudence Cuming Associates Ltd.
The sense that nothing is considered sacred — or scandalous — anymore was behind some of Maurizio Cattelan's most contentious images. Not least, of course, is his infamous La Nona Ora (shown above), an installation depicting a life-size replica of Pope John Paul II struck down by a meteorite. A truly iconoclastic image, the piece caused a holy row when it was put on show in the Pope's homeland of Poland in 2000. 'What scares me,' Cattelan has said in reference to La Nona Ora, 'is the way in which scandals and consensus seem to walk hand in hand these days. You can't step outside of the system, you can't be radical: everything is sanctioned, appreciated and digested. We are perennially at ease, numbed. In the end, every man kills the things he loves.'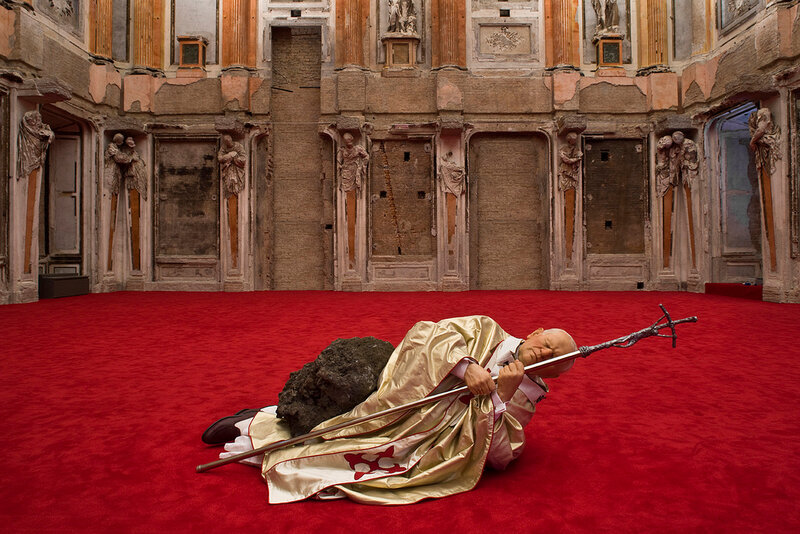 Maurizio Cattelan (b. 1960), La Nona Ora (The Ninth Hour), 1999. Polyester resin, painted wax, human hair, fabric, clothing, accessories, stone and carpet dimensions variable. Pinault Collection © Maurizio Cattelan. Photo: Zeno Zotti
These are some of the artists who shook the canon through their engagement with religion, offsetting its traditions through powerful aesthetic beliefs. If divinity was once the anchor of existence, its artistic unmooring has repeatedly opened new interpretative horizons. It is this dialogue that Sacred Noise hopes to bring to light.
8 King Street, London SW1Y 6QT - 25 June – 21 July - 9am – 4:30pm weekdays - 12pm – 5pm weekends