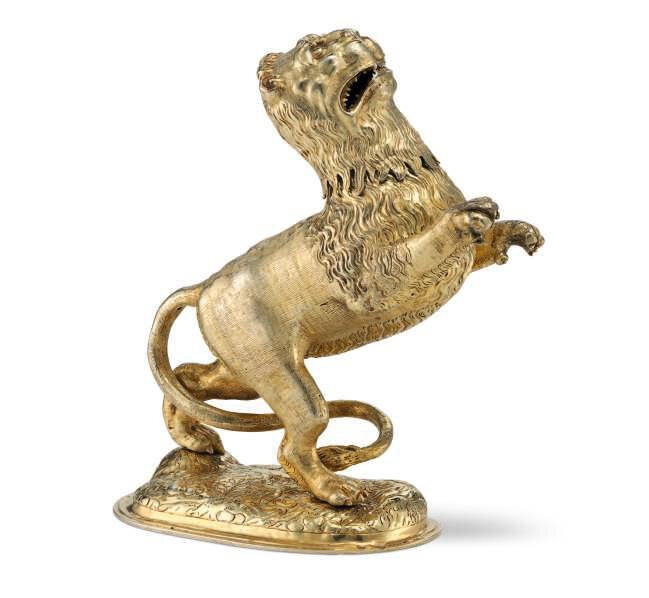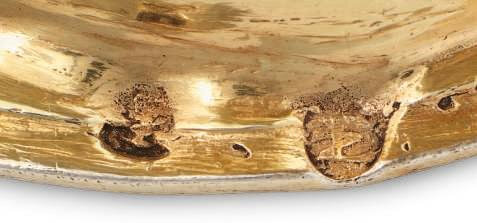 Lot 103. A German silver-gilt cup in the form of a lion rampant, Mark of Tobias Zeil(N)Er, Augsburg, circa 1630; 8 ½ in. (21.5 cm.) high; 18 oz. 15 dwt. (584 gr.). Estimate GBP 180,000 - GBP 250,000 (USD 237,779 - USD 330,249). © Price realised GBP 200,000. Christie's Images Limited 2018.
Realistically modelled standing on his hind legs and with outstretched fore legs, his tail wrapping around his legs, on an oval base cast and chased with rockwork, foliage and exotic creatures, marked on base, the base further later engraved with a scratchweight 'No 2 W 47 Lot'
Provenance: with Galerie Kugel, Paris.
The Collection of Yves Saint Laurent and Pierre Bergé; Christie's, Paris, 24 February 2009, lot 174, when acquired by the present owner.
Note: Tobias Zeil(n)er was made a master of the Augsburg guild in 1625 and married the same year Euphrosina, the daughter of Hans I Peter, who was also a goldsmith, having become a master in 1591. Zeil(n)er produced a variety of different objects during his career. These include two further figural cups, one in the form of a parrot, circa 1630, and one in the form of a merchant, 1638-1641, (H. Seling, Die Augsburger Gold-und Silverschmiede 1529-1868, Munich, 2007, p. 249, and p. 250, respectively). His mark also appears on the mounts on a House Altar, 1626-1630 (op. cit., p. 249, and now in the collection of the Augsburg Museum); a cup, 1630-1632, now in the Kremlin. (op. cit., p. 249); a schauplatte in the Swedish Royal Collection (op. cit., p. 249); a centrepiece, 1638-1641 (op. cit., p. 250) and a tankard, 1638-1641 (op. cit., p. 250). Zeil(n)er died in 1666, though as his last known work is marked with the Augsburg town mark as used from 1638 to 1641, it is possible that he had stopped producing silver well before his death.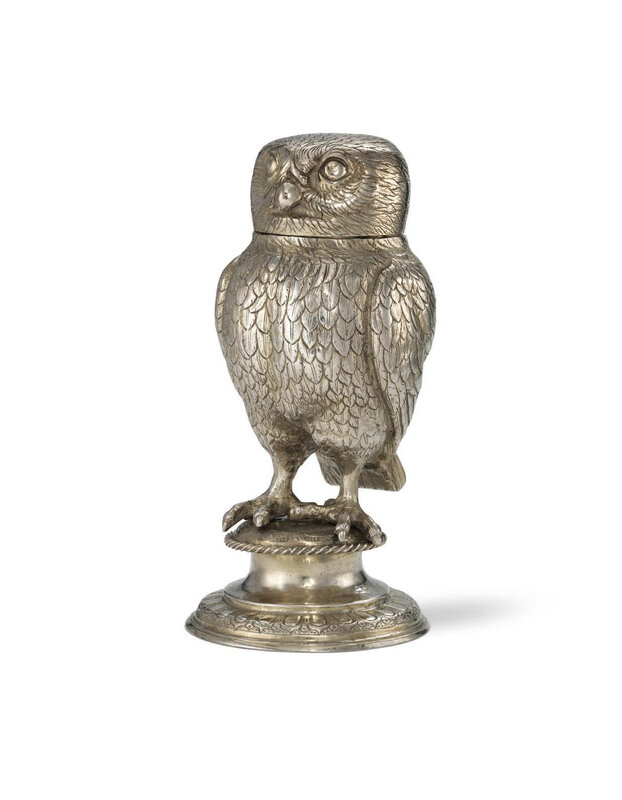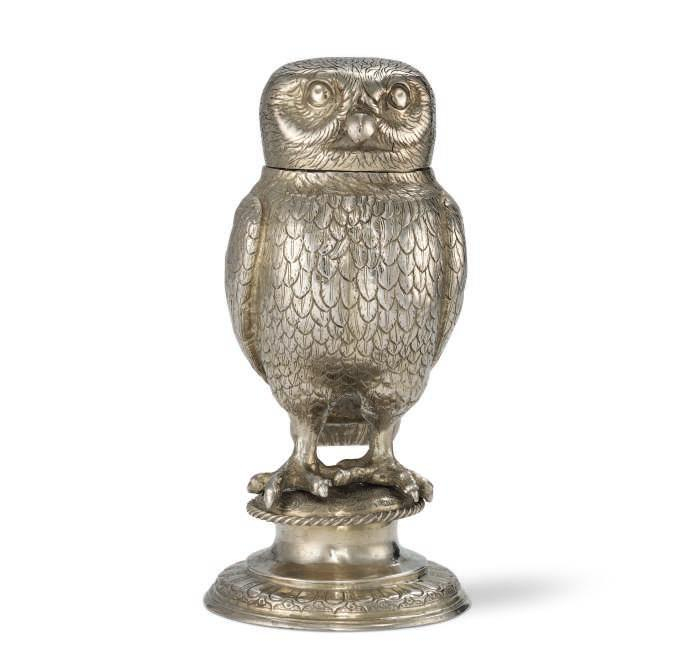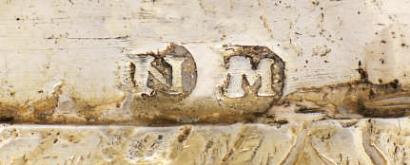 Lot 104. A German silver-gilt cup in the form of an owl, Mark of Martin Malfeit, Nuremberg, 1569-1575; 6 in. (15.2 cm.) high; 8 oz. 12 dwt. (268 gr.). Estimate GBP 180,000 - GBP 250,000 (USD 237,779 - USD 330,249). Price realised GBP 200,000. © Christie's Images Limited 2018.
Realistically modelled, the body and detachable head each chased with foliage, standing on a circular pedestal, the top chased with foliage and with an egg and dart rim, marked on neck, the neck further marked with a later French tax mark.
Provenance: The Collection of Yves Saint Laurent and Pierre Bergé; Christie's, Paris, 24 February 2009, lot 142, when acquired by the present owner.
Note: Martin Malfeit is believed to have been originally from the Netherlands and became a master of the Nuremburg guild as early as 1569. He married Esther, daughter of the silversmith Hans I Bauch. Little of his work is known, with only one cup of 1569-1576 being recorded (K.Tebbe et al, Nürnberger Goldschmiedekunst, Nuremberg, 2007, vol. I, p. 267, no. MZ0551), now held in the National Museum in Copenhagen. He is, however, recorded as producing several drinking objects for the Council between 1570 and 1578, so it is tempting to think that they could be the same type of object as that offered here. Malfeit died in 1608, and left behind at least two daughters including Susanna who married in 1597 the silversmith Georg Rühl, who was to produce some of the most exceptional silver in Nuremburg in the early 17th century.
THE YVES SAINT LAURENT AND PIERRE BERGÉ SALE
The collection of Yves Saint Laurent and Pierre Bergé was sold by Christie's in Paris over the course of five sales in February 2009, following the death in June 2008 of Yves Saint Laurent and the subsequent decision of his partner that the collection had 'lost a greater part of its significance.' At the time of the sale it was the most valuable private collection ever sold, a record the sale held until earlier this year with the sale, also by Christie's, of the Collection of Peggy and David Rockefeller.
Yves Saint Laurent was born in 1936 and became one of the world's leading fashion designers. Indeed, by 1957, when Christian Dior died, Saint Laurent, then only 21, was already being tipped as his successor as the greatest couturier. For almost half a century, encouraged and faithfully supported by Pierre Bergé, the brilliant designer became the symbol of French elegance throughout the world, as did his three initials, YSL. Supremely chic, sober and revolutionary, giving women a new freedom, his style has not yet been surpassed. In 1983, at the height of his career, the designer became part of the art world when Diana Vreeland, the queen of fashion, organised a retrospective of his work at the Metropolitan Museum of Art in New York.
Pierre Bergé, who created the fashion house with Yves Saint Laurent, and accompanied him throughout his life, was much more than just the well-known tycoon. A refined literary figure, he was a friend of Jean Giono and Jean Cocteau, a renowned expert in music, he also discovered the talent of Bernard Buffet at the very start of the fledgling artist's career. He was an active donor to major causes. The Centre Pompidou, the Louvre, the National Gallery in London and many other important institutions owe Bergé a great deal. Highly sought-after and acquainted with all those who set the 'tone' of the social, political and cultural life of Paris, Yves Saint Laurent and Pierre Bergé guarded their incredible collection of works of art, as if it were their secret garden. The dazzling nature of their collection was shaped by a single principle: each piece was purchased for the simple satisfaction of the two collectors looking for exceptional pieces. Indifferent to trends, their main reference was the large mansion in Paris of Vicomte and Vicomtesse de Noailles, where they were frequent guests in their youth. This rich, aristocratic and eccentric couple had inherited masterpieces and major pieces of furniture from their ancestors, which they combined with works bought from their artist friends, Picasso, Giacometti, Balthus, Tanguy, Dalí and many others. In a stunning room covered in vellum by Jean-Michel Frank, antique pieces and modern art were audaciously and gracefully mixed. Yves Saint Laurent and Pierre Bergé would never forget this lesson: the search for perfection, an insatiable curiosity and freedom of taste.
In 1972, when they moved into the fat on rue de Babylone, formerly occupied by Marie Cuttoli, herself a great patron of the arts, they followed the same path with their own strong personalities. They recreated the atmosphere which had fascinated them and which was described as a 'sublime hotchpotch of works of art' by Philippe Jullian, who understood everything about taste. The creative bond that united Yves Saint Laurent and Pierre Bergé enabled them to assemble a collection where each period and artist is represented at the highest level. To paraphrase Proust, whom Saint Laurent revered, they 'built a cathedral which they defended valiantly'. In the 1960s they were among the first collectors, along with Andy Warhol and Ileana Sonnabend, to acquire furniture and objects from the Art Deco period which was only just being rediscovered.
In 1992, Pierre Bergé moved to his own apartment in rue Bonaparte. At first glance, the beautiful fat looks lavishly traditional, but a second look enables you to realise that the same eclectic taste reigns there. Le désespoir de Pierrot, a poignant masterpiece by Ensor, (sold in their sale 23 February 2009, lot 17), paintings by Mondrian, Degas, de Hooch, Manet and Géricault are mixed with a Weisweiler table and other treasures. Most outstanding of all, is the group of German ceremonial silverware, enamels from Limoges and Venice, bronzes, rock crystal and ivory objects. A real 'Wunderkammer'. It is one of the most fabulous treasure troves one could ever imagine being in private hands.
The silver, miniatures and objects de vertu from the collection were sold on the third day of the sale, featuring some 110 lots, which represented one of the most outstanding collection of silver ofered for sale in recent years and which had been imaginatively displayed at Yves Saint Laurent's and Pierre Bergé's apartments. The acquisition of the menagerie, of which the owl and lion ofered here formed part, was inspired in part by a photograph by Willy Maywald of Marie-Laure de Noailles showing the Vicomtesse reclining in an elegant gown next to a gueridon filled with treasures, including silver animals like the two examples offered here. Nicolas and Alexis Kugel note how 'Yves Saint Laurent would sometimes throw down the gauntlet and challenge us. One day he brought us a photograph of Marie-Laure de Noailles… ' They go on to quote Yves Saint Laurent as saying 'I am obsessed with this image, I have made a blow up of the gueridon. I would like to create a similar ensemble.'
Like the greatest collectors they understood the importance of seeing their silver out on display, as originally intended, to be admired by visitors for its decorative appeal and workmanship. The silver, silver-gilt and gold collection filled table after table in the apartments with displays of outstanding German 16th-, 17th- and early 18th-century silver made in the country's three greatest silversmithing centres Augsburg, Nuremberg and Hamburg with pieces ranging from mounted exotic nautilus shells and ostrich eggs, to models of ships known as nefs, not to mention the menagerie of silver-gilt animals.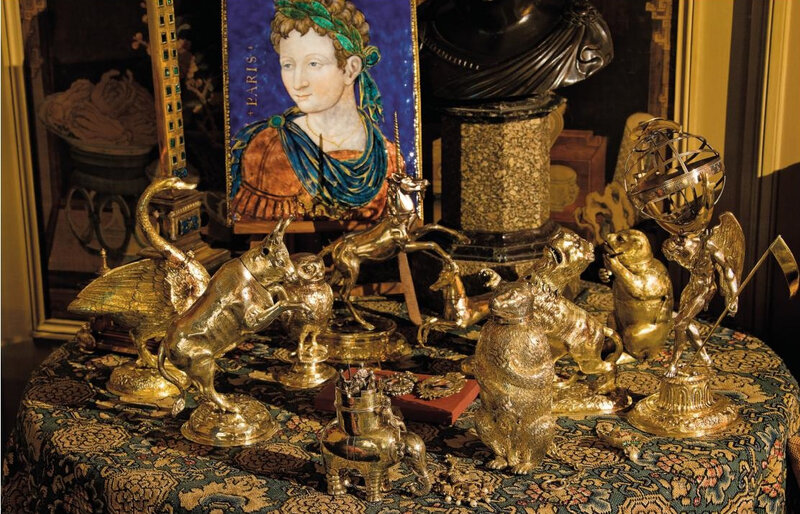 WELCOME CUPS
The tradition of offering a guest a 'Willkommen Pokale', or welcome cup, of wine was long established in Europe and culminated, in the 16th and 17th centuries, with the production of charming cups in the form of animals with detachable heads. These cups would have taken a form relevant to their owners, for example modelled as a heraldic beast or the symbol of a guild. The cups gave silversmiths the chance to use their skills in a variety of forms. Indeed, the menagerie of silvergilt cups assembled by Yves Saint Laurent and Pierre Bergé included, besides the present owl and lion, a stag, a swan, a greyhound, a horse and a unicorn. However, it was lions and owls such as the present examples which seem to have been among the most popular of this form of cup. Another lion, marked for Christoph Erhart, Augsburg, 1590-1594 was formerly in the Rothschild collection and later the Thyssen-Bornemisza collection (Christie's, London, 29 November 2011, lot 526, £421,250) and another cup in the form of an owl, with a body formed from a coconut was acquired by Sir Julius Wernher, 1st Bt. and descended in the collection at Luton Hoo until sold by Christie's (Christie's, London, 5 July 2000, lot 24).
Christie's. The Exceptional Sale 2018, London, 5 July 2018