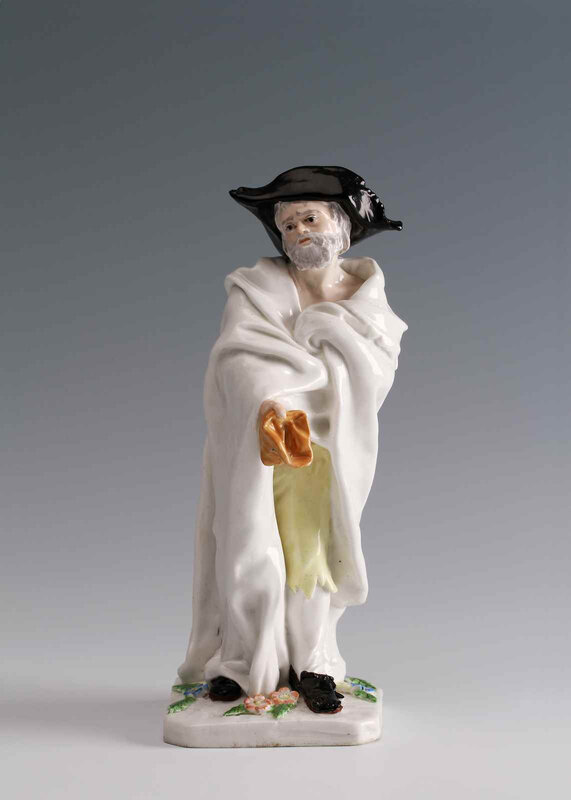 A Chelsea figure of an 'Italian beggar' modelled by Joseph Willems, 1753-1755. Courtesy E & H Manners.
1753 - 1755 Height - 20.40cm Josef Willems modelled a series of four figures of beggars which are amongst his finest original creations. They include this figure, an elderly lady and 'The Blind Beggar' and a younger beggar. Arthur Lane described them as 'admirable' models. The powerful baroque boldness of the modelling is Willems at his best and is complemented by subtle washes of colour and the strong black of his tricorn hat and shoes. The paste is characteristic of the Raised and early Red anchor period with its unctuous quality and use of a little tin in the glaze to heighten the whiteness. This figure is sometimes referred to as an Italian Beggar due to the entry in the 1756 Chelsea catalogue lists of "Two fine figures of Italian Beggars" which may or may not refer to this model. The Chelsea Sale Catalogue, March 20, 1755, lot 25 lists: 'Three figures of an Italian doctor, a Chinese mask, and a beggar'.
Exhibition: The Huguenot Exhibition, Boughton House, August to December 2015.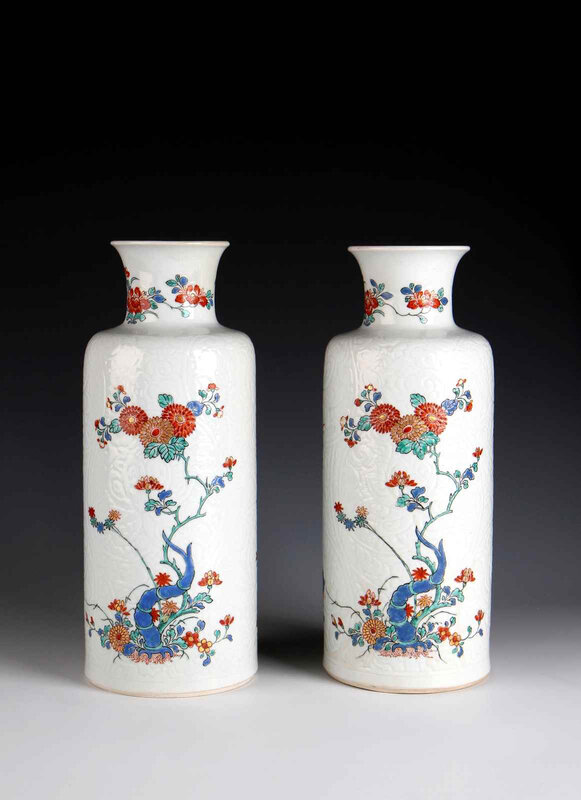 A pair of Chinese Dutch-decorated rouleau vases, circa 1710 - 1720. The porcelain Kangxi, c. 1710, the decoration Holland, c. 1720; 27.6cm. and 27.2cm. high. Courtesy E & H Manners.
Double circles in underglaze blue on the bases. The cylindrical Chinese porcelain vases with incised anhua decoration of lotus scrolls over the entire surface each subsequently enamelled in Holland in around 1720 with a phoenix and bird in flight above a blue shishi and sprays of chrysanthemum and bamboo. These vases belong to a small group of pieces of exceptional quality decorated in the most precise manner on a carved ground. Two other examples of this type of identical form but with different decoration are illustrated by Helen Espir, 'European Decoration on Oriental Porcelain, 1700-1830', pp. 80 & 81. The most remarkable examples of the work of this anonymous workshop are the garniture of two baluster vases with a trumpet 'yenyen' vase similarly decorated but with the addition of the crowned arms Poland and Saxony and FAR monogram of Friedrich Augustus Rex Elector of Saxony and King of Poland, known as Augusts the Strong. These vases, preserved in the Staatliche Kunstsammlungen Dresden have the Japanese Palace inventory mark N:53↑ indicating that they entered the collection around 1727 to 28. (Illustrated Espir op.cit. pp. 68 & 69). Condition: one vase with section of neck broken in two pieces and restuck, the other with a faint 9 cm hair crack to the shoulder.
Provenance: Gustav Leonhardt collection, Amsterdam Bears labels for Collection Vecht, Amsterdam.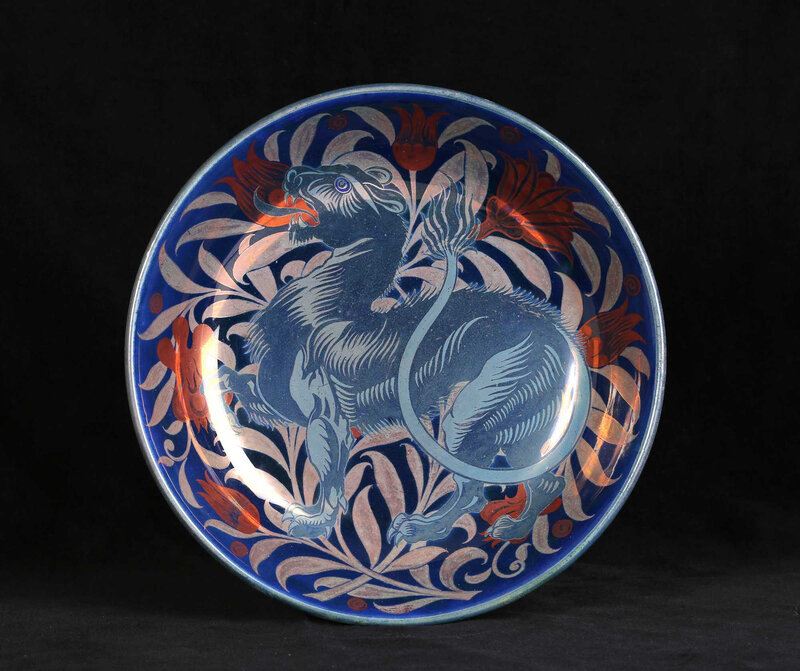 A William De Morgan triple lustre 'Moonlight and Sunset suite' saucer dish, decorated by Charles Passenger, 1892-1900. Courtesy E & H Manners.
Marked on the reverse with a CP for Charles Passenger in silver within concentric rings of silver and ruby-red lustre Diameter: 27.9 cm Decorated with a lioness set against flowering foliage in a combination of copper, gold and silver lustres on a dark blue ground. William De Morgan considered the 'Moonlight and Sunset Suite' series to be the pinnacle of his achievement in lustre. It took him almost two decades of experimentation, one burnt rooftop and three potteries, before he moved to Fulham, where he was able to master the technique. The light blue of the body is achieved through an acid etching process and each of the lustres is fired at a different temperature, requiring multiple firings in the case of a triple lustre example such as this. It was a technologically ambitious processes which accounts for their rarity. They were however expensive to produce and De Morgan later remarked that: "All my life I have been trying to make beautiful things, and now that I can make them nobody wants them."
E & H MANNERS, Stand B14 at Masterpiece London 2018 (28 June - 04 July 2018)