Antonio Del Pollaiolo (Attribute to), Portrait of young gentlewoman, Florence, 1465-70. Carved, painted and gilded lime, 45X41X23 cm. Courtesy CHIALE FINE ART
Provenance: Private collection.

Literature: • L. Barzaretti, a cura di, Tesori di scultura, Novara 1961: pp.95-96, fig. 56; • Giancarlo Gentilini, a cura di, Antonio del Pollaiolo. Ritratto di giovane gentilidonna, Savigliano 2013;
• Scritti degli amici di Renato Poso, a cura di, L'arte di studiare l'arte. Kronos 15, 'Una donzella in legno dipinto per Antonio del Pollaiolo scultore' di Giancarlo Gentilini, pp.143-152.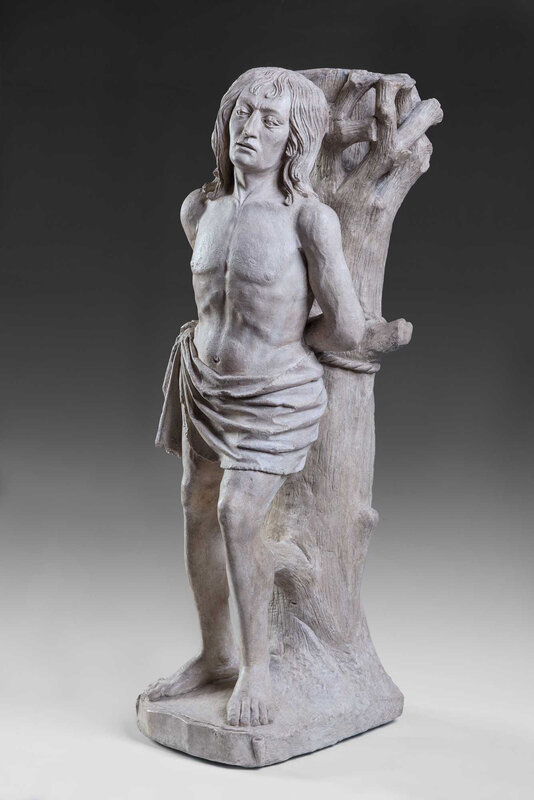 Master of Chaource (Jacques Bachot) (Active in Champagne and Lorraine from 1493 to 1526), Saint Sebastian, Champagne, crca 1510-20 Limestone with traces of painting. Height 92 cm - Width 40 cm - Depth 40 cm. Courtesy CHIALE FINE ART.
This Saint Sebastian it is an expression of the very original art of a sculptor, who remained anonymous, that worked during the first quarter of the 16th century in france, expecially in the part of Champagne and Loraine. Some art historians identify the sculptor in the name of Jacques Bachot, a kind of universal artist born in Troyes, bookseller, embroiderer, painter, that is well documented between 1493 and 1530. The exceptional sepulcher of the Chaource church is attributed to him and a corpus of sculptures was thus gathered around this masterpiece. The style is defined by a great sensitivity in the expressions of the faces, expecally with the' Sad Figures', which are generally carved with a soft internal affliction with their slightly hollow cheeks, their two wrinkles vertical above the nose, their eyes with eyelids hemmed, their mouths at the drooping corners. Another characteristic is the presence on the broad fronts of the male figures of two wicks in hooks. The touching face of Saint John of La Mise au Tombeau by Chaource gives the most emblematic example . This beautiful St. Sebastian brings together many of these particular traits that allow it to be attributed without question to the great master of Champagne. We also recognize "round shoulders, knees with huge kneecaps, feet firmly on the ground" as described by the Dominican Eloi Devaux until the presence of tufts of plantain on the terrace which for some are a kind of signature.
Provenance: Private collection, Alsace, France
Literature: E. Devaux, Suite à Chaource dans Zodiaque, n° 40, january 1959, pag. 10-11; J. Baudoin; La Sculpture flamboyante en Champagne Lorraine, Nonette, 1990, pag. 133-164; M. Beaulieu and V. Beyer, Dictionnaire des sculpteurs français du Moyen Age, Paris, 1992, pag. 93-94.
Provenance: Private collection, New York; Private collection, France.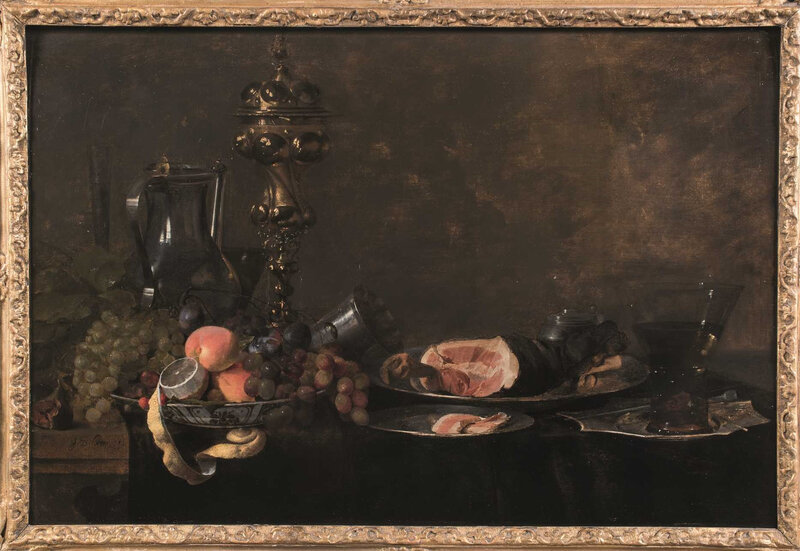 Jan Davidsz De Heem (Utrecht 1606 - Anversa 1684), Still life, circa 1640-45, signed at the lower left: 'J. D. HEEM', Oil on panel, height: 66 cm - width: 99 cm. Courtesy CHIALE FINE ART.
Provenance: • Old collection of Sir Emmanule Kaye, England; • Private collection, London; • Private collection; Asti, Italy.
Literature: • M. L. Hairs, Les Peintres Flamand del Fleurs, Ed. 1955;• I. Bergstrom, Dutch Still Life painting, 1956; • E. Greindl, Les Peintres Flamands de nature morte, 1956; •W. Bernt, Die Niederlandische Maler des 17 Jahrhunderts, Vol. 3, Vol II, no. 524-528, 1979; • N. R. A. Vroom, A modest message as intimated by the painters of the 'Monochrome Banketje', 1980, Vol. 3; • E. Gemar - Koeltzsch, Hollandische Stillebenmaler im 17 Jahrhunderts, Vol. 3, Vol. 2, pag. 453 - 471; • J. de Maere and M. Wabbes, Illustrated Dictionnary of 17th Century Flemish painters, Vol. 3, pag. 202 - 203, 1994.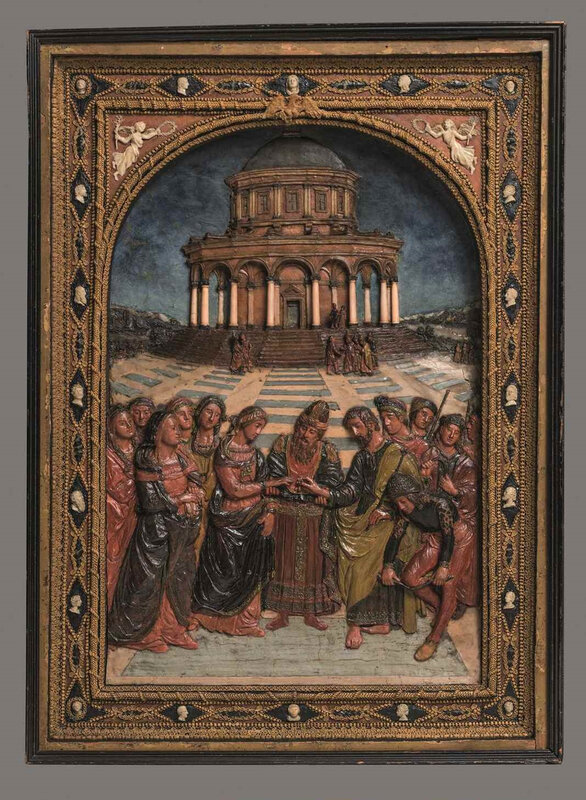 Anonymous Waxer (1760-circa 1830), The Marriage of the Virgin, Lombardy, circa 1806. Wax bas-relief painted a possibly gift of Napoleon to Eugenio of Beauharnais in 1806 for the wedding with Augusta of Bavaria (height: 53,3 cm - width: 40,6 cm). Courtesy CHIALE FINE ART.
Provenance: • possibly Eugenio de Beauharnais collection, XIX century; • Mr. Raoul Torentino, sold American Art Galleries, New York, 21-27 April 1920, lot. 873.
CHIALE FINE ART, Stand D18 at Masterpiece London 2018.