SAN FRANCISCO, CA.- Truth and Beauty: The Pre-Raphaelites and the Old Masters is the first major international exhibition to assemble works by England's nineteenth-century Pre-Raphaelite Brotherhood with the medieval and Renaissance masterpieces that inspired them. Through important loans of paintings, works on paper, and decorative arts from international collections, as well as more than 30 works drawn from the collections of the Fine Arts Museums of San Francisco, the exhibition demonstrates the Pre-Raphaelites' fascination with Italian masters, including Fra Angelico, Sandro Botticelli, Raphael, and Paolo Veronese, as well as northern Renaissance painters such as Jan van Eyck and Hans Memling.
"This exhibition is a remarkable curatorial accomplishment," says Max Hollein, Director and CEO of the Fine Arts Museums. "Never before have extraordinary masterpieces such as Botticelli's Idealized Portrait of a Lady (Simonetta Vespucci), Raphael's Self Portrait, and Van Eyck's The Annunciation been displayed with Pre-Raphaelite treasures including Mariana by John Everett Millais, The Lady of Shalott by William Holman Hunt, and Bocca Baciata by Dante Gabriel Rossetti. Loans from major museum collections in Australia, Austria, Germany, Italy, the United Kingdom, and elsewhere in the United States have been gathered to explore how the renegade Pre-Raphaelites, represented by their most beloved works, engaged with the art of the past. The subject of how artists relate to their predecessors is eternal and one that still very visibly consumes artists of our own time."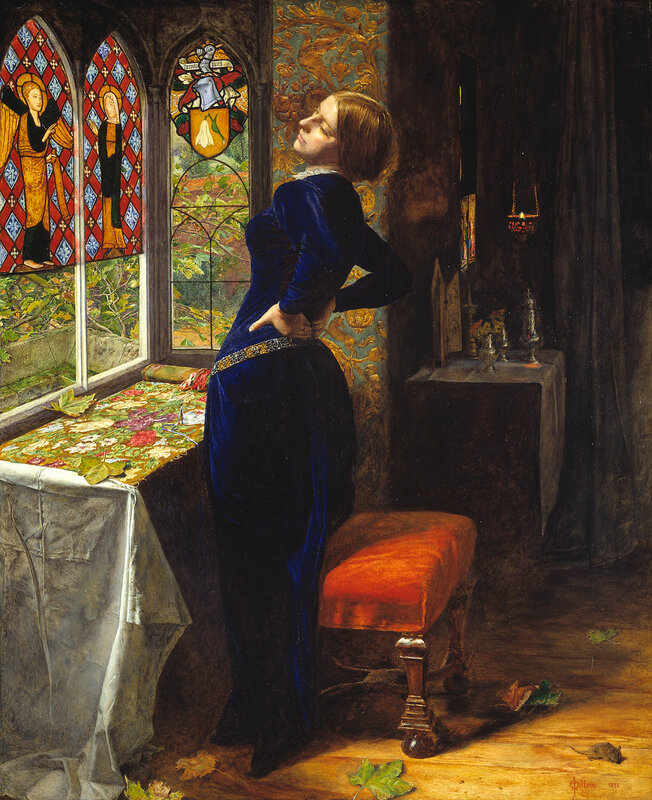 John Everett Millais, 'Mariana', 1851. Oil on panel, 23 ½ x 19 ½ in. (59.7 x 49.5 cm). Tate, London, Accepted by HM Government in lieu of tax and allocated to the Tate Gallery, 1999, T07553.
In 1848—a year of political revolution across Europe—seven young Englishmen with aspirations to rebel against the art world formed a secret artistic alliance. Calling themselves the Pre-Raphaelite Brotherhood, the artists—including William Holman Hunt, Dante Gabriel Rossetti, and John Everett Millais—opposed the Royal Academy of Art's prevailing aesthetic tenets embodied by its first president, Sir Joshua Reynolds, whom they christened "Sir Sloshua." They appropriated the mandate that artists should seek truth in nature, "rejecting nothing, selecting nothing, and scorning nothing."
"The Pre-Raphaelites were deeply concerned with and inspired by their predecessors, but the name they chose for their brotherhood is a complicated misnomer," says Melissa Buron, Director of the Art Division at the Fine Arts Museums and the exhibition's curator. "In their first phase, the Pre-Raphaelites renounced the idealized figures depicted by High Renaissance painters who were followers of Raphael (the "Raphaelites"), esteeming early Italian artists instead. As they matured, they also emulated Raphael, and even later artists such as the sixteenth-century Venetian painter, Veronese."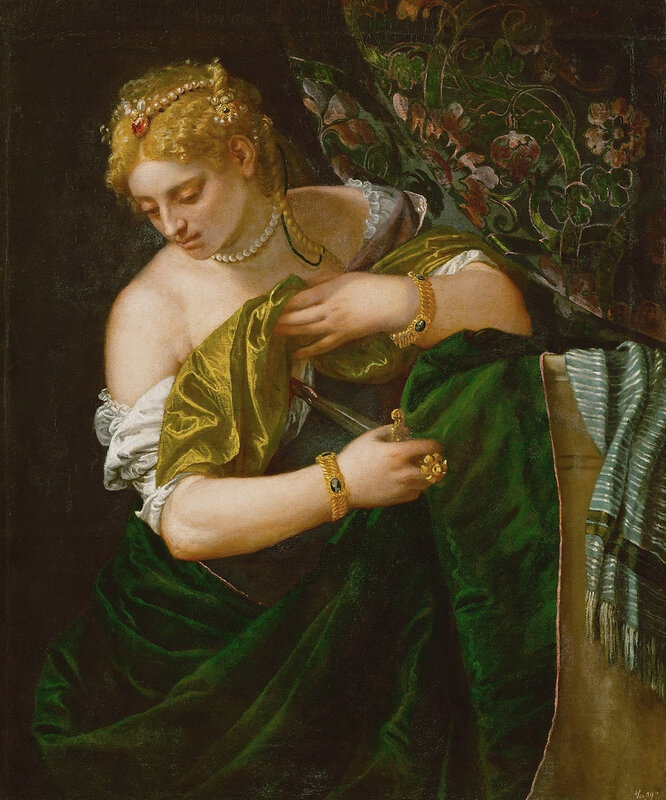 Paolo Caliari, called Veronese, 'Lucretia', ca. 1580-1583. Oil on canvas, 42 7/8 x 35 5/8 in. (109 x 90.5 cm). Gemälderie of the Kunsthistorisches Museum, Vienna, 1561.
Although the Pre-Raphaelites' initial style ostensibly rejected the aesthetics of Raphael, his followers, and the Baroque artists, these parameters fluctuated over the course of each artist's career. Examples from Rossetti's mature period, such as Monna Vanna (1866, Tate, London) and Veronica Veronese (1872, Delaware Art Museum, Wilmington), included in the exhibition, are perhaps the most evocative of this development. These sumptuous paintings reveal a surprising shift in the appreciation for the Italian Renaissance, particularly sixteenth-century Venetian paintings. Truth and Beauty will also trace the Brotherhood through the nineteenth-century "rediscovery" of Botticelli by English art critics and artists, which paralleled efforts by the second-generation Pre-Raphaelites to revive tempera painting techniques and materials.
The Fine Arts Museums' masterpiece Love and the Maiden (1877) by John Roddam Spencer Stanhope, painted in Florence, reflects the influence of the artist's travels in Italy, and will be displayed near Botticelli's Idealized Portrait of a Lady (Simonetta Vespucci) (1475, Städel Museum, Frankfurt). Six paintings by Botticelli will be on view—the most ever assembled for an exhibition on the West Coast.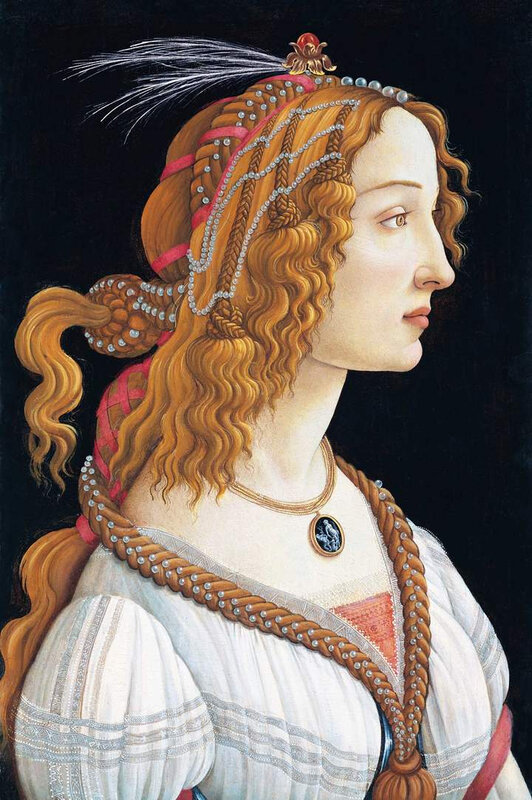 Sandro Botticelli, 'Idealized Portrait of a Lady (Portrait of Simonetta Vespucci as Nymph)', ca. 1475. Tempera on panel, 32 ¼ x 21 ¼ in. (81.8 x 54 cm). Städel Museum, Frankfurt, 936.
Yet the Pre-Raphaelites' sources of inspiration extended beyond the Italian old masters. Their subjects' angular postures, the inclusion of symbolic details, and the jewel-toned color palettes of their paintings also emulated early Netherlandish artists, including Jan van Eyck and Hans Memling, whose panels Rossetti and Holman Hunt admired in Bruges on an 1849 "Pre-Raphaelite pilgrimage." This exhibition marks the first time that these iconic artworks—including Van Eyck's The Annunciation (ca. 1434/1436, National Gallery, Washington, DC) and Millais' dazzling Mariana (1851, Tate, London)—are on view for West Coast audiences.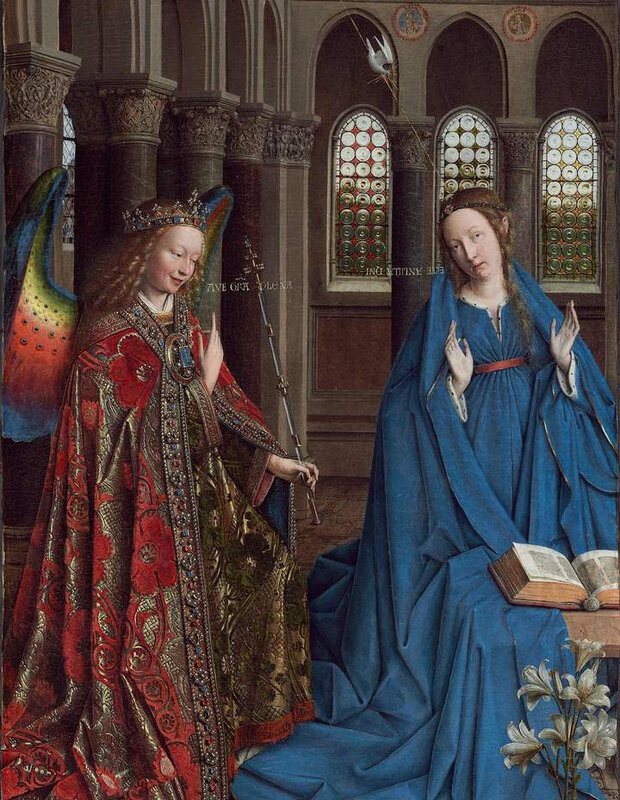 Jan van Eyck, 'The Annunciation' (detail), ca. 1434/1436. Oil on canvas (transferred from panel), 35 1/2 x 13 3/8 in. (90.2 x 34.1 cm). National Gallery of Art, Washington, Andrew W. Mellon Collection, 1937.1.39. Courtesy of the National Gallery of Art, Washington.
More than 30 paintings are on loan from 25 private collections and museums including the Art Institute of Chicago; the Museum of Fine Arts, Boston; the National Gallery, London; the Victoria and Albert Museum, London; and the Uffizi Gallery, Florence. The Pre-Raphaelites' attraction to their artistic forebears was not just in painting; Truth and Beauty also features books, furniture, illuminated manuscripts, stained glass, tapestries, textiles, and works on paper. These multimedia arrangements highlight the nuanced paradoxes of the Pre-Raphaelite mission, namely their efforts to be fundamentally modern by emulating the past, as well as their dichotomous criticism and veneration of Raphael and his artistic impact.
Truth and Beauty: The Pre-Raphaelites and the Old Masters is organized by Melissa Buron, Director of the Art Division at the Fine Arts Museums of San Francisco.