Joseph Wright of Derby, A.R.A. (Derby, 1734 – 1797), Portrait of a Young Boy with a drum inscribed with the letter "R", c. 1780. Oil on canvas, 27 1/2 x 36 inches (69.8 x 91.4 cm). Courtesy Ben Elwes Fine Art.
LONDON.- A major rediscovery from the mature period of Joseph Wright of Derby is among many important paintings being unveiled at London Art Week Summer 2018, open now through Friday 6 July at 40 galleries across Mayfair and St. James's.

Presented by Ben Elwes Fine Art, the painting by Joseph Wright of Derby (1734-1797) depicts a young boy with a drum and a landscape beyond. It shows the artist's virtuosity as a masterful and empathetic portrait painter - he excelled at children - and a superb landscape artist. It dates from around 1780, a period when, having returned from an Italian sojourn in 1775, Wright's art, across the genres, brimmed with confidence.

Antonacci Lapiccirella Fine Art (new LAW participants from Rome) is exhibiting a sensational rediscovery of a work famed in art history circles; a painting by Antonio Canova thought to have been lost for two centuries. In a daring trick played by Canova on the greatest artists in Rome, he presented Self-portrait of Giorgione to his peers as an original by the revered Venetian 16th-century painter. Whist all acclaimed it as a truth, a year later Canova announced that he himself had painted the portrait as a practical joke.
Antonio Canova (Possagno 1757 – Venice 1822), Self-portrait of Giorgione. Oil on wood, 72.5 x 64 cm. Carved and gilded wooden frame, Rome 1792. Courtesy Antonacci Lapiccirella Fine Art
Note: The sensational rediscovery of the so-called Self-portrait of Giorgione marks a significant addition to our knowledge of the great sculptor Canova's work as a painter. The oil painting on wood (72.5 x 64 cm) is still housed in its magnificent original carved and gilded frame made in Rome, which we know to have been commissioned by Roman Senator Prince Abbondio Rezzonico, the young sculptor's great protector and patron who was the picture's first owner. Rezzonico, nephew to Pope Clement XIII, commissioned Canova to carve his uncle's tomb in St. Peter's Basilica, a monumental undertaking which contributed enormously to the definitive establishment of the sculptor's renown. Rezzonico was also an accomplice in the bizarre story of the trick that Canova played on the greatest artists then present in Rome – people of the calibre of Angelica Kauffman, Gavin Hamilton, Antonio Cavallucci, Giuseppe Cades, Giovanni Volpato and others, who were invited to dine at the Senator's home and shown this painting, which was palmed off as an original Self-portrait of Giorgione. They all adored it, thanks also to the mastery with which it had been painted, and acclaimed it to a man as an authentic work by the Venetian 16th century painter.
The truth of the matter was that Canova himself had skilfully painted the portrait on a 16th century panel painting of the Holy Family (the image of which has been traced through reflectography and infrared inspection), taking as his model a portrait of Giorgione from Carlo Ridolfi's Le meraviglie dell'arte published in Venice in 1648. By 1792, when the famous dinner was held, Canova had already tried his hand at painting in the Venetian Renaissance style, producing, for example, a Venus with a Mirror which had also been mistaken for an authentic 16th century work.
The event is narrated by all the most authoritative sources for Canova's life, in particular in the first monograph devoted to him by Fausto Tadini and in the two biographies penned by his secretarius Melchiorre Missirini and by the sculptor Antonio D'Este, who ran his workshop in Rome. Meticulous examination of these reliable sources has allowed Canova authority Fernando Mazzocca to confirm this major discovery and to reconstruct, in the catalogue published for TEFAF, all the phases of this fascinating and exemplary story pointing up Canova's love of the glorious tradition of Venetian painting, in which he also sought inspiration for his sculpture.
Maurizio Nobile, from Bologna, presents an extraordinary discovery, a large altar-piece by Gaetano Gandolfi (1734-1802) of The Holy Family and Saint Augustine dated 1761. Scholars were only aware of the existence of the work thanks to a photo published in the monograph dedicated to the painter by D. BIAGI MAINO (Turin 1995). For the first time, this painting can be viewed by the public at large.
Gaetano Gandolfi (1734-1802), The Holy Family and Saint Augustine. Oil on canvas, 230 x 152 cm. Dated to the bottom center: 1761. Courtesy Maurizio Nobile.
Provenance: Bologna, private collection (direct descendants of the opera owners).
Bibliography: D. Biagi Maino, Gaetano Gandolfi, Turin, 1995, pp. 345-346, repr. Fig. 90.

Further highlights among paintings offered at London Art Week include:

At Colnaghi: A rarely-seen depiction of Saint Francis by Doménikos Theotokópoulos, known as El Greco (1541-1614). The Stigmatisation of Saint Francis is a powerful and dramatic composition which was first published in 1908, and last seen in public in 1999 at the major show on the artist held at Thyssen-Bornemisza Museum in Madrid.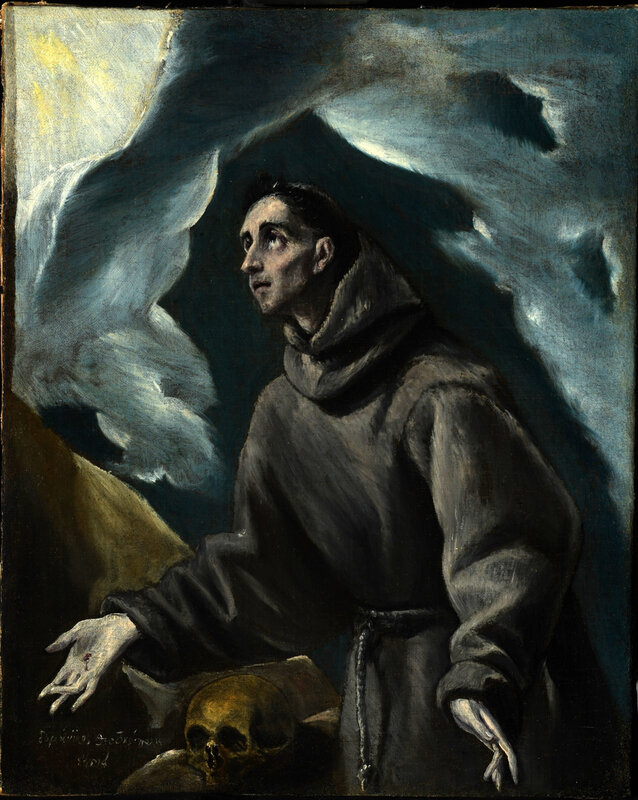 Doménikos Theotokópoulos, called El Greco (Crete 1541-1614 Toledo), Saint Francis receiving the Stigmata. Signed lower left in cursive Greek: , doménikos theotokópolos e'poíei. Courtesy Colnaghi.
With its brilliant brushstrokes, vibrant tonality, expressive intensity and small-scale, this canvas counts amongst El Greco's most striking, and most intimate, of all his many depictions of Saint Francis. Dated by José Alvarez Lopera to circa 1580-86, the painting is a product of El Greco's first decade in Toledo, a moment when the Cretan painter seamlessly blended the recently learned lessons of Tintoretto, and his Italian Mannerist compatriots, with the Byzantine style of his youth, becoming in the process the most dazzlingly original artist of his generation.
El Greco painted close to a dozen different compositions relating to the life of Saint Francis, each one usually existing in several autograph and workshop versions. Well-known autograph examples in public collections include Saint Francis receiving the Stigmata(fig. 1) in the National Gallery of Ireland, Dublin,Saint Francis receiving the Stigmata (fig. 2)in the Walters Art Museum, Baltimore, and Saint Francis Kneeling in Meditation(fig. 3) in the Art Institute of Chicago, amongst others.
The present and rarely-seen composition is one of only two autograph versions, the other being that in the Abello Collection (fig. 4), a canvas of larger dimensions. Indeed, measuring only 43 by 34 cm, the present painting may well be one of the 'pequeños' mentioned by Francisco Pacheco in hisbook Arte de la Pintura. Pacheco describes a visit to El Greco in Toledo in 1611, where the artist shows him 'los originales de todo cuanto había pintados al oleo, en lienzos más pequeños', exclaiming that these works 'exceed all admiration'. Furthermore, in his estate sale of 1614, eight canvasses showing Saint Francis are listed, of which four are called 'pequenos' and one 'pequeñito', though none can be definitively connected to any surviving works.
The painting depicts a young, beardless Saint Francis, his face an expression of inner peace, receiving the Stigmata, an event which occurred during his experience of a mystical vision on Mount Alverna in 1224. The marks of the Stigmata are visible on the palms of the saint's hands, themselves thrust outwards and almost projected into the viewer's space. The rest of his body is silhouetted against the bright light. As Francis looks heavenwards, tempestuous clouds, typical of El Greco, frame the saint's body, and act as reflections of the turbulence of his inner state, as well as giving a spiritual intensity to the composition. The prominent skull at lower left serves as a physical reminder of human mortality.
In keeping with the majority of the artist's representations of Saint Francis, El Greco has created a simple, yet powerful, design, in which the saint is shown at three-quarter length. The picture contains the sparest of landscapes, consisting only of a diagonal sliver of rock, suggestive of Mount Alverna. The reduced palette of browns and greys, though enlivened by the intense blue of the sky and the golden ray of the divine light, heightens the gravity of the scene, and creates an ascetic image of the saint, replete with a poignant humanity. Overall, despite the painting's small-scale, El Greco is able to create an astonishingly powerful image which perfectly encapsulates the hallucinatory vision experienced by Saint Francis.
The composition contains the wild distortions and irrational sense of space that have come to typify the art of El Greco. Though pushed to their limits by the Cretan, they are features shared by, and indeed learned from, the Italian Mannerist painters of the previous generation. Moving to Venice from his native Crete in 1567, El Greco substantially altered his style and became, according to Giulio Clovio, 'a disciple of Titian'. However, it was Tintoretto who would have the greatest impact on El Greco, influencing the younger artist in the use of elongated figures and surreal colour, both of which would enable him to powerfully evoke the spiritual realm. El Greco spent nearly a decade in Italy, moving first to Madrid in 1576 and then to Toledo, where he would spend the remainder of his life.
As the Counter-Reformation saint par excellence, devotion to Saint Francis was highly developed in Spain and in El Greco's lifetime there were as many as ten Franciscan religious institutions in Toledo alone. Many of the ordinary Toledans were members of the Third Order of Saint Francis, established so that lay persons could participate in the spiritual life of the Franciscans. All of this serves to explain the success of El Greco's depictions of the saint and indeed the artist's predilection for the subject. El Greco's unique ability to convey the drama and other-worldly aspect of the saint's stigmata was widely acknowledged in the artist's lifetime, with Francesco Pachecho asserting that El Greco was the greatest interpreter of Saint Francis, a view that never since been disputed.
At Martyn Gregory: An exceptionally rare view of China by William Daniell RA (1769-1837), the most important rediscovery in Daniell's oeuvre for 50 years.