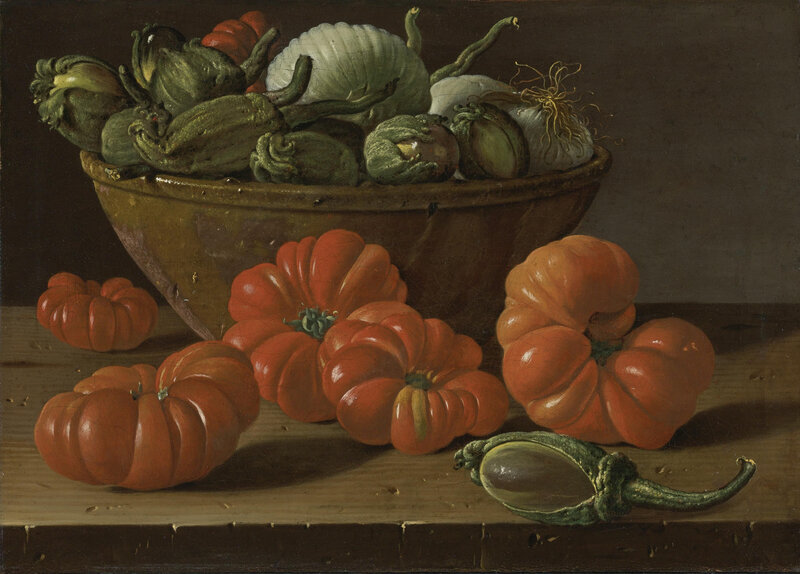 Lot 197. Luis Meléndez (Naples 1716 - 1780 Madrid), Still life with tomatoes, a bowl of aubergines and onions, oil on canvas, 14 1/4 by 19 1/4 in.; 36.8 by 49 cm. Estimate 1,500,000 — 2,000,000 USD. Lot sold 2,210,500 USD. Photo: Sotheby's.
Provenance: Private collection, Spain;
With Derek Johns, London, by 2004.
Exhibited: Madrid, Museo Nacional del Prado, Luis Meléndez, Bodegones, 17 February-16 May 2004, cat. no. 13;
Dublin, National Gallery of Ireland, Luis Meléndez, Still Lifes, 16 June-5 September 2004, cat. no. 14;
Washington, National Gallery of Art; Los Angeles, Los Angeles County Museum of Art; Boston, Museum of Fine Arts; Luis Meléndez, Master of the Spanish Still Life, May 2009-May 2010, cat. no. 30.
Literature: P. Cherry and J.J. Luna, Luis Meléndez, Bodegones, exhibition catalogue, Madrid 2004, p.180, cat. no. 13, reproduced p. 181;
P. Cherry and J.J. Luna, Luis Meléndez, Still Lifes, exhibition catalogue, Dublin 2004, p.108, cat. no. 14, reproduced p. 109;
P. Cherry, Luis Meléndez, Still-Life Painter, Madrid 2006, pp. 548-549, cat. 129, reproduced p. 509;
P. Cherry in, Luis Meléndez, Master of the Spanish Still Life, exhibition catalogue, Washington, D.C. 2009, p. 160, cat. no. 30, reproduced p. 161 and frontispiece (details).
The present work, with its glowing red tomatoes and just ripening aubergines artfully arranged on a sunlit table, suggests nothing so much as a meal to be eaten on a warm summer's day. The subject, as is generally the case with Melendez, is ordinary fare, not food for a banquet, set directly on a plain wooden table or in rough Alcorcón pottery. The painting displays the artful simplicity that characterizes Melendez's work and is so appealing to the modern viewer, raised on the beautifully constructed compositions of Cezanne and Matisse.
Melendez's ambition was to be a figure painter, but that avenue was sealed off when he and his father were expelled from the Provisional Academy of Arts in 1748. Instead he became a miniature painter, following in his father's footsteps, and also turned to what was considered the minor genre of still life. Still life painting in Spain had virtually disappeared between the end of the seventeenth and beginning of the eighteenth centuries. What interest there was in the subject was satisfied by importing pictures and sometimes the artists themselves from Italy. Melendez lived in Rome and Naples from 1748 to 1752 and was exposed to comtemporary still lifes and well as the work of the famous artists of the preceding century. The Neapolitan Giacomo Nani (1698-1770), whose still lifes show a similar simplicity and concentration on mundane food stuffs and table ware, is often cited as an influence on him.
However in the end, Melendez's originality and skill set him apart from his contemporaries in Spain and Italy. Despite the humble nature of the objects portrayed, his still lifes have a remarkable grandeur and monumentality. Here in the Still Life with Tomatoes, a Bowl of Aubergines and Onions, as in most of his paintings, he chooses a low vantage point and sets the objects very close to the picture plane. He arranges a line of tomatoes in the foreground with a single, tiny aubergine in front of them, jutting slightly over the edge of the table. Behind is a bowl of aubergines with a few white onions and a single tomato, partly hidden, adding color to the grouping and leading our eye further into the picture. The exact placement of the objects is crucial and carefully calibrated. Cherry notes that as Melendez worked on the painting, he extended the left edge of the bowl and added the smallest tomato at the far left, in order to balance the composition in terms of both color and depth.1 But it is the tomatoes themselves that dominate the picture. Melendez paints them from every direction, so we can see the wonderful, sculptural curves and ridges, and how the segments bulge out and then curve back in toward the stems. He differentiates their smooth surfaces from the rough green capsule of the aubergine and the curling roots of the onions, and paints them in such rich, orange-red hues that we can nearly smell their ripeness.
1. P. Cherry 2009, Op. cit.