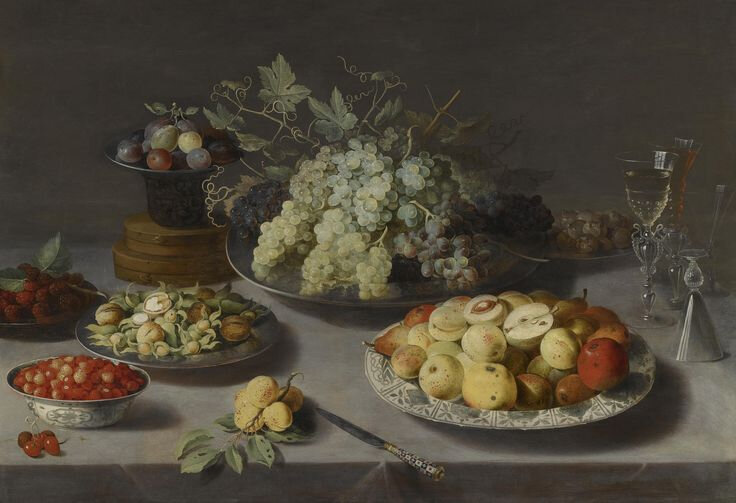 Lot 152. Osias Beert the Elder (Antwerp (?) circa 1580 (?) - 1624), Still life of grapes and other fruits with a knife, Façon de Venise wineglasses and other objects on a draped table, oil on panel, 28 5/8 by 41 1/2 in.; 72.7 by 105.5 cm. Estimate 800,000 — 1,200,000 USD. Lot sold 902,500 USD. Photo: Sotheby's.
Provenance: Anonymous sale, London, Christie's, 11 December 1987, lot 80;
With Galerie de Jonckheere, Paris;
From whom acquired by the present owner.
Exhibited: Brussels, Galerie de Jonckheere, Rencontres de maîtres, 1989.
Note: Osias Beert the Elder was one of the pioneers of still life painting in Antwerp. A contemporary of Jan Brueghel the Elder (1568-1625) and Ambrosius Bosschaert the Elder (1573-1621), Beert was registered as a pupil in the Antwerp painter's guild in 1596 and enrolled as a master in 1602. Beert's style was highly-esteemed by his contemporaries, as evidenced by the large number of period copies and imitations of his work. Today, roughly a dozen signed or monogrammed still lifes by Beert are known, and his extant oeuvre includes only around fifty firmly attributed paintings. Of these known works, about half are flower pictures, while the other half includes fruit and food still lifes such as the present piece.
The present panel is typical of Beert's fruit still lifes in its mixing of locally grown and readily available produce along with more expensive luxury goods such as the porcelain dish and bowl that dominate the foreground. Chinese blue and white Wan-li porcelain is a recurring motif in Beert's still lifes, and indeed, in the still lifes of many of his contemporaries. Imported by the East-India trade companies and known colloquially as Kraak – because early examples had been salvaged from captured Portuguese trade ships known as cararcas – such dishes and bowls were still rare and costly in northern Europe in the early 17th century. In contrast, the pewter plates and façon de Venise glasses – as opposed to actual Venetian glass – were locally produced and readily available. This integration of quotidian and luxury items creates a feeling of immediacy and familiarity in Beert's work; rather than looking posed, his table top still lifes have the feel of a family dinner.
As is common in Beert's food still lifes, the predominant earth tones of his palette are balanced by cool blues and grays and strengthened by the vibrant red tones of the berries and cherries in the lower left of the composition. These are balanced by the rich yellows and oranges of the apricots and pears on the right. A cool, bright light illuminates the table from the left, creating gleaming highlights on the translucent skin of the grapes and plums, and playing similarly across the hard surfaces of the pewter plates and clear glasses. Beert achieved such effects of color and light through the build up of thin layers of glazes on a light ground, strengthening details with fine, linear touches. The knife handle and leaves which overhang the table edge and seem to protrude into the viewer's space heighten the sense of spatial recession and add to the illusionism of the whole.

A similar piece – with the plums and nuts in the background transposed and a few other compositional changes– was sold Paris, Piasa, 25 June 2004 lot. 14.