Lot 135. Jean-Baptiste Greuze (Tournus 1725 - 1805 Paris), Portrait of Florentius Josephus van Ertborn (1784-1840), signed center right: J.B. Greuze, and inscribed on the reverse: F.J. van ertborn ætate XXI / Greuze pinxit anno MDCCCIV, oil on panel, 25 1/2 by 20 15/16 in.; 64.8 by 53.2 cm. Estimate 400,000 — 600,000 USD. Lot sold 938,500 USD. Photo: Sotheby's.
Provenance: Commissioned from the artist by Florentius Josephus van Ertborn (1784-1840), 1804;
Comte Charles de Bergeyck, Antwerp, by 1908;
Anonymous sale (The Property of a Gentleman), London, Christie's, 10 July 1998, lot 39;
With Hall & Knight, Ltd., London, 1999;
From whom acquired by the present owner, 1999.
Exhibited: Fort Worth, Texas, Kimbell Art Museum, From the Private Collections of Texas: European Art, Ancient to Modern, 22 November 2009 - 21 March 2010, no. 46.
Literature: J. Martin, Catalogue raisonné de l'oeuvre peint et dessiné de Jean-Baptiste Greuze, suivi de la liste des gravures exécutées d'après ses ouvrages, Paris 1908, p. 69, no. 1114;
A.J.H. Cornette, Een Antwerpsch maeceen, Ridder Florent van Ertborn, 1784-1840, Antwerp 1938, p. 23 (as untraced);
C.D. Dickerson III, catalogue entry in From the Private Collections of Texas: European Art, Ancient to Modern(exh. cat.), Fort Worth 2009, pp. 228-230, no. 46, reproduced.
Note: Florentius Josephus van Ertborn was an aristocrat, politician and great patron of the arts, who is today best remembered for his generous gift of 114 paintings -- many of them incomparable masterpieces -- to the Koninklijk Museum voor Schone Kunsten, Antwerp. That these paintings still form the core of the museum's collection of Old Masters is a testament to the connoisseurship and aesthetic eye of the remarkable van Ertborn.
Yet, in Greuze's masterful portrait, we encounter van Ertborn before he had amassed his outstanding collection or embarked on his stellar political career. Here, he is still a young man, barely out of adolescence, and Greuze has perfectly captured the confidence and aspirations of his handsome and youthful sitter. Greuze's approach is almost austere in its simplicity: Van Ertborn is depicted against a stark, monochromatic background. He stares directly out of the picture and engages the viewer with sharp, inquisitive eyes. His wide, open-collared white shirt and black silk jacket and cape recall the portraits of his seventeenth-century countryman Anthony van Dyck.1 Van Ertborn's unruly, tousled dark hair, which Greuze has depicted with such free and bold strokes of paint, belies its master's confidence and is a wonderfully subtle indicator of youth. That Van Ertborn commissioned this portrait when he was only around 21 years of age and Greuze was 79 and nearing the end of his life makes it all the more remarkable. One can almost sense the tensions between youth and age, raw ambition and wisdom as they stare at one another across the easel. Greuze clearly made an impression on the young man, as van Ertborn later wrote a short pamphlet on the artist's techniques, in which he discussed the making of this very portrait.2
Van Ertborn served as mayor of Antwerp from 1817 to 1828, in which capacity he improved the city's finances, initiated the reconstruction of the cathedral tower and refounded the Antwerp Academy. He served as Chamberlain to King William I of the Netherlands, and William also appointed him Governor of the province of Utrecht, a post he maintained from 1828 until 1830. Sadly, van Ertborn went almost completely blind in his later years, an infirmity that must have been a great trial for a man who had spent much of his life in thrall to the visual arts. He died, childless, in 1840 at the age of only 56.
His legacy -- the gift he made to the Koninklijk Museum voor Schone Kunsten -- includes most of his fine collection of fourteenth-, fifteenth- and sixteenth-century Dutch, Flemish, French and Italian paintings. Including works by such masters as Jan van Eyck, Rogier van der Weyden, Hans Memling, Jean Fouquet, Simone Martini and Antonello da Messina, van Ertborn's collection was unparalleled and is almost unimaginable today. Among the masterpieces once in van Ertborn's collection are Jean Fouquet's Madonna and Child surrounded by Seraphim and Cherubim (fig. 1); Simone Martini's Orsini Polyptych (fig. 2); and Jan van Eyck's Madonna at the Fountain (fig. 3).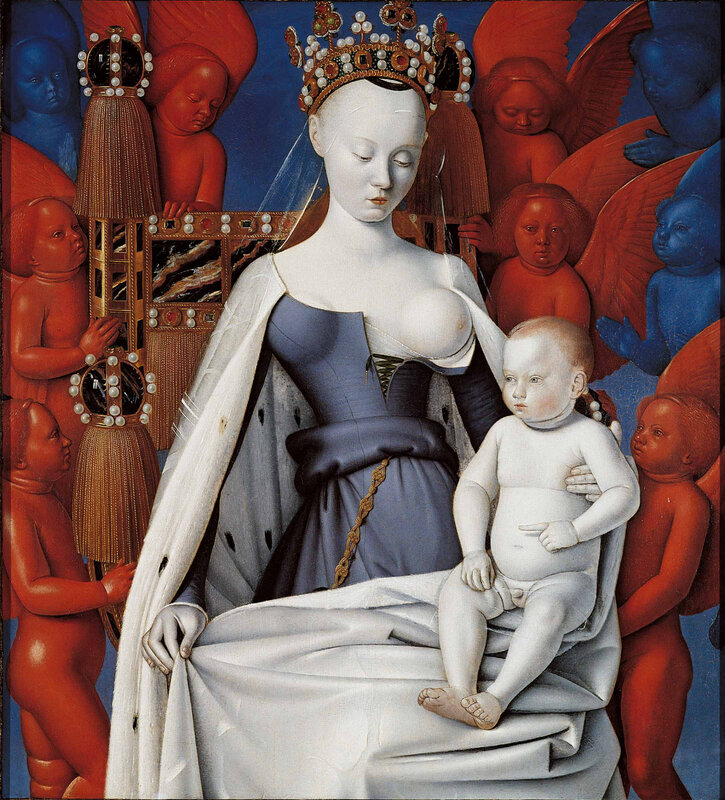 A copy on canvas of Greuze's portrait of van Ertborn was in the collection of Count Jean de Marnix de Ste Aldegonde, Kasteel Eyzer, Overrijsche.
1. See C.D. Dickerson, p. 228.
2. Van Ertborn's pamphlet was entitled Observations sur la manière de peindre de Greuze. It is undated and no copies are known to exist today; however, it is quoted in Cornette, p. 23 (see Lit.).