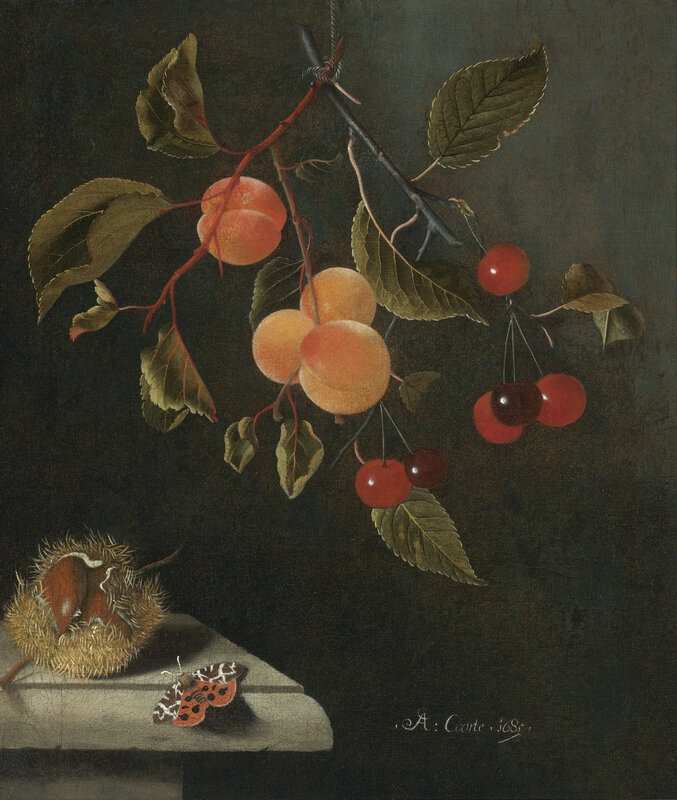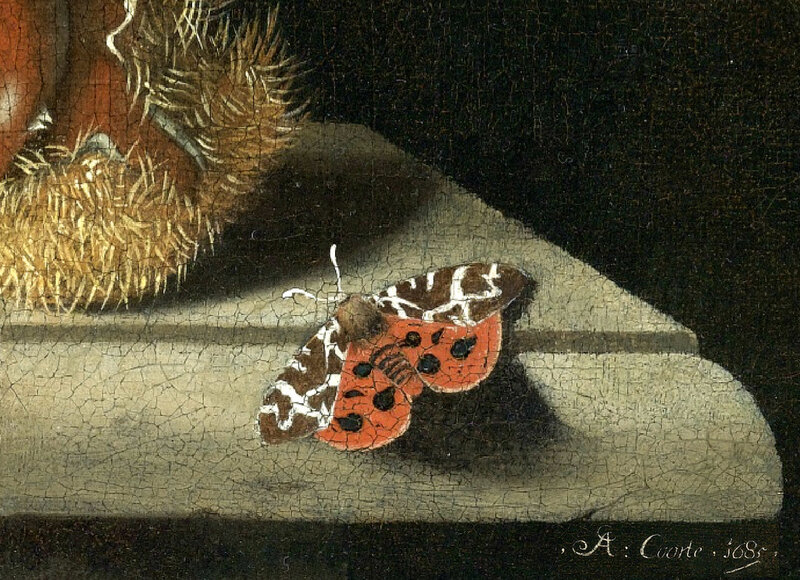 Lot 144. Adriaen Coorte (Middelburg (?) 1660 (?) - after 1707), Still life with a butterfly, apricots, cherries, and a chestnut, signed and dated lower right: A: Coorte, i685, oil on canvas, 16 by 13 3/4 in.; 40.6 by 34.9. Estimate 200,000 — 300,000 USD. Lot sold 290,500 USD. Photo: Sotheby's.
Provenance: With Van Pappelendam & Schouten, Amsterdam;
Their sale, Amsterdam, Frederik Muller & Cie, 11-12 June 1889, lot 207;
Anonymous sale, Boston, Skinner, Inc., 17 November 2006, lot 1 (as Dutch School, 17th Century Style), to Green;
With Richard Green, London, 2007;
By whom sold to a private collector.
Literature: L.J. Bol, "Adriaan S. Coorte, stillevenschilder", in Nederlands Kunsthistorich Jaarboek 4, 1952-1953, p. 212, no. 2a;
L.J. Bol, Adriaen Coorte: A Unique Late Seventeenth Century Dutch Still-Life Painter, Assen 1977, p.15, note 30, and p. 45, no. 4;
S. Melikian, "At the Maastricht fine art fair, dealers laugh their way to victory", in International Herald Tribune, 9 march 2007;
Q. Buvelot, The still lifes of Adriaen Coorte (active c.1683-1707): With oeuvre catalogue, The Hague and Zwolle 2008, p. 86, cat. no. 6, reproduced in color.
Note: Though recorded as autograph in Laurens J. Bol's important studies of Coorte (see 1952-3 and 1977 literature), the present picture was sold in 2006 as by an anonymous Dutch artist. Despite that confused attribution, it is clear that this work is a fine example from Coorte's early, and rare, output. Signed and dated 1685, it is one of only three known dated pictures from that year.1 It relates closley to a work from one year later, Still Life with Berries, Medlars and Grapes (Maida and George Abrams Collection, Boston), in which Coorte similarly employs a more complex arrangment of hanging fruit, set above a ledge with cherries. After 1688, Coorte's oeuvre consists of much more austere and simple arrangments, comprised of only one or possibly a few still-life elements.
Despite any differences with what is now recognized to be Coorte's "mature" style, the present work still employs the hallmark motifs so unique to Coorte's output. The picture is arranged in a beautifully simple composition comprised of a butterfly, chestnut, and hanging seasonal fruit, in this case more rarely seen cherries and apricots. A hard, bright and wonderfully elaborated illumination spreads an unrealistic, almost magical sheen over his carefully structured still lifes. The edges of the stone table stand out sharply, with a clear-cut joint and minor cracks or damage. The elegantly rendered chestnut and butterfuly are painted in meticulous detail, both set against a dark green background which is again consistent with Coorte's early work.
1. See literature, Buvelot 2008, cat. nos. 5-7.