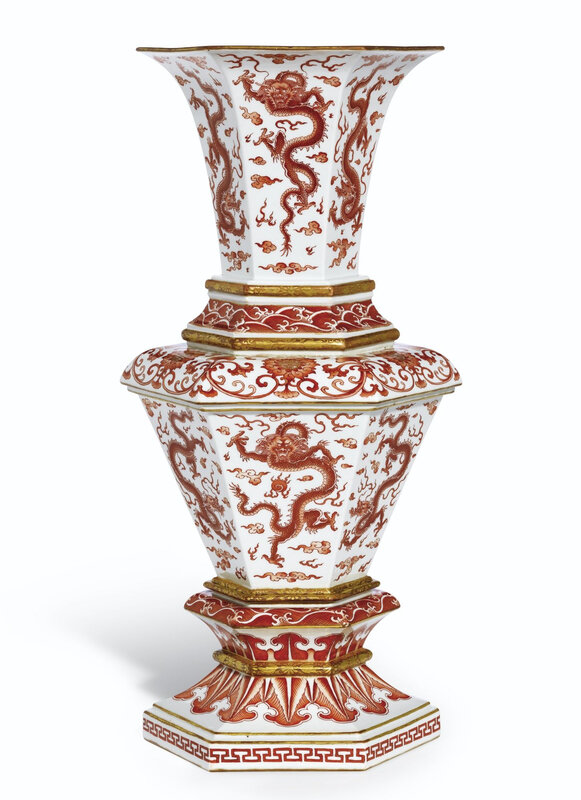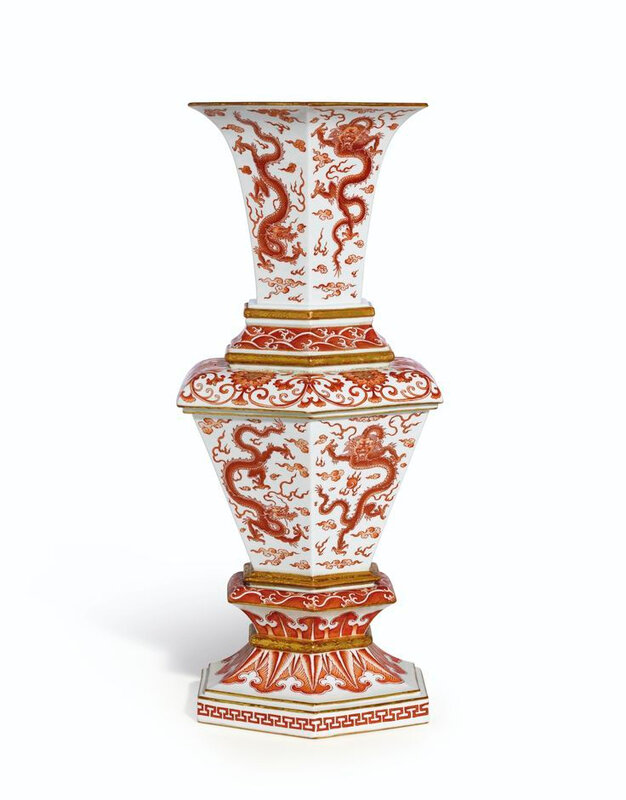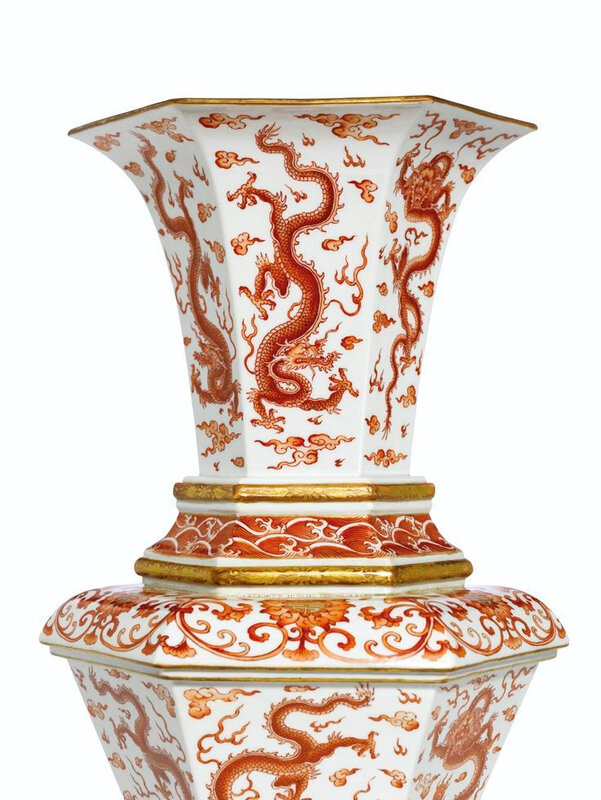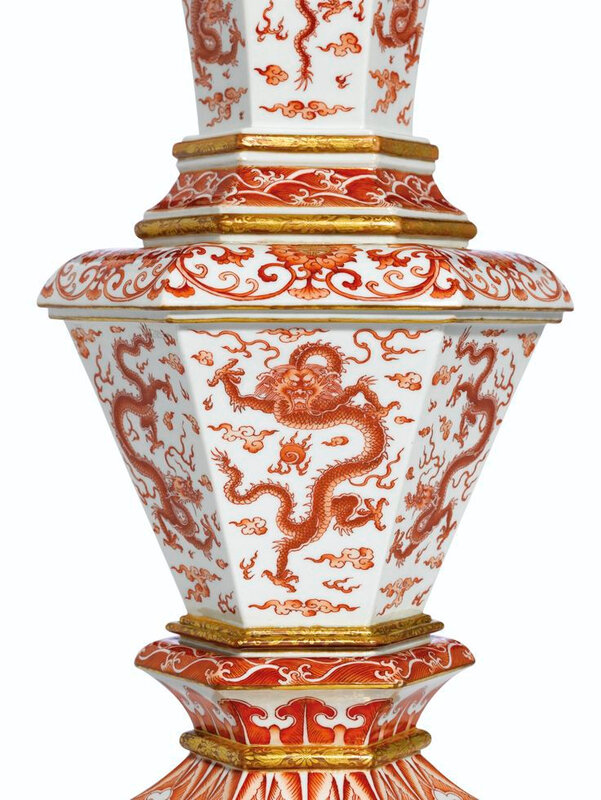 Lot 3706. A magnificent and rare iron-red and gilt-decorated 'Dragon' vase, Qing Dynasty, Yongzheng Period (1723-1735); 42.8 cm., 16 7/8 in. Estimate 10,000,000 — 15,000,000 HKD. Lot Sold 13,240,000 HKD. Photo: Sotheby's.
of hexagonal section, boldly potted with a tapered central section rising from a splayed foot to rounded shoulders and a tall trumpet neck, each facet of the neck and main body painted in iron-red with a five-clawed dragon soaring amidst ruyi-shaped clouds, separated by a band of lotus scroll with shou character roundels on the shoulders below a band of stylised tumultuous waves, all above a further band of crashing waves and two bands of stylised foliate lappets encircling the foot, the footrim bordered with a key-fret border, all horizontal registers divided by gilt-decorated bands; 42.8 cm., 16 7/8 in.
Provenance: Sotheby's Hong Kong, 30th April 1996, lot 467.
Christie's Hong Kong, 1st November 2004, lot 862.
Christie's Hong Kong, 30th November 2011, lot 3102.
Note: This spectacular vase is the product of the innovative Tang Ying (1682-1756). The masterfully conceived form and design derives from cloisonné and painted enamel of the Beijing workshops, as indicated by the gilt-painted rim and raised bands. Furthermore, the angular and structural shape, together with the symmetrical design, is closer to moulds in which bronze vessels would have been cast and enamelled rather than formed on a potter's wheel. The hexagonal form has been cleverly utilised; a central outward-looking dragon is faced by two dragons on either facet which also accentuates the imposing shape of the vase.

A bondservant of the Plain White Banner at the Imperial Household department, Tang Ying began designing porcelain for the Jingdezhen imperial workshops while he worked in the court at Beijing and before his transferral to Jingdezhen in 1726 to supervise the Jingdezhen factories. He had the opportunity to study the imperial collections of antiquities, paintings and porcelains as well as gain exposure to the Palace workshops while based in the court at Beijing, all of which he used as a source of inspiration when creating designs for porcelains.
With its roots in archaic bronze gu vessels, this piece represents a temple vase and takes its form from metal-bodied prototypes. Ritual vessels were frequently made from the expensive and vibrant gilt cloisonné from the Ming dynasty; however the Yongzheng emperor 'did not seem to like cloisonné but favoured painted enamel wares with bodies of copper or bronze, as well as porcelain and glass' (see Zhang Rong, 'Cloisonné for the Imperial Courts', Cloisonné Chinese Enamels from the Yuan, Ming and Qing Dynasties, New Haven, 2001, p. 160). As a result, few imperial cloisonné enamel ritual vessels from the Yongzheng period are recorded in comparison to the more prevalent exquisitely painted porcelain examples, although an extremely rare cloisonné enamel vase of this form, the shoulder and foot adorned with a similar band of scrolling lotus flowers and stiff leaves, but the neck and body with panels of various flowering branches, was offered at Bonhams Hong Kong, 27th May 2012, lot 314.
This vase continues in a long tradition of overglaze-red decorated wares, with dragon motifs in iron-red on a white ground first appearing in the Hongwu reign (1368-98). White ground was also common feature of painted enamel wares; according to Liu Liang-yu 'about 34% of painted enamel utilised yellow as the primary tone. About 15.2% of the vessels employed a white background as the primary decorative tone, and the remainder of the vessels utilised the rest of other colours' (seeChinese Enamel Ware: Its History, Authentication and Conservation, Taipei, 1978, p. 69).
Compare famille-rose Yongzheng mark and period vases of this form, but heavily moulded and decorated with formal floral designs, such as two from the collection of Colonel H.S. Stern, sold together with a matching incense burner at Christie's London, 7th April 1982, lot 62; one of the vases later sold in these rooms, 9th November 1982, lot 291, and the censer, 19th November 1986, lot 265. A further pair of famille-rose vases is illustrated in S.W. Bushell, Oriental Ceramic Art, London, 1981, col. pl. XX; two single vases were sold in these rooms, one, 8th April 2007, lot 507, and the other, 20th May 1987, lot 565.
Compare also a smaller vase in the Shanghai Museum, included in the exhibition Harmony and Integrity. The Yongzheng Emperor and His Times, National Palace Museum, Taipei, 2009, cat. no. II-85. It is notable that the profile of this vase bears resemblance to Tang Ying's blue-and-white altar vases, such as one sold in these rooms, 8th April 2007, lot 508.
Sotheby's. Fine Chinese Ceramics and Works of Art, Hong Kong, 08 oct. 2014