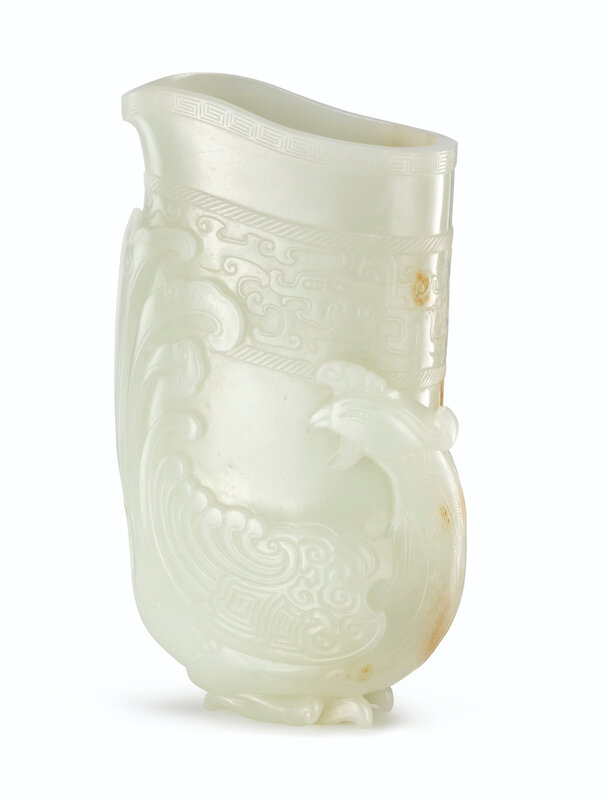 Lot 3671. A white jade 'phoenix' rhyton, Qing dynasaty, early 18th century; 16.6 cm., 6 5/8 in. Estimate 2,000,000 — 3,000,000 HKD. Lot Sold 2,440,000 HKD. Photo: Sotheby's.
the flattened upright body with a band of archaistic kui dragons between rope-twist borders and a key-fret band bordering the mouthrim, all rising above a recumbent phoenix with claws held tightly beneath, its head turned back with its beak open, its tail intricately incised with ruyi-shaped plumage and extending up around the vessel, the translucent stone of an even white colour with faint russet inclusions.
Provenance: Sotheby's New York, 17th October 2001, lot 72
Note: Elegantly carved with a phoenix from a white boulder of the highest quality, this piece is notable for its reinterpretation and fusion of two traditions, that of archaic bronzes and horn-shaped vessels. A rhyton of this type, but carved with a chilong clambering onto the rim, was sold in our London rooms, 12th November 1974, lot 72; and another, but with the phoenix facing forward, was sold in these rooms, 22nd May 1985, lot 311. A small cup of similar form, in the Minneapolis Institute of Arts, is published in Chinese Jades: Archaic and Modern, Minneapolis, 1977, pl. 211 (left).
An earlier version of a rhyton carved with the head of a phoenix, but rendered with more archaistic features, in the Avery Brundage collection, is illustrated in Rene-Yvon Lefebvre d'Argence, Chinese Jades in the Avery Brundage Collection, San Francisco, 1977, pl. 49.
The placing of a vase on the back of an animal or bird is a concept that originated in ritual vessels of the archaic period. Revived during the Song dynasty the design peaked in popularity during the Qing period when it was produced in numerous variations and in many different materials including jade. By replacing the typical vase form with a horn shape-vessel that appears to emerge as a natural extension of the phoenix, the carver successfully captures the rhyton form. Originally a drinking vessel made from ox or buffalo horn, jade rhytons appeared in China as early as the Han dynasty (206 BC- AD 220) and were probably introduced from Central or Western Asia where they were made in silver or precious stones. Jade rhyton were more commonly carved in the form of a sea creature or mythical beast holding the cup from its gaping mouth. The present vessel captures a sense of contemporaneity by merging the two styles together in an unconventional manner while retaining its references to antiquity.
Rhyta were held in high esteem as vessels that referenced antiquity, and were made in a variety of media; for example see a cloisonné enamel example, similarly modelled as a phoenix, sold in our London rooms, 29th October 1982, lot 39, and again at Christie's Paris, 7th December 2007, lot 20; and a bronze rhyton from the Edward T. Chow collection, cast with the head of a beast and the body of a bird, sold in these rooms, 27th May 2014, lot 52.