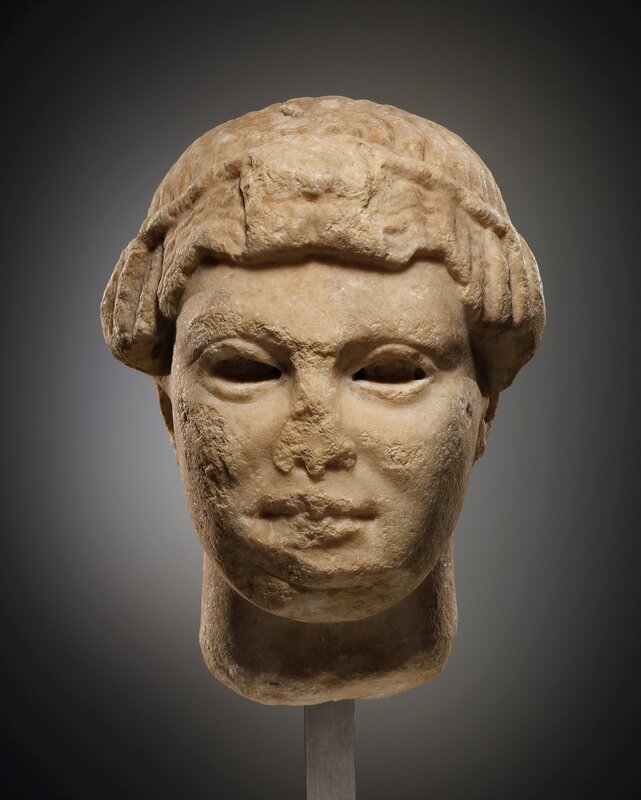 An Archaistic Head of a Youth, probably Apollo, Rome, Late 1st Century BC - 1st Century AD. Marble, 25.5 cm (10 in.). Image courtesy of CAHN / Stand 57, TEFAF New York Fall 2018
This slightly under life-size head of a youth with idealised facial features follows a type represented by a group of Archaistic heads which are eclectically modelled on Greek sculptures of the Late Archaic and Early Classical periods.
Provenance: Formerly private collection Christen Sandberg (1861-1918), Norway; Thence by descent in the family.
Christen Sandberg was an importer of coal and corn and German vice-consul, but it was his friendship with Danish and Norwegian artists that made him a public figure. He was portrayed by Edvard Munch.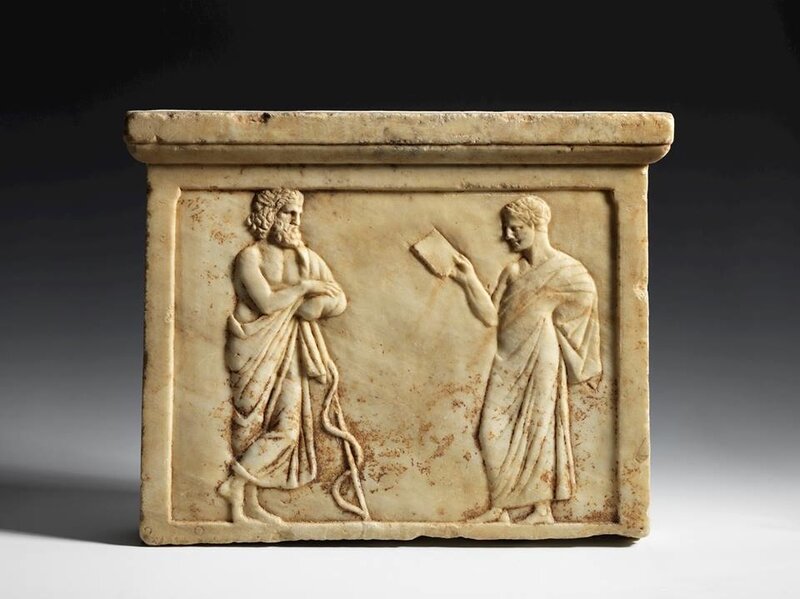 A Votive Relief with Asklepios, Attic, Early 4th century BC. Marble, 37.5 x 47 cm (14.8 x 18.5 in.). Image courtesy of CAHN / Stand 57, TEFAF New York Fall 2018
Provenance: Private collection M. S., Switzerland, acquired 1962 from Münzen and Medaillen AG, Basel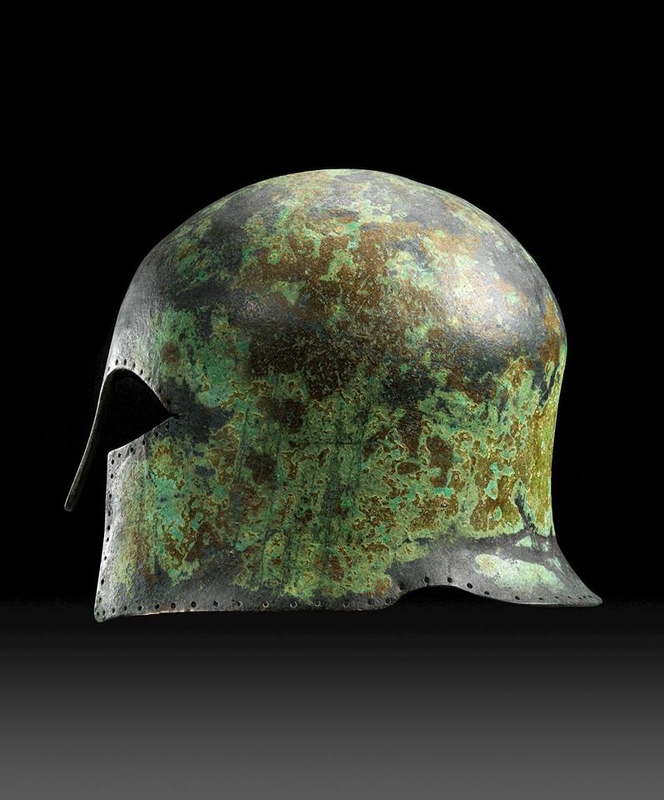 A Corinthian Helmet, Greece, Mid-7th century BC. Bronze. Height 21 cm (8.3 in.). Image courtesy of CAHN / Stand 57, TEFAF New York Fall 2018
Made of a single sheet of bronze, this helmet has a slightly projecting and off-set crown and a gently concave profile from the broadest point of the crown to the bottom edge. Large eye openings and long nose-guard with rounded tip. The short neck-guard is offset from the rim of the cheek-guards by rounded notch. Regularly spaced holes are punched along the edges for the rivets which served to attach the cloth or leather lining of the helmet. Dappled green-brown patina. The slight indentations on the top and back of the helmet were possibly caused by blows. Nose-guard restored.
Provenance: Formerly Collection Axel Guttmann, 1944-2001, Berlin; Acquired 1993 in Geneva; With Christie's London, 28 April 2004, lot 63; Private collection, USA.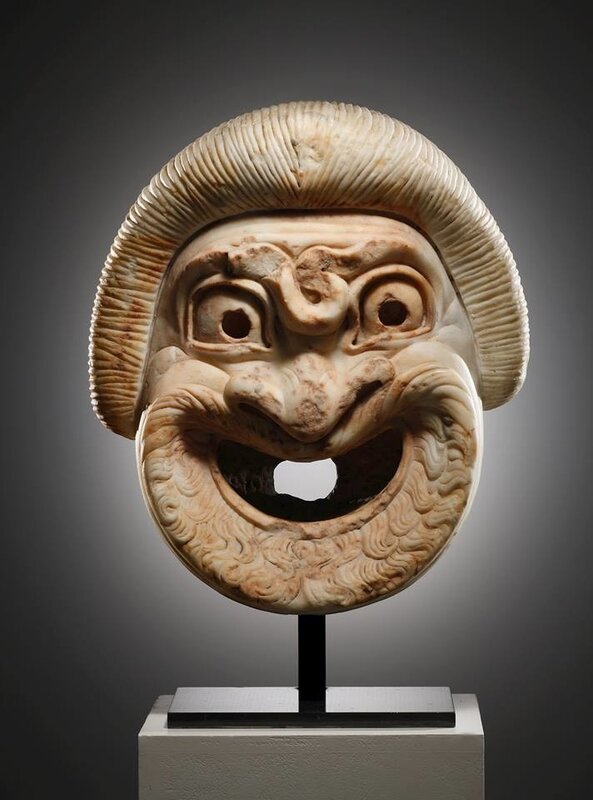 A Monumental Mask of a Slave, Roman, Second century AD. Marble. Height 45 cm (17.7 in.). Image courtesy of CAHN / Stand 57, TEFAF New York Fall 2018
Monumental mask with grotesque facial features representing the type of the New Comedy house slave. Demonically curved eyebrows above wide-open, goggling eyes with pronounced tear ducts and drilled pupils. Low forehead and short, broad nose. Its tip almost reaches down to the wide-open mouth which forms a gaping opening and is surrounded by a short, curly beard. The finely stranded hair forms a wreath around the upper half of the face. Reverse roughly hewn.
Provenance: Formerly Sotheby's New York, 12 June 1993, lot 154; Christie's London, 21 April 1999, lot 179; Thereafter private collection, Europe.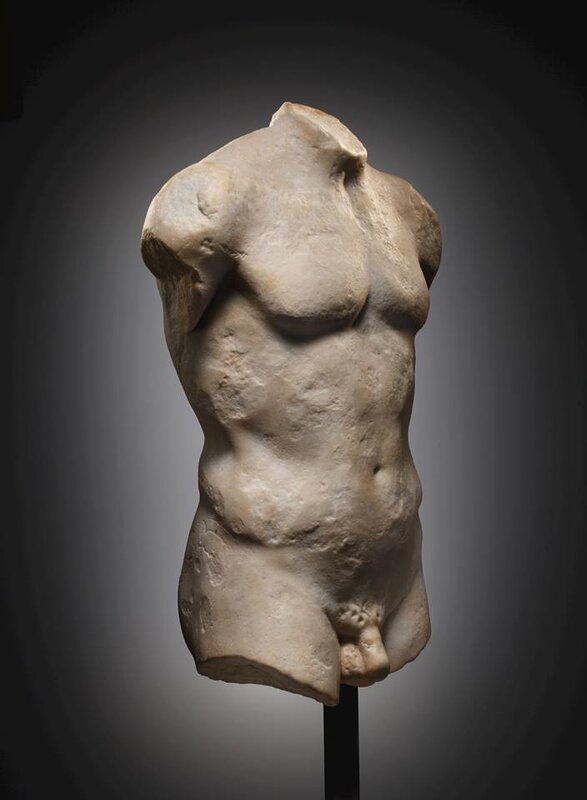 A Torso of an Athlete, Greek - Second half of second century BC. Marble. Height 53 cm (20.9 in.). Image courtesy of CAHN / Stand 57, TEFAF New York Fall 2018
This high quality, slightly under life-sized torso of an idealised Greek athlete is both powerful and expressive. The representation of the pubic hair indicates that the youth is past childhood. The beginnings of the thighs reveal that the figure stood in contrapposto, a pose that found its culmination in the works of Polykleitos and his followers. In accordance with the principles of contrapposto, one of the arms was probably akimbo whilst the other hung at ease by the figure's side. The dynamism of the Doryphoros (ca. 450 B.C.), the prime example of the Polykleitan canon of forms is not yet attained by our torso. This is evidenced by the hardly perceptible shifts of the body axes, ie. in the only slightly lowered hip of the free leg and the almost horizontal shoulder line. The torso as a whole appears fairly static and thus is close to the sculptures of the Severe Style, as exemplified by the Kritios Boy (circa 480 BC). Here too, there is a charming contrast between the plastically pronounced, fairly broad upper body and the slender hips and thighs.
In Antiquity, it was a widespread practice to study the art works of previous eras. Especially in the Hellenistic Period in which our torso was probably sculpted, the artists and workshops seemed to enjoy copying well-known statue types, to vary them and also to reinterpret them. Signs of deposition in a marine environment are visible on the surface. Worn with minor fillings
The gallery specializes in classical antiquities such as Greek and Roman sculptures, as well as Greek vases. We also exhibit a number of smaller pieces, from bronzes to terracottas or ancient jewelry. In the case of sculpture and vases, attributions are the result of thorough research. In the past few years, the gallery has been rethinking its acquisition policy, pinpointing quality as well as provenance even more. Our profile is then to provide/show quality pieces with a strong expertise and mint provenance.
Cahn Malzgasse 23 4052 Basel Switzerland +41 612716755 See map Visit website