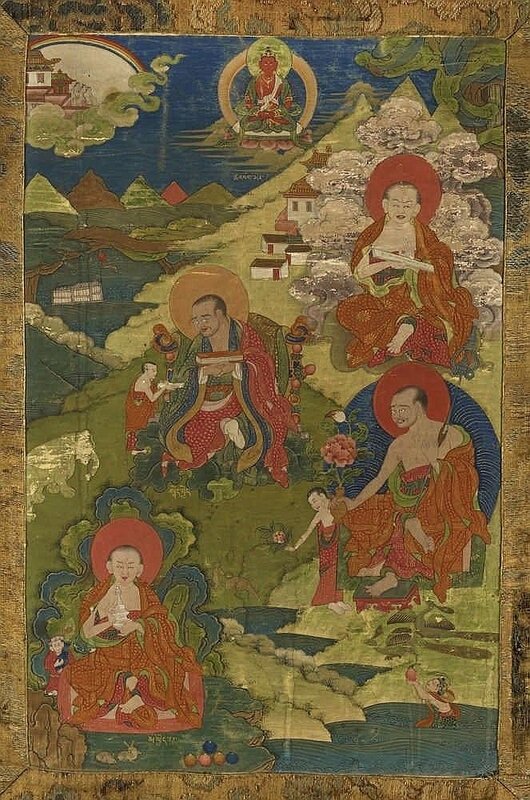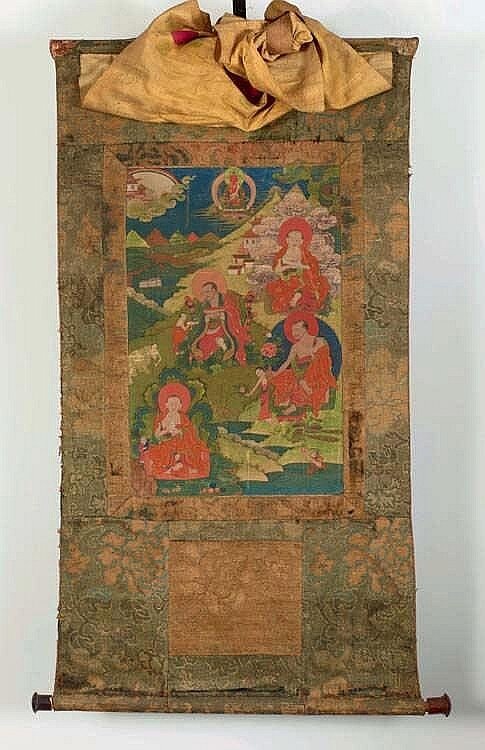 Lot 69. Les quatre arhat Gopaka, Pantaka, Abheda et Nagasena, Tibet, ca 18e siècle. Détrempe sur toile. 45,5 x 29,5 cm (hors montage). Estimation 6 000 € - 8 000 €. Résultat 8 000 €. © Cornette de Saint-Cyr.
Les arhat Gopaka, Pantaka, Abheda et Nagasena sont disposés dans un classique paysage de montagnes. Amitâyus occupe le haut de la composition. Certains d'entre eux sont identifiés par leurs noms tibétains partiels. Porte au dos l'inscription gyon gnyis-pa (indiquant la seconde position à gauche du thang-ka central de la série). Montage d'origine à base de brocarts chinois et voile.
Provenance: - Collection Privée Française
- Ancienne collection de la famille Macdonald
- Acquis à Kalimpong (Inde) en 1959 - 1960
A fine Tibetan thang-ka from the same set as lots 68 and 70.
From a French private Collection / formerly in the Macdonad Family collection, same original set as lots 69 and 70.