Idol of Spedos type, Cycladic, circa 2700-2600 BC. Marble, 4 x 2 cm (1.6 x 0.8 in.). Image courtesy Charles Ede / Stand 76
Provenance: Arthur L. Jacobs (d.1979), New York; Acquired from Zoumboulakis Gallery, Athens, circa 1967, thence by descent circa 1985.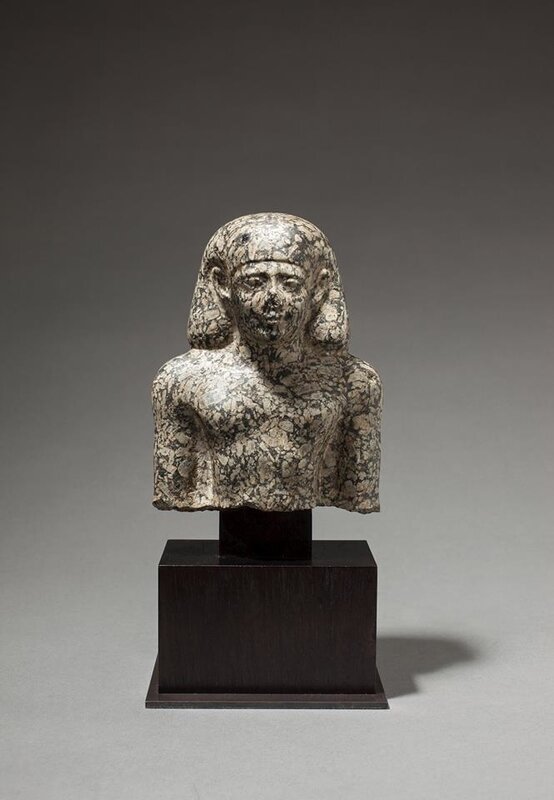 Bust of a priest of Khonsu-Pa-Ir-Sekher, Egypt, Late Dynastic Period, Circa 4th century BC. Gabbro. Height 14.6 cm (5.7 in.). Image courtesy Charles Ede / Stand 76.
This priest is wearing a smooth bag wig revealing his large ears. He shows sharply defined, long eyebrows that shade the eyes, carved in relief. The corners of his mouth are turned up in a pronounced smile. The shapely torso with defined clavicles, strong pectorals and toned arms, is bare. The square-topped dorsal pillar is inscribed with two columns of hieroglyphic text, an invocation to Amun and Mut reading: 'A boon which the king gives to Amun-Re and to the goddess Mut, the great one, the Mistress of Isheru... the Priest of Khonsu-pa-ir-sekher (he who provides) in Thebes, the overseer of the Divine Craftsmen…'. The dark grey matrix with a multitude of closely spaced paler crystals, broken across the waist and above the elbows.The broad nose has a chip to the tip.
Provenance: Private collection, Switzerland; Christie's, London, 'Fine Antiquities', 14th June 1978, lot 389; Private collection, London; Acquired in London, 2003.
Statue base of Sepdet, Egypt, circa 1350 BC. Granodiorite. 13 x 20 x 11 cm (5.1 x 7.9 x 4.3 in.). Image courtesy Charles Ede / Stand 76.
Provenance: Mr A., the Ambassador of Belgium to Lebanon, Egypt, Jordan and Iraq; acquired 1966-71 during his travels in the Near East and Egypt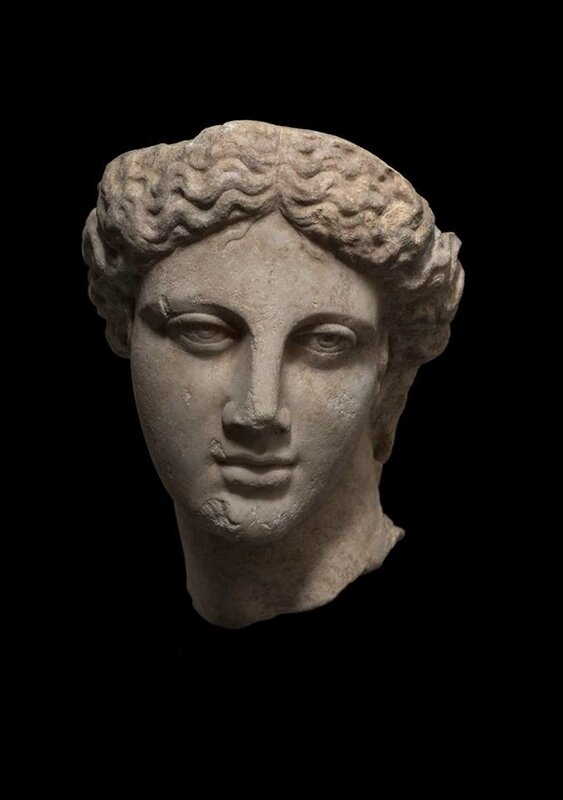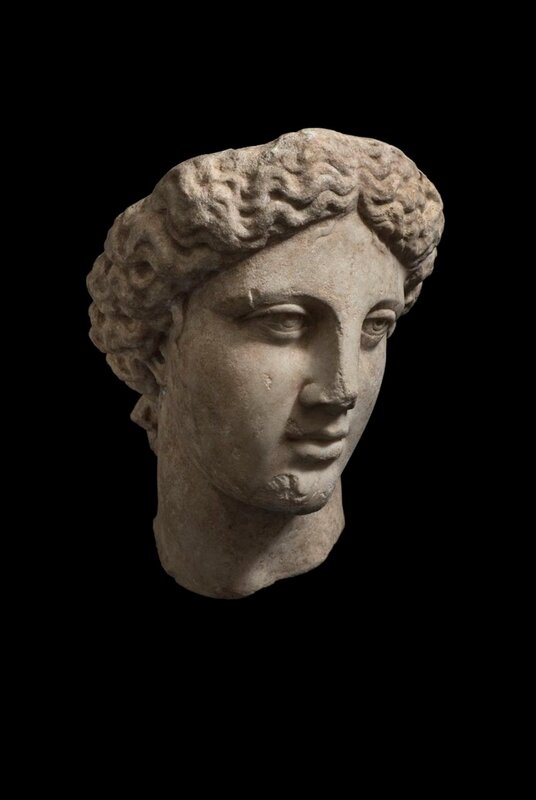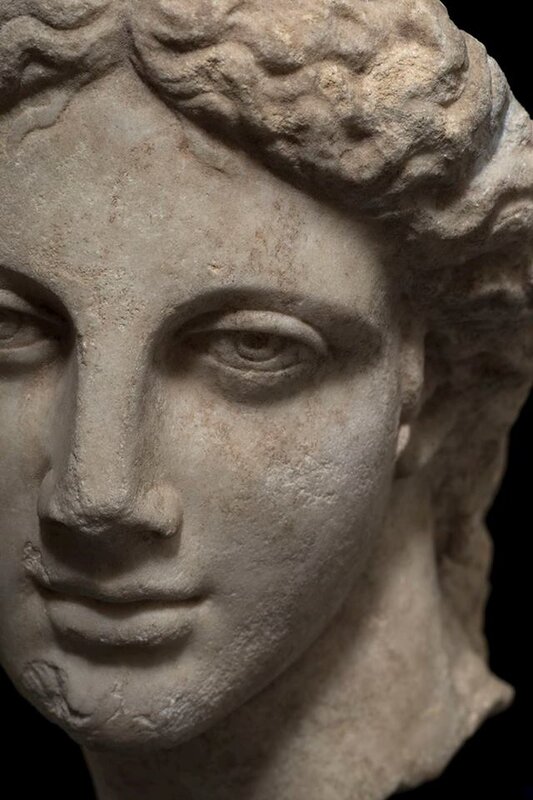 Head of Apollo, Rome, 2nd-3rd Century AD. Marble. Height 21 cm (8.3 in.). Image courtesy Charles Ede / Stand 76.
The youthful god gazes forward, his head turned to the left. His wavy hair is centrally parted and tied in a bun at the nape of his neck, two delicate strands fall onto his forehead and one in front of each ear. He has an elegant neck, narrow jawline, plump lips and strong nose, his pupils incised. Small loss to the nose and chin. Some pitting to the surface. The separately made crown of the head is missing; remnants of an iron pin in one of the two fixing holes; the surface roughened to aid adhesion.
Provenance: Charles Ratton, Paris, Acquired February 1974; Private collection, France.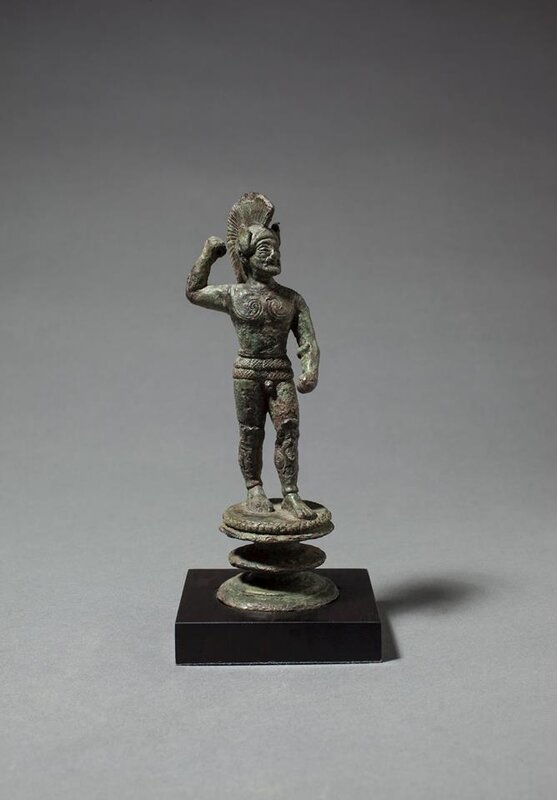 Warrior finial, Mid 5th century BC. Bronze. Height 11.9 cm (4.7 in.). Image courtesy Charles Ede / Stand 76.
Finial from a candelabrum showing a warrior, naked except from his Chalcidian helmet with a long engraved horse-hair crest, and with the earflaps turned up, a decorated cuirass and greaves. The powerful, stocky body strides forwards, his right arm is raised to cast a spear and his left arm would have supported a shield. The bearded and mustachioed face stares straight ahead with a slight smile. Set on an integral circular double reel plinth. Some pitting to surface.
Provenance: Ugo Donati, Lugano, Switzerland; acquired circa 1970.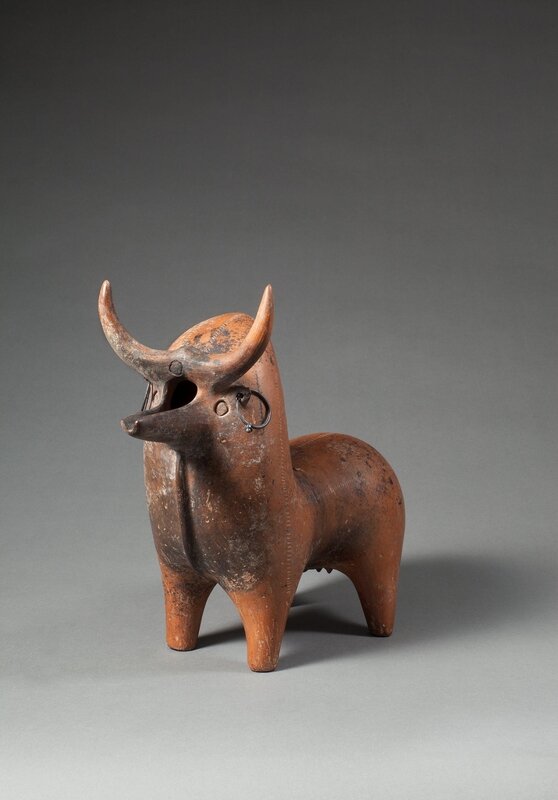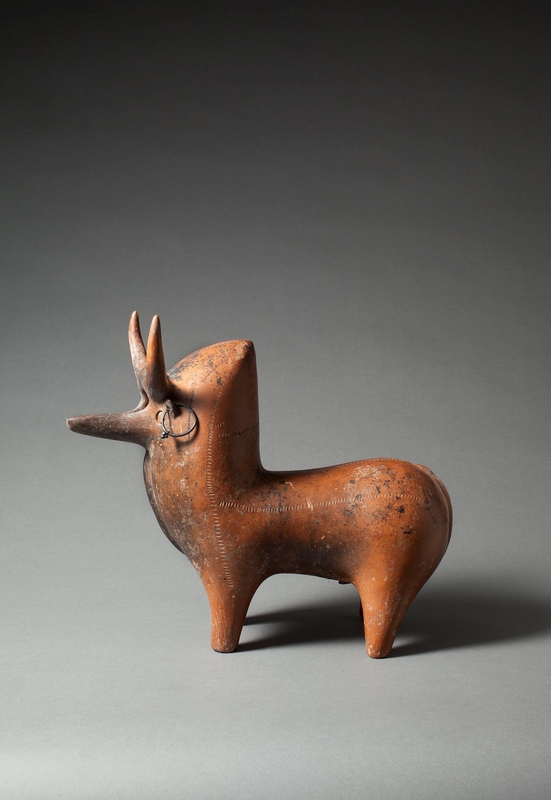 Near Eastern Amlash zebu bull rhyton, circa 1000 BC. Terracotta, 25.9 x 31 cm (10.2 x 12.2 in.). Image courtesy Charles Ede / Stand 76.
Archaeologia Viva: Tehran, The Iran-Bastan Museum. Prehistory, Protohistory, Paris, 1968, p. 74, no. 86.
Provenance: Dr H. Winkler, Germany; acquired prior to 1970, thence by descent; Private collection, Belgium.
Established nearly 50 years ago, Charles Ede is recognized as one of the world's leading antiquity dealerships, for works of art from ancient Egypt, Greece and the Roman empire as well as European art prior to ca. 1000 AD. The gallery exhibits at each of TEFAFs three fairs and publishes at least three catalogues annually, including two which coincide with fairs. The company has remained true to the principle of offering fully-researched and provenanced material. The gallery is a member of various professional associations and upholds their high ethical standard. These include ADA (Antiquity Dealers Association), BADA (British Antique Dealers Association), CINOA and IADAA (International Association of Dealers in Ancient Art) Clients include some of the worlds most important collectors as well as internationally respected museums across the USA, UK and Europe.
Charles Ede 1 Three Kings Yard London W1K 4JP +44 2074934944 See map Visit website