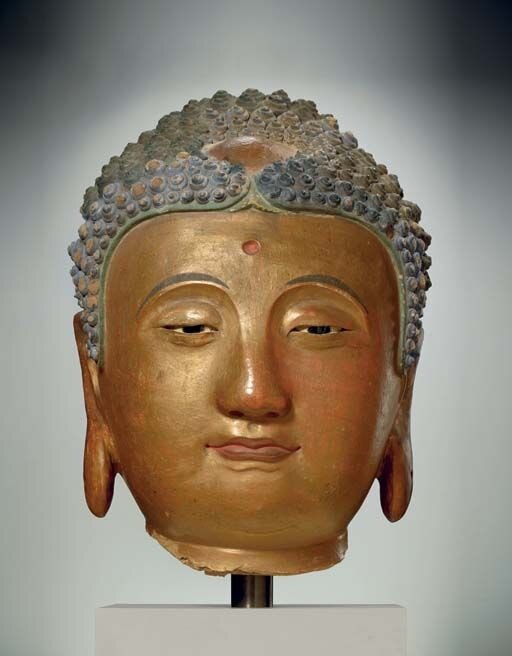 Lot 228. A massive painted and gilt-lacquered stucco head of Buddha, Yuan-Ming dynasty, 14th-15th century; 32½ in. (82.6 cm.) high. Estimate USD 40,000 - USD 60,000. Price realised USD 57,600. © Christie's Images Ltd 2007
The face well-modelled with a gentle expression and covered in gold lacquer, the arched eyebrows detailed in black and the mouth and urna in red, the hair dressed in tight curls painted blue and greenish-blue surrounding a rounded usnisa also covered in gold lacquer, stand.
Note: This massive head must have belonged to an equally massive figure of the Buddha, and would have looked benignly down, possibly from the central position in a temple or shrine. The face is superbly modelled and the sculptor has managed to convey a feeling of great gentleness and compassion.

There are several features that link this head with sculptures of the Yuan and Ming dynasties in Shanxi province. The whorls of hair on the current head have been applied as if they are part of a cap. The blue whorls appear to stand on a green base, the clearly defined edge of which is seen all around. This same feature can be seen on a smaller, Ming dynasty seated Buddha figure in the Shuanglin Temple, Pingyaoxian, Shanxi province, illustrated in Zhonggguo meishu quanji - diaosu 6 Yuan Ming Qing diaosu, Beijing, 1988, p. 63, no. 67. The green-edged cap effect can also be seen on another Ming dynasty seated Buddha in Xiaositian, Xixian, Shanxi province, ibid., p. 91, no. 99. There are additional features of the Xixian figure that relate to the current head. Both depict the whorled area as having a parting in the center of the forehead, with the parting leading to a domed usnisa that is free of hair and painted gold. The proportions of the eyes, nose and mouth are also similar on the Xixian figure's face and that of the current head. However, although the current head has rounded cheeks, its sculptor has avoided the heavy-jowled look that many Yuan and Ming dynasty Buddhas, including the Xixian example, display.

There are also significant similarities between the face on the current head and that of a rare Yuan dynasty meditating luohan (judging from the outer garment, possibly intended to represent Kasyapa, but less aged than he is usually portrayed) in the Qinghua Temple, Jincheng city, Shanxi province, ibid., p. 35, no. 36. The luohan shares with the current Buddha similar treatment of the eye-sockets and eye-brows, as well as a realistically modelled nose and full lips with a distinctive bow-shaped crease below the bottom lip. Both faces are generally more naturalistic and less mannered than those of many other figures of the period.

This Buddha has a gentle, rather youthful, face filled with compassion for the generations of believers who came to seek his wisdom and his blessing.
Christie's. Fine Chinese Ceramics & Works of Art, New York, 22 March 2007