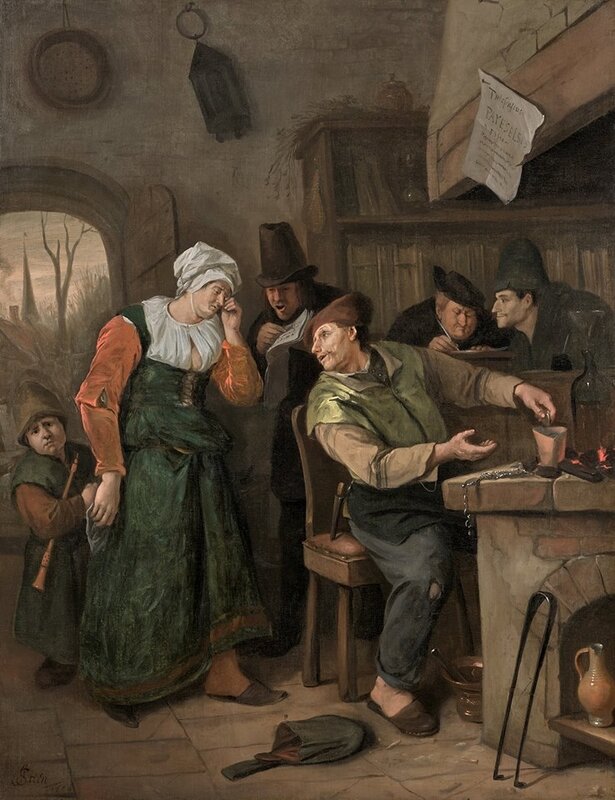 Jan Steen (1626 - Leiden - 1679), The Alchemist, 1668. Oil on canvas, 106 x 82 cm. Signed and dated 'JSteen 1668'. Image courtesy Daxer & Marschall Kunsthandel / Stand 372.
Engraved by François Godefroy (Bois-Guillaume 1743 - 1819 Paris) in reverse, under the title Les souffleurs et le paisan crédule, circa 1758-83.
Provenance: Extensive provenance back to the 18th century and on request; restituted to the heirs of Daniel Wolf in 1948 by the Stichting Nederlands Kunstbezit (SNK).
Literature: John Ingamells, Wallace Collection Catalogue of Pictures IV – Dutch and Flemish, London, 1992, no. P209, p. 360
Wilhelm Martin, Onze Kunst, De Jan Steen tentoonstelling te Londen, Antwerpen, July-December 1909, p. 164
F. Schmidt Degener, H. E. van Gelder, Jan Steen. Forty reproductions in photogravure of the artist's principal works, with a critical study, London, 1927, no. XXVI, pp. 62-3
Abraham Bredius, Jan Steen, The Hague, 1927, plate XCVI, p. 23
Leon Krempel, Holländische Gemälde im Städel Museum, 1550-1800, Petersberg, 2005, under inv. 898, fig. 217, pp. 287-8
Karel Braun, Alle tot nu toe bekende schilderijen van Jan Steen, Rotterdam, 1980, no. 249, p. 120
Gustav Friedrich Waagen, Treasures of Art in Great Britain (…), London, 1854, p. 27
A.A.A.M. Brinkman, De alchemist in de prentkunst, Amsterdam, 1982, fig. 12, p. 49
Dana Kelly-Ann Rehn, The image and identity of the alchemist in seventeenth-century Netherlandish art, University of Adelaide, 2011, fig. 9, p. 126
Cornelis Hofstede de Groot, Beschreibendes und kritisches Verzeichnis der Werke (…), Esslingen, 1907, no. 229/231, .
Robert James Loyd-Lindsay Wantage et al., Collection of pictures forming the collection of Lord and Lady Wantage (…), London, 1905, no. 221, p. 155.
Exhibited: London, British Institution, 'Pictures by Italian, Spanish, Flemish, Dutch, French and English Masters', 1850-1851; London, Royal Academy of Arts, 'Exhibition of the works of the Old Masters, associated with works of Deceased Masters of the British School', May-June 1871; London, Dowdeswell Galleries, 'Loan exhibition of pictures by Jan Steen', 1909, no. 15; Leiden, Stedelijk Museum De Lakenhal, 16 June-31 August 1926, no. 50; Rotterdam, Museum Boijmans Van Beuningen, date unknown (lent by Mr. Schuddebeurs, Amsterdam, according to a label on the stretcher).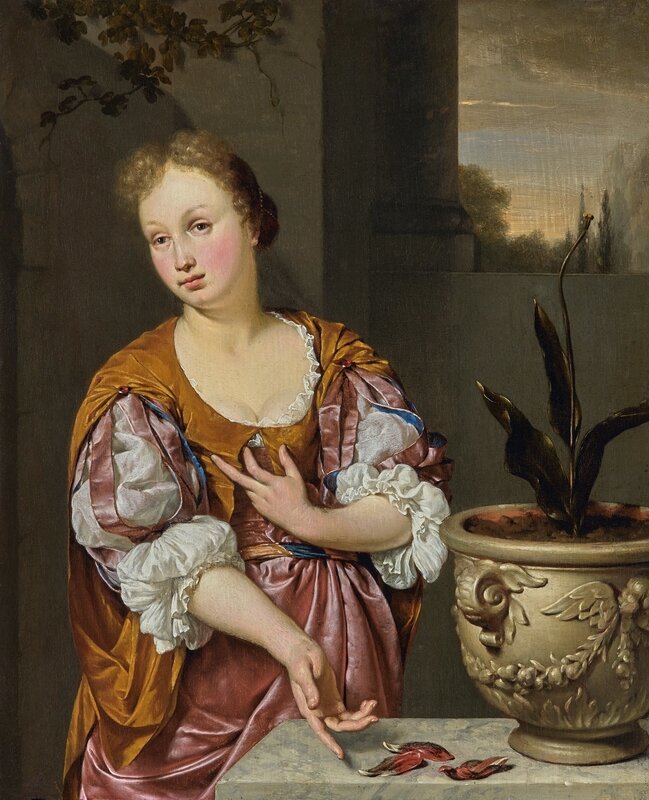 Jan van Mieris (Leiden, 1660 - Rome, 1690), A Young Woman Pointing at Tulip Petals, 1687. Oil on panel, 21 x 17.1 cm (8.3 x 6.75 in.). Signed and dated 'J. van Mieris/1687' on the base of the column in the middle. Image courtesy Daxer & Marschall Kunsthandel / Stand 372.
Provenance: W. Baumgärtner, Oberer Luisenpark, Mannheim (according to label on the back).
Otto Scholderer (1834 - Frankfurt - 1902), The Masqueraders – Before the Ball, 1881. Oil on canvas, 137 x 183 cm (53.9 x 72 in.) Signed with initials and dated 'O.S. 1881' lower right. Image courtesy Daxer & Marschall Kunsthandel / Stand 372.
Provenance: B. Creasy, The Mayfair Art Gallery, London; London, Christies, auction sale, 14 April 1944, lot 65, sold for 20 guineas to a Mr. Einstein; Galerie Neumeister & Gräf, Munich 1956; Georg Schäfer private collection, Schweinfurt, inv. 43250897; Munich, Auktionshaus Neumeister, auction sale, paintings from the Georg Schäfer collection, 25 February 2005, lot 680; German private collection.
Literature: Jutta Bagdahn, Otto Franz Scholderer, Monographie und Werkverzeichnis, Freiburg, 2002, no. 196, xx
Manfred Großkinsky and Birgit Sander (eds.), Otto Scholderer 1834-1902: die neue Wirklichkeit des Malerischen: zum 100. Todestag, Haus Giersch, Frankfurt am Main, 2002, no. 71, p. 71.
Exhibited: Autumn Exhibition, Royal Society of Artists, Birmingham 1881, no. 494 (as The Masqueraders, £525); Probably shown at the Frankfurter Kunstverein in the winter of 1883, B.196.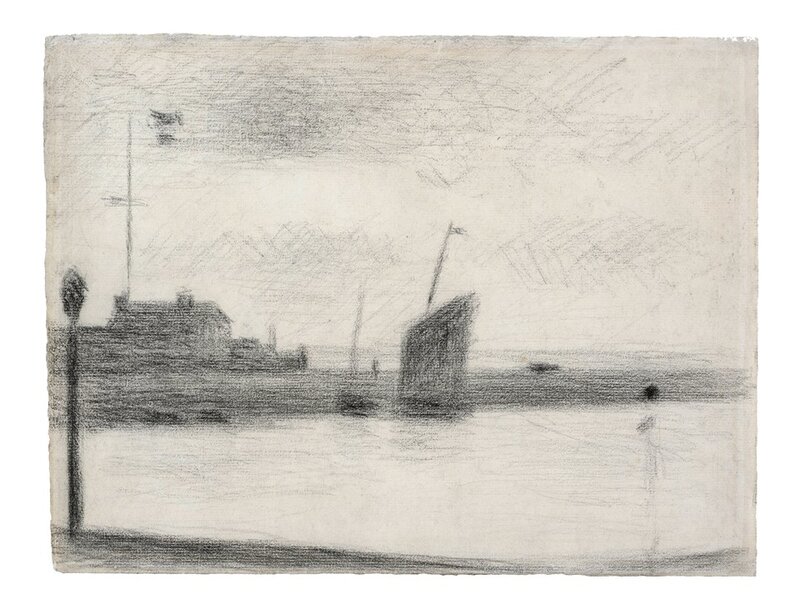 Georges Seurat (1859-Paris-1891), Un Soir, Gravelines, 1890. Conté crayon on Michallet paper, 23.8 x 31.5 cm (9.4 x 12.4 in.). Image courtesy Daxer & Marschall Kunsthandel / Stand 372.
Drawing for: Georges Seurat, 'Le Chennal at Gravelines: Evening,' 1890, oil on canvas, 64.4 x 81.9 cm, The Museum of Modern Art, New York, inv. 785.1963
This composition appears as the most satisfyingly complete of the Gravelines drawings. Its sky bears the delicate lines and rubbings of Seurat's late drawings, which here seem appropriate to the pervasive light of the flattened-out Channel coast. (Robert Herbert, Georges Seurat 1859-1891, exhib. cat., Paris, Galeries Nationales du Grand Palais, 9 April-12 August 1991, New York and The Metropolitan Museum of Art, 24 September 1991-12 January 1992, p. 357. )
Provenance: Léon Appert (1837-1925), the artist's brother-in-law, Paris (probably until his death); By descent to Mme Léon Roussel, Paris; Private collection, Paris; Paris, Ader Picard Tajan, auction sale, 22 June 1988, lot 3 (sold by the above); André Blomberg, Paris (purchased at the above sale); London, Sotheby's, auction sale, 3 February 2010, lot 3; European private collection.
Literature: César M. de Hauke, Seurat et son œuvre, Paris, 1961, no. 696, p. 289
Richard Thomson, Seurat, Oxford, 1985, p. 173
Henri Dorra and John Rewald, Seurat, l'œuvre peint. Biographie et catalogue critique, Paris, 1959, no. 202a, p. 262
Joseph-Emile Muller, Seurat, dessins, Paris, 1960, p. 35
Robert Herbert, Seurat's Drawings, New York, 1962, p. 155
André Chastel and Fiorella Minervino, Tout l'œuvre peint de Seurat, Paris, 1973, no. D71, p. 110
Michael Zimmermann, Seurat and the Art Theory of his Time, Antwerp, 1991, no. 590, p. 439.
Exhibited: Seurat, Paris, Musée Jacquemart-André, November-December 1957, no. 44 (titled Port-en-Bessin); Seurat at Gravelines: The Last Landscapes, Indianapolis, Indianapolis Museum of Art, 1990, no. 8 (titled Evening); Georges Seurat 1859-1891, Paris, Galeries Nationales du Grand Palais, 9 April-12 August 1991, no. 222 and New York, The Metropolitan Museum of Art, 24September 1991-12 January 1992, no. 224, repr. (titled 'Un Soir, dessin pour 'Gravelines: un soir').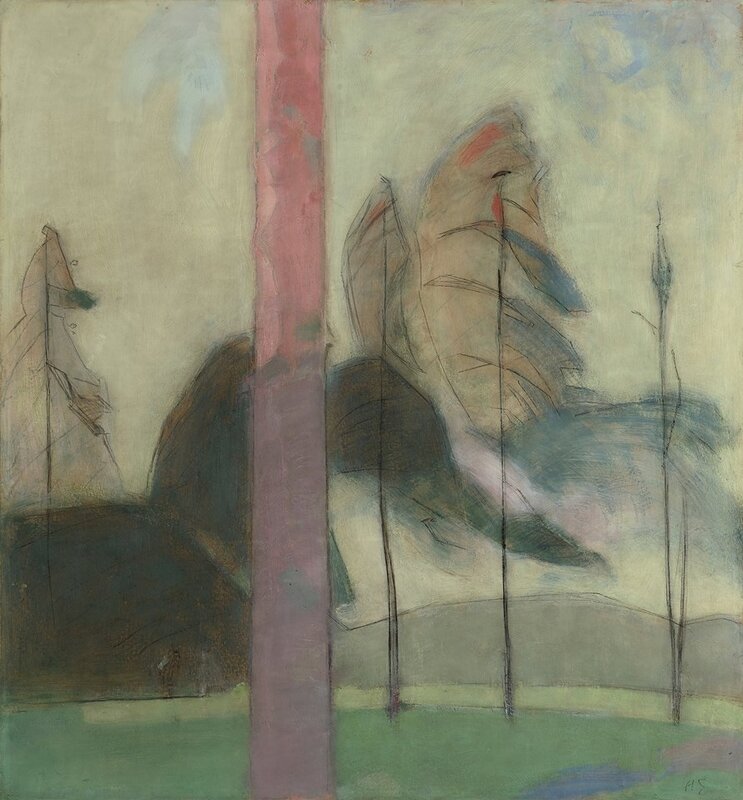 Helene Schjerfbeck (Helsinki, 1862 - Saltsjöbaden, Sweden, 1946), Hyvinkään Maisema (Landscape at Hyvinkää), 1914. Oil and charcoal on cardboard, laid down on canvas, 65 x 60.5 cm (25.6 x 23.8 in.) Signed with monogram lower right 'HS'. Image courtesy Daxer & Marschall Kunsthandel / Stand 372.
Helene Schjerfbeck, who was born in Helsinki in 1862, is today regarded as one of the pioneers of Scandinavian modernism. After suffering a bad fall at the age of four she experienced permanent difficulty in walking and tired easily, so she was schooled at home. She had precocious artistic talent and at the age of eleven was encouraged to train at a private drawing school and later a private academy in Helsinki, before eventually moving to Paris. In those days private tuition was the only form of artistic education open to women artists. Women were denied access to public art academies until the early 1920s, a fact which significantly hampered their individual artistic development.
Provenance: Carl Lüchou, Helsinki, probably bought from the artist's brother Magnus Nils and Marianne Lüchou, Helsinki; Thence by descent.
Literature: Hanna and Eilif Appelberg, Helene Schjerfbeck. En biografisk konturteckning, Helsinki, 1949, p. 144
H. Ahtela, Helena Schjerfbeck, Helsinki, 1953, no. 401, p. 362.
Exhibited: Helene Schjerfbeck, Gösta Stenmans Konstsalong, Helsinki 1917, no. 101.
Since its founding in 1985, Daxer & Marschall has established an international reputation for high standards of expertise and quality. The gallery exhibits at TEFAF for more than 25 years. Their spacious premises are situated opposite the Neue Pinakothek at the heart of Munich's museum quarter.
Daxer & Marschall are the leading gallery for 19th century German and Scandinavian paintings. We are among the leading galleries for 19th century painting worldwide. Our expertise is widely recognized in the museum world as well as with private collectors and the national and international press.
Daxer & Marschall Kunsthandel.
Barer Str. 44
80799 Munich
Germany
+49 89280640
See map
Visit website