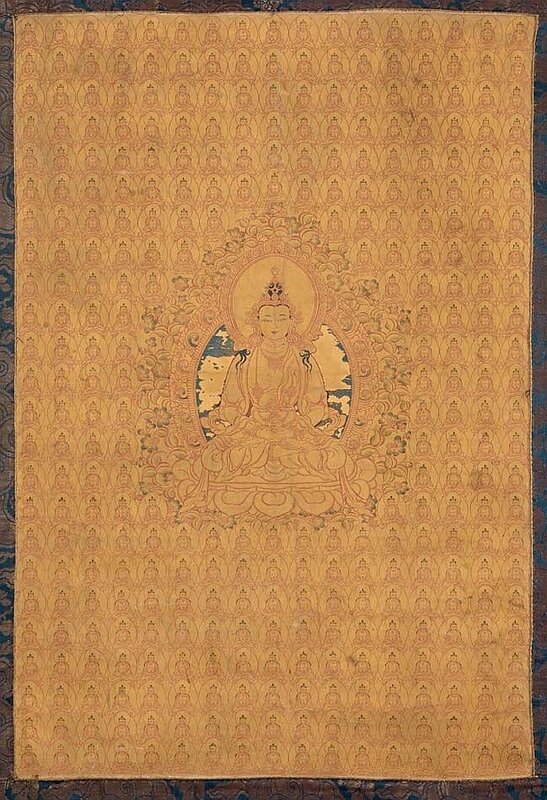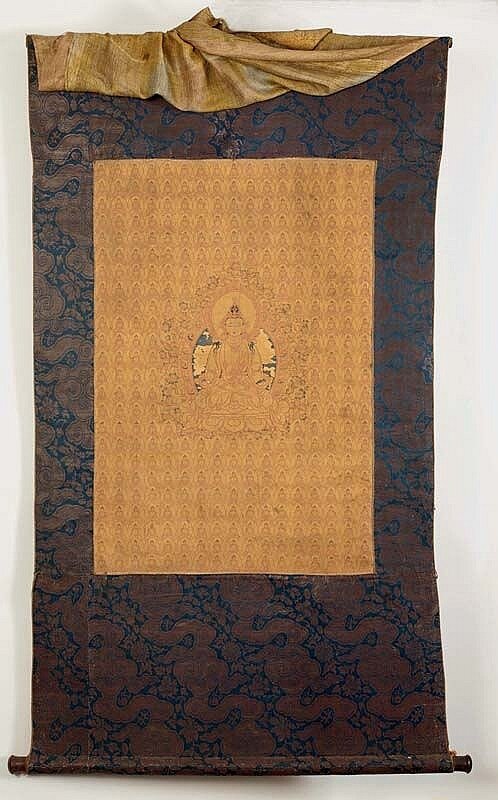 Lot 84. Amitayus (Tshe-Dpag-Med), Tibet, ca 18e-19e siècle. Détrempe sur toile. 74 x 50 cm (hors montage). Estimation 1 500 € - 2 500 €. Résultat 21 252 €. Photo Cornette de Saint-Cyr.
Beau Thang-ka sur fond or (gser-thang) présentant en son centre Amitâyus assis au coeur d'un lotus épanoui, richement paré, et maintenant le vase de liqueur d'immortalité (bhadragta) de ses deux mains dans son giron. Il est entouré de 334 représentations diminutives de lui même dessinées au trait rouge. Au delà de ses qualités plastiques évidentes, un des intérêts majeurs de cette peinture est visible au revers avec l'application de trois mains droites de maîtres différents en guise de consécration. Manques aux pigments bleus du nimbe, belle bordure de brocarts chinois, voile.
Ce thang-ka peut par certains aspects être rapproché d'un autre conservé à la University of Pennsylvania Museum of Archaeology and Anthropology mais exécutée sur fond rouge et présentant une main de maître au dos en guis de consécration. Ref : Himalayanart.org, Item 36325.
Provenance : Collection de la Tibetologue Ariane Macdonald / Acquis à Kalimpong en 1959 - 1960.
CORNETTE DE SAINT CYR PARIS, Art tribal et Arts d'Asie, le 17 Novembre 2015 à 14h30. Expert : Cabinet Daffos-Estournel. Tel. : +33 6 09 22 55 13 – www.aaoarts.com.