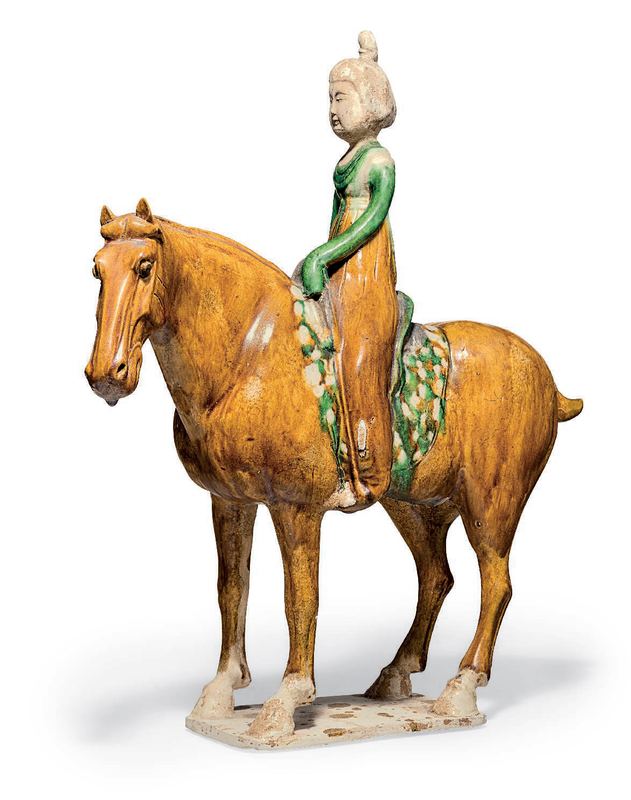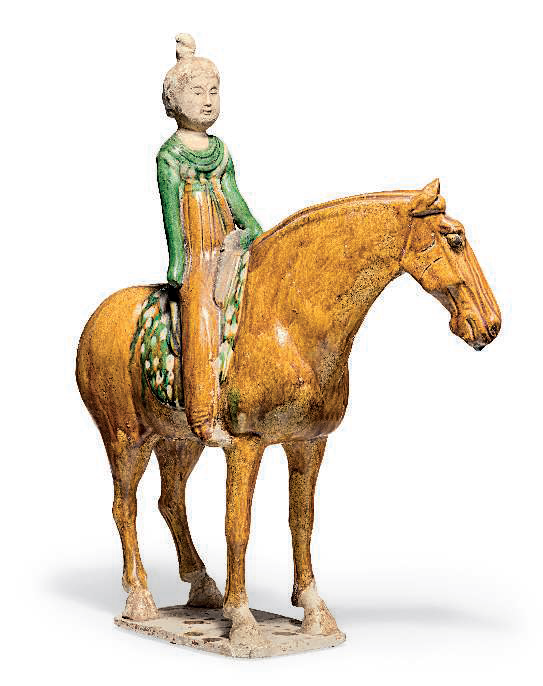 Lot 1274. A sancai-glazed pottery figure of an equestrienne, Tang dynasty (AD 618-907); 16 in. (40.7 cm.) high. Estimate USD 25,000 - USD 35,000. Price realised USD 50,000. © Christie's Images Ltd 2018
The slender female rider is depicted wearing a green scarf and a long dress gathered below the bodice, her hair is drawn up into a topknot, and she is seated on an amber-glazed horse with splash-glazed saddle blanket.
Provenance: Peter Scheinman (1932-2017) Collection, New York, before 1992.
Literature: F. Klapthor, Born of Earth and Fire: Chinese Ceramics from the Scheinman Collection, Baltimore, 1992, p. 65, no. 37.
Exhibited: The Baltimore Museum of Art, Baltimore, Born of Earth and Fire: Chinese Ceramics from the Scheinman Collection, 9 September to 8 November 1992.
Note: For a discussion on the depiction of women on horseback, see Virginia Bower, 'Two Masterworks of Tang Ceramic Sculpture', Orientations, June, 1993, pp. 75-77, where various examples in both painted pottery and sancaiglaze are illustrated. The author notes that figures of women on horseback became common during the sixth century, and were increasingly numerous in tombs during the Sui and Tang periods, as more women took up riding. By the late 720s and 730s, however, figures of riders of either sex were declining, although literary evidence suggests that riding remained a common activity for both men and women.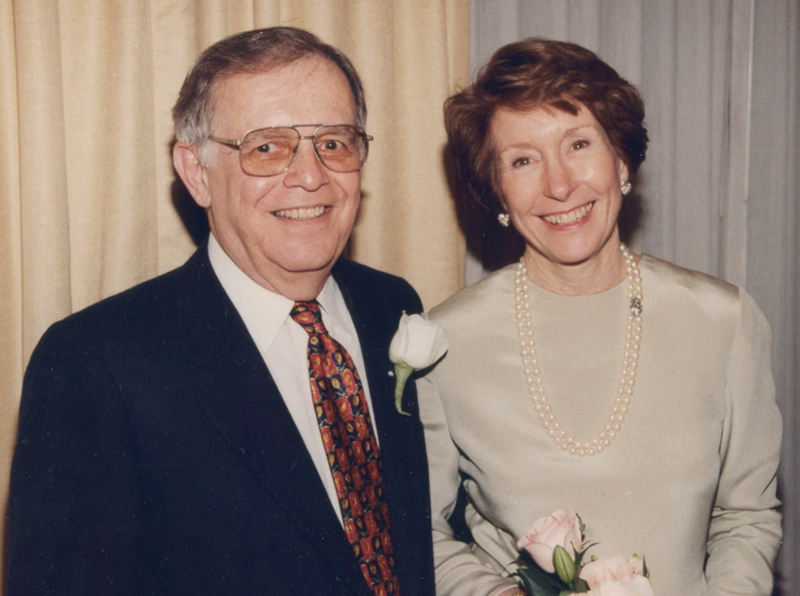 Peter Scheinman and his wife Barbara Giordano.
Peter W. Scheinman (15 July 1932 - 2 February 2017)
A native New Yorker and a graduate of both Trinity-Pawling School and the University of Virginia, Peter W. Scheinman (1932–2017) was a learned man of many and varied interests, from business and fnance to Chinese ceramics and vintage automobiles. A dear friend, Peter and I frst met in 1986, our friendship evolving over the subsequent thirty years and continuing until his death early last year. Apart from his family, whom he loved, cherished, and ceaselessly praised, Peter had two passions: fnancial management and Chinese ceramics. He began collecting the latter in the mid-1980s, starting with Qing monochromes but quickly moving on to form a comprehensive collection ranging from Neolithic earthenwares to Qing enameled porcelains. A quick student, Peter rapidly acquired a specialist's knowledge, developed a connoisseur's eye, and assembled a surpassing collection. In 1992 the Baltimore Museum of Art featured a portion of Peter's collection in a special exhibition and associated catalogue entitled Born of Earth and Fire: Chinese Ceramics from the Scheinman Collection. A generous donor to the Harvard Art Museums, Peter chaired the museum's Asian Collections Committee from its inception in 1992 until his retirement from the committee in 2011. Although he sold most of his ceramics in a 23 March 1995 sale at Christie's, New York, Peter retained nineteen Song- and Jin-dynasty, dark-glazed vessels for inclusion in my exhibition Hare's Fur, Tortoiseshell, and Partridge Feathers: Chinese Brown- and Black Glazed Ceramics, 400–1400, which premiered at the Harvard Art Museums in 1995 and then was shown at China House Gallery, New York, in 1996. Harvard subsequently acquired those dark-glazed pieces, along with many other works from Peter's collection. Finding his passion for collecting rekindled by the Hare's Fur exhibition just as he was experiencing seller's remorse, Peter assembled a second collection of Chinese ceramics over the ensuing years; selections from that collection are ofered in this auction.
Robert D. Mowry Senior Consultant, Christie's, and Alan J. Dworsky Curator of Chinese Art Emeritus, Harvard Art Museums.
While walking home from work one evening, Peter Scheinman noticed an interesting storefront on Madison Avenue: Augustin Tzen's Chinese antiquities gallery. Inside the gallery were Chinese vases similar to the lamps his mother, Hortense, had collected when he was a boy. With his curiosity piqued, he stepped inside. Thus began a long relationship with Chinese ceramics, many evening "lessons" with Augustin, and an incredible passion for collecting.
Initially Peter learned about Chinese monochrome vases, purchasing a few celadons, apple-greens and yellow wares. Emboldened a couple of weeks later, he purchased a rather large very deep peachbloomstyle vase that he placed in his front entry. Soon after, he traveled to Baltimore to the Walter's Art Gallery to view the famous collection of peachbloom wares.
Peter returned night after night to study with Augustin, furthering his knowledge of the various periods in Chinese history and the types of Chinese ceramics produced in those periods. He became knowledgeable about the reign marks on the pieces' undersides, to understand the imagery on elaborate pieces, and he began to appreciate early ceramics. He fell in love with them all: Neolithic vessels, Han animals, Tang ladies and horses, black and brown wares from the Song dynasty.
My father's enthusiasm for buying became an obsession, with him often purchasing two or more pieces a week. The hunt for a new treasure was mesmerizing, as each piece was carefully placed on a shelf in his display cases. The cases were meticulously arranged and re-arranged. Everyone who came into the apartment was treated to an incredible lecture on Chinese ceramics. Books were taken down from the shelves in his library, auction catalogs attested to the latest sales of similar pieces, and he described each piece in great detail. During his insatiable quest he met dealers, museum curators and other collectors who shared his passion. Robert Mowry, who was the Curator of Asian Art at the Harvard University Museums, Francis Klapthor, Asian Art Curator at the Baltimore Museum of Art, Andrew Kahane, and Jason Kuo, and many others became both advisors and friends.
Nancy Scheinman-Wheeler