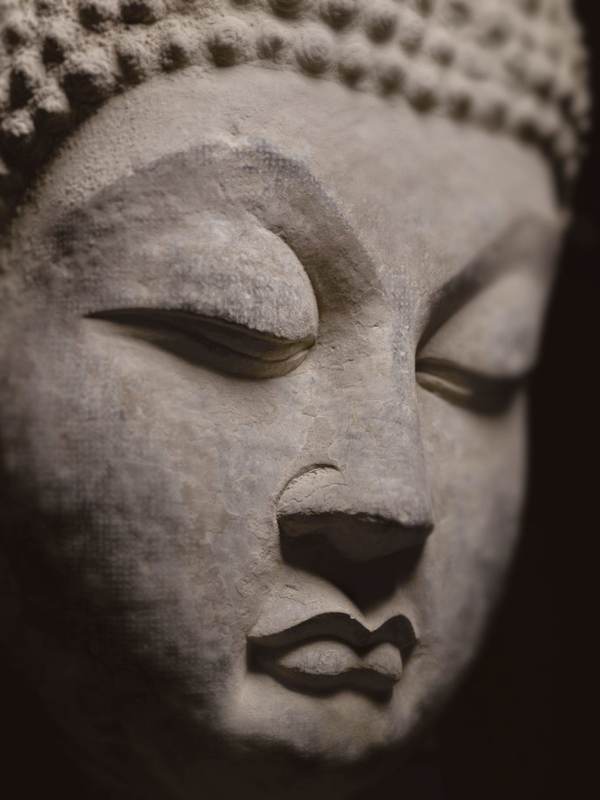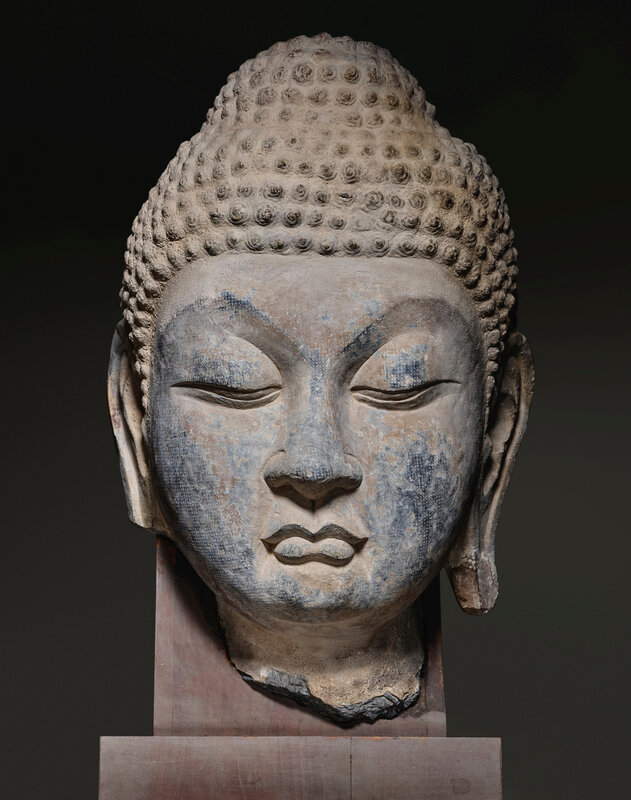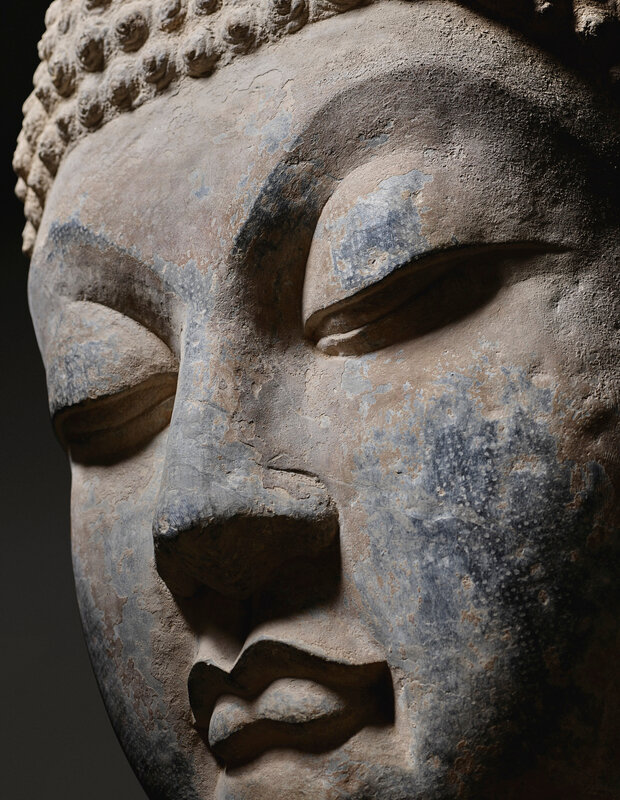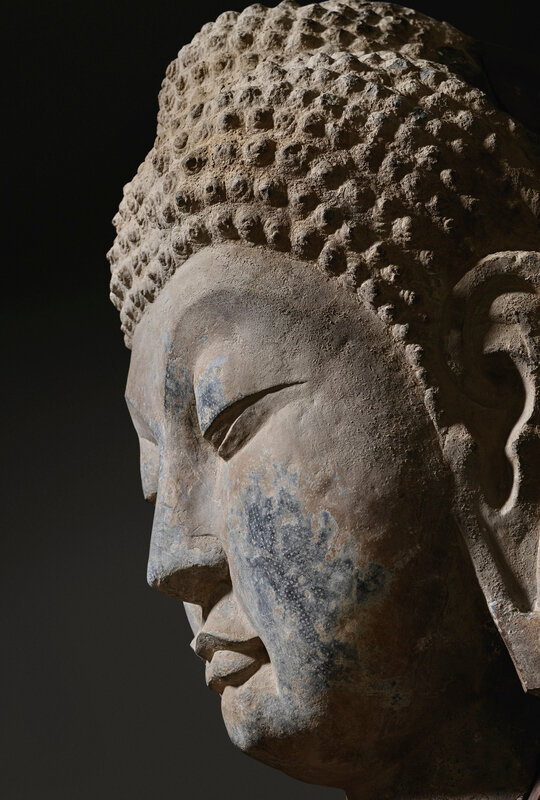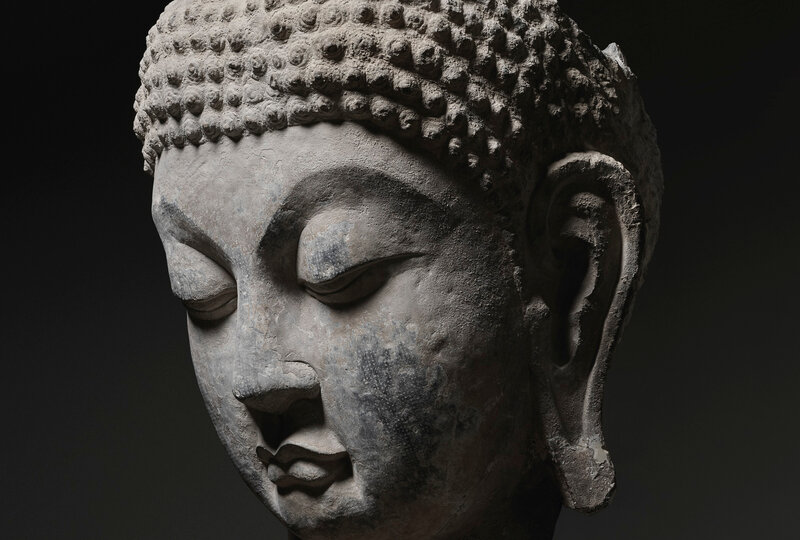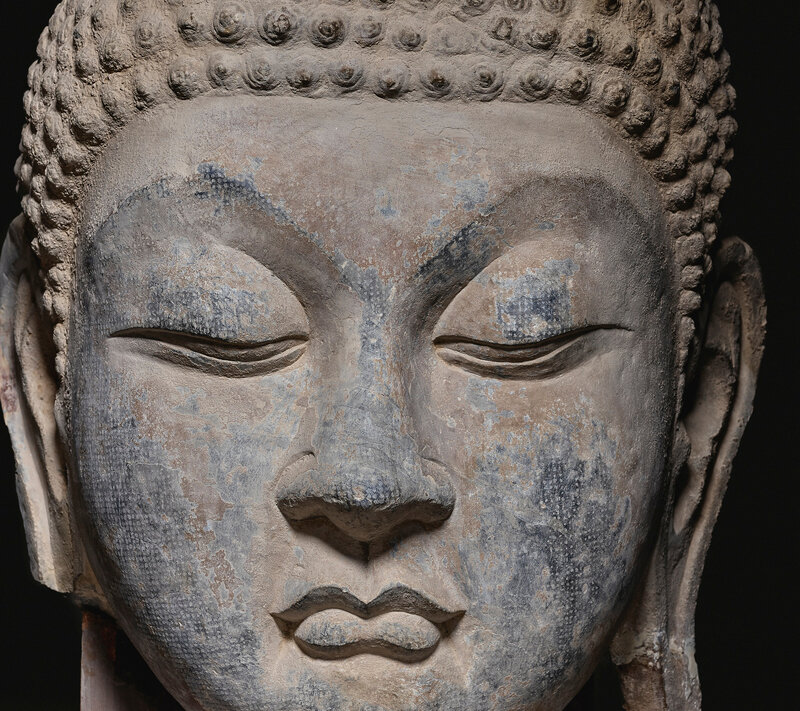 Lot 5. A superbly carved and extremely large limestone head of Buddha, Tang dynasty (618-907). Height 27 1/2 in., 70 cm. Estimate: 2,000,000-3,000,000 USD. © Sotheby's.
the deity carved with a full face, with high arched brows above hooded eyes, half-closed in a sublimely serene countenance, with rounded full cheeks, the lips full and bowed, the face framed by tightly coiled hair above the smooth forehead and over the ushnisha, mounted on a high pedestal (2).
Provenance: Tonying & Company, Inc.
Parke-Bernet Galleries, 30th-31st March 1955, lot 301.
Collection of Jay C. Leff (1925-2000).
Collection of Stephen Junkunc, III (d. 1978).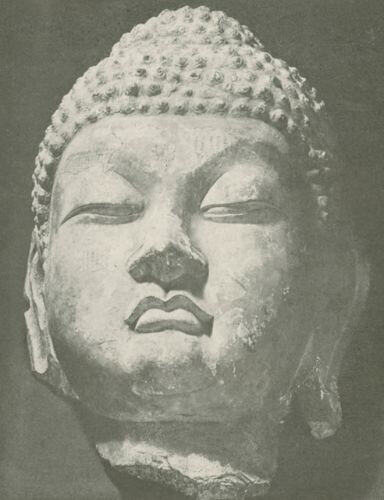 Monumentality: A Magnificent and Large Tang Head of Buddha
Regina Krahl
Monumentality, as expressed in monumental size, is not an obvious, indispensable trait of religious imagery. It was introduced to China by the early imperial patrons of Buddhism, the Northern Wei (386-534) ruling family, and remained an objective for imperial and other ambitious donors until the Tang dynasty (618-907). This magnificent head is, however, not only remarkable for its extraordinary size, but equally for its exquisite soft, even features and its distinctly youthful expression.
As early as the 3rd century Chinese monks visited sacred places abroad, and introduced to China the cave temple tradition of India, Afghanistan and Central Asia that they had encountered themselves or heard about during their travels. Bamiyan, northwest of Kabul, with its 6th century Buddhas of 35 and 53 m height, respectively, was only the most ambitious of such monumental stone carvings.
In China, Buddhist adepts, such as the monk Faguo, who was invited to the Northern Wei court by the founder of the dynasty, Daowu (r. 386-409) and became an influential advisor, supported imperial interest in their religion and at the same time justified their service for a worldly monarch by postulating that the emperor was the living Buddha. Paying homage to the emperor thus meant venerating the Buddha. The monk Tanyao, who held the highest clerical office and was instrumental in a revival of Buddhism after a brief purge, oversaw the first grand cave temple commission by the imperial house, five caves constructed between 460 and 465 at Yungang in Shanxi province, whose five main Buddha figures were conceived to represent the current ruler, the young emperor Wencheng (r. 452-465) himself, and his four predecessors on the throne. The largest, in Cave 20, is a seated figure of the founding emperor, Daowu, measuring 13.7 m in height.
Massive Buddha figures continued to be carved into the rock also at other important sites: At Longmen, for example, the massive seated Vairocana Buddha of the Fengxiansi Cave, built between 672 and 675, measures some 17 m; but even smaller cave temple projects, such as Gongxian in Henan or Tianlongshan in Shanxi, still boast highly impressive figures, such as a standing Buddha of 5.3 m and a seated one of 8 m, respectively.
Such monumental Buddha figures must have inspired free-standing stone sculptures. Surprisingly large figures were commissioned also for temples, such as the nearly 6 m high Sui dynasty (581-618) Buddha Amithabha, now in the British Museum, London, which in 585 was dedicated by inscription to the Chongguang Temple in Hancui village, Hebei province. Free-standing Buddhist sculptures were even carved – more in line with Confucian ideals – as offerings to dead parents, in fulfillment of filial piety. While the monumental rock sculptures are extraordinary feats of craftsmanship, free-standing figures could receive a much greater level of attention to detail.
The present head with its fine features and youthful appearance, its fleshy lips recessed into rounded cheeks, its cheek bones only subtly indicated, and its head covered with even curls of hair, exudes a strong notion of calm and serenity and stands in the classic tradition of Tang Buddhist imagery. Comparable Tang heads that are extant are generally much smaller, but in addition differ in their physique, typically showing a more plump, squared face. Such heads, which suggest an older deity, can be seen, for example, on seated Buddha figures from the Longmen Caves Research Institute, attributed to the reign of the Empress Wu (r. 690-705) in the early 8th century, included in the exhibition Ryūmon sekkutsu/Longmen Caves, The Miho Museum, Shigaraki, 2001, cat. nos 29 and 43, one illustrated again, together with a third related figure, in Zhongguo meishu quanji: Diaosu bian [Complete series on Chinese art: Sculpture section], vol. 11, Shanghai, 1988, pls 195 and 196. A similar head is also in the Asian Art Museum of San Francisco, illustrated in René-Yvon Lefebvre d'Argencé, Chinese Ceramics in the Avery Brundage Collection, San Francisco, 1967, cat. no. 109.
A rather closer comparison can be drawn, however, to a rare stylistic predecessor, a large (nearly 3 m high) free-standing Buddha figure of the Northern Qi period (550-577) in the Nezu Museum of Fine Arts, Tokyo (fig. 2). The head of that figure, which is over-proportionally large in relation to a body that is further raised on a pedestal, is probably only slightly smaller in size than the present head. The Nezu Buddha has very similar fine features, with the eyes opened only to a narrow, elegantly curved slit, the sharply defined brows forming a triangle above the well-formed nose, and the full lips recessed into the fleshy cheeks. The face of the Nezu figure suggests the ever so faint smile characteristic of that period; on the present head, the lips are more pursed, forming a slight pout, as is more typical of the early Tang, the brows meet the nose at a steeper angle, and the chin is more pointed. While this head clearly seems to be somewhat later in date, it could be related to the Nezu sculpture in its place of manufacture, which unfortunately, we do not know.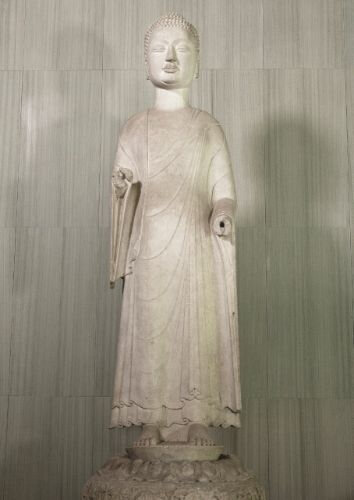 A large marble free-standing standing Buddha, Northern Qi dynasty © The Nezu Museum
Sotheby's. Junkunc: Chinese Buddhist Sculpture, New York, 12 Sep 2018, 10:00 AM