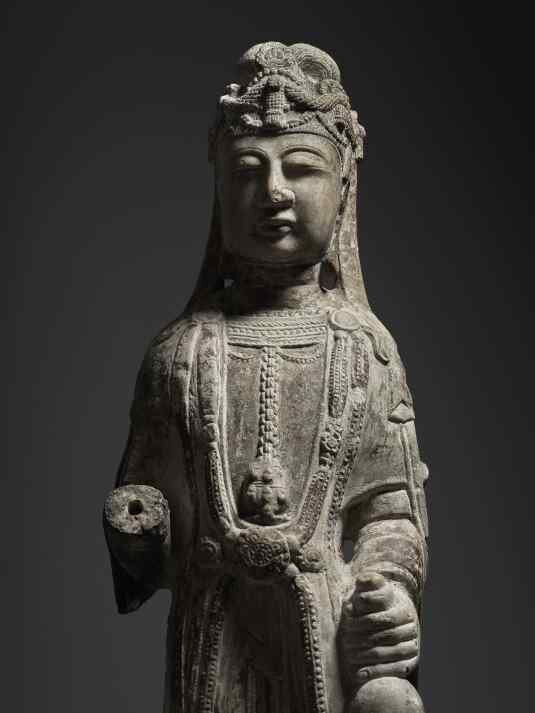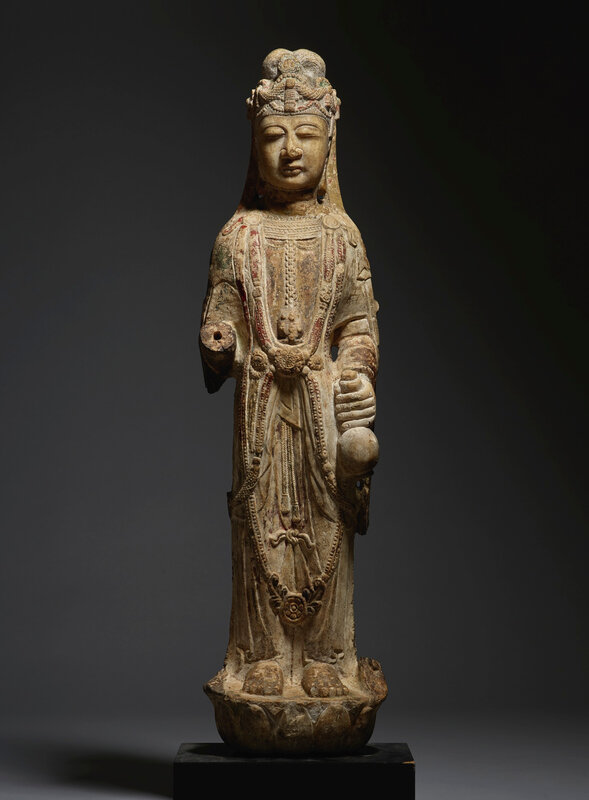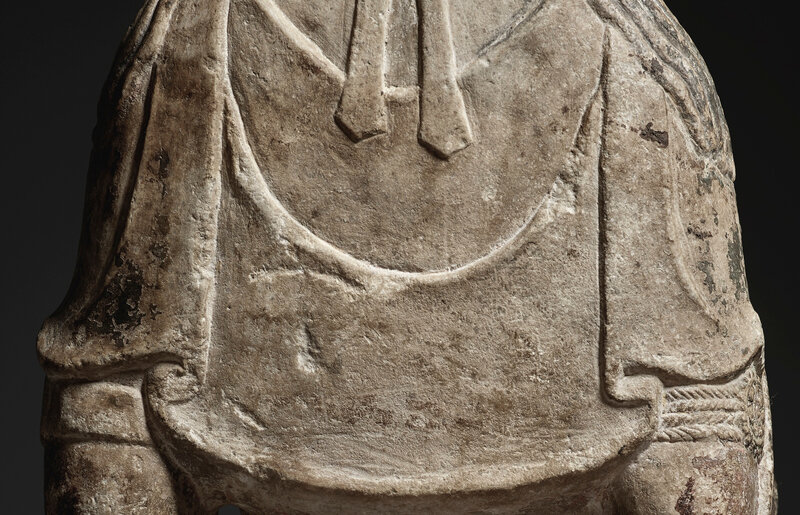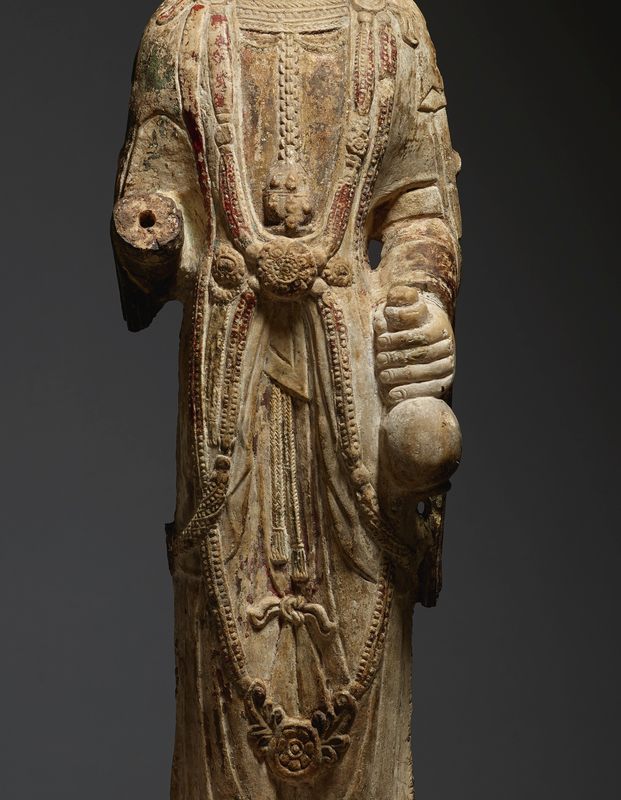 Lot 15. A marble figure of a standing Bodhisattva, Northern Zhou-Sui dynasty (557-618). Height 33 3/4 in., 88 cm. Estimate: 400,000 — 600,000 USD. © Sotheby's.
the deity carved standing, grasping a bottle held in the lowered proper left hand, richly adorned with an intricately detailed diadem of twisted, beaded, and jeweled strands encircling the lobed double-chignon piled high on the top of the head, the peaceful face with broadly arched brows and downcast, lidded eyes, the body elegantly attired in a dhoti and long shawl embellished with ornate jewelry comprising multiple strands of necklaces and luxurious chains extending large pendants and crossed in front and behind the waist, the looped strands over the body joined by rosettes, overall with traces of gilt, red, and green pigments, supported on a lotus-petal carved base, stand (2).
Provenance: Acquired prior to September 1952.
Collection of Stephen Junkunc, III (d. 1978).
Literature: Oak Park Resident Keeps Priceless Collection of Oriental Art in Bomb Shelter', Chicago Tribune, 7th September 1952, part III, p. 1.
Note: Regal in countenance and adornment, this figure effortlessly bridges the aesthetic style of the Northern Zhou and Sui dynasties. Carvings from this period are rare, and even rarer are those of this exceptional quality carved from marble. Perhaps the closest example to the present is a pair of standing bodhisattvas of slightly smaller size (79 cm), discovered in 1992 in Xi'an, Shaanxi province and now in the Xi'an City institute of Cultural Properties Protection and Archaeology, included in the exhibition China: Dawn of a Golden Age, 200-750 AD, The Metropolitan Museum of Art, New York, 2004, cat. no. 170; and a smaller marble figure, attributed to the Sui dynasty, excavated in 1963 from Mengcun, Lantian county, Shaanxi province, published in Matsubara Saburō, Chūgoku Bukkyō chōkoku shiron [Historical survey of Chinese Buddhist sculpture], Tokyo, 1995, vol. 2, pl. 534b. From these three figures, it can be assumed that the present sculpture also comes from the Xi'an region. Furthermore, the discovery of these rare marble figures near the Northern Zhou capital of Chang'an, modern day Xi'an, appears to support the notion that marble was reserved for imperial commissions.
The annexation in 553 of Sichuan by China's northwest (then ruled by the Western Wei dynasty) is essential in understanding the formation of Northern Zhou bodhisattva images. The Northern Zhou style is marked by lavish surface decoration, stemmed from the aesthetic of the northwest and was transmitted from India, forging deep roots in Sichuanese Buddhist art. As seen on the present carving, figures of this period were heavily adorned with necklaces and ornate crowns, thus accentuating their sense of mass.
While further aspects of Northern Zhou carving, such as the columnar body surmounted by a square head with broad nose and lips, remain, the characteristic stockiness has been replaced by a refined lengthening of the silhouette which is typical of Sui dynasty figures. This is evident in the slender waist, emphasized by the sash that is draped over the shoulders and meets at the front and back with a clasp, and the tassel hanging from the center of the necklace. It is interesting to note, however, that the hand retains the archaistic heaviness of earlier carvings.
The figure holds a 'pure water bottle' in the left and, the missing right hand would probably have held a willow branch – attributes that identify the subject as Guanyin. Compare a smaller limestone carving, inscribed and dated to the third year of Baoding (corresponding to 563), also holding a vase in its left hand, published in Matsubara Saburō, ibid., pl. 350a and b, together with an undated figure, pl. 350c. The style of carving of this figure is comparable with much larger bodhisattva figures elaborately fashioned from limestone, also attributed to the late Northern Zhou to early Sui dynasty; for example see one from the Arthur M. Sackler Collection, now in the collection of Columbia University, New York, coll. no. S3342; another in the Metropolitan Museum of Art, New York, published in Denise Patry Leidy and Donna Strahan, Wisdom Embodied. Chinese Buddhist and Daoist Sculpture in the Metropolitan Museum of Art, New York, 2010, p. 173, pl. A16; and a third, in the Minneapolis Institute of Arts, Minneapolis, published in Hai-wai yi-chen / Chinese Art in Overseas Collections. Buddhist Sculpture, Taipei, 1986, pl. 60.
Examples of related Sui dynasty marble carvings include a figure, excavated in 1979 from Hongxing cun, Wuzhangyuan town, Qishan, Shaanxi Province, and now preserved in the Qishan Museum, Qishan, illustrated in Wang Wenyao & Fu Meilin, 'Suidai hanbaiyu zaoxiang/White Jade Statue of Sui Dynasty', Shoucang [Collections], 2010, vol. 12, p. 67, pl. 4; and another, in the Shaanxi Museum, published in Matsubara Saburō, op. cit., pl. 534b.
Sotheby's. Junkunc: Chinese Buddhist Sculpture, New York, 12 Sep 2018, 10:00 AM