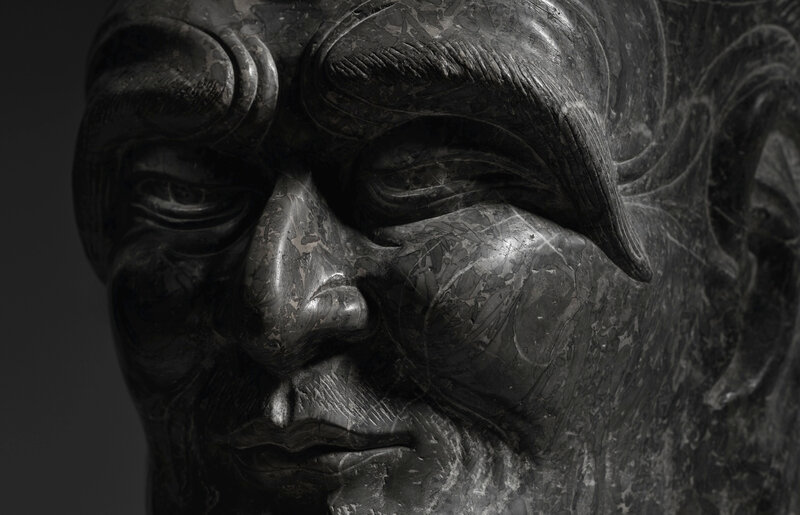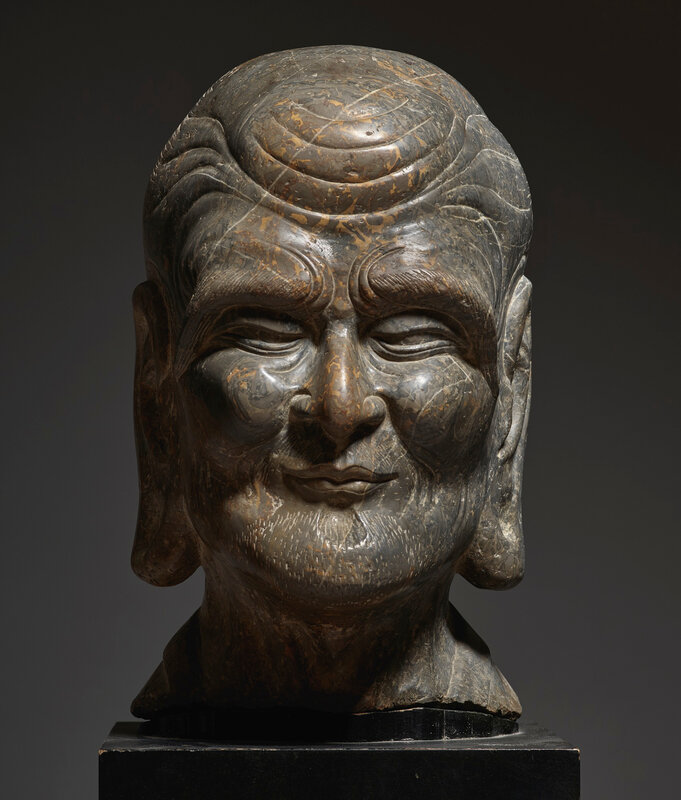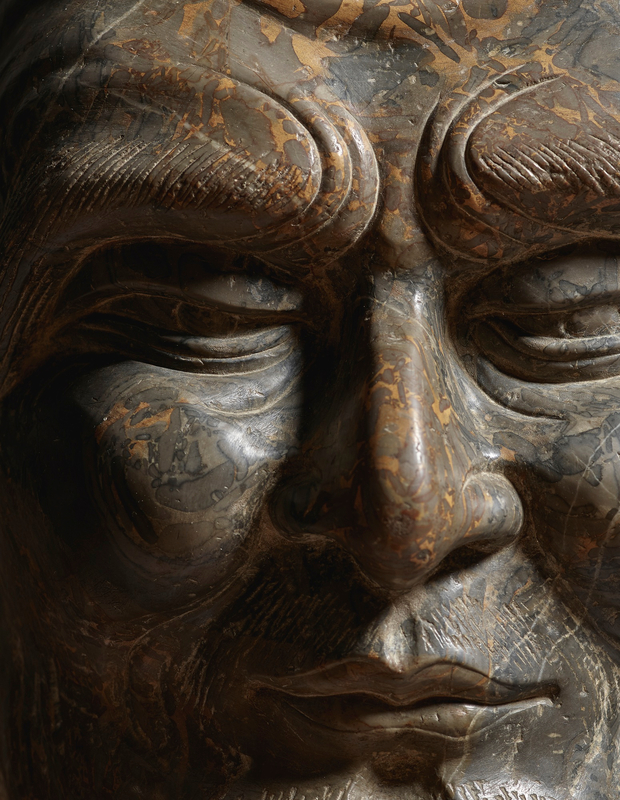 Lot 14. A large and rare brown conglomerate limestone head of a luohan, Song-Early Ming dynasty. Height of head 16 1/4 in., 41.3 cm. Estimate: 150,000-250,000 USD. Lot sold 927,000 USD. © Sotheby's.
expressively carved, the full rounded head with furrowed brows and finely articulated eyebrows beneath a heavily lined forehead, the deeply-lidded wrinkled eyes peering out above a softly rounded nose and a prominent chin, flanked by long pendulous earlobes, with short hairs incised to the crown and chin, the mottled stone of a variegated brown and orange tone, stone stand (2).
Provenance: Collection of American Consul General Angus Ward (1893-1969), acquired in China in 1931.
Richard Ravenal, Asian Gallery, New York, 20th January 1969.
Collection of Stephen Junkunc, III (d. 1978).
Note: Sensitively modeled with meticulous attention to detail which successfully captures the luohan's expressive countenance, this superbly carved head is striking for both its large size and vivid realism. By skilfully carving the head in the round, intricate and naturalistic detailing of the gentle curvature of the skull is captured, which is further articulated with fluid lines incised on the crown. The crisply delineated wrinkles on the forehead and around the eyes and mouth, as well as the protruding forehead and facial folds, not only indicate his old age and wisdom but also add another layer of three-dimensionality. Furthermore, a powerful and meditative aura is imparted through the gently downcast pupils within the deep-lidded eyes. Together with the restrained smile which contributes to the benevolent expression, it is an outstanding representation of a luohan.
Luohan, or arhats, were close personal disciples of Shakyamuni Buddha. Although they attained Buddhahood during the course of their lives, they delayed entering Nirvana and remained on earth to protect the Buddhist dharma and to aid others in seeking enlightenment according to the instruction of the Buddha. Invested with extraordinary spiritual power, they are believed to possess perfect wisdom and insight of all existence while being freed from the bonds of desires. Luohan figures became increasingly popular from the Song dynasty (960-1279). Li Song in 'From the Northern Song to the Qing', Chinese Sculpture, New Haven, 2006, pp. 389, suggests that during the Song dynasty, various Buddhist schools were eager to trace their lineages to Shakyamuni; thus luohan, with their direct connections to the Historical Buddha, became the ultimate iconographic bridge to the Indian founders of Buddhism. Also with the growing patronage of Buddhist iconography in exchange for spiritual merit, luohan figures of imposing size and realistic physiognomy were increasingly produced in various mediums, such as ceramic, stucco and stone. They would have been displayed in groups of sixteen, eighteen or even five hundred in temples and caves to encourage devotees to reach a state of deep meditation.
Compare a closely related head of a luohan, in the Museum Volkenkunde in Leiden, illustrated in Hai-wai yi-chen / Chinese Art in Overseas Collections: Buddhist Sculpture 1, Taipei, 1986, pl. 14 (fig. 1). Further stone heads of luohan include a smaller limestone example sold in our Hong Kong rooms, 5th April 2016, lot 2835; and two smaller marble heads sold in these rooms, the first, 23rd March 2004, lot 630, and the other, from the collection of C.T. Loo & Co. and J.T. Tai & Co, 22nd March 2011, lot 270 and again, 19th September 2011, lot 319. See also a head of a luohan attributed to the Ming dynasty, in the Metropolitan Museum of Art, New York, accession number 60.74.