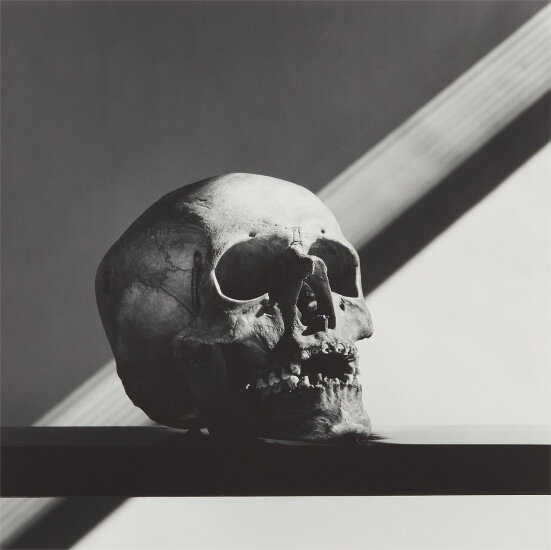 Lot 221. Robert Mapplethorpe (American, 1946-1989), Skull, 1988. Gelatin silver print. 19 1/8 x 19 1/4 in. (48.6 x 48.9 cm). Signed, dated by Michael Ward Stout, Executor, in ink and estate copyright credit reproduction limitation stamp on the reverse of the flush-mount. Number 5 from an edition of 10. Estimate $50,000 - 70,000. © Philips
Provenance: Private Collection, Midwest
Literature: Kardon, Robert Mapplethorpe: The Perfect Moment, back cover
Celant, Mapplethorpe: The Nymph Photography, pl. 107
Celant, Robert Mapplethorpe and The Classical Tradition, pl. 117
Random House, Mapplethorpe, p. 305
"Everything, down to the tiniest detail, is controlled. Nothing is left to chance. Mastery is total. Figures and flowers turn into statues in a space without air. They are, in a sense, dead. Mapplethorpe's art is at the same time a bitter struggle against death and a wholehearted embrace of it." Michael Brenson, New York Times, 22 July 1989.
Taken in the last year of the photographer's life, the meticulously composed Skullreinterprets the memento mori through Robert Mapplethorpe's highly stylized vision. With its carefully-modulated diagonal bands of light and shadow in the background, and its precise rendering of detail in its principle subject, Skull acknowledges the inevitability of death, but also shows the possibility of beauty within death—a beauty that stands in defiance of mortality. While beauty and death were themes that Mapplethorpe explored throughout his career, they acquire a new eloquence in this late image in light of his death from complications due to HIV/AIDS in March of 1989.
Skull was chosen as the back cover illustration for The Perfect Moment, the catalogue accompanying the photographer's final lifetime exhibition. The controversy surrounding the exhibition – including the Corcoran Gallery of Art's abrupt cancellation, and the obscenity trial in Cincinnati – shaped the cultural debate surrounding not only public support of the arts, but art's place in public life. Seen against this backdrop, and that of the growing AIDS crises, Skull's austere account of its subject matter provides a dignified and powerful response to the contentious voices on all sides.
Skull is the perfect counterpoint to the delicate calla lily study chosen to grace the front cover of The Perfect Moment. The two images are apt bookends for Mapplethorpe's career: Calla Lily signifying Mapplethorpe's skill in capturing the sensuality of natural forms, and Skull representing his darker themes. Both images show the photographer's unwavering obsession with the object in front of his camera, his desire to capture the physical essence of his subjects, and his belief in photography as the perfect medium to convey this to the viewer. Two of Mapplethorpe's studies of calla lilies are offered in this auction as lots 217 and 224.
Philips. Photographs, New York Auction, 4 October 2018