Lot 1110. A rare bronze ritual tripod food vessel, ding, Late Shang Dynasty, 13th-11th Century B.C.; 9 ¼ in. (23.5 cm.) high. Estimate USD 200,000 - USD 300,000. Price realised USD 237,500. © Christie's Images Ltd 2018
The rounded body is raised on three columnar legs cast in intaglio with triangles pendent from a scroll band and is cast in relief around the sides with three large taotiemasks centered and divided by notched flanges, reserved on a fine leiwen ground and below a pair of bail handles that rise from the rim. The bronze has an olive-green patina with some encrustation and traces of black inlay in the recessed areas. Together with a line drawing of the present lot by Hongwei Dong.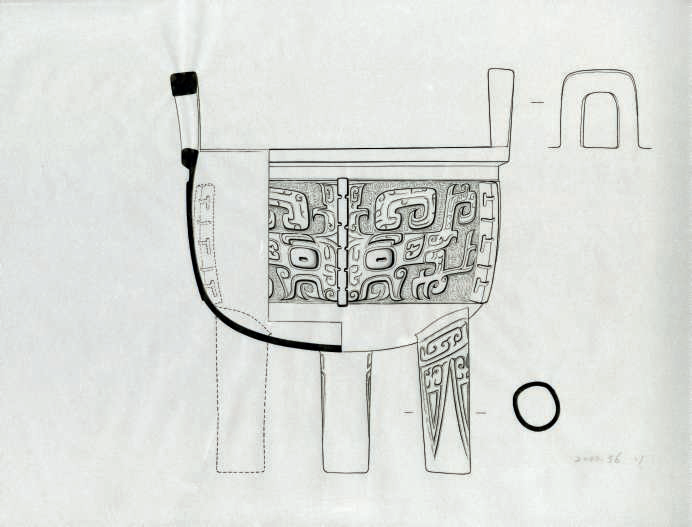 Accompanying line drawing by Hongwei Dong.
Provenance: Wui Po Kok, Hong Kong, 2000.
Literature: R. A. Pegg and Lidong Zhang, The MacLean Collection: Chinese Ritual Bronzes, Chicago, 2010, pp. 46-7, no. 5.
Note: Ding vessels decorated with a single frieze of large taotie first appeared at the beginning of the late Shang dynasty, circa late 13th century BC., and continued to be popular throughout the late Shang period. The robust shape and vigorous high-relief decoration of this ding represent the artistic apogee of bronze casting in the late Shang dynasty and are very similar to that of ding found in the late Shang capital Yinxu at modern day Anyang city, Henan province, such as the three illustrated in Zhongguo qingtongqi quanji (Complete Collection of Chinese Bronzes), vol. 2: Shang 2, Beijing, 1997, nos. 11, 16, and 19. See, also, a similar ding sold at Christie's New York, 24 March 2011, lot 1234.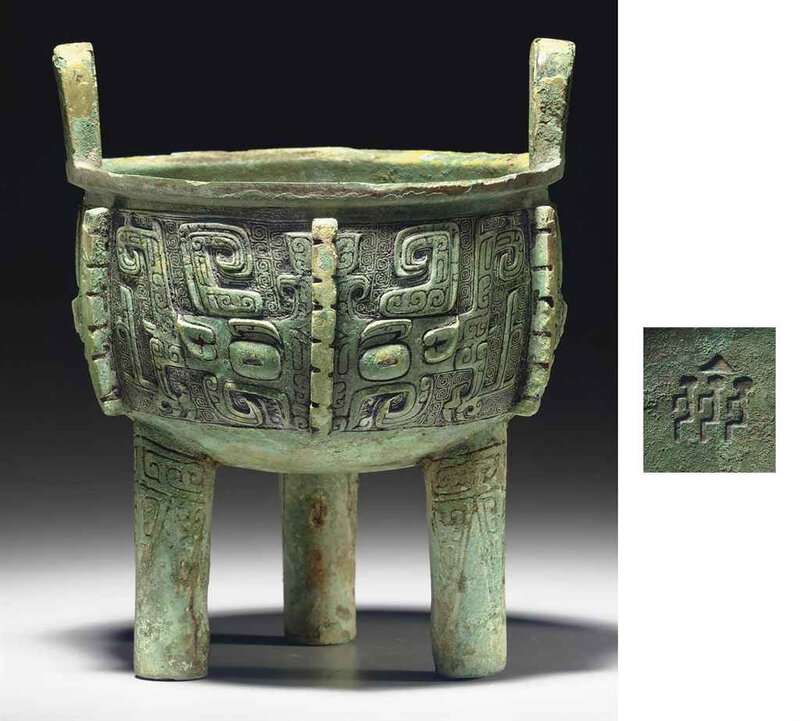 From the Arthur M. Sackler Collections. A well-cast bronze tripod ritual food vessel, ding, late Shang dynasty, 12th-11th century BC; 9 in. (23 cm.) high . Sold for 662,500 USD at Christie's New York, 24 March 2011, lot 1234. © Christie's Images Ltd 2011.