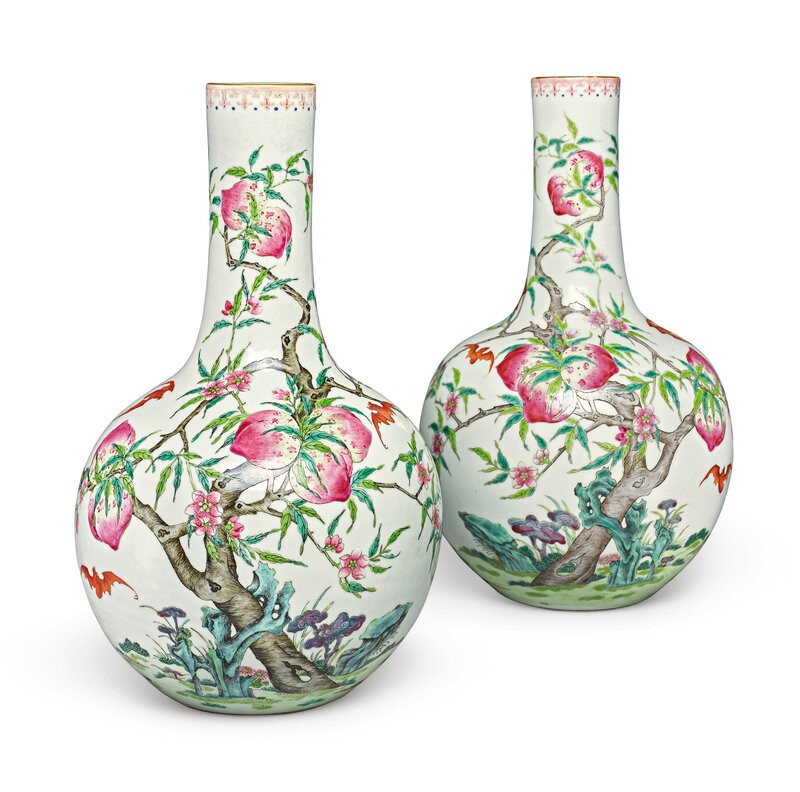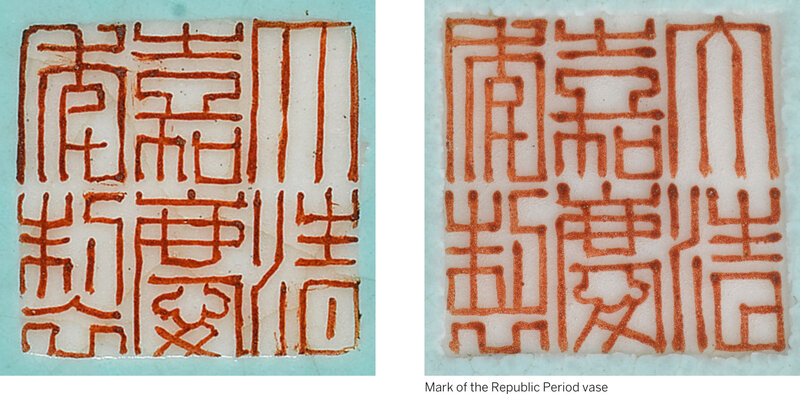 Lot 157. A rare and fine famille-rose 'Peach' vase, tianqiuping, Jiaqing seal mark and period (1796-1820). Height 12 3/4 in., 32.4 cm. Estimate: 80,000 — 120,000 USD. Lot sold 175,000 USD. © Sotheby's.
with a globular body rising to a tall cylindrical neck, superbly enameled with a gnarled tree trunk emerging from pierced rockwork issuing two asymmetric peach branches extending halfway around the body and wrapping around the neck, the fruiting boughs with pink blossoms edged in white, the nine peaches depicted in varying degrees of ripeness ranging in color from pale yellow, tinged with green, to rose-pink deepening to darker pink spots and patches, the green-enameled leaves shaded in turquoise and a yellowish-green to distinguish top and underside, all amid five soaring iron-red bats and between lingzhi, grasses and foliage springing from a pale green ground and a pale pink spearhead border around the gilt rim, the turquoise-enameled base with a six-character seal mark in iron red: together with a similar vase, Republic Period, identically enameled in mirror image, the base with an apocryphal Jiaqing seal mark, zitan wood stands (4).
Provenance: Ton-Ying & Co., New York.
American Art Association, New York, 1st-2nd February 1929, lot 415.
New York Private Collection.
Imperial Oriental Art, New York, 1998.
Note: Based on a Kangxi pattern developed in the imperial enameling workshops of the Forbidden City, Beijing, its obvious auspicious relevance would have made it popular with the Yongzheng as well as the Qianlong emperor, who had peaches represented in all possible media. The superb pattern of twin flowering and fruiting peach trees extending around the sides became one of the best-loved porcelain designs in the Qianlong period; however both the shape and motif rarely feature in the Jiaqing reign and no other closely related example appears to have been published. This Jiaqing version also introduces the spearhead border into the design, which was modified in the succeeding Daoguang reign.
Compare two slightly smaller Daoguang mark and period versions of this vase, with the bats and peaches bordered by larger ruyi lappets encircling the rim and foot, one in the Huaihaitang Collection, included in the exhibition Ethereal Elegance. Porcelain Vases of the Imperial Qing. The Huaihaitang Collection, Art Museum, The Chinese University of Hong Kong, Hong Kong, 2007, cat. no. 139; and another sold at Christie's Hong Kong, 17th January 1989, lot 699. For a slightly smaller Jiaqing vase of this form, see a yellow-glazed version incised with dragons amidst clouds and waves, in the Museum of Fine Arts, Boston, accession no. 54.1130.
Numerous popular stories have developed over the centuries linking peaches to endless bliss. Tao Qian (365-427) tells of a fisherman, who through a crevice in a rock followed the course of a stream to a peach orchard, 'Peach Blossom Spring', where he discovered a paradisical world. In the novel Romance of the Three Kingdoms the three main protagonists are swearing an oath of brotherhood in a peach orchard. Peaches bestowing immortality are said to grow in the garden of Xi Wang Mu, the Queen Mother of the West, taking three thousand years to flower and the same time again to bear fruit. Due to their magical powers these peaches are said to have been repeatedly stolen, first by the clever Han dynasty scholar Dongfang Shuo (2nd/1st century BC) who thus turned immortal, and later by the scheming monkey Sun Wukong, hero of the novel Journey to the West, who in the 7th century is supposed to have accompanied the monk Xuanzang on his trip to India in search of Buddhist scriptures.
For a Yongzheng prototype, with only eight peaches, see one in the Palace Museum, Beijing, illustrated in Gugong Bowuyuan cang Qingdai yuyao ciqi [Porcelains from the Qing dynasty imperial kilns in the Palace Museum collection], Beijing, 2005, vol. 1, pt. 2, pl. 76; and a Qianlong version in the Palace Museum, Beijing, published in Kangxi, Yongzheng, Qianlong. Qing Porcelain from the Palace Museum Collection, Hong Kong, 1989, pl. 16.
Sotheby's. Important Chinese Art, New York, 12 sept. 2018, 10:30 AM