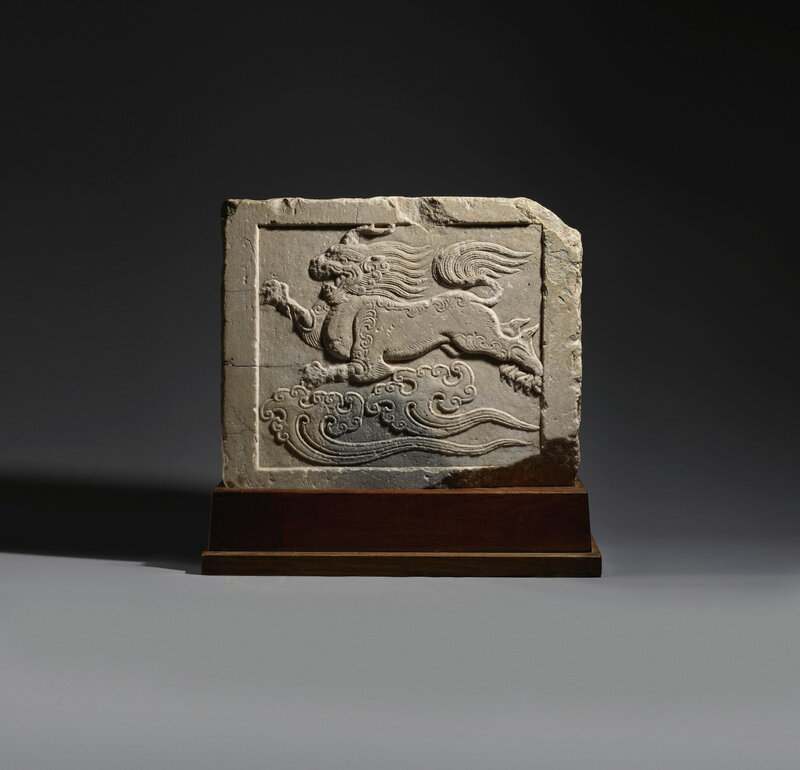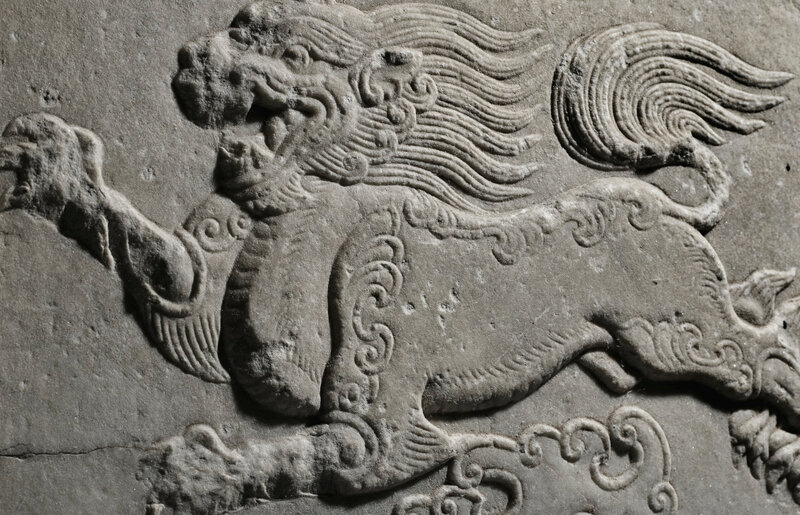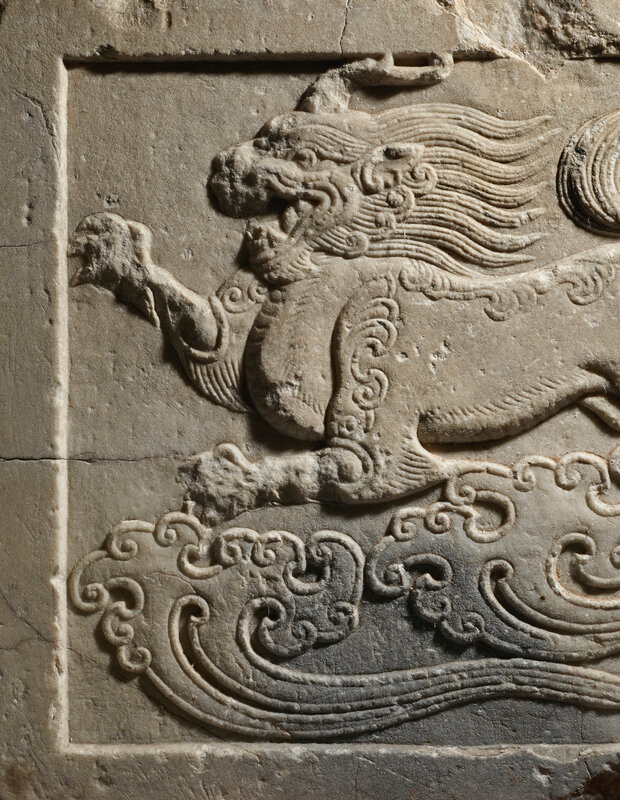 Lot 4. A very rare white marble 'Mythical beast' stone panel, early Tang dynasty (618-907). Height 16 in., 40.6 cm; Width 19 3/4 in., 50.2 cm. Estimate: 150,000 — 250,000 USD. Lot sold 300,000. © Sotheby's.
the rectangular fragment deftly carved in relief with a mythical leonine beast depicted in profile striding forward with the interior fore paw raised in motion, the jaws agape in a ferocious aspect, a pointed ear set behind the jaw and below a single curved horn, the luxuriant curled mane and tail delineated with finely carved lines, the powerful body carved with flange-like thick curled tufts of fur running down the back and limbs, above stylized clouds carved of similar coiled flanges tapering to wisps, wood base (2).
Provenance: Collection of Stephen Junkunc, III (d. 1978).
Note: The present stone fragment was likely once a panel of a funerary structure, possibly a decorative panel of a wall or door of a sarcophagus. The walls of the sarcophagus of Li Shou, Prince Jing of Huai'an, now housed in the Xinjiang Uygur Autonomous Region Museum and illustrated in Angela Falco Howard, et. al, Chinese Sculpture, 2006, Beijing, fig. 2.39, feature relief carvings of beasts and stylized clouds similar to the present example on its walls and around the tomb door. The tomb of Li Shou, a cousin of Tang emperor Gaozu, was erected in 631 within the emperor's Xianling necropolis. Other funerary structures from this period feature painted or incised decoration, rather than the lively relief-carving like that which is seen on the tomb of Li Shou. This comparison and the variations in contemporary tomb embellishment would suggest that the present panel was once meant to protect the spirit of a member of the court elite.
It is worth considering as well a funerary stele erected for Xiao Hongtian, illustrated in Yao Qian and Gu Bing, Nan chao ling mu shi ke, [Tomb Carvings of the Southern Dynasties], Beijing, 1981, pls. 55 and 56. Xiao was conferred as ruler of the Linchuan region in the year 502, and perished in 526. The main face of the stele comprises eight square panels with relief-carved striding mythical beasts among cloud wisps, within foliate borders. The more robust and full body of the present panel implies a slightly later date than the Xiao stele, as does the more stylized and developed treatment of the clouds.
Sotheby's. Junkunc: Chinese Buddhist Sculpture, New York, 12 Sep 2018