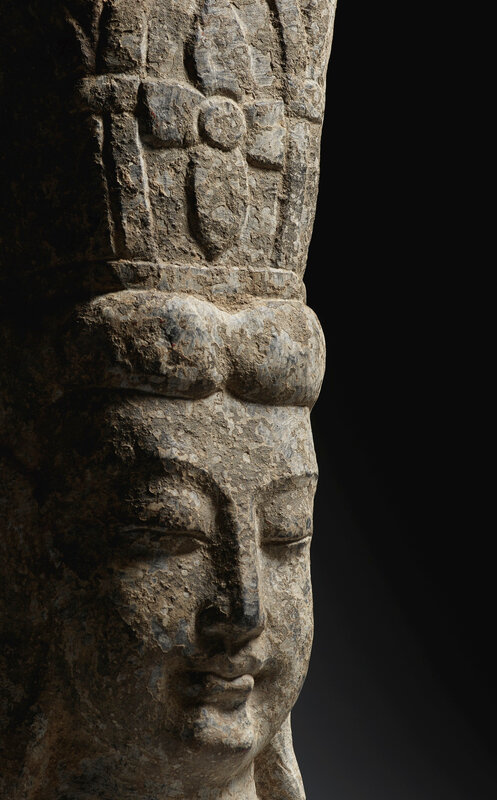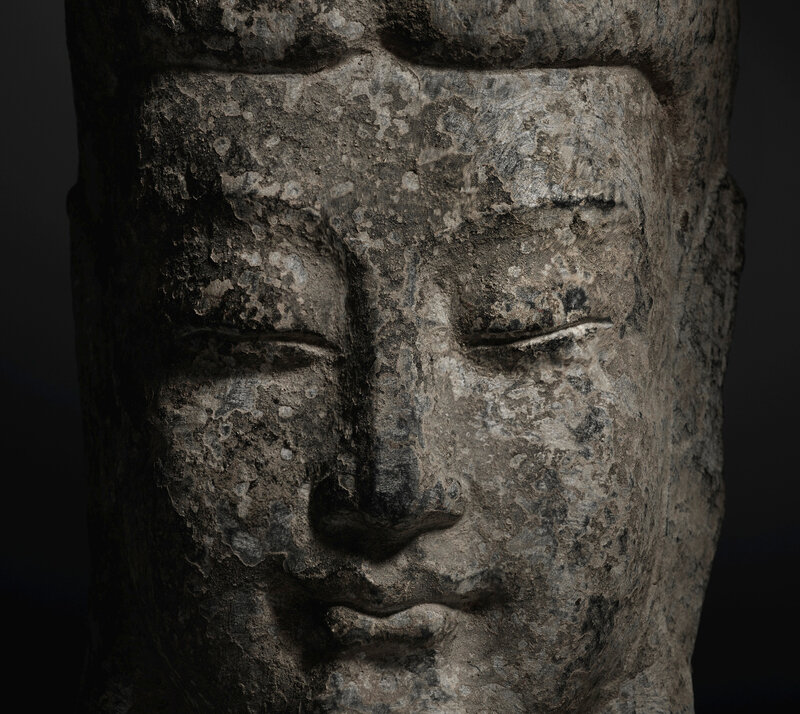 Lot 7. A rare limestone relief fragmentary head of a Bodhisattva, Northern Wei dynasty (386-534). Height 14 1/2 in., 36.9 cm. Estimate: 80,000 — 120,000 USD. Lot sold 162,500. © Sotheby's.
carved in soft rounded volume, the serene slender face with eyes downcast above a long, straight nose rising to an elegantly arched carved brow, with full pursed lips in a benign smile above a neatly defined chin, the face flanked by flat pendulous earlobes, the hair centrally parted, the curved hairline below a tall trapezoidal three-sided crown carved to the center with a four-petaled floret.
Provenance: Alice Boney, New York, 19th June 1954.
Collection of Stephen Junkunc, III (d. 1978).
Note: This graceful head of a bodhisattva shows the characteristic crown of the Northern Wei period (386-534), and displays particularly close similarities with figures of Maitreya and bodhisattvas from the Gongxian and Longmen caves complexes in Henan province, both commissioned by the Northern Wei imperial family. These impressive imperial sculpture projects influenced the development of Buddhist sculpture during the Northern Wei period onward.
Northern Wei dynasty figures of this type were made to represent the ideal beauty of the time, with stylized facial features characterized by a pronounced narrow and elongated head, with small, neat linear facial features all frequently surmounted by a high crown, further emphasizing the linearity of the sculpture. The result is an ethereal quality, representing the purest form of the ideal of Buddhist spiritual enlightenment.
Many of the comparable sculptures originate from the Longmen cave complex; compare two seated figures of bodhisattvas, both from Longmen and now in Zurich, illustrated in Osvald Sirén, Chinese Sculptures in the von der Heydt Collection, Zurich, 1959, pls 11-2. Compare also three figures from Longmen published in Zhongguo meishu quanji [The complete volumes on Chinese art], vol. 11, Shanghai, 1988, pls 52-4; a related head of a bodhisattva, attributed to Longmen, published in Réne-Yvon Lefebvre d'Argencé (ed.), Chinese, Korean and Japanese Sculpture in the Avery Brundage Collection, Tokyo, 1974, pl. 34; and a further example, from the collection of Chu Hsiao-shih, Taipei, included in the exhibition Chinese Buddhist Sculpture from the Wei through the T'ang Dynasties, National Museum of History, Taipei, 1983, cat. no. 9. A similar three-sided crown centered with a floret is seen on a boddhisattva sold in these rooms, 6th November 1981, lot 55. Compare also a head sold in our London rooms, 16th December 1980, lot 435; another, sold at Christie's New York, 20th March 1997, lot 122; and a third example sold at Christie's New York, 6th June 1985, lot 529.
Sotheby's. Junkunc: Chinese Buddhist Sculpture, New York, 12 Sep 2018.