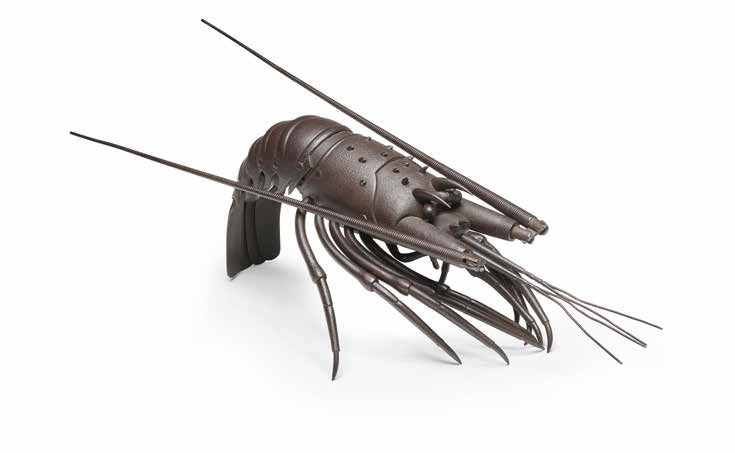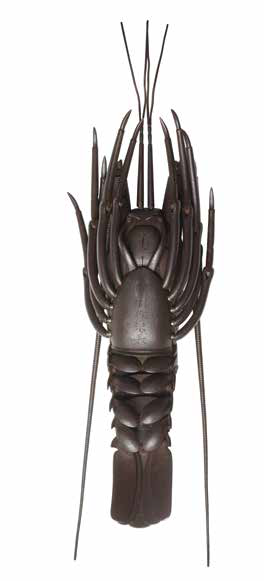 Lot 17. Myōchin Muneyoshi, An Articulated Iron Model of a Spiny Lobster, Meiji era (1868–1912), late 19th–early 20th century. Length fully extended 15 1/2 in. (39.5 cm). Estimate $25,000 - 35,000. Sold for US$ 31,250 (€ 26,734). © Bonhams 2001-2018
Made from numerous well-patinated hammered iron plates, invisibly joined so that the body bends and the legs and whiskers move, signed underneath the body with chiseled characters Nanajūsan-ō Myōchin Muneyoshi kore o tsukuru 七十三翁明珍宗美作之 (Myōchin Muneyoshi made this, aged 73).
Note: The Myōchin family was the most successful of the numerous dynasties of professional armorers that originated in late-medieval Japan. In the Edo period (1615-1868) the family opened branches not just in the major cities but also in the chief towns of many provincial fiefs where they turned out vast quantities of cuirasses, helmets, face masks, and other components that were needed for samurai armor. Myōchin craftsmen were highly accomplished in using tiny rivets to join multiple iron plates, creating protection that was both relatively light and highly flexible; over time, they repurposed their skills to make ingenious and astonishingly lifelike articulated models of snakes, fishes, crustaceans, and insects. While early examples were purchased by the Myōchin family's established senior samurai clientele, during the Meiji era they caught the attention of foreign buyers and earned praise from Japanese semi-official commentators such as a writer for Bijutsu Gahō (The Magazine of Art) who drew attention in 1894 to one example's " . . . aptitude . . . in wrought or hammered iron . . . beautiful execution and tone of color given to the material, alone, not to say anything about the ingenious arrangement."
The signature Muneyoshi is also found on an articulated model of a snake from the Hull Grundy collection in the British Museum (inv. no. HG.207) and on a snake in Tokyo National Museum (see http://www.tnm.jp/modules/r_free_page/index.php?id=573).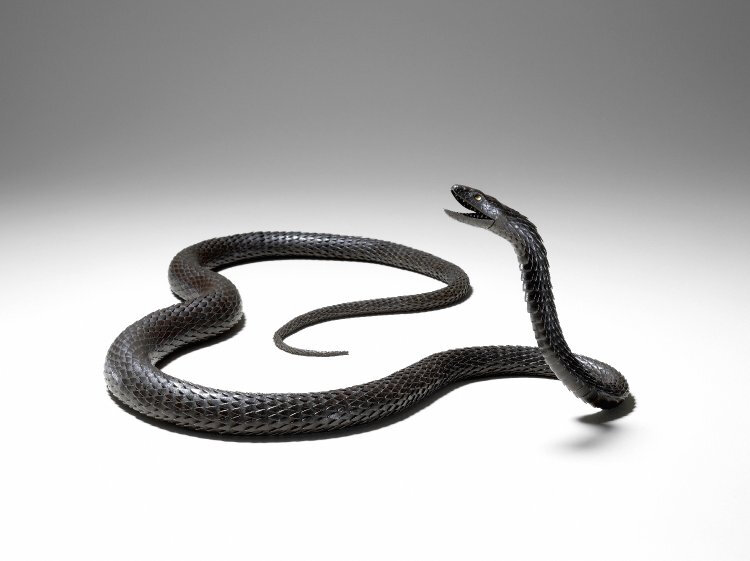 Myōchin Muneyoshi, Articulated figure of a snake, Edo period, circa 1750-1850. Made of gilded iron. Length: 155.5 cm, HG.207. © The Trustees of the British Museum.
Bonhams. ANCIENT SKILLS, NEW WORLDS TWENTY TREASURES OF JAPANESE METALWORK FROM A PRIVATE COLLECTION, 12 Sep 2018, NEW YORK