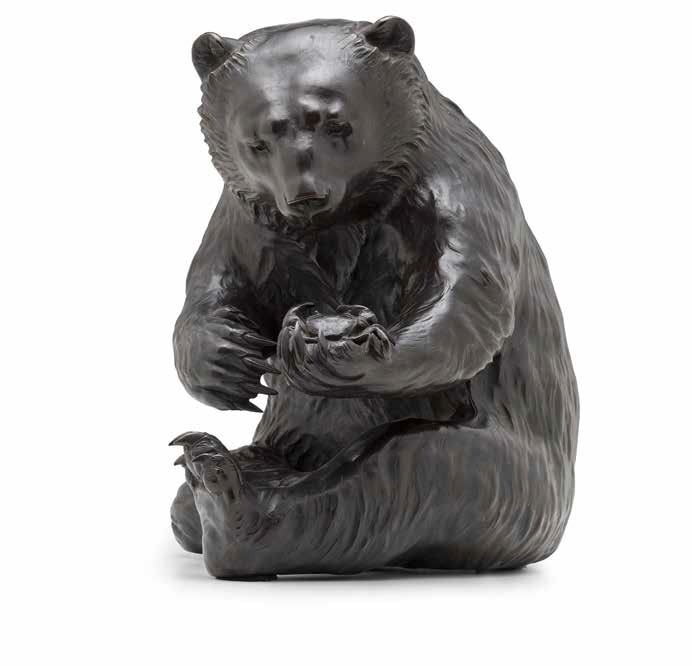 Lot 19. Atsuyoshi for the Maruki Company, A Bronze Sculpture of a Bear, Meiji era (1868–1912), late 19th–early 20th century. Height 9 7/8 in. (25.2 cm). Estimate $10,000 - 15,000. Sold for US$ 21,250 (€ 18,179). © Bonhams 2001-2018
Naturalistically cast with with dark brown patination, the seated bear looking down at a crab held in its left forepaw, signed on the base with cast characters Atsuyoshi 厚義 within a rectangular reserve and with a seal-style mark Maruki shachū seisaku まるき社中製作 (Manufactured at the Maruki Company).
Note: From about 1890, Japanese sculpture—in all media including ivory, wood, and cast bronze—underwent rapid stylistic development thanks in no small part to the influence of the Italian Vincenzo Ragusa (1841–1927) and the charismatic leadership of Okakura Kakuzō (1862–1913), who wrote in 1889 of the need to "call attention to fine artisans and urge the broadening of motifs and materials for sculpture." Japanese sculptors swiftly developed their production from finely worked but static ornamental figures to more freely modeled naturalistic works reflecting an awareness of Western sculpture; a famous early example was a wooden carving of an elderly seated monkey, more than three feet high, carved by Takamura Kōun (1852–1934) and displayed at the 1893 World's Columbian Exposition in Chicago (now registered as an Important Cultural Property). Likely inspired by Kōun's success, Atsuyoshi is known for a number of finely modeled bronze studies of both wild and domesticated animals, almost all of them made for the Maruki Company, a Tokyo-based firm specializing in "Ivory Netsuke Statuettes and Metal Articles."
Bonhams. ANCIENT SKILLS, NEW WORLDS TWENTY TREASURES OF JAPANESE METALWORK FROM A PRIVATE COLLECTION, 12 Sep 2018, NEW YORK