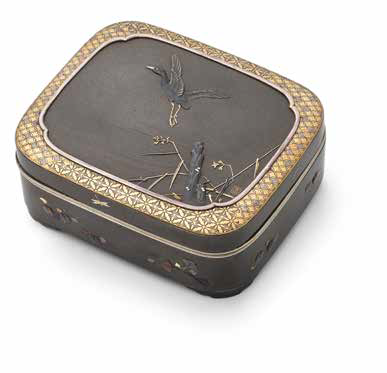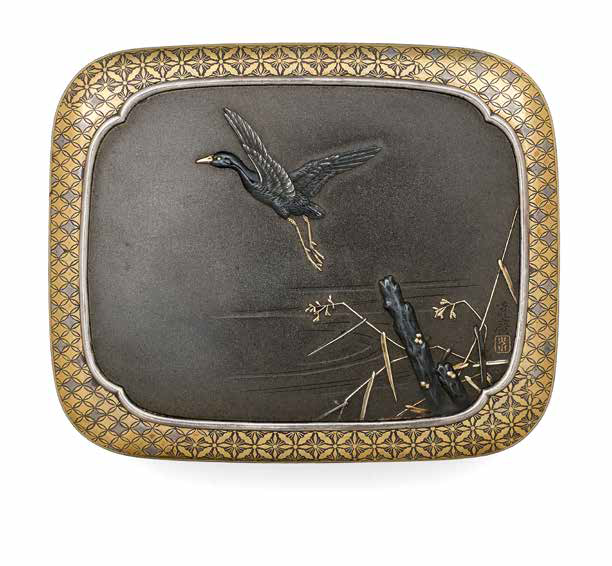 Lot 3. Suzuki Michihiro (active circa 1890), A Shibuichi Cigarette Box, Meiji era (1868–1912), late 19th–early 20th century; 1 5/8 × 3 3/4 × 3 1/8 in. (4 × 9.6 × 7.9 cm). Estimate $10,000 - 15,000. Sold for US$ 10,625 (€ 9,089). © Bonhams 2001-2018
With rounded corners and domed flush-fitting lid, the interiors and rims of silver, supported on four bracket feet, the top with a lobed frame of geometric ornament enclosing a silver border surrounding a central panel of shibuichi finely decorated in gold, silver, shakudō, and shibuichi, with a goose flying up from a river with a weathered mooring-post and grasses, the sides with insect and plant designs, signed on the cover at lower right Michihiro 道廣 with a gold seal-style mark.
Note: Here inlay of gold, silver, and Japanese copper alloys is combined with deft chiseling that reflects the enormous influence of Kanō Natsuo (1828–1898), doyen of decorative metalwork from the late Edo period to the early Meiji era. As with lot 11, the artist borrows a pictorial subject of Chinese origin that entered the Japanese canon in medieval times, in this case rogan, "goose and reeds." Michihiro can likely be identified with Suzuki Mitsuhiro, a resident of Tokyo, who is listed as having exhibited metalwork at the third Naikoku Kangyō Hakurankai (Domestic Industrial Promotion Exhibition), held in 1890.
Reference: Haynes 2001, H 05031.0
Tōkyō Kokuritsu Bunkazai Kenkyūjo 東京国立文化財研究所 (Tokyo National Research Institution of Cultural Properties) 1996, IIIb-507
Wakayama 1972, p. 454