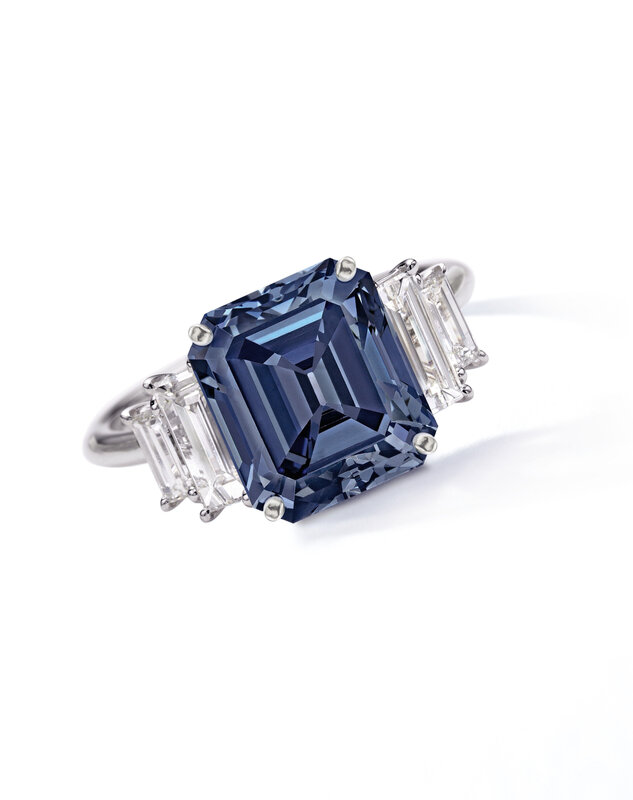 Lot 1892. Love Conquers All - The Ai ('愛') diamond. A rare and important 5-carat Fancy Vivid Blue Diamond and Diamond Ring. Estimate HK$98-120 million / US$12.49 – 15.29 million. Lot Sold 108,447,000 HKD (13,833,499 USD). Courtesy Sotheby's
Hong Kong - On 3 October, Sotheby's Hong Kong Magnificent Jewels and Jadeite Autumn Sale 2018 will present unique contemporary creations alongside phenomenal gems from nature. Headlined by the Ai ('愛') diamond, a rare and important 5-carat fancy vivid blue diamond and diamond ring (Est. HK$98-120 million / US$12.49 – 15.29 million), the season also features a spectacular pair of fancy vivid yellow diamond earrings of ingenious designed, and an important jadeite bead and diamond necklace. Enthusiasts of contemporary designs will be impressed by a selection of masterworks created by celebrated Asian contemporary designer Wallace Chan. A stunning selection of Red Carpet necklaces by such famed jewellers as Van Cleef & Arpels and David Morris, as well as a vintage Bulgari suite will also be offered this season.
Chin Yeow Quek, Deputy Chairman, Sotheby's Asia, Chairman International Jewellery, Asia, comments: We are proud to present a meticulously curated jewellery auction of beautiful designs, both vintage and contemporary, as well as great examples of precious gemstones and dazzling coloured diamonds which includes the superb Ai ('愛 ') Fancy Vivid Blue diamond this season in Hong Kong.
The rare fancy vivid blue diamond has proved to be one of the most coveted gemstones, with per-carat price reaching US$1 million and consistently breaking its own price-per-carat record. For every 33,000 gemquality diamonds uncovered, only one possesses the brilliance and blue colour most sought after. Among some of the first diamonds to emerge from the legendary Kollur mine in the Golconda, blue diamonds have been treasured as the epitome of natural wonders.
With immense rarity comes exceptional value. As mentioned in the GIA monograph, "the fashioning of any coloured diamond is difficult work, as even the most seemingly insignificant cut can dramatically influence colour, clarity, durability, or the diamond's overall value. Manufacturing blue diamonds is a particularly arduous process that requires careful inspection of the face-up colour appearance at each stage. For this reason, only the most experienced cutters are entrusted with the task of their manipulation".
The Ai diamond, named after the greatest power of all, love, is a celestial treasure marrying the capabilities of nature and mankind to full display. Love is the universal language, unspoken but omnipresent, fitting for a gem so unique and irreplaceable.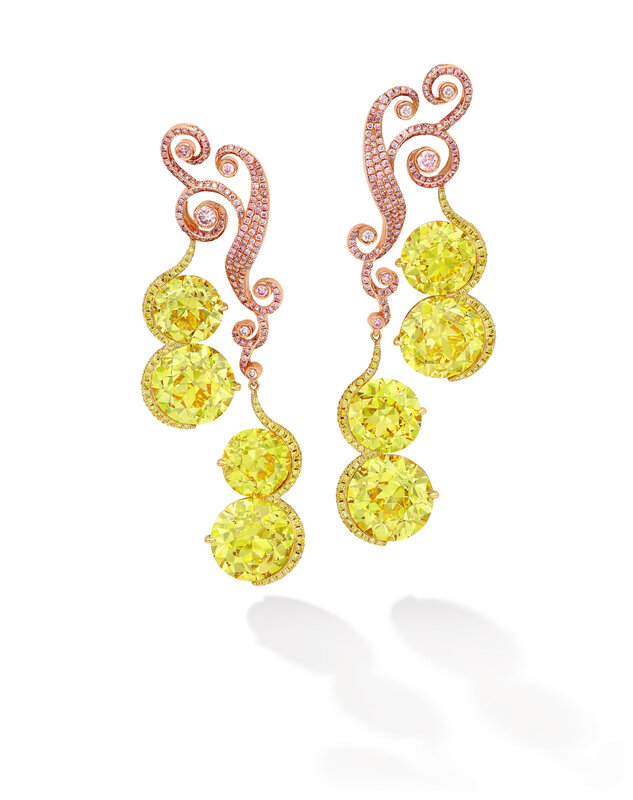 Lot 1858. The Perfect Match. A Spectacular Pair of Fancy Vivid Yellow Diamond and Diamond Pendent Earrings, weighing a total of 51.17 carats. Estimate: HK$38 - 48 million/ US$4.85 - 6.12 million. Courtesy Sotheby's
Weighing a total of 51.17 carats and well matched in colour, tone and saturation, the eight exquisite diamonds in this pair of spectacular earrings have been awarded the grade of Fancy Vivid Yellow, the highest and most coveted colour grade of yellow diamonds. With the strict parameters defining the facets and angles of an old European cut, it is a true rarity for these eight diamonds of coloured perfection to be united in the form of a spectacular jewel.
Drawing inspiration from a prosperous Chinese idiom, 'guā dié mián mián' (瓜瓞綿綿), the design of this lot depicts the imagery of a fruitful harvest of melons flowering from their vines, and signifies well-wishes for a flourishing family and a thriving nation for generations to come. At the same time, the versatility in design and convertibility of the suite allows the wearer's creativity to shine through. This unique piece is an ideal union between an antique cutting style and the modern interpretation of a traditional Chinese blessing.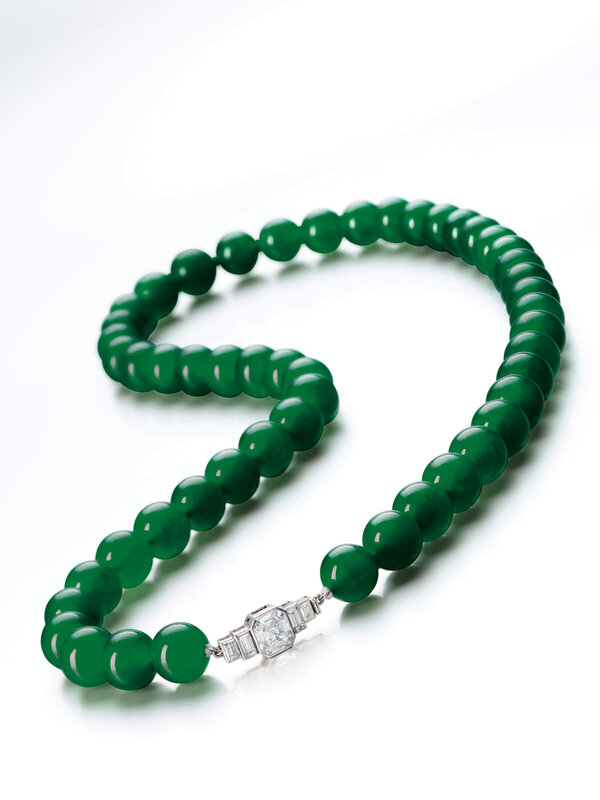 Lot 1863. An Important Jadeite Bead and Diamond Necklace, with a Diamond Clasp Signed Chaumet. Estimate Upon request. Courtesy Sotheby's
The Hutton-Mdivani jadeite bead necklace sold by Sotheby's in 2014 for HK$214 million / US$27.44 million still holds the World Auction Record for any Jadeite Jewellery. This season, Sotheby's is proud to present this important jadeite bead necklace, composing of fifty-one jadeite beads of brilliant emerald green colour and very good translucency, with a diamond clasp signed Chaumet.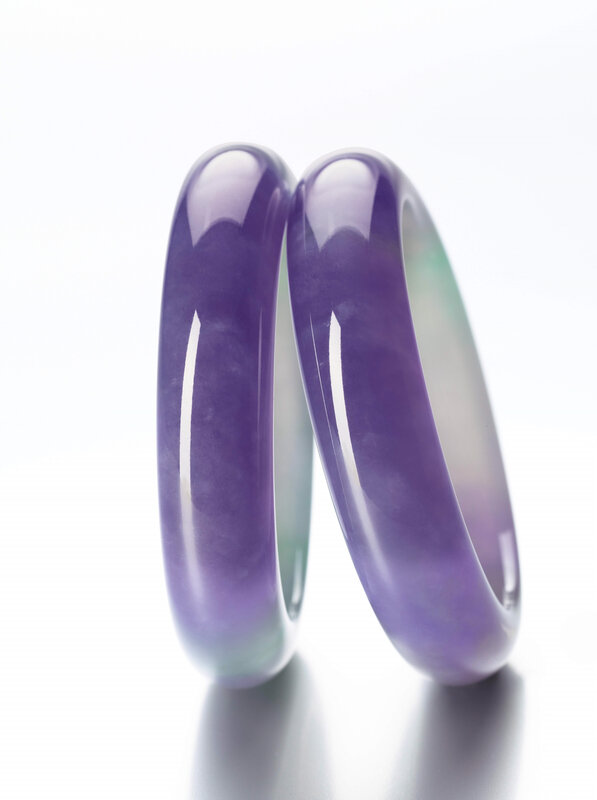 Lot 1739 & Lot 1740. Two Lavender and Green Jadeite Bangles. Estimate: HK$5.2 – 7 million / US$665,000 – 895,000 each. Courtesy Sotheby's
In addition, two fine jadeite bangles displaying duo hues of lavender and green, with a seamless blend of colours that can be described as chūndàicăi (春帶彩), meaning 'spring filled colours', brings forth imagery of lush green fields blossoming with delicate lavender blooms. Possessing strong saturation and fine translucency, the bangles emanate charmed rarity and subtle elegance. Sold separately (Lot 1739 and 1740), with estimates of HK$5.2 – 7 million / US$665,000 – 895,000 and HK$5 – 7 million / US$640,000 – 895,000 respectively.
The Philosopher Jeweller. Contemporary Masterpieces by Wallace Chan.
Lot 1736. Gem Set, Jade and Diamond Pendent Earrings, by Wallace Chan. Estimate: HK$550,000 – 850,000/ US$70,500 – 109,000. Courtesy Sotheby's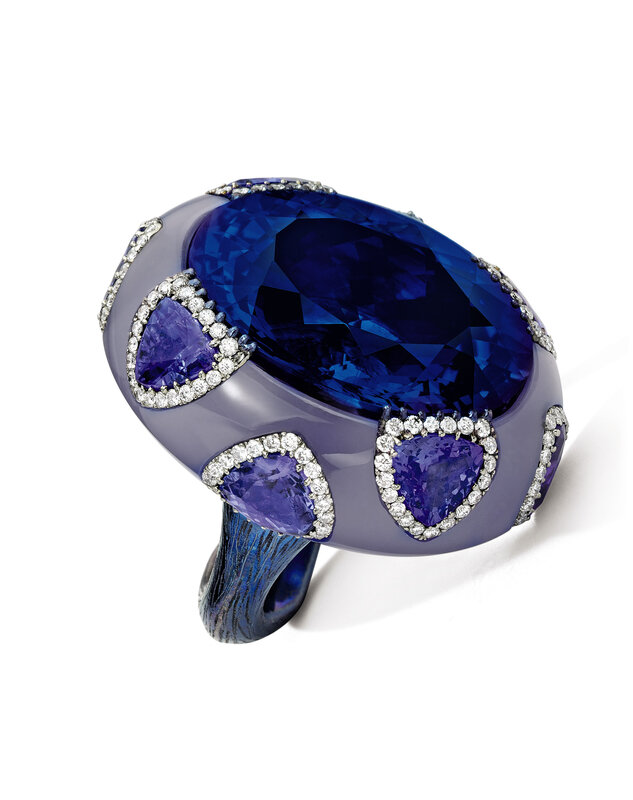 Lot 1737. Tanzanite, Chalcedony and Diamond Ring, by Wallace Chan. Estimate: HK$1 – 1.8 million/ US$128,000 – 230,000. Courtesy Sotheby's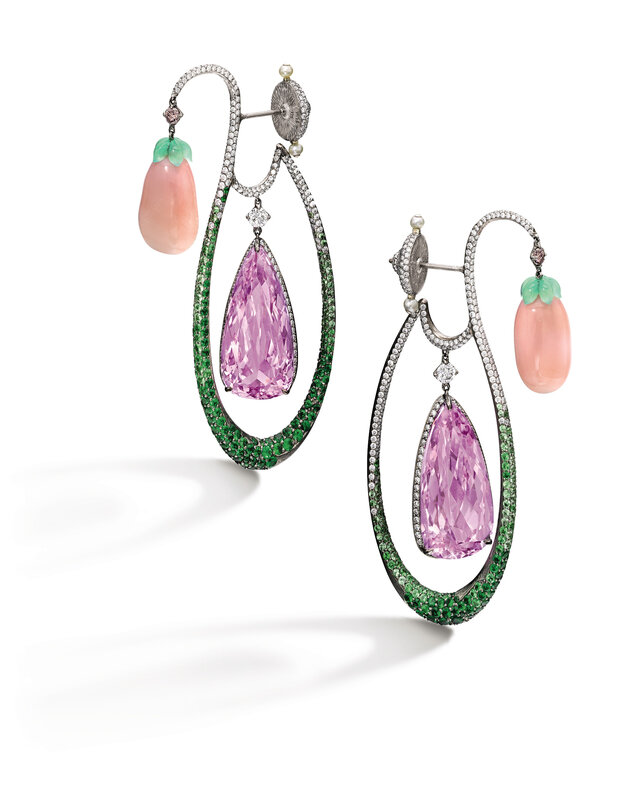 Lot 1737. Pair of Conch Pearl, Gem Set and Diamond Pendent Earrings, by Wallace Chan. Estimate: HK2.2 – 3.2 million/ US$281,000 – 408,000. Courtesy Sotheby's
The Wallace Chan masterpieces offered this season demonstrate the supreme mastery of the celebrated Asian artist-jeweller in conjuring works that are daringly dreamlike, sensual and sculptural.
"Both poetic and provocative, these creations push the boundaries of imagination, craftsmanship and the art of the jewel." –Vivienne Becker, Jewellery historian.
Continuously giving new creative expressions to 21st-century jewels with his artistic vision, Wallace's exceptional skills and innovative use of traditional and modern materials has revitalised the ancient Chinese art of stone carving and at the same time explored and perfected the use of the space-age metal titanium and wondrous gem-setting techniques. The first Asian artist-jeweller to exhibit at the Biennale in Paris in 2012, today, jewellery creations by Wallace Chan can be seen at major fairs including Tefaf in Maastricht and Masterpiece in London, and are sought after by collectors across the globe.
Red Carpet Glamour. A Show-Stopping Collection of Vintage and Contemporary Signed Necklaces.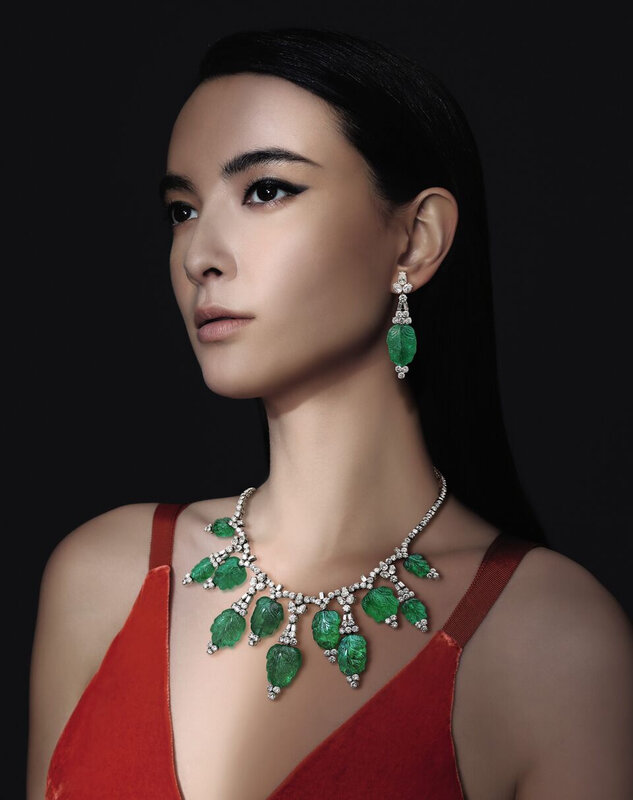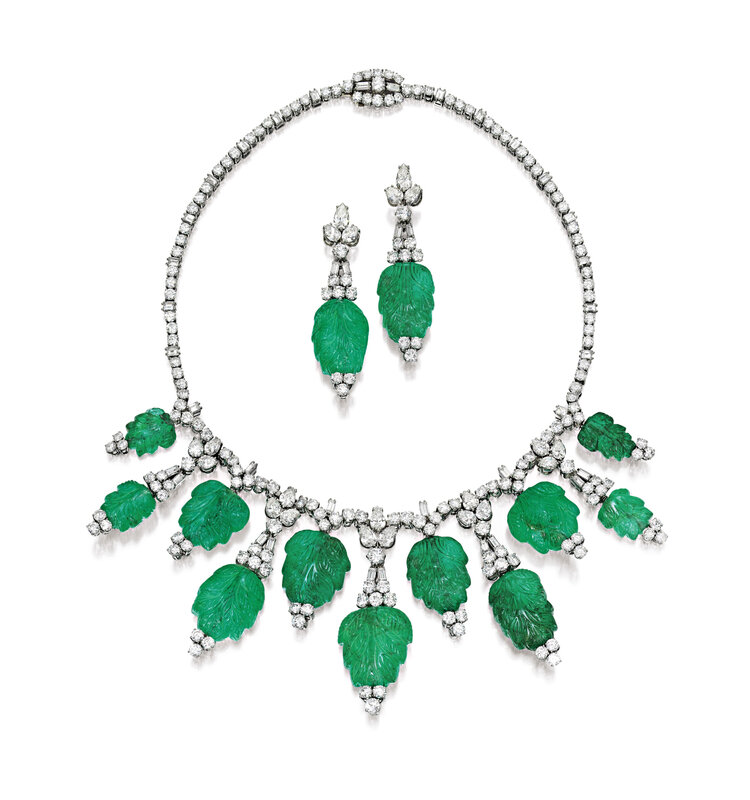 Lot 1756. Rare and Important Emerald and Diamond Demi-Parure, Bulgari, circa 1960. Estimate: HK$4 – 6.5million/ US$510,000 – 830,000. Lot Sold 3,720,000 HKD (474,523 USD). Courtesy Sotheby's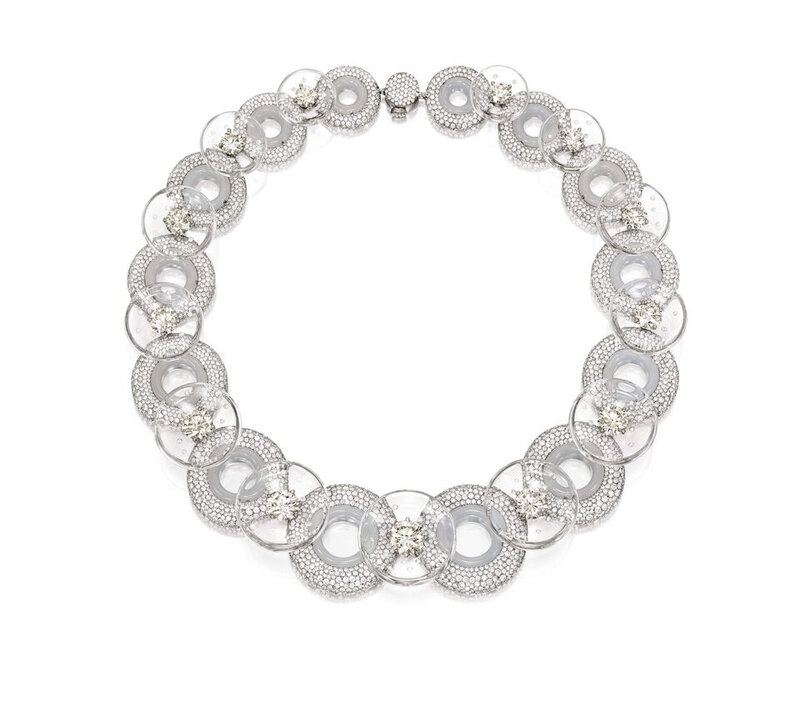 Lot 1757. A Unique Diamond, Rock Crystal and Chalcedony Necklace, Wallace Chan. Estimate: HK$3.8 – 5.5 million / US$485,000 – 705,000. Courtesy Sotheby's
Lot 1754. A Unique Emerald and Diamond Pendent Necklace, Van Cleef & Arpels. Estimate: HK$2 - 3 million/ US$255,000 – 446,000. Courtesy Sotheby's
Since the golden age of Hollywood, the red carpet has become a stage where stars are given the freedom to express and differentiate their individuality through spectacular jewels. Necklaces, in particular, have gained the attention as some of the most iconic jewels in history. From the elegant emerald and diamond necklace by Van Cleef & Arpels sweeping across the neckline, to the intricate details of diamond latticework by David Morris, and the expertly carved agate and rock crystal stacked disc choker necklace by contemporary Asian design extraordinaire Wallace Chan, this specially curated selection of exceptional necklaces will turn heads at any given occasion.
Parisian Chic: A Distinguished Collection of a Jewellery Connoisseur.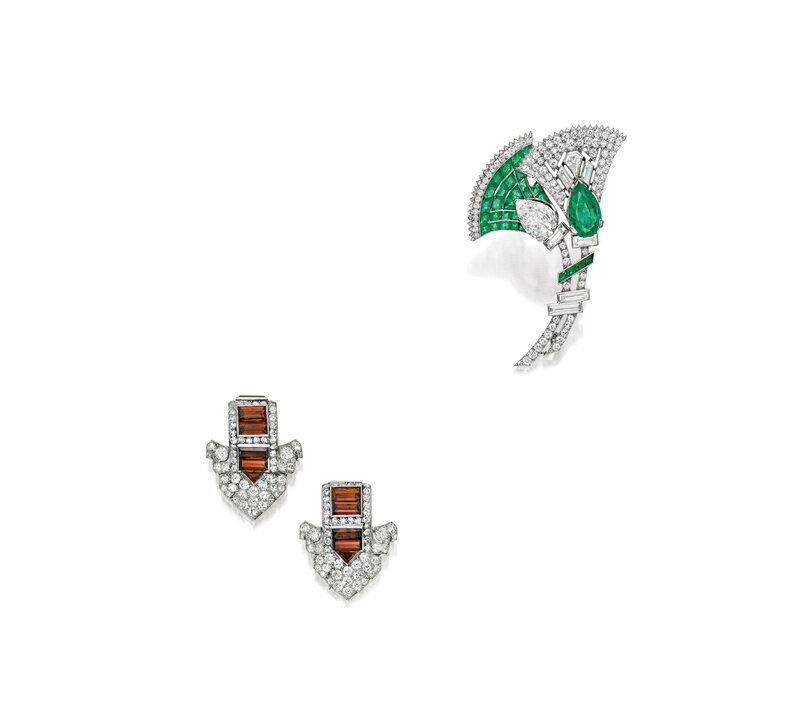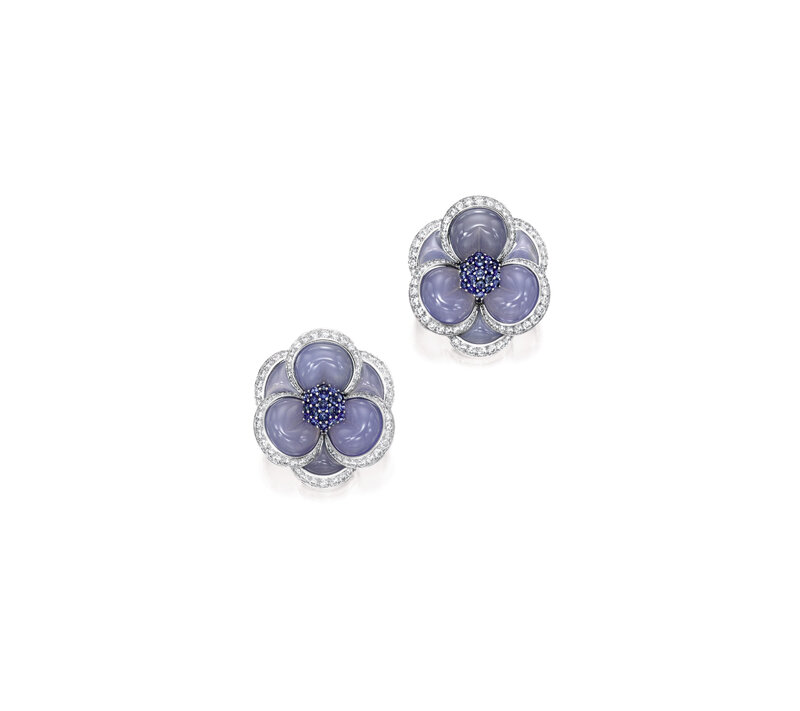 This beautifully curated selection of jewels primarily from the 1950s and 1960s from a distinguished private collection reflects a connoisseur's appreciation for collecting iconic jewels. Reflecting an understanding of the significance of the periods that these jewels represent, these stylish pieces commemorate the spirit of the 60s and the versatility of ingenious designs that transform themselves into chic, wearable, timeless treasures.