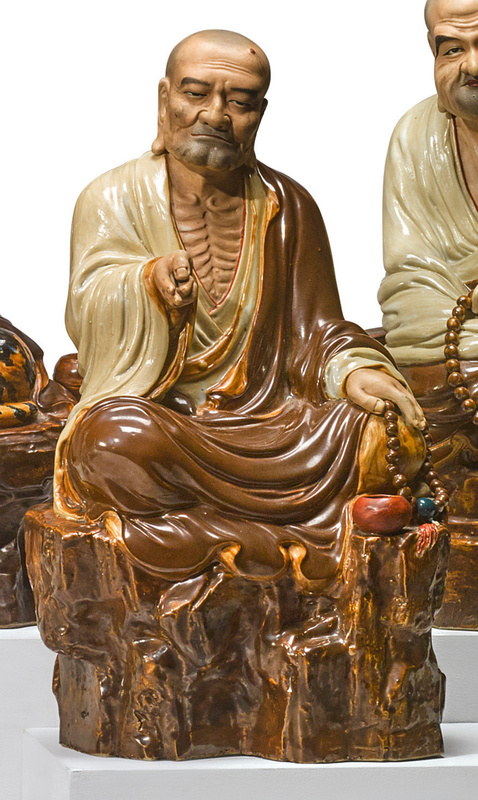 Lot 1487. A painted and enameled biscuit figure of Rahula, Republic period, seal of Zeng Longsheng (1901-1964). Height 15 1/2 in., 39.4 cm. Estimate: 10,000 — 15,000 USD. Sold Price: 50,000 USD. Courtesy Sotheby's.
the figure seated in monk's robes open at the neck exposing an emaciated chest, the proper right hand in prana mudra, the left on the knee and holding a mala resting above an alms bowl supported by the rockwork base, the base with an impressed rectangular cartouche seal reading Zeng Longsheng zao.
Note: Zeng Longsheng was a Republic period Jingdezhen artisan who specialized in figural works. A complete set of the eighteen Luohan by Zeng Longsheng, donated by Sir Kenneth Ping-fan Fung, is in the collection of the University Museum and Art Gallery, University of Hong Kong, inv. no. HKU.C.1978.0654(1). Another example from the same series was sold at Christie's New York, 18th-19th September 2014, lot 983.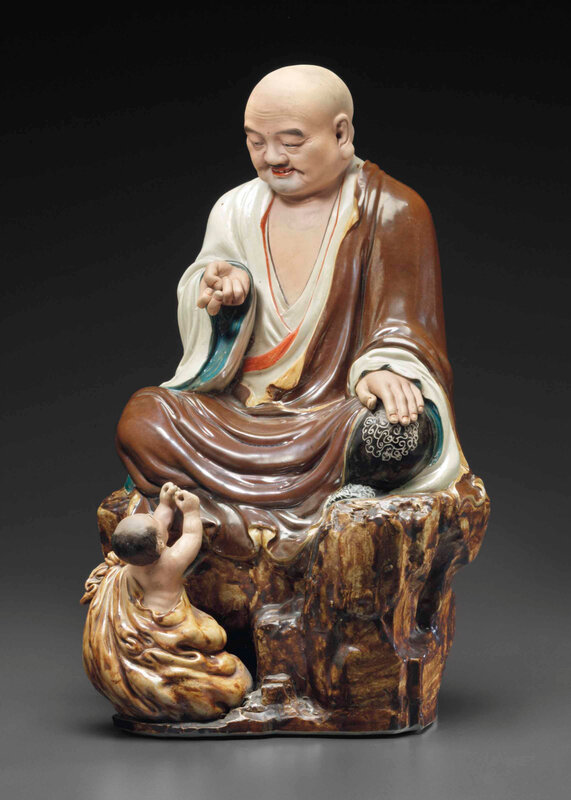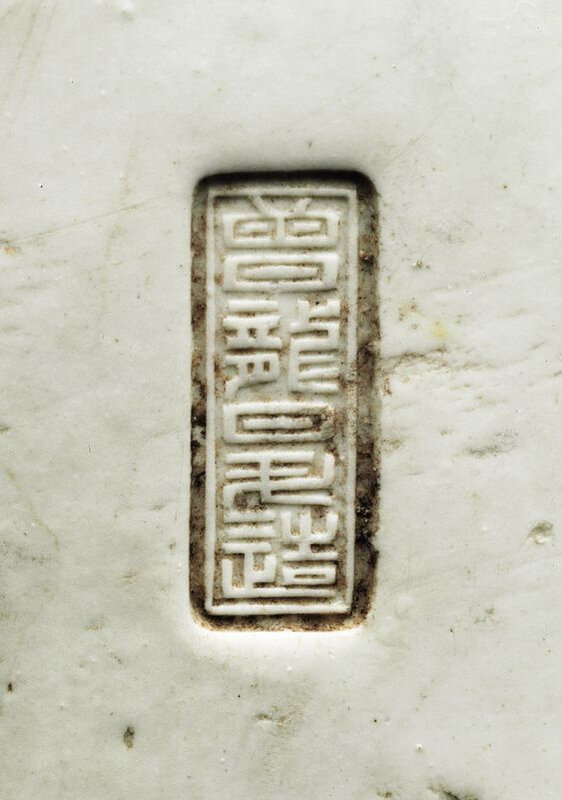 An enameled and biscuit figure of luohan, seal of Zeng Longsheng, Republic period; 15½ in. (39.4 cm.) high. Sold for 62,500 USD at Christie's New York, 18th-19th September 2014, lot 983. © Christie's Images Ltd 2014.
The smiling, bald figure is shown seated on an outcropping of rock gesturing towards a young boy emerging from a sack below. He wears layered robes enameled in brown, cream, green and iron red, while his head, hands, and chest, and the child are in painted biscuit. A maker's mark, Zeng Longsheng, is stamped on the base.
Zeng Longsheng's series of eighteen luohan appear to be modeled after Guan Xiu's paintings from 891. Legend has it the paintings were created after Guan had a dream in which the luohan visited him and asked him to paint their portraits. The resulting images were taken from his visions. The paintings were treasured and preserved in a Zhejing monastery, and during the Qianlong reign were copied and propagated.