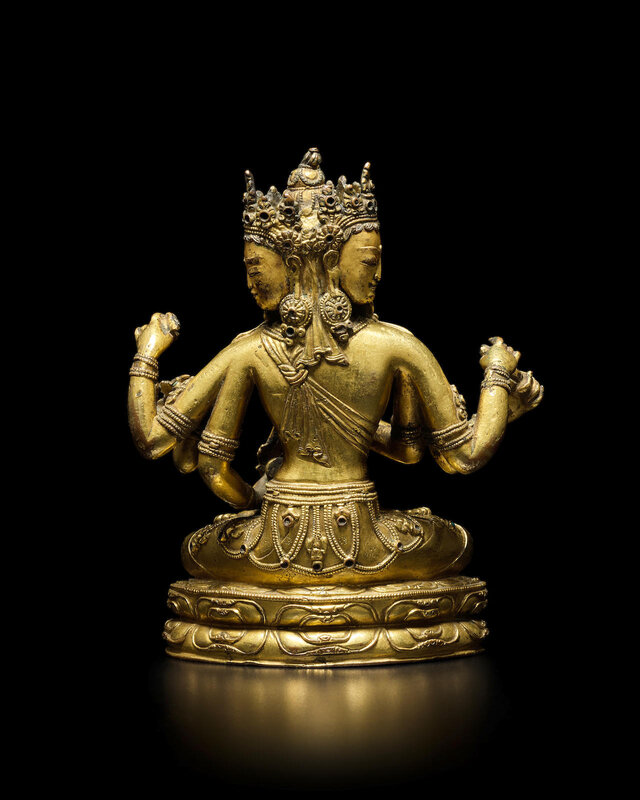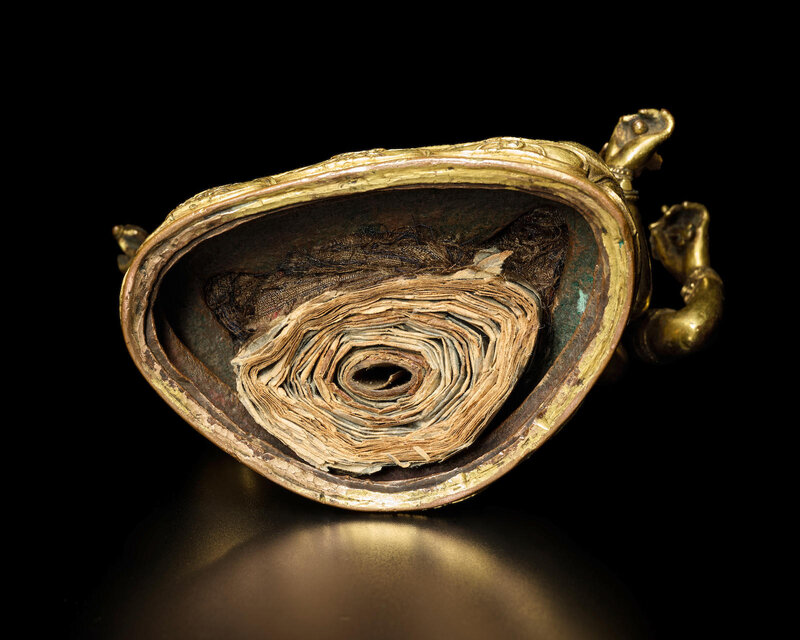 Lot 182. A gilt copper alloy figure of Lokeshvara Guhyasamaja, Tibet, 15th century. Himalayan Art Resources item no.61639; 16.5 cm (6 1/2 in.) high. Estimate HK$ 500,000 - 800,000 (€ 54,000 - 87,000). Sold for HK$ 600,000 (€ 66,340). © Bonhams 2001-2018
Provenance: Peter Fussel, London.
Note: With his primary hands, the three-faced yidam unfurls a lotus budding from the tantric bell (ghanta) in his lap. The lotus is a profound Buddhist symbol of every being's capacity to achieve Buddhahood. The bell is an ubiquitous object in Vajrayana Buddhist rituals, symbolic of wisdom and the womb. Thus, the yidam conveys a rare and clear metaphor for the efficacy of tantric practice.

The gilded sculpture represents Guhyasamaja, revealing a secret essence of Buddha Amitabha. A thangka in the Qing Palace Collection provides a clear reference for the iconography (HAR item no.34750). The hilt of the yidam's sword remains in his top right hand, while a stem that would have attached a chakra remains in his top left. He is known as Lokeshvara Guhyasamaja, adopting Avalokiteshvara iconography as the latter belongs to Buddha Amitabha's lotus family. The special Lokeshvara iconography of opening the lotus is drawn from such sculptures of the Bodhisattva as a Pala-period bronze sold at Bonhams, Hong Kong, 3 October 2017, lot 1.

"[The Guhyasamaja Tantra is...] referred to in Tibet as the "king of tantras" (rgyud kyi rgyal po), it is among the most important of what later come to be called Anuttarayogatantras, or highest yoga tantras. It is also classified as a "father tantra" (pirtantra). The text was likely composed sometime between about 750 and 850 CE... The Guhyasamja is one of the earliest tantras to present overtly antinomian practices, notably of a sexual nature, as well as the practices of ingesting impure substances. The text begins with a surprising rendition of the opening line of a Buddhist sutra... when it states, "Thus have I heard. At one time the Bhagavan was residing in the vaginas of the women who are the vajra essence of the body, speech, and mind of all the tathagatas." Such passages led to the development of sophisticated hermeneutical systems for interpreting the tantras to discover their hidden meaning." (Buswell & Lopez, "Guhyasamajatantra", in The Princeton Dictionary of Buddhism, New Jersey, 2014.)

A closely related example depicting another form of Guhyasamaja was sold at Sotheby's, New York, 18 December 1981, lot 263. It shows near identical treatments of the lotus base, raiment, and regalia. Each was likely part of a sculptural mandala depicting the Thirty-Two-Deity Guhyasamaja Mandala. (See Rhie & Thurman, Wisdom & Compassion, New York, 1996, p.338, no.134, for an example of a Bhaishajyaguru sculptural mandala set.) See a corresponding representation of Guhyasamaja Lokeshvara in the central northern quadrant of a painted mandala sold at Bonhams, New York, 17 March 2014, lot 18. This sculpture's rare depiction of lotus petals on top of the base anticipates it being configured within a mandala as predominately viewed from a raised angle.