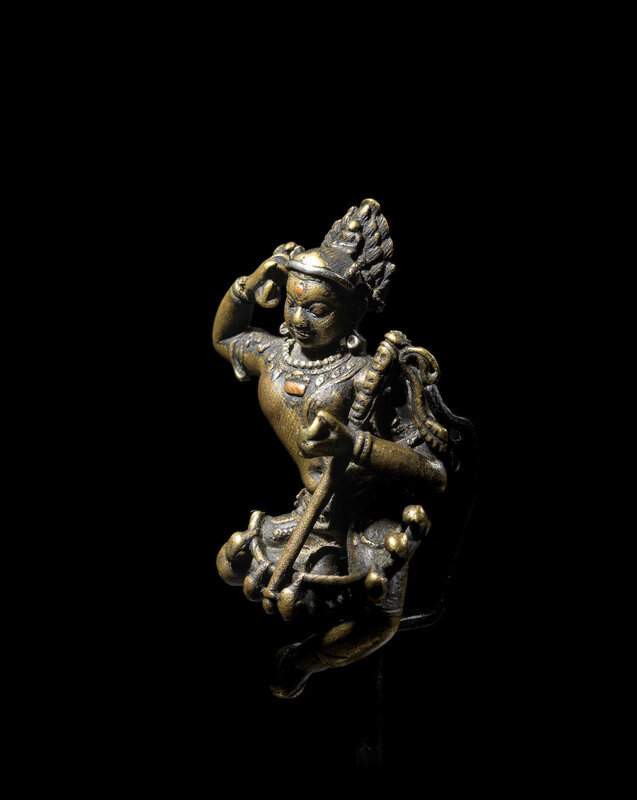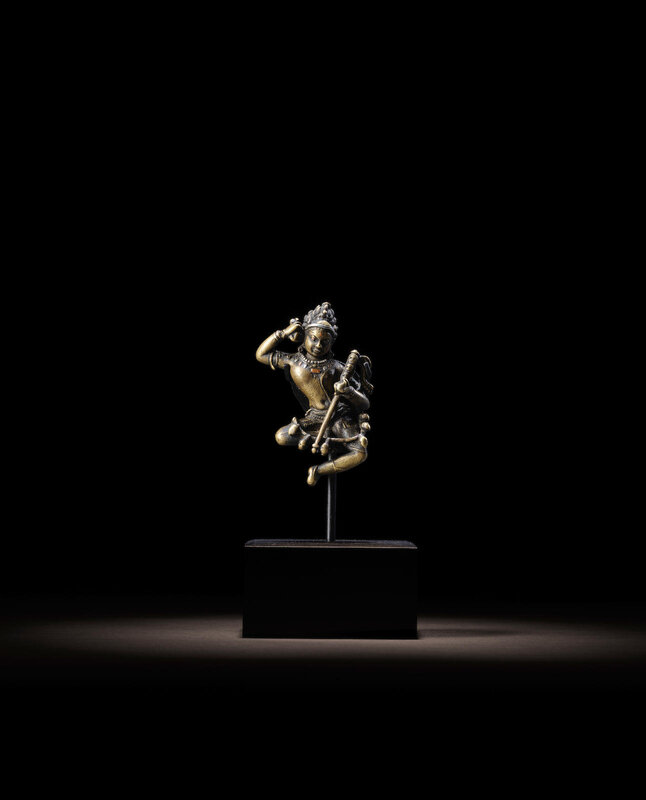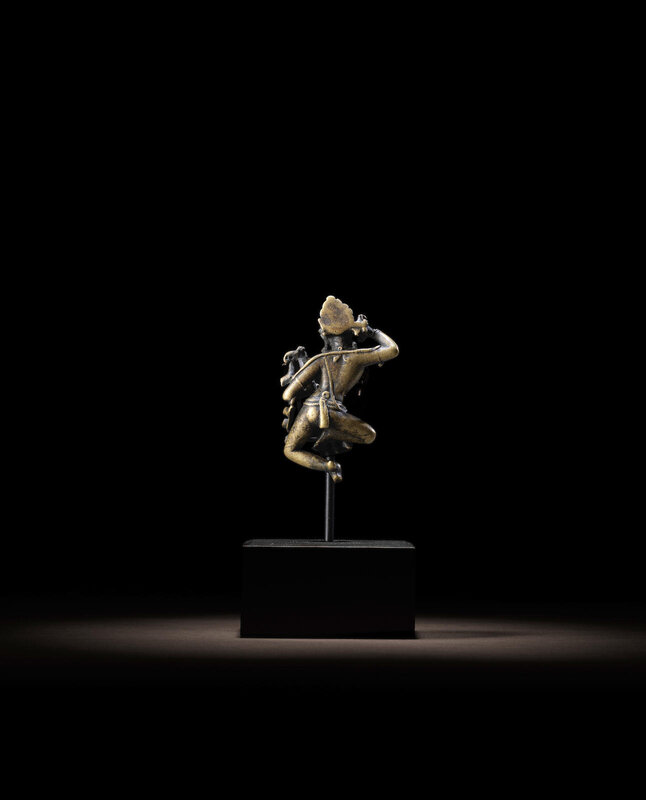 Lot 179. A copper and silver inlaid copper alloy figure of Hevajra, Northeastern India, Pala period, 11th century. Himalayan Art Resources item no.61770; 6 cm (2 1/2 in.) high. Estimate HK$ 250,000 - 350,000 (€ 27,000 - 38,000). Sold for HK$ 400,000 (€ 44,227). © Bonhams 2001-2018
Provenance: Mimi Lipton, London, 1995.
Note: Hevajra is one of the earliest Vajrayana yidams. He is the principal meditational deity of the high Anuttarayoga Tantras. The present work depicts Hevajra in two-armed 'Heruka' form, with his right hand wielding a vajra, and in his left a khatvanga, which symbolizes his consort. Among the several different meanings of the word 'Heruka', here it refers to the simplified form of a complex Anuttarayoga male meditational deity, commonly used in the Sarma traditions of Tibetan Buddhism.

The sculpture encapsulates the gem-like quality of late Pala bronzes in the 11th and 12th centuries at their finest. His three eyes, teeth, and jewelry are meticulously inlaid with silver and copper, and an extravagant necklace alternates with these inlaid precious metals. Hevarja's dancing poise forms a svelte s-curve, while appearing to balance his weight effortlessly on a single foot. The sculpture likely originally appeared at the heart of a sculptural Hevajra mandala.

As the Presiding Buddha of the Vajra Family, Akshobhya is depicted in Hevajra's flaming hair. Another figure of Hevajra with the same detail is in the Nyingjei Lam Collection (see Weldon & Casey, The Sculptural Heritage of Tibet: Buddhist Art in the Nyingjei Lam Collection, London, 1999, p.21, figs.13&14). For another example of Hevajra Heruka, see von Schroeder, Buddhist Sculptures in Tibet, Vol.1, Hong Kong, 2003, p.294, no.98A-B.