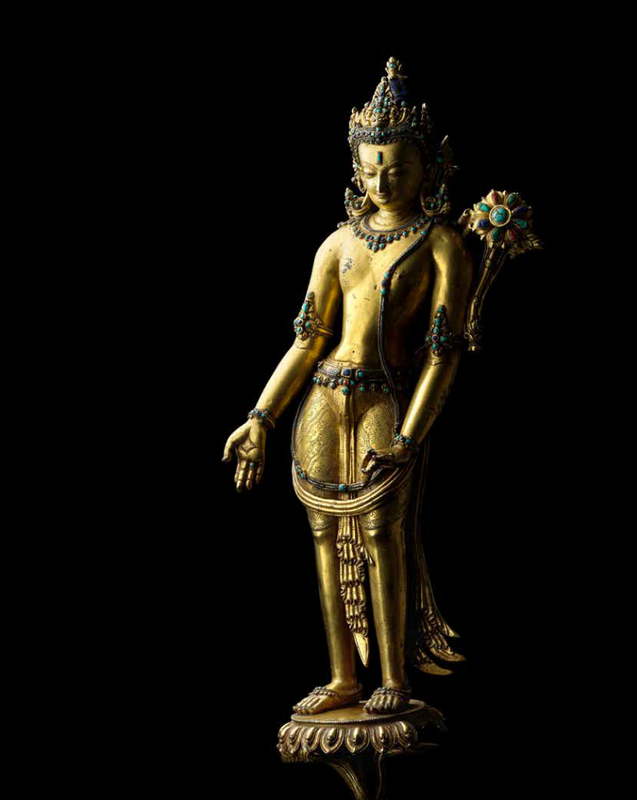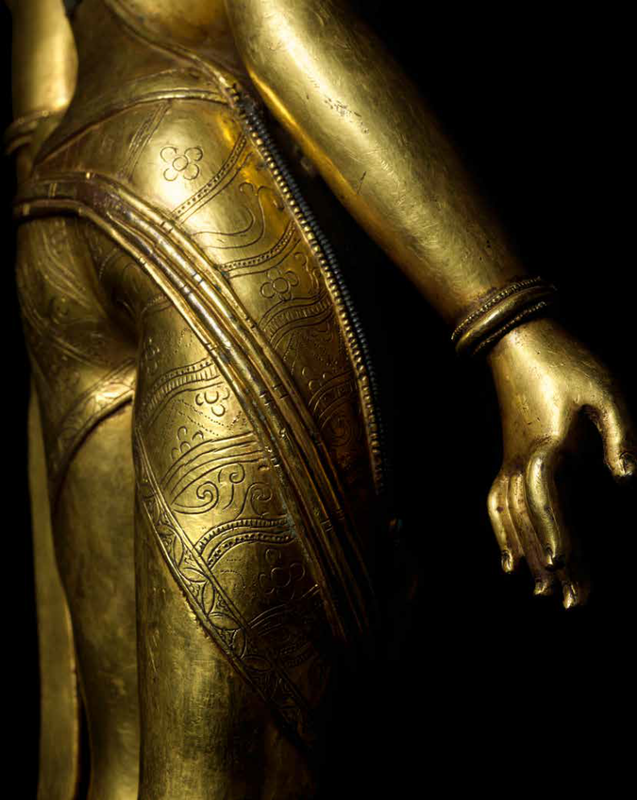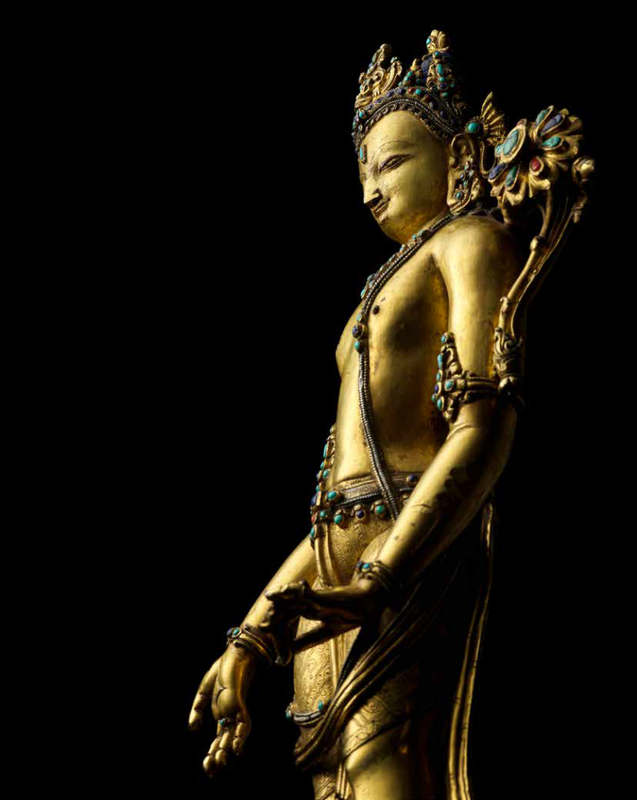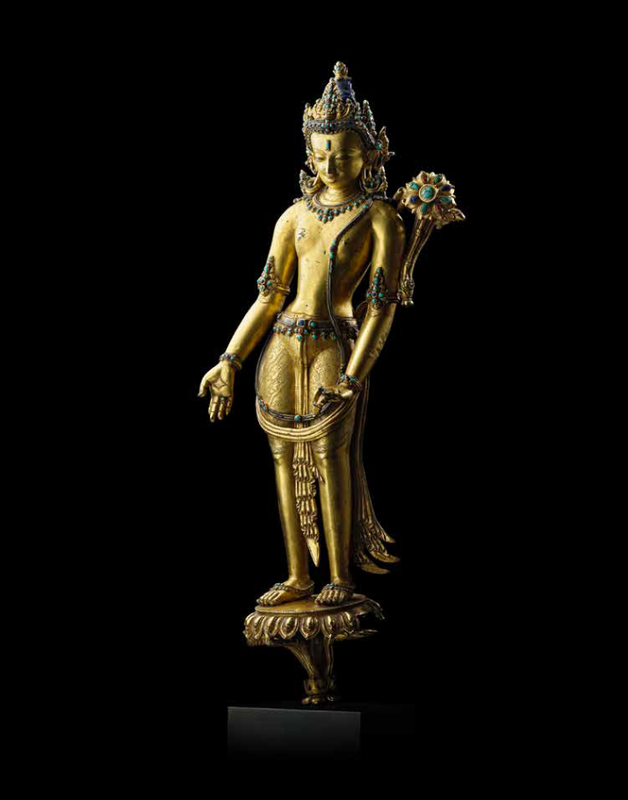 Lot 43. A gilt copper alloy figure of Padmapani Lokeshvara, Tibet, circa 1400. Himalayan Art Resources item no.61740; 55 cm (21 3/4 in.) high (including lotus stem);;51 cm (20 1/8 in.) high (excluding lotus stem). Estimate HK$ 16,000,000 - 20,000,000 (€ 1,700,000 - 2,200,000). Sold for HK$ 19,300,000 (€ 2,133,964). © Bonhams 2001-2018
With inset turquoise, coral, and lapis.
Provenance : Benny Rustenberg, Hong Kong, 1998
Private European Collection
Note: This refined gilded sculpture of standing Padmapani Lokeshvara follows a foreign, ancient mode of representing the bodhisattva imported to Tibet. Itinerant Newari craftsmen from the Kathmandu Valley achieved the most accomplished renditions of the standing bodhisattva form in cast bronze. Renown throughout Asia, this ethnic group passed artistic traditions and expertise between generations of masters. Tibetan patrons commissioned Newars for major artistic projects, recorded, for instance, in the tashi gomang stupas of Densatil monastery, and the thangka sets of Sakya and Ngor. The present sculpture arises from such circumstances, following the ascent of wealth and patronage in Central Tibet around the beginning of the 15th century. Combining Newari and Tibetan aesthetic proclivities, this sculpture represents the pinnacle of the standing bodhisattva form in Tibetan art.

Avalokiteshvara, "The Lord Who Looks Down", does just so with a kind smile and a gesture of charity with his right hand. Avalokiteshvara is the paradigm of perfected compassion, one of the key virtues a practitioner must develop towards his or her own buddhahood. The master Newar depicts Avalokiteshvara arising from a lotus flower, an ubiquitous Buddhist symbol for any being's potential to rise from murky waters and realize their innate buddhahood. This form of Avalokiteshvara, known as Padmapani Lokeshvara, 'The Lotus Holder', echoes such symbolism, for by his hand help is provided toward enlightened salvation.

The leitmotif of the standing bodhisattva in a limber pose, with a bare torso, supple waist, and sheer lower garment, traces back to the golden age of Indian sculpture in the Gupta period (4th-to 6th-centuries). A famed standing Padmapani from Sarnath in the National Museum, New Delhi exemplifies this root (cf. Across the Silk Road, Beijing, 2016, pp.160-1. no.70). The Newars adopted and preserved this tradition, adding exaggerated narrow waists and swollen thighs by 13th-century and the establishment of the early Malla dynastic style. A consummate Nepalese example of standing Padmapani from 14th-century is held in the Rubin Museum of Art (Collection Highlights: The Rubin Museum of Art, New York, 2014, p.80-1). By contrast, the Rubin's Nepalese example shows more preoccupation with the figure's modeling, whereas the present bronze stresses a more densely gilded, patterned, and inset surface.
 
Tibetan aesthetic proclivities towards rich surfaces are conveyed in its unique tradition of portrait sculpture. Early portraits such as numerous c.13th-century, heavily gilded sculptures of Jigten Sumgon Rinchenpel (1143-1217) dress him in a precisely articulated patchwork robe with finely beaded hems. A prime example survives in Serkhang monastery, published by von Schroeder, Buddhist Sculptures in Tibet, vol.2, Hong Kong, 2003, pp.1036-7, no.258B. He is presented before a throne encrusted with copious semi-precious stones and almost no inch left unornamented. He is flanked by standing bodhisattvas that demonstrate little concern for an elaborate pose, while being studded with oversized pieces of inset turquoise. Rinchenpel invited Newari craftsmen to create his sculptures and his visionary tashi gomang stupas (Czaja & Proser (eds), Golden Vision of Densatil, New York, 2014, p.184). Newari craftsmen were familiar with setting stones into sculpture within the Malla tradition, but the Tibetan patron clearly showed greater enthusiasm.
 
The present sculpture's use of silver inlay is also quite distinct from purer Nepalese examples. The artist has incorporated beaded silver ware seamlessly in the Avalokiteshvara's crown, necklace, belt, and most prominently in the sacred thread (ratnopavita) traversing his torso and thighs. Again, earlier portrait sculpture conveys the Tibetan preference for inlaid precious metals, exemplified in a 12th-/13th-century portrait of Phagmodrupa (1110-70) in the Cleveland Museum of Art (1993.160). Phagmodrupa's eyes, teeth, and hems are all inlaid with silver, as are the guardians of his throne. Tibetan's fondness for inlay almost certainly stemmed from their appreciation for fine Kashmir and Pala bronzes. However, it was little adopted in Nepal, demonstrated by its absence from a large gilded bronze of Manjushri also in the Cleveland Museum of Art (1964.370), roughly contemporaneous with the present Padmapani.
 
Thus, marrying the Newar's classical, elegant, rhythmic, and sensuous modeling with the Tibetan preference for more engraved, inlaid, and embellished surfaces, this masterpiece represents their perfect synthesis at a moment frequently described as 'Tibet's renaissance', when great monuments are attempted and art is met with great wealth. The Walters Art Museum, Baltimore holds a closely related Padmapani almost certainly by the same set of artists for the same monastic project (54.3098; Pal, Desire and Devotion, Baltimore, 2001, p.295, no.171; fig.1).
Padmapani, Tibet, ca. 1400, gilded copper with traces of paint and semiprecious stones, 38.7 × 16.51 × 8 cm, 54.3098. © The Walters Art Museum, Baltimore.