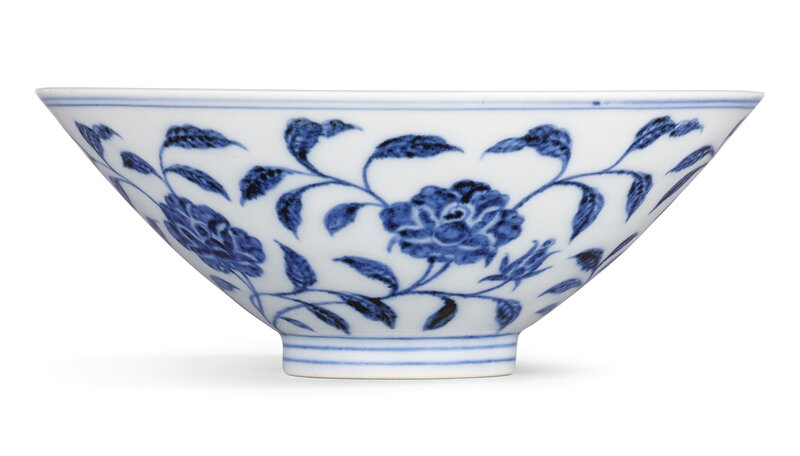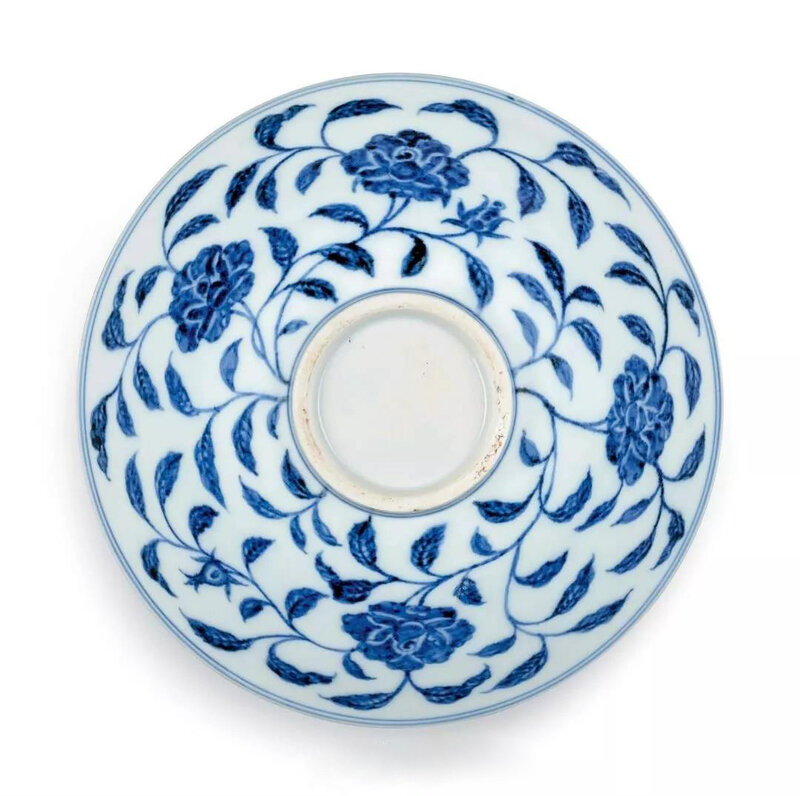 Lot 105. A fine and extremely rare blue and white conical 'rose' bowl, Ming dynasty, Yongle period (1403-1424); 20 cm, 7 7/8 in. Estimate 3,000,000 — 4,000,000 HKD (382,200 - 509,600 USD). Lot Sold 4,680,000 HKD (596,981 USD). Photo: Sotheby's.
superbly potted in conical form, the wide flaring sides rising from a straight foot, delicately painted in soft cobalt-blue tones with characteristic 'heaping and piling' effect, depicting flowering and budding roses borne on a leafy meander growing from above the foot, all divided by line borders.
Provenance: Collection of H. Fairtlough, Esq.
Sotheby's London, 28th May 1968, lot 167.
Bluett & Sons, London.
Sotheby's London, 14th March 1972, lot 133.
Hugh Moss Ltd, London
Note: This rare bowl represents the most exquisite type of ware produced in the imperial kilns during the Yongle reign. It is distinctive for its elegant shape and harmonious floral decoration which has been designed for a pure Chinese aesthetic.
Characterised by spiralled petals to the centre of each bloom, the floral scrolls portrayed on the present bowl can be identified as roses as opposed to more customary peonies or lotuses. Roses seldom feature as a decorative pattern in the repertoire of Chinese ceramics, but do appear occasionally on imperial Yongle porcelains including bowls and dishes of various sizes. See a barbed dish decorated with similar scrolling roses to the interior, sold in our New York rooms, 20th March 2018, lot 108.
The depiction of freely meandering rose scrolls is also unusual, as bowls of similar type are more commonly decorated with formal floral scrolls, with a lappet band around the foot, as illustrated by an example from the Ardebil Shrine and now in the National Museum of Iran, Tehran, published in John Alexander Pope, Chinese Porcelains from the Ardebil Shrine, Washington, 1956, pl. 48, and again in Takatoshi Misugi, Chinese Porcelain Collections of the Near East, Topkapi and Ardebil, vol. 3, Hong Kong, 1981, cat. no. A60. Only a few extant examples, with similar naturalistic, liberally curving sprays of roses growing from above the foot, are known. Its companion bowl, also from the collection of H. Fairtlough, Esq., was sold in our London rooms in the 1968 sale as the preceding lot. That bowl later reappeared in auction again in our London rooms, 27th November 1973, lot 134. Compare also a restored bowl, with sparser arrangement of roses, from the collection of Mr and Mrs John A. Pope and included in Ming Blue-and-White: An Exhibition of Blue-decorated porcelain of the Ming dynasty, The Art Institute of Chicago, Chicago, 1949-1950, cat. no. 42.
Sotheby's. Important Chinese Art from the Collection of Sir Quo-Wei Lee, Hong Kong, 03 oct. 2018, 10:10 AM