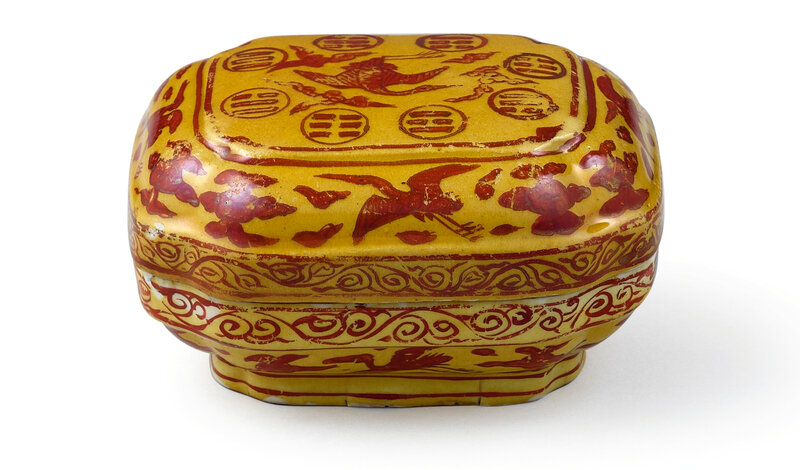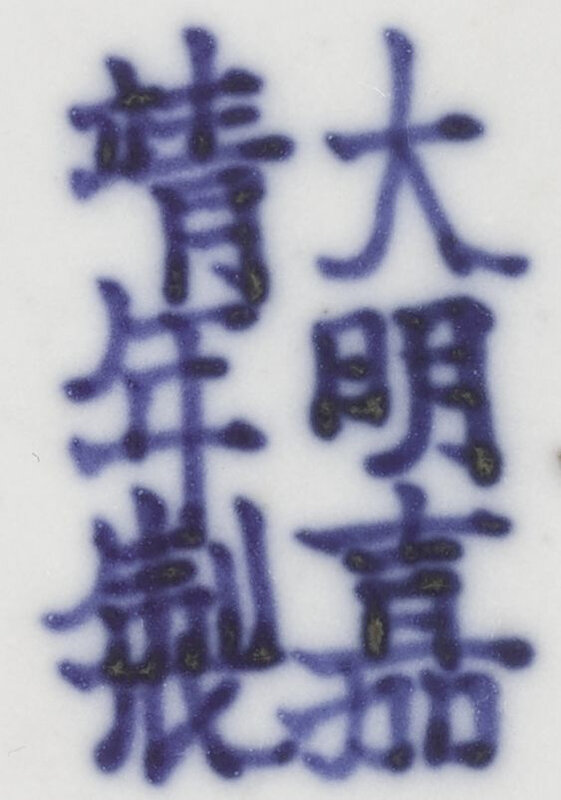 Lot 3651. A rare lobed yellow-ground and iron-red decorated 'Crane' box and cover, mark and period of Jiajing (1522-1566); 12.6 cm, 4 7/8 in. Estimate 800,000 — 1,000,000 HKD (101,912 - 127,390 USD). Unsold. Courtesy Sotheby's.
of quatrelobed form, the box potted with rounded sides resting on a short foot of corresponding form, the exterior decorated in iron red with four cranes, each bird alternating with two ruyi cloud scrolls, all below a classic scroll band bordering the straight rim and repeated at the rim of the cover, the cover with a rounded border similarly decorated with a frieze of flying cranes and ruyi cloud scrolls, surrounding a raised quatrelobed panel enclosing a crane framed by ruyi cloud scrolls and the Eight Trigrams, all against a bright yellow ground, the white base inscribed in underglaze blue with a six-character reign mark.
Provenance: Acquired from Uragami Sokyu-do Co. Ltd., Tokyo, 2009.
Note: A devoted follower of Daoism, the Jiajing Emperor's pursuit of immortality led not only to his infatuation with alchemy but the domination of Daoist rituals in court, a natural result of which was the proliferation of imperial wares commissioned for ritualistic purposes. Supplied especially by Jingdezhen, such artefacts brim with Daoist imagery such as cranes and the 'eight trigrams', presenting the promise of attaining immortality and exaltation.
Rarely employed, the colour scheme of the present piece may have been specific to the Jiajing reign, during which its auspicious significance was fully appreciated by the emperor. It was most likely its onerous production method that precluded a more widespread use: not only were three firings – one for the clear-glazed porcelain, one for the yellow overglaze enamel, and a third for the design-bearing iron-red enamel – necessary, the difficulty of even-handedly applying the red around the designs in yellow must have contributed to an exceptionally high rate of failure.
The small size of this present piece is also noted for its rarity among heirlooms of a similar type.