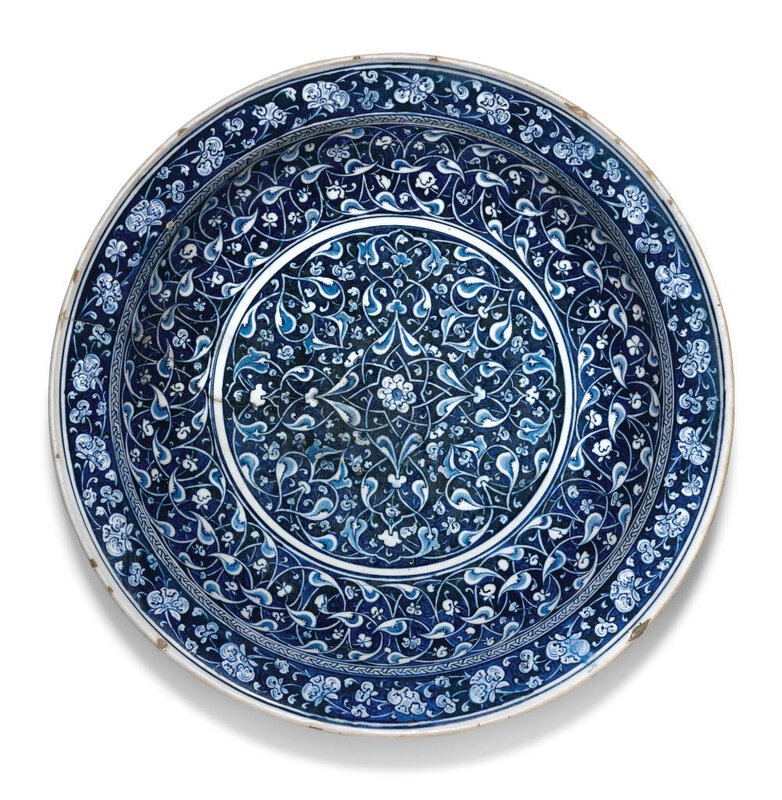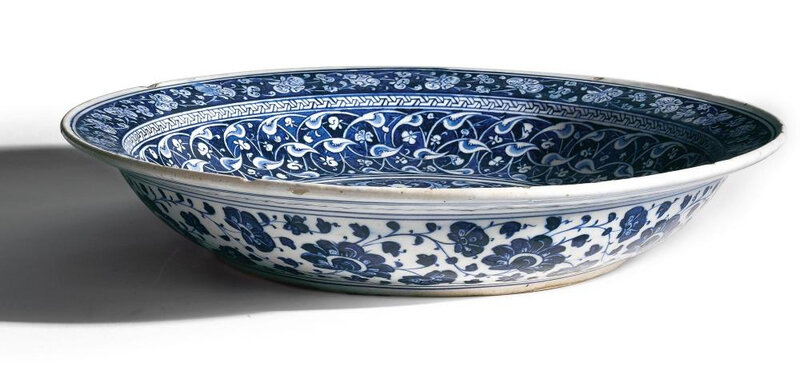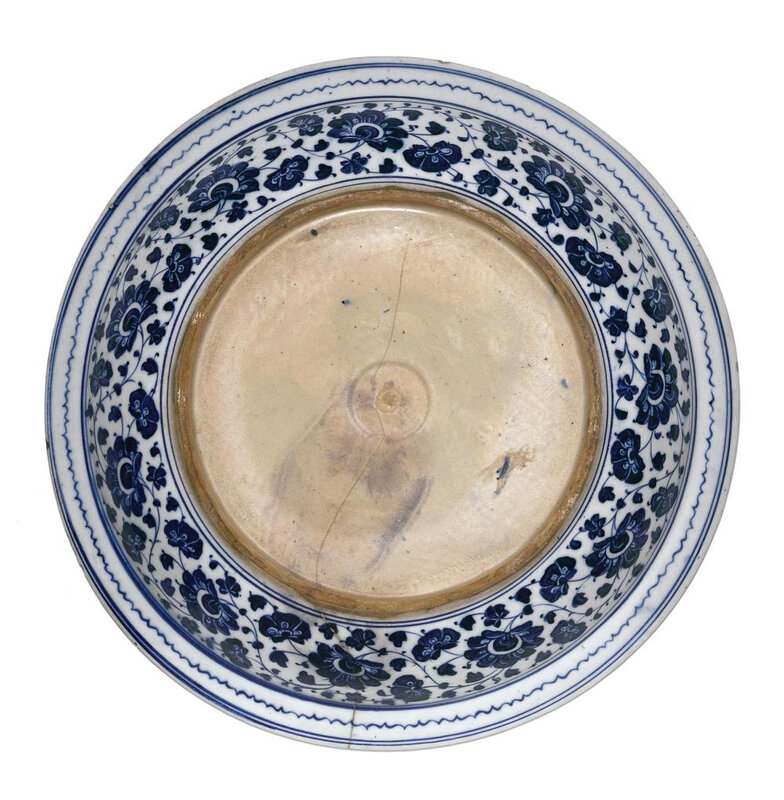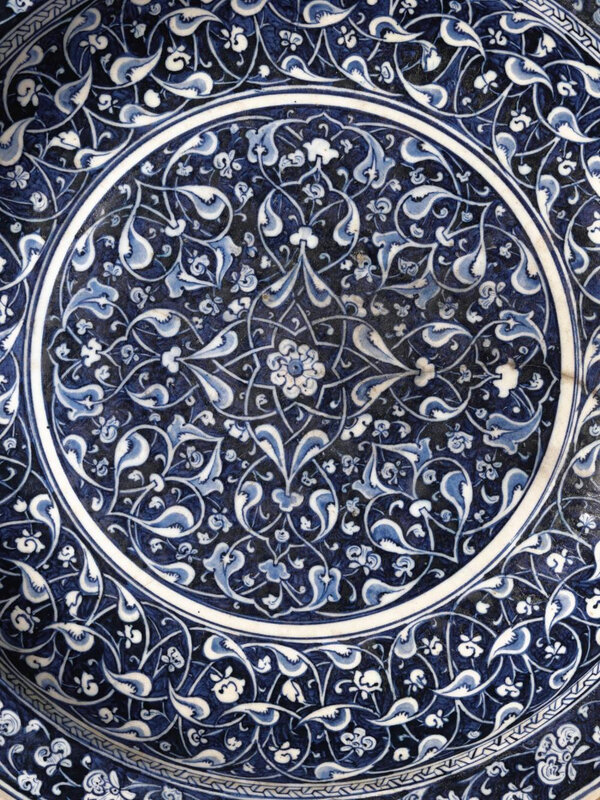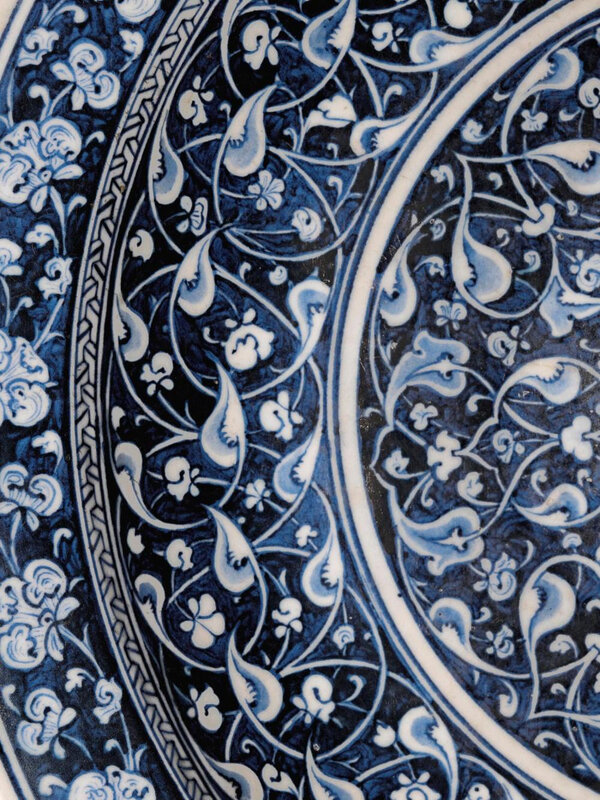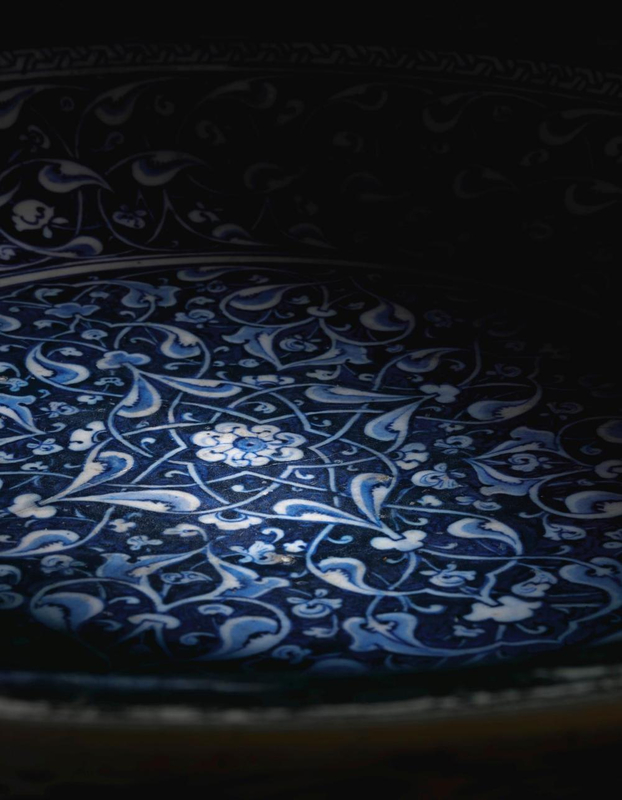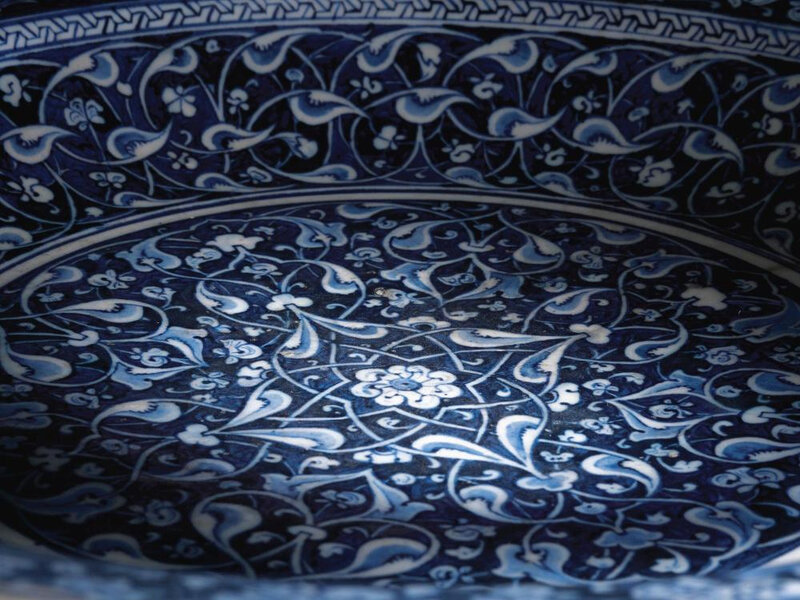 Lot 134. A highly important blue and white Iznik pottery charger, Turkey, circa 1480; 44.5cm. diam., 8.3cm. depth. Estimate £300,000 - £500,000. Lot Sold 5,359,950 GBP (6,937,383 USD). Courtesy Sotheby's.
of large, deep, rounded form, with an everted flat rim, the interior decorated in reserve within a central roundel against a blue-black ground with an intricate arabesque of interlacing split-palmette 'rumi' motifs in two shades of blue and white emanating from a small central rosette, the cavetto displaying a thick band of corresponding design surmounted by a thin band of interlocking key fret motifs, the flat rim ornamented with a band of scrolling floral 'hatayi' flowers in white, the reverse decorated with a wide band of 'hatayi' lotus scrolls in blue on a white ground, thin double blue lines and a single bracketed line embellishing the underside of the rim.
Provenance: Ex-collection Max Debbane (1893-1965), Alexandria, Egypt.
Acquired from Max Debbane's daughter in 1968.
Private Collection, North America.
Max Debbane (1893-1965). Fonds Max Debbane © Archives CEAlex/Cnrs
The bibliophile and businessman Max Debbane was born into an Syrian-Lebanese family, and was educated in both Alexandria and Paris prior to the First World War. He patronised many leading cultural institutions in the town of his birth including the Greco-Roman Museum and Conservatoire, and was served as President of the Archaeological Society. He was a passionate defender of the archeological heritage of Alexandria to the Society as well as local and foreign scientific publications seeking his collaboration.
Debbane was a friend to the many scholars, writers and artists who both lived in and visited Alexandria in the first half of the twentieth century, including André Gide, Jean Cocteau, P.M. Fraser and Etienne Drioton, among others. He had a great love of books, purchasing widely from both dealers and auctions. After Debbane's death, much of his library and collection was sold, with the American University in Cairo acquiring several thousand volumes on history and art. He was part of the Debbane family that had previously arrived in Alexandria in the nineteenth century, a member of which – Count Miguel Debbane – founded a Greek Catholic church in Alexandria that remains in use to this day.
"Alexandrians of fifty years ago, who saw this sharply dressed and groomed young man with a short moustache, lavalliere tie and a big black felt hat walking the streets in dark solitude, would never have guessed that beneath a romantic appearance hid a temperament of a chartist and a scholarly vocation." (Cahiers d'Alexandrie, Série IV, fascicule 1, Alexandria, 1966, p.58).
This large dish, or charger, is without question one of the most important pieces of Iznik pottery to remain in private hands, and represents a significant discovery to the field of Ottoman art. It belongs to the earliest group of Iznik, produced during the reigns of Mehmet II ('the Conqueror', r.1451-81) and his son, Bayezid II (r.1481-1512), the finest examples of which are almost all in museum collections. The 'Debbane Charger' is a new and remarkable addition to this select assemblage of pieces, published here for the first time.
This small and exceptionally rare group of Iznik pottery is characterised by an intense, inky, blue-black colouring, which reflects the embryonic stage of firing control, before the use of cobalt blue had been mastered by the potters. The same phenomenon occurs in early Chinese blue and white porcelain of the early fourteenth century, resulting in the same 'heaped and piled' effect that we witness on the charger. It took roughly two decades before a brighter and clearer blue was achieved.
Ornamentation
The present charger is a lost sibling to four other large dishes, all measuring between thirty-seven and forty-four and a half centimetres in diameter as follows: Musée National de Céramique, Sèvres (inv. no.4759); Musée du Louvre, Paris (inv. no.6321); Haags Gemeentemuseum, The Hague, (inv. no.OC1 6-36); Çinili Köşk, Istanbul (inv. no.41/8). These four dishes are published in Atasoy & Raby 1989, p.78, nos.55-58, and p.150, no.279, where they are suggested as having been used in banquets for large quantities of food. Of these four extant dishes, the present charger is closest in size and decoration to the example in The Hague, although there are shared elements with all four pieces. All five chargers each have a central floret of varying form (the present one emanating gadrooned elements), and use of both Rumi and Hatayi motifs, the names given to the 'Selcuk' arabesque decoration and Chinoiserie floral scrolls respectively.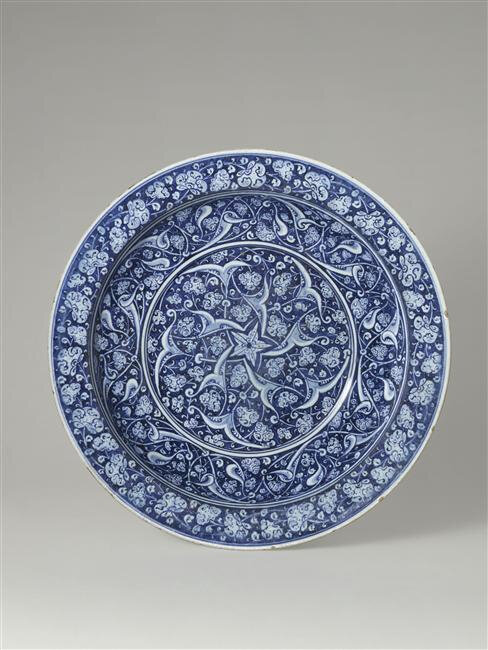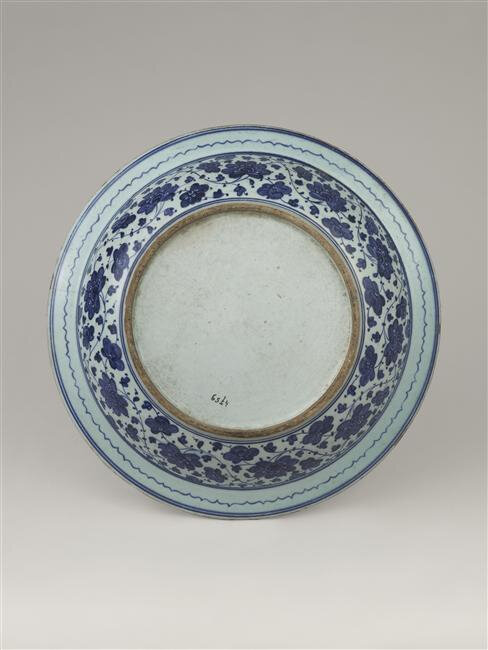 Dish with arabesque pattern, Turkey, inv. no.41/8 © Çinili Köşk, Istanbul (Atasoy & Raby 1989, p.78)
By comparing The Hague charger and the present piece, we see that the Rumi-Hatayi decoration of the central circular well and that of the cavetto are essentially reversed, whilst both chargers share the Chinoiserie scrolls around the rim. The backs of the two chargers are also closest within the group, each displaying a colour inversion of the design on the front – that is, a band of thick lotus scrolls in blue against a white ground, with a loosely-bracketed line around the underside of the rim, interspersed with three sets of thin blue double bands. The Louvre dish also features closely comparable Hatayi decoration to the reverse and the same arrangement of lines. Although the principal motif of the Louvre dish is the ornamental yet illegible Kufic calligraphy (almost certainly by the same hand as the blue and white Iznik candlestick sold in these rooms, 29 April 1993, lot 98), a parallel can be drawn between the central decoration and that of the dish to hand. Both have small florets at the very centre, surrounded by an almost square-form interlace of split-palmettes.
In all five chargers, the innermost decoration is bordered by a white circular band separating the well from the cavetto. Four out of the five display Hatayi motifs scrolling around the rim, whereas one, the Istanbul charger, has an interlace of rumi arabesques, continuing the motif of the central roundel. The Çinili Köşk piece is also unique in having a moulded, bracketed rim (a Chinese form), while the other four are perfectly circular. The present dish is exceptional among the group in the presence of a band of key-fret design at the upper cavetto, on the inner edge of the rim. Whilst none of the other dishes share this motif, it can be seen on the shoulder of the Sotheby's candlestick, and also around the base of the jar in the Victoria and Albert Museum, London (inv. no.C.57-1952, published in Atasoy & Raby 1989, p.148, no.276), and around the upper portion of an ovoid hanging ornament in the L.A. Mayer Institute for Islamic Art, Jerusalem (inv. no.C108-69, published in ibid, p.149, no.277).
The advent of Iznik pottery
Mehmed II (r.1451-81) was renowned for his intense interest in and patronage of the arts, including architecture, and he is celebrated for inviting foreign artists to his court, such as Gentile Bellini. It was during his reign that the first court style was developed. According to Julian Raby, "Royal patronage ensured production and dictated standards" (Atasoy & Raby 1989, p.76). Raby points out that although there is no actual record of an official Ottoman kitabkhane (royal scriptorium), there must surely have been one, since there are over seventy-five manuscripts dedicated to Mehmed II in existence, including the so-called 'Baba Nakkaş album'. This is a collection of designs, illumination and calligraphy dating to the end of Mehmed's reign which provides evidence for a floral style influenced by Chinoiserie decoration, popular in Timurid Iran in the fifteenth century. Raby argues that Baba Nakkaş (literally 'Old Man of Design') must have been an important and influential artist, since he is recorded as having received generous endowments of land from Mehmed II. This has led to this earliest group of Iznik ceramics being referred to as 'Baba Naqqas ware', given the stylistic similarities of the artist's Rumi-Hatayi style present on the various pieces.
In 1957 Arthur Lane wrote his ground-breaking article 'The Ottoman Pottery of Isnik', in which he observed the essentially unique character of the earliest group of Iznik pottery. He identified four phases of production of Iznik blue and white, from about 1470 until the late 1520s. Lane noted that the earliest group, painted with rigorously executed arabesques reserved in white on a dense cobalt ground, were produced in the 1480s and 1490s. However, Raby later argued that the decoration of this group related more closely to the designs that could be found during Mehmed II's reign, and therefore that Lane may have been too conservative with his dating. Raby concluded that these early pieces, to which the present charger belongs, should be more correctly dated to the 1470s and 1480s – "the Mehmed Fatih phase" (ibid, p.77).
Chinese porcelain and Islamic metalwork
The decoration of the present piece owes a debt to two other distinct influences – Chinese porcelain and Islamic metalwork. Chinese blue and white wares were imported into the Ottoman Empire even before the Mehmed II's conquest of Constantinople in 1453, and their influence can be observed on tiles produced for the Muradiye mosque (c.1436) which clearly demonstrate fourteenth and fifteenth-century Chinese motifs. The Chinese blue and white influence is particularly striking in reference to the present charger, since the standard diameter for Yuan dishes was roughly forty-five or forty-six centimetres, exactly the size of the earliest Baba Nakkaş ware chargers (for examples of comparative Yuan porcelain dishes see J. Carswell, Blue & White – Chinese Porcelain Around the World, London, 2000, and p.55, no.55 for a large Yuan dish found in Damascus). See also J.A. Pope, Chinese Porcelains from the Ardabil Shrine, London, 1981, pls. 7-22, and J. Carswell, Iznik Pottery, London, 1998, p.34, no.14, for a blue-ground Yuan charger with floral decoration reserved in white. On the other hand, much of the decoration of these large dishes from Mehmed II's reign was a direct influence of metalwork.
The plain circular rims of four of the Baba Nakkaş ware chargers are in fact slightly wider than those found on Chinese porcelain dishes, which led Lane to suggest that in fact their shape may have derived from a Turkish metalwork form, although such a shape has yet to be identified. Interestingly, several of these chargers, including the present one, have slightly raised edges at the rim, a feature that can be found on certain Ottoman metal objects. From the point of view of the decorative repertoire, the central roundel that can be seen on all five of the chargers recalls the central components of Balkan silver bowls – see, for example, a silver-gilt bowl in the Freer Gallery of Art, Washington D.C., (inv. No.1987.13, published in Atasoy & Raby 1989, p.80, no.62), which closely corresponds to the central roundel of The Hague charger, and the cavetto of the present piece. Regarding the earliest group of Iznik as a whole, Raby notes that "…the laborious reserved decoration of the earliest group attempts to create the impression of relief metalwork, and eschews the more painterly possibilities of blue on white" (ibid, p.81).
It is clear that these earliest achievements of the Iznik potters reflect a symbiosis of influences, both local and foreign, as well as a flair for invention, as witnessed by the fact that none of the five Baba Nakkaş ware chargers are identical, but each displays a number of shared motifs. What is also evident is that the present piece belongs to nascent surge in Iznik production born out of demand from the court itself, since only the court could finance such an industry, whose aim was to create high-quality ceramic wares, the design and shape of which was dictated by court tastes.
Opportunities to acquire works of Iznik pottery from the earliest period are indescribably rare. The most significant piece to appear on the market in recent decades was a candlestick sold at Sotheby's, 29 April 1993, lot 98 (now housed in a private collection). A unique globular flask was also sold in these rooms, 17 October 1997, lot 34 (now in the Museum of Islamic Art, Doha, (PO.5.1997). Whilst the main decoration of that piece is quite different to the other early pieces mentioned above, it shares a band of comparable Baba Nakkaş-style Hatayi motifs around the base. From the next phase of production, a fragmentary guan-form vase was sold in these rooms, 21 October 1993, lot 167, and an important and uniquely decorated deep bowl, circa 1510, was sold at Christie's London, 10 April 2014, lot 188 (now in the Ömer Koç Collection, published in Hülya Bilgi, The Ömer Koç Iznik Collection, Istanbul, 2015, pp.80-85, no.1).