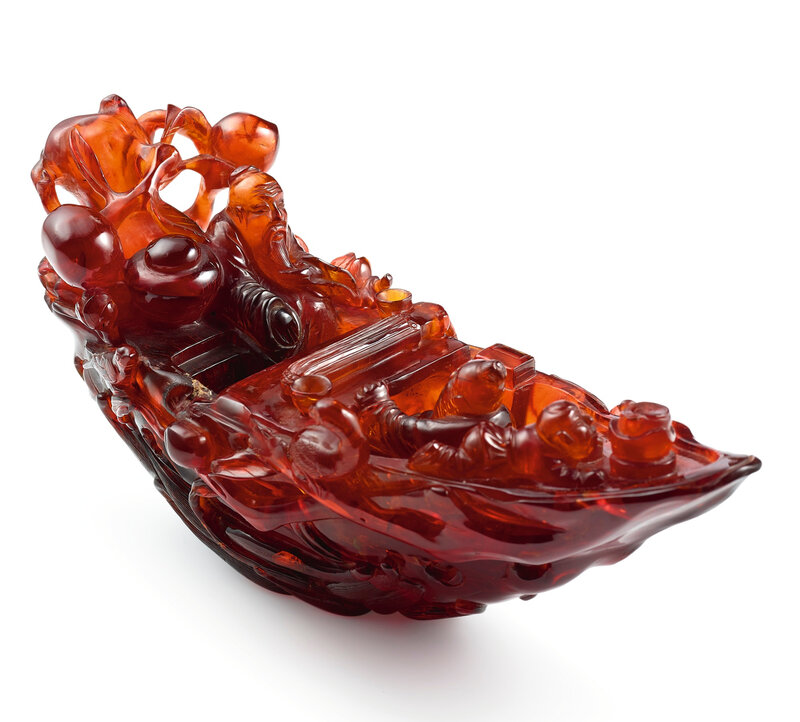 Lot 3335. A finely carved and large amber boat with scholars, Qing dynasty, 18th century; 17.5 cm, 6 7/8 in. Estimate: 600,000-1,000,000 HKD. Lot sold 750,000 HKD (95,670 USD). Courtesy Sotheby's.
the boat worked in the form of a substantial curved nodular log, extended to gnarled leafy branches issuing succulent peaches and blooming flowers on the raised end and around the exterior, the interior with two sages seated on either side of a long table with two cups and a qin, beside a book and birds perched on the edges of the boat, the bow with a boy holding a fan, leaning on his belly watching over a boiling kettle, the exterior tied with an oar plunging into a bed of swirling waves, the amber of a translucent golden honey tone, wood stand.
Note: he carver has successfully captured the jovial and carefree nature of the subject on the present piece, the animated features of the figures appearing to move as light passes through the amber. As suggested by the two small cups and qin, the two seated sages seem to have been captured at the height of their conversation. Such naturalism is heighten by the warm reddish brown colour of the medium, while the auspiciousness of the scene is indicated through the gnarled leafy branches of peaches.
It is extremely rare to find amber carvings of this size, possibly due to the scarcity of such large pieces of fossilised resin and its inherent fragility. In colour and subject, this carving is reminiscent of the highly prized and rare rhinoceros horn log-raft cups, such as one attributed to the late Ming dynasty, in the Qing Court collection and still in Beijing, published in The Complete Collection of Treasures of the Palace Museum. Bamboo, Wood, Ivory and Rhinoceros Horn Carvings, Shanghai, 2002, pl. 119. Compare also jade versions, such as a white jade carving of two figures on a boat rendered in the form of a tree trunk with extending leafy fronds on the side, from the estate of Mr & Mrs Oliver Smalley, sold in our New York rooms, 28th/29th September 1989, lot 548; and a tree trunk-form raft carved with a seated female immortal and an acolyte boy, sold in our Hong Kong rooms, 2nd May 2005, lot 695.
Sotheby's. Important Jades, Ambers and Hardstones from a Distinguished Connoisseur, Hong Kong, 03 oct. 2018