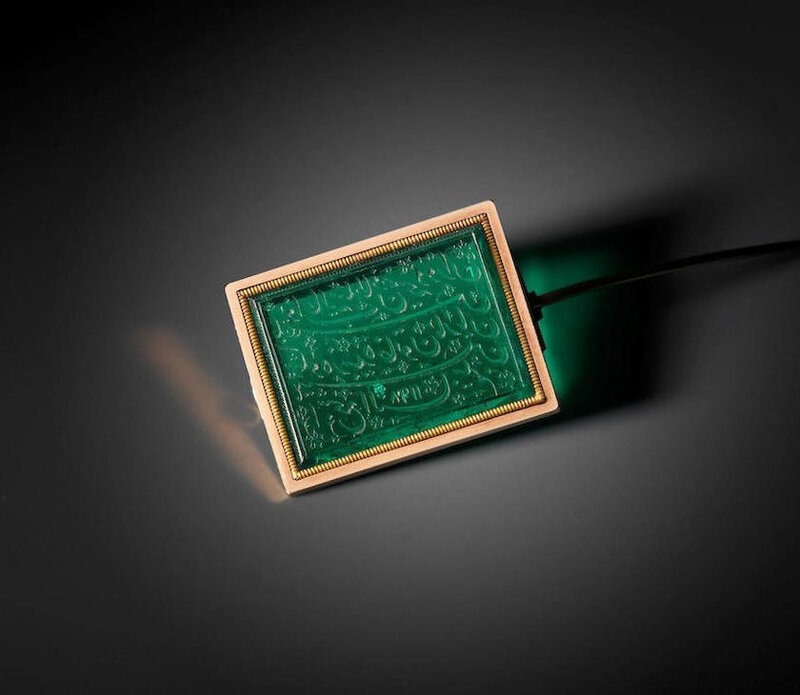 Lot 171. An Important Mughal Colombian emerald seal made for and bearing the name of Marian Hastings, wife of Warren Hastings, Governor General of India 1773-1785, North India, dated AH 1198/ AD 1783-. Estimate HKD £ 20,000 - 30,000 (€ 23,000 - 34,000). Sold for £ 181,250 (€ 205,725). © Bonhams.
the emerald of rectangular cut, engraved with inscriptions in nasta'liq interspersed by floral motifs, with contemporary gold mount and pin;the emerald 21.6 x 16.7 x 3.43 mm. approx.; the mount 24 x 19 mm.; 5.7 g.
Accompanied by a report from AGL stating that the emerald is of Colombian origin, with indications of insignificant and traditional clarity enhancement. Report number CS 1094310, dated 3 August 2018.
Provenance: Marian Hastings (1747-1837).
Private UK Collection.
Inscriptions: Navvab-e 'aliyyah sultan-e fasihah-ye dawran bilqis shokuh zubaydah khatun marian hastin (sic) ashja' al-nisa' baygum 1198, 'The exalted nawab, the sultan of eloquence of the time, the one who has the magnificence of Bilqis (i.e. the queen of Sheba), Zubaydah Khatun, Marian Hastin (sic) [Hastings], the most brave of women, the Baygum 1198 (1783-4)'.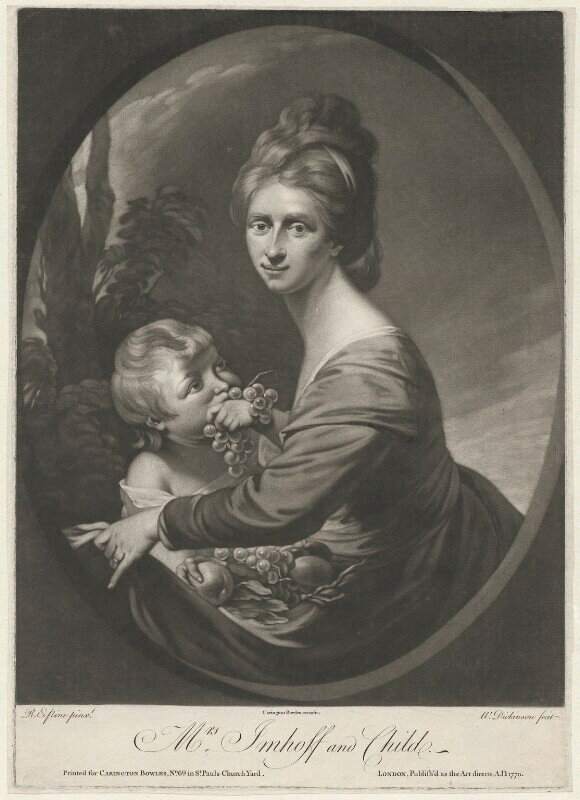 Marian Hastings when Baroness von Imhoff, mezzotint after Robert Edge Pine, 1770. Image courtesy of the National Portrait Gallery.
Marian Hastings (1747- 1837) was born Anna Maria Apollonia Chapuset in Nuremburg. As a young woman she married Baron Christoph Carl Adam von Imhoff, with whom she had two sons. The family moved to England in 1768 where Baron Imhoff became a cadet with the East India Company's Madras army and so shortly after, in 1769, the family set sail for Madras, where Imhoff might also be able to indulge his talents as a portrait miniature artist. This journey would prove to be a fateful turning point in their marriage and lives.

Also on board the Duke of Grafton was Warren Hastings, by now a widower, who was returning to India. He was taken ill on the journey and was cared for by the Baroness Imhoff, with whom a romance began to blossom. Upon arrival in India, Marian continued to live with her husband in Madras until 1770 when her husband gave up his army commission and moved to Calcutta to pursue his career as an artist. Marian remained in Madras, residing at Hasting's house. She later re-joined her husband in Calcutta and was shortly followed by Hastings, who had just been appointed Governor of Bengal. Months later, when Imhoff was ordered to return to Europe on the basis that he had declined military service, Marian stayed in India with Hastings and is thought to have taken up residence with him in Alipore. The Baron began proceedings for a divorce which was granted by the duke of Saxony in 1776. A few weeks after the decree arrived in India in July 1777, Hastings and Marian were married and Hastings began the process of adopting Marian's children from her first marriage. Despite the scandalous events which defined their early relationship, they maintained a civil relationship with Baron Imhoff throughout and the Hastings avoided criticism for the most part, with even Hasting's closest political rival, Philip Francis, describing Marian as "accomplished" and "deserving every mark of respect".

This emerald is dated 1783-4, only a year or two before they returned to England in 1785. It is possible that it was given as a personal gift by Warren himself, or perhaps by another high-ranking official as a diplomatic gift.

Marian returned from India with an enormous personal fortune, estimated at over £100,000. She was known throughout society in both London and Calcutta as a glamorous figure, notorious for her luxurious tastes and love of fine jewels with which she was often adorned. Fanny Burney said of her that "she made everyone else look underdressed" and her opulent appearance was often a point of derision for satirists and political commentators throughout Warren's trial in London. The satirical series The Rolliad wrote of her " 'Tis Mrs Hastings' self brings up the rear!/ Gods! How her diamonds flock/ On each unpowdered lock!/ On every membrane see a topaz clings!/ Behold!- Her joints are fewer than her rings!"

She maintained a close and affectionate relationship with her second husband, who is thought to have relied upon her for political counsel whilst serving as Governor General. Following his trial, they retreated to live quietly in Daylesford House, Gloucestershire, away from the critical gaze of society. Warren died in 1818 and it was almost twenty years before Marian was buried beside him in 1837.
Bonhams. ISLAMIC AND INDIAN ART INCLUDING SIKH TREASURES AND ARTS OF THE PUNJAB, 23 Oct 2018, 11:00 BST, LONDON, NEW BOND STREET