Greek Cycladic Marble Figure of the Spedos Type, Ancient Greece, Cyclades, ca. 2500 to 2400 BCE. 6.5" H (16.5 cm). Estimate $100,000 - $150,000. Image provided by Artemis Gallery.
BOULDER, COLO.- World renowned for their expertly curated ancient and cultural art auctions, Bob and Teresa Dodge of Artemis Gallery will host a Thursday, October 11 sale comprising 417 lots of exceptional antiquities, Asian and ethnographic art. Each item boasts impeccable provenance and is offered with the gallery's unconditional guarantee that it is authentic and legal to purchase, own, and if desired, resell.

The highly anticipated auction, which invites absentee, phone and Internet live bidding, is a virtual timeline of the most significant civilizations of the past 4,000 years. As is the case with all of its sales, Artemis Gallery has organized the upcoming auction in a chronological manner, starting with the earliest pieces, from Ancient Egypt, and progressing through the modern era.

The auction opens with Egyptian marble and pottery vessels, including a huge Pre-dynastic black-top jar, TL tested and estimated at $17,500-$25,000. A visually captivating, larger-than-lifesize Egyptian sarcophagus fragment of carved and painted cedar depicts a male head with bold facial features. Dating to 664-332 BCE, its auction estimate is $6,000-$8,000. Another fascinating relic is a beautifully painted circa-2nd century CE Romano-Egyptian plaster funerary head of a woman with a haunting facial expression. Estimate: $10,000-$15,000.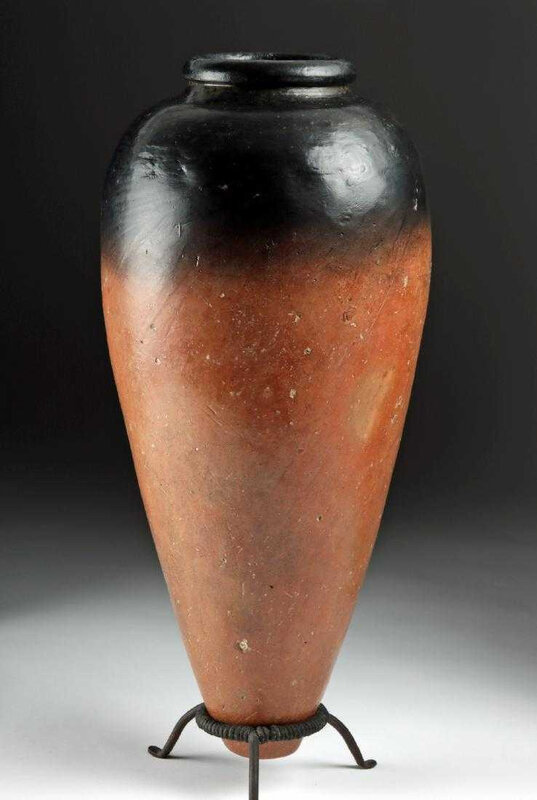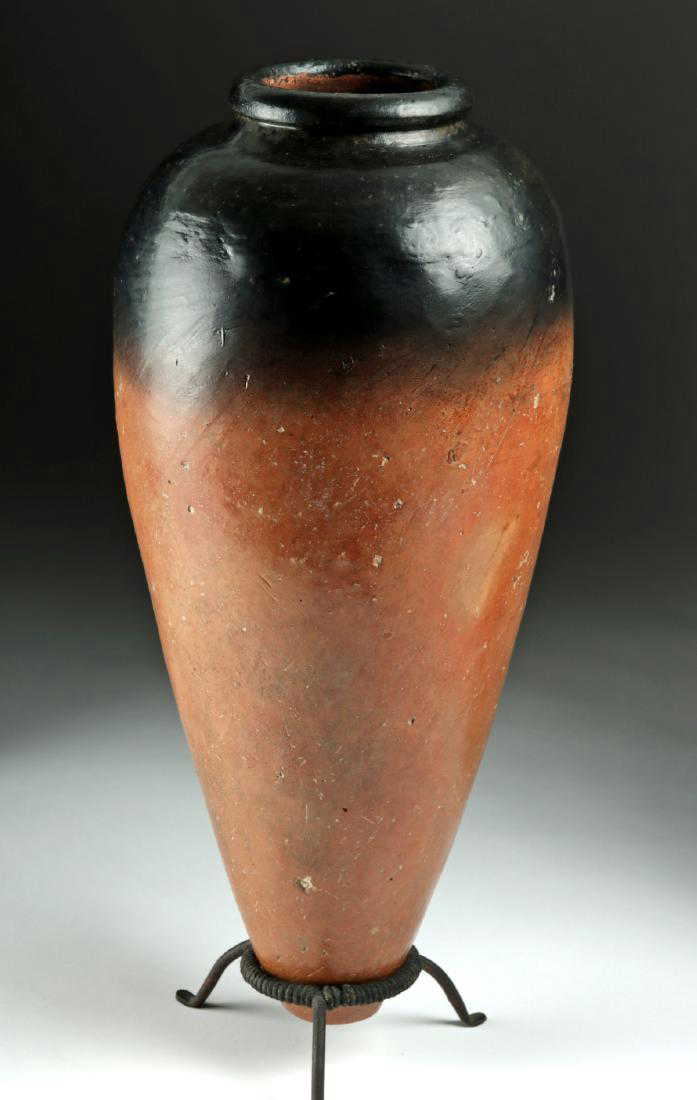 Lot 1A. Huge Black-Top Pottery Jar w/ TL, Ancient Egypt, Predynastic period, late Naqada II to Naqada III, ca. 3200 to 3000 BCE. Size: 8.7" W x 18.875" H (22.1 cm x 47.9 cm); 19.4" H (49.3 cm) on included custom stand. Estimate $17,500 - $25,000. Image courtesy Artemis Gallery.
An enormous hand-built marl clay jar with a russet-hued surface made with a thin iron-oxide slip. The burnished vessel has a tapering ovoid form with a petite circular rim and a rounded shoulder leading to a round, everted rim. The upper black-hued portion is comprised of thick carbon deposits formed by administering the top to thick clouds of smoke for extended periods of time in an oxygen-deprived environment. Black-top vessels originally rose in popularity during the early Naqada I, a culture which inhabited ancient Egypt during its predynastic period. The Naqada were first described by famed archaeologist William Flinders Petrie; however, relatively little is known about them except that they were focused around the site of El-Amra in central Egypt, west of the Nile River. Custom metal display stand included.
Note: Predynastic Egyptian black-topped vessels were traditionally made from silt deposits taken from the Nile river due to their abundance in iron and silica. After the pot had dried but before it was fired, it would first be burnished and rubbed smooth with a small stone to create the pinstripe vertical striations still visible today. An iron-rich slip would then be applied just before firing; when placed in an oxygen-rich environment, the elevated temperatures would create the vessels' signature red-orange hue.

After the end of the Naqada III period around 3,000 BCE, the use of Nile silt in pottery creations fell out of favor with the Predynastic Egyptians. This was due to the increase in the popularity of marl clay, a newly-discovered mixture of clay and lime used for creating terracotta objects. Marl vessels like this example were generally easier to form, required higher temperatures when firing which allowed for more controlled kiln environments, and were more receptive to applied decorations than the inferior, highly-porous Nile silt. A few blacktop examples have been found from later Dynastic periods, however they were likely used solely for ritualistic and/or ceremonial purposes.

For a stylistically-similar example from the Naqada II, please see The British Museum, museum number EA58522: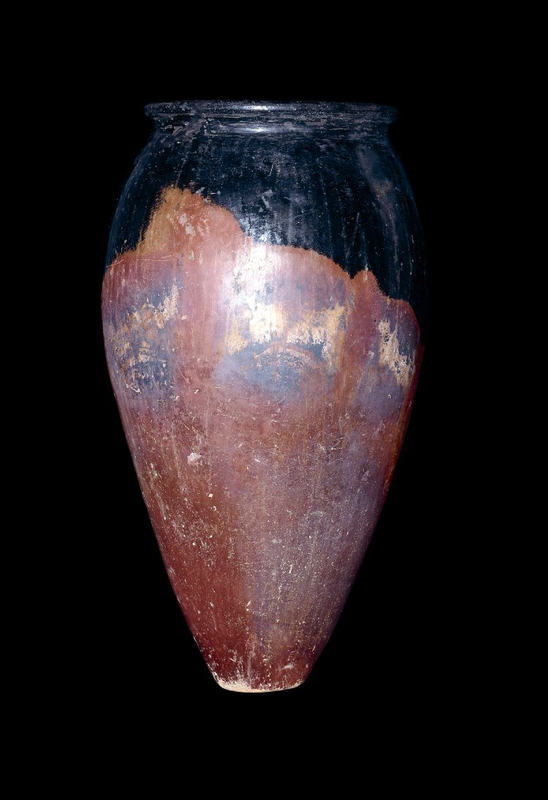 Burnished black-topped redware jar, circa 3300 BC, Predynastic (Naqada IID), Height: 31.5 cm Width: 17.7 cm (max), EA58522. © The Trustees of the British Museum.
Another stylistically-similar example from the Naqada I hammered for GBP 12,500 ($16,181.22) at Christie's, London, South Kensington Antiquities Auction (sale 7207, October 25, 2012, lot 31).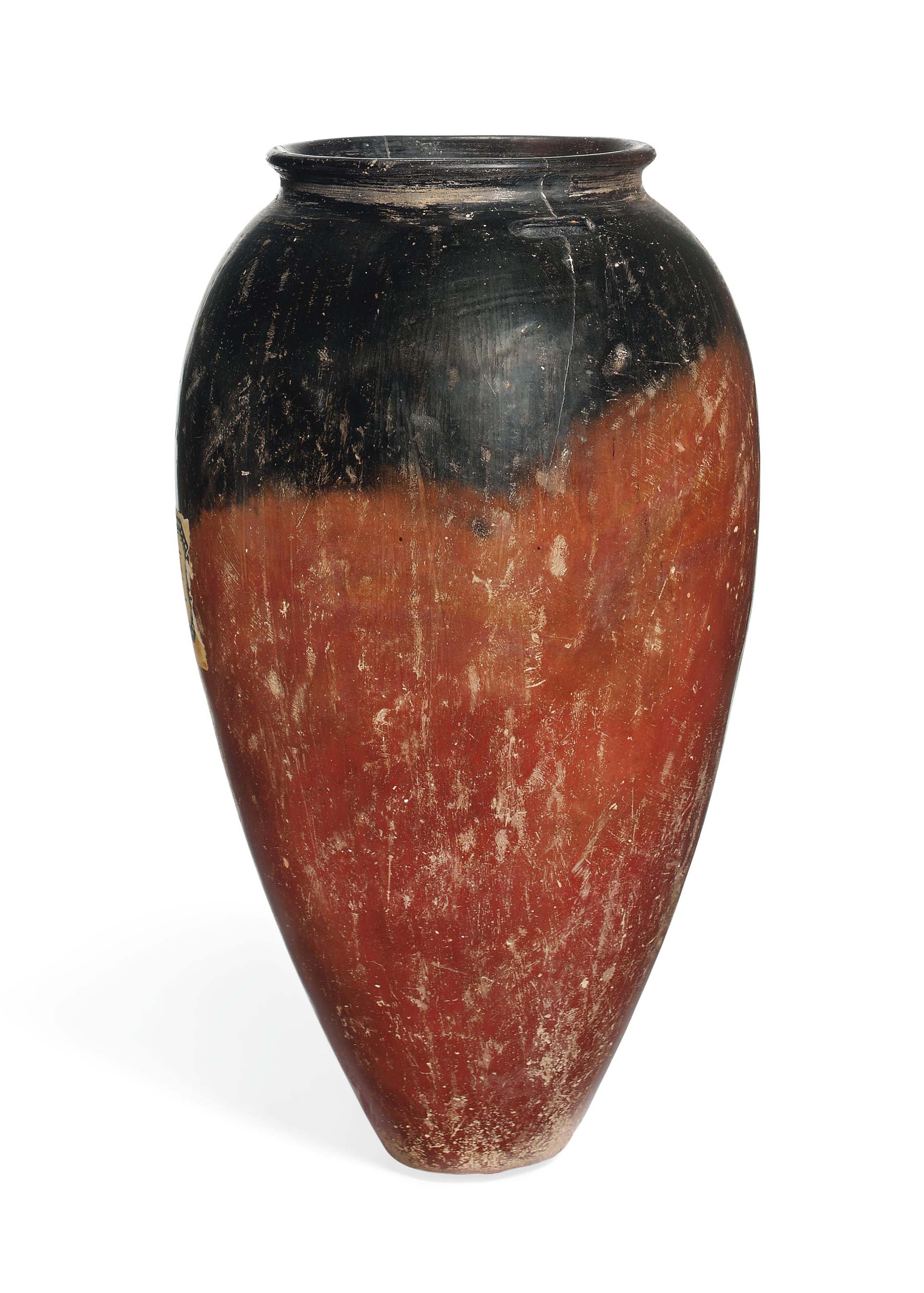 An Egyptian black-topped redware jar, Predynastic, Naqada I, circa 4000-3600 B.C.; 12¾ in. (32 cm.) high. Sold for 12,500 GBP at Christie's, London, October 25, 2012, lot 31. Courtesy Christie's.
This piece has been tested using thermoluminescence (TL) analysis and has been found to be ancient and of the period stated. A full report will accompany purchase.

Provenance: private East Coast, USA collection; ex-Norman Blankman collection, New York, USA, acquired 1959.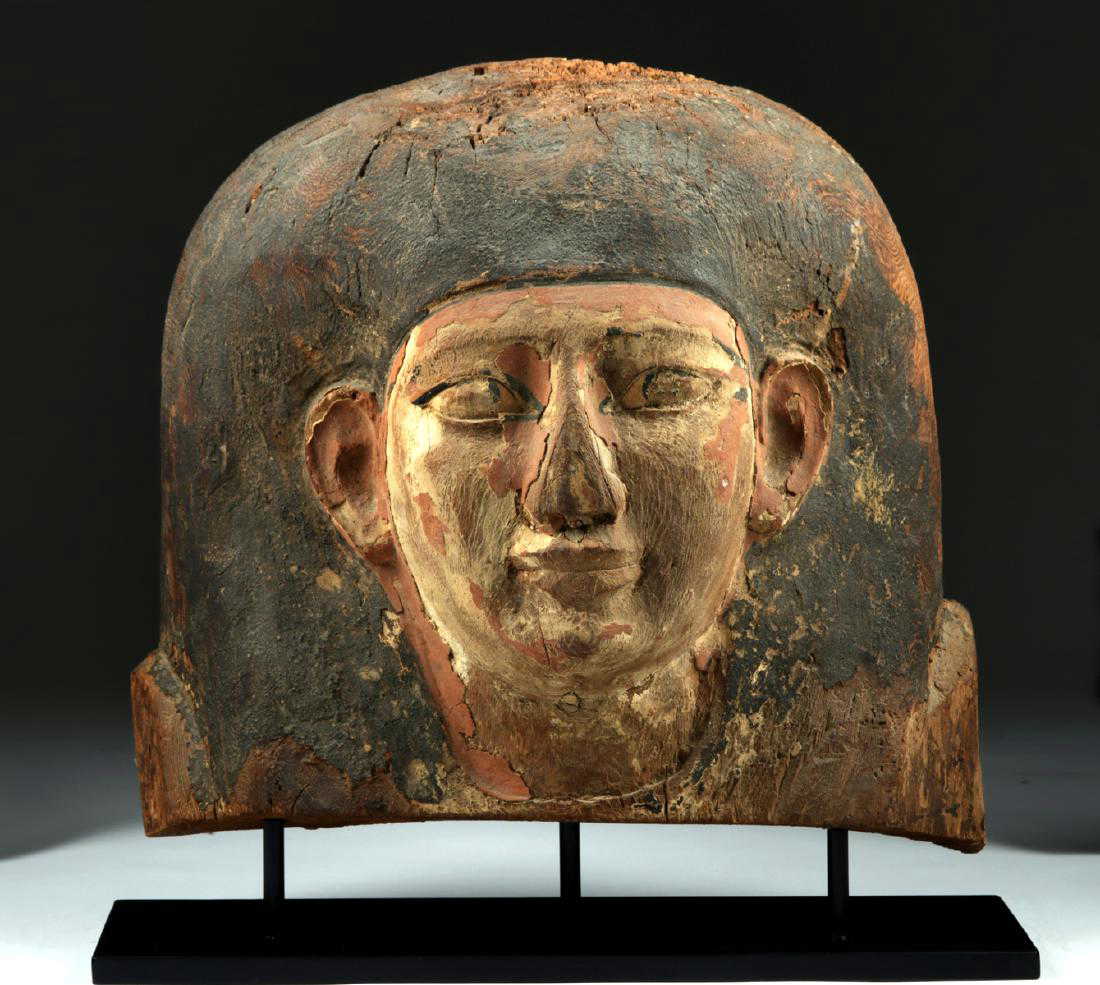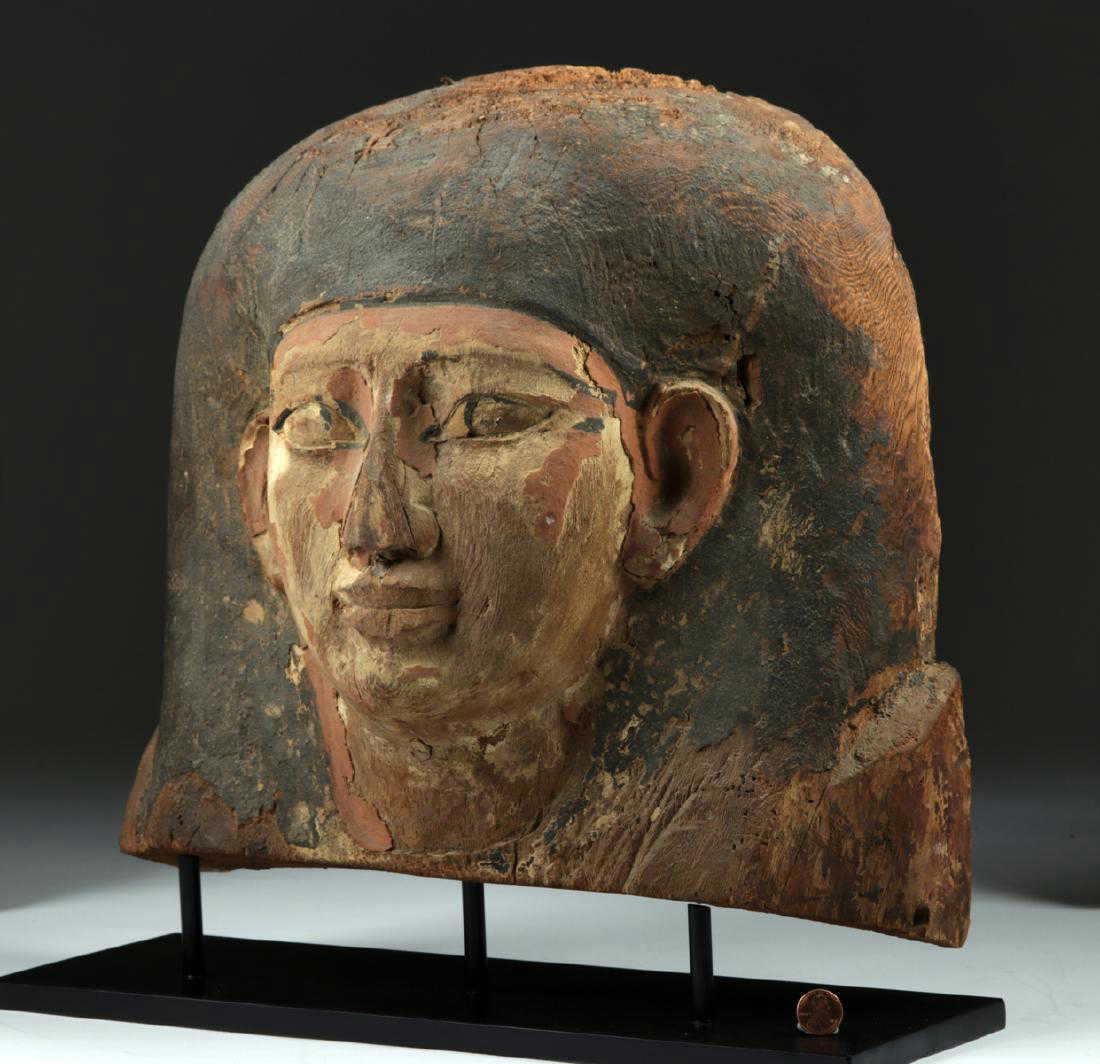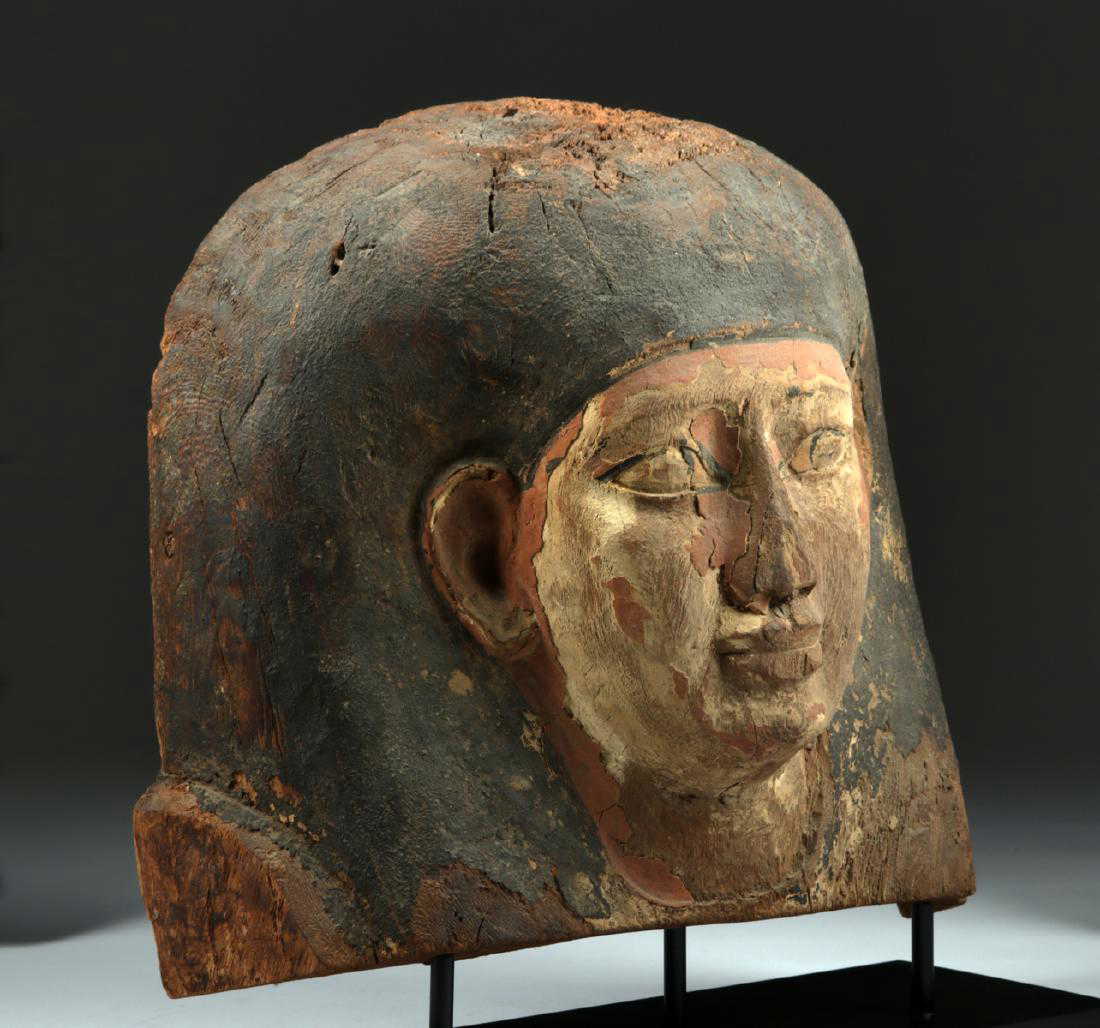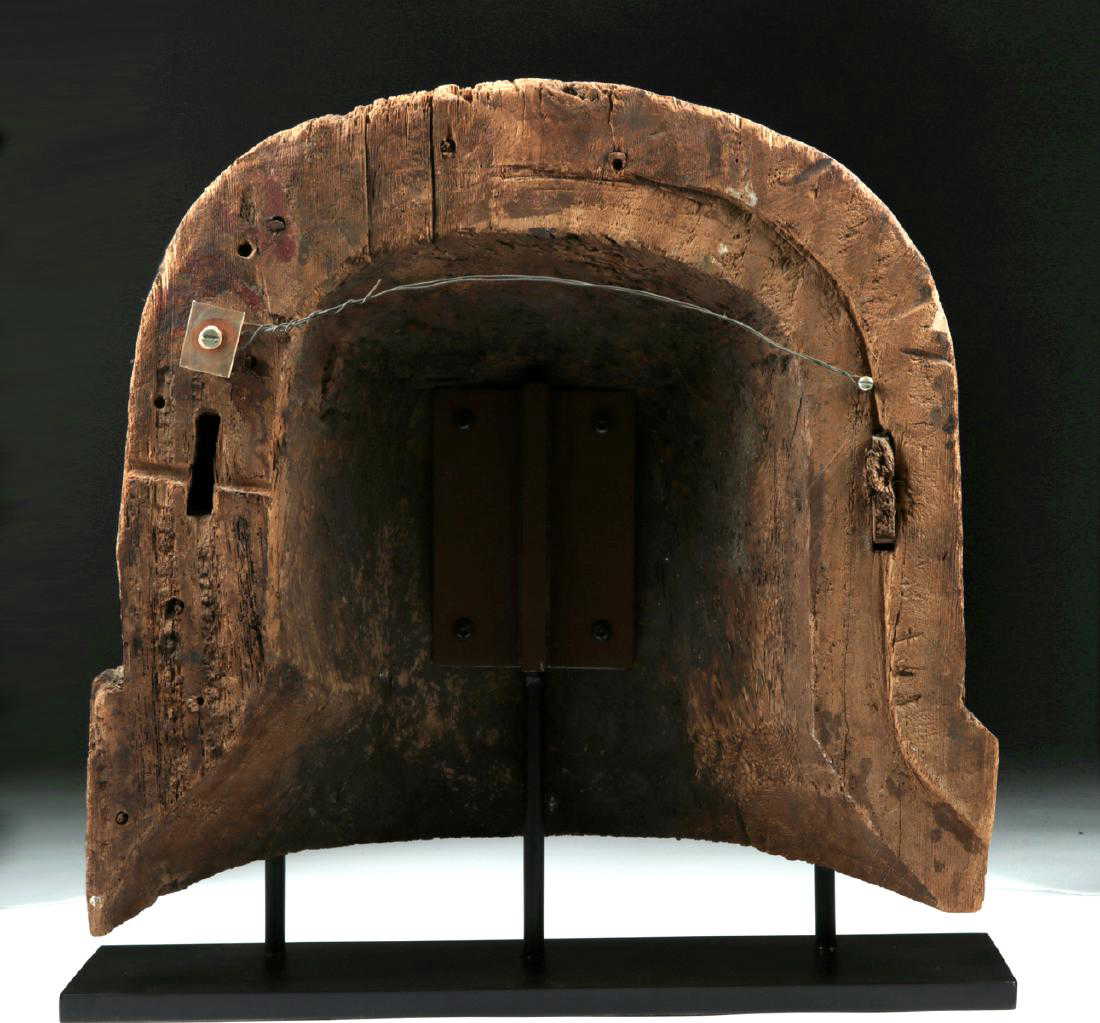 Lot 6B. Egyptian Wooden Sarcophagus Head Fragment, Ancient Egypt, Late Period, ca. 664 to 332 BCE. Size: 15.25" W x 13.5" H (38.7 cm x 34.3 cm); 16.125" H (41 cm) on included custom stand. Estimate $6,000 - $8,000. Image courtesy Artemis Gallery.
This mask and others like it were traditionally carved from cedar. Interestingly, cedar wood was not native to Egypt. Egypt did not have verdant forests filled with tall trees, and unfortunately most of its native lumber was of relatively poor quality. Thus, they relied on importing to acquire hardwoods - ebony imported from Africa, cedar and pine from Lebanon. One fabulous obelisk inscription by Thutmose III attests to the luxury of treasured hardwoods. It reads as follows, "They brought to me the choicest products . . . consisting of cedar, juniper and of meru wood . . . all the good sweet woods of God's Land." The rarity of cedar meant that masks like this one were reserved for those who could afford them.

Provenance: private East Coast, USA collection; ex-private Pennsylvania, USA collection, acquired 35 years ago.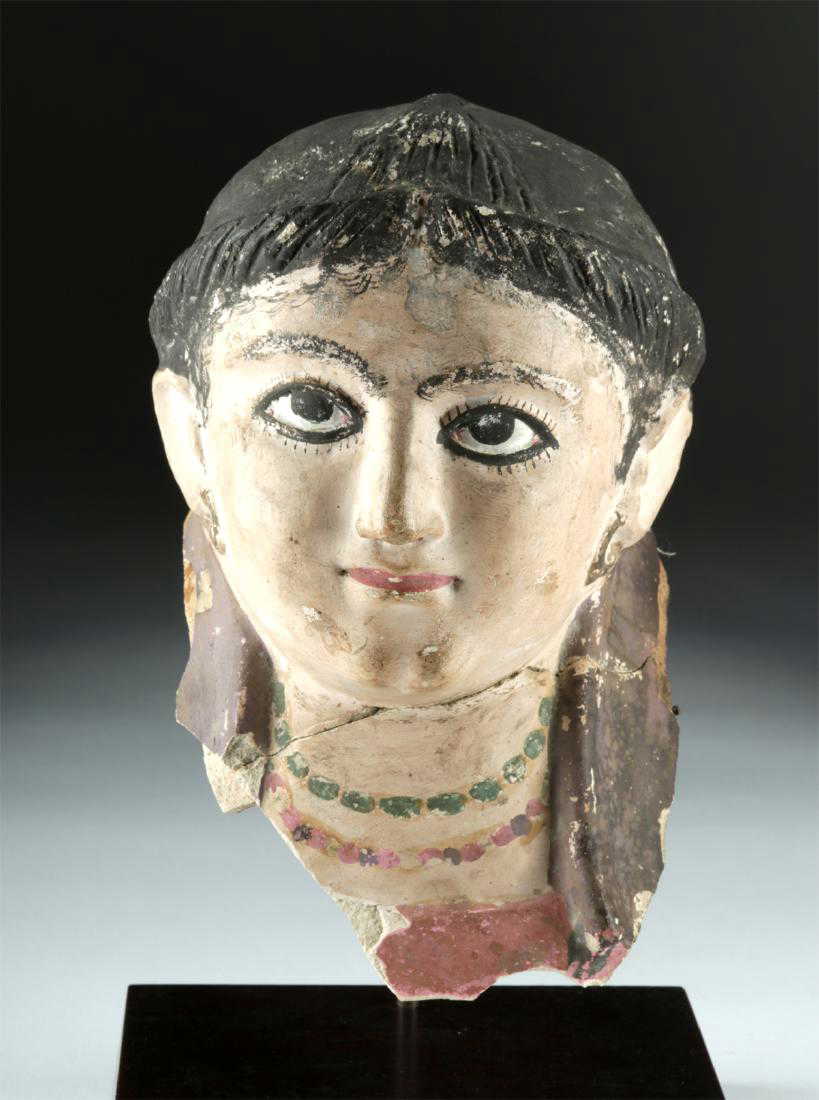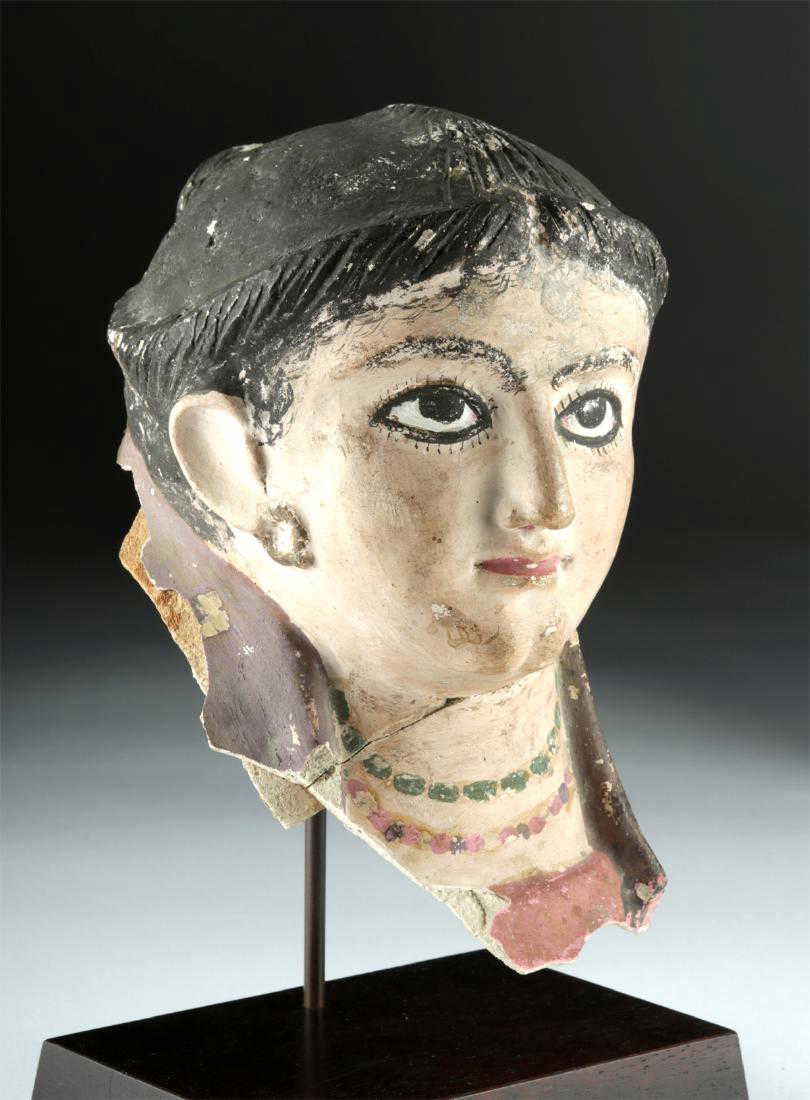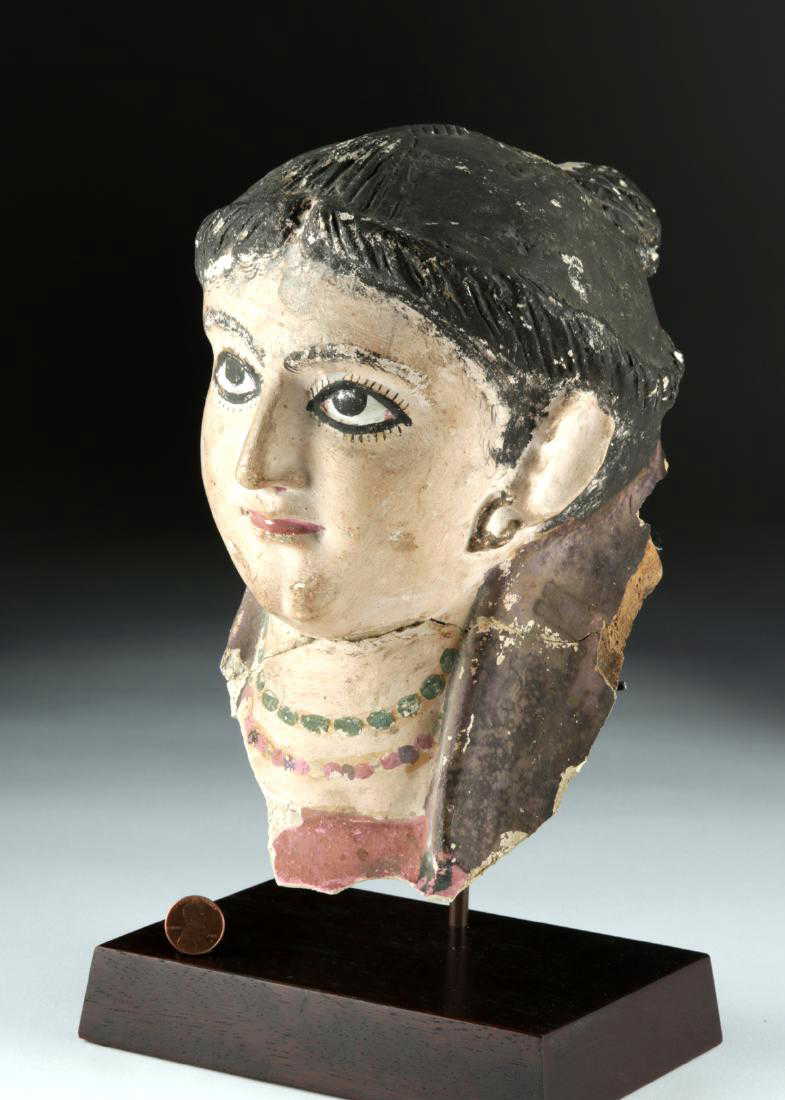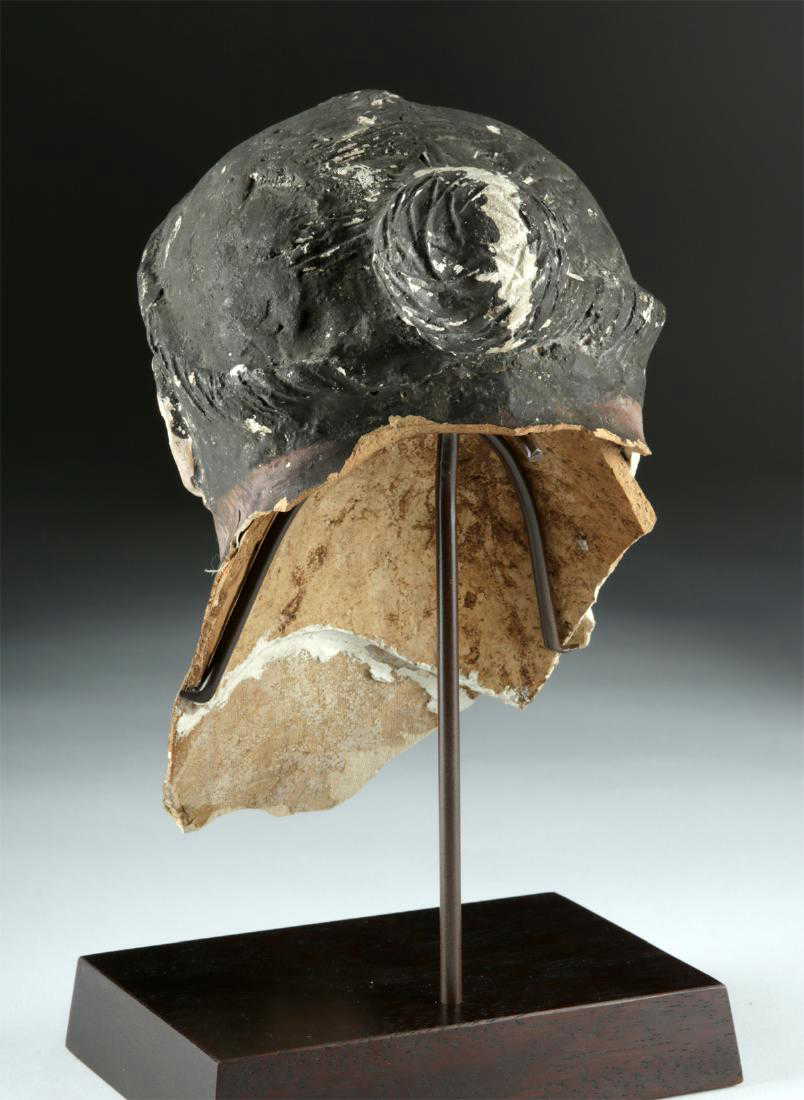 Lot 7A. Romano-Egyptian Plaster Head of a Woman, Roman controlled Egypt, ca. 2nd century CE. Size: 9.5" H (24.1 cm); 12" H (30.5 cm) on included custom stand. Estimate $10,000 - $15,000. Image courtesy Artemis Gallery.
A hauntingly lifelike sculpted plaster funerary head of a young female presenting a beautiful face with a dimpled chin, her visage comprised of lined and lashed, large eyes, arched brows, an aquiline nose, closed ruby red lips, and smooth cheeks. Her elaborate, centrally parted coiffure features rolled tresses lining her forehead and running around her head to a braided bun at the back. Her skin is painted in peachy flesh tones, and she wears two necklaces (a green as well as a pink and red painted 'beaded' strand), hoop earrings, and a rose red garment.

Note: Heads like this one reflect the profound change that the Greco-Roman world brought to Egypt. The naturalistic depiction of a person's face as a plaster mask or even full head replaced the stylized art of dynastic Egypt; hieroglyphs and other symbols painted on elaborate sarcophagi fell out of favor, and this head would have been a memorial alongside a simple wooden coffin. These heads were reserved for the elite, who were buried in small chapels, usually mummified and with other members of their family and/or town.

Provenance: private East Coast, USA collection; ex-Arte Primitivo Gallery, New York, New York, USA; ex-private New York, USA collection; ex-Sotheby's, New York "Antiquities and Islamic Art" Auction (sale 5288, February 8, 1985, lot 275)
Unquestionably the star of the Ancient Greek art and antiquities section, a finely carved marble figure of a reclining female dates to circa 2500-2400 BCE and is typical of the sculpture of the Cyclades (island of Naxos). Its distinctive characteristics are known as the Spedos type, and the figure is stylistically similar to an example in The Getty museum. With a line of provenance that includes Jens Rid, an avid German collector of ancient idols, this important figure is expected to make $100,000-$150,000. A stunning 15.125-inch Greek Early Attic amphora, circa 530-520 BCE, displays captivating images of Athena, Ajax, Achilles and Herakles. Estimate: $50,000-$70,000.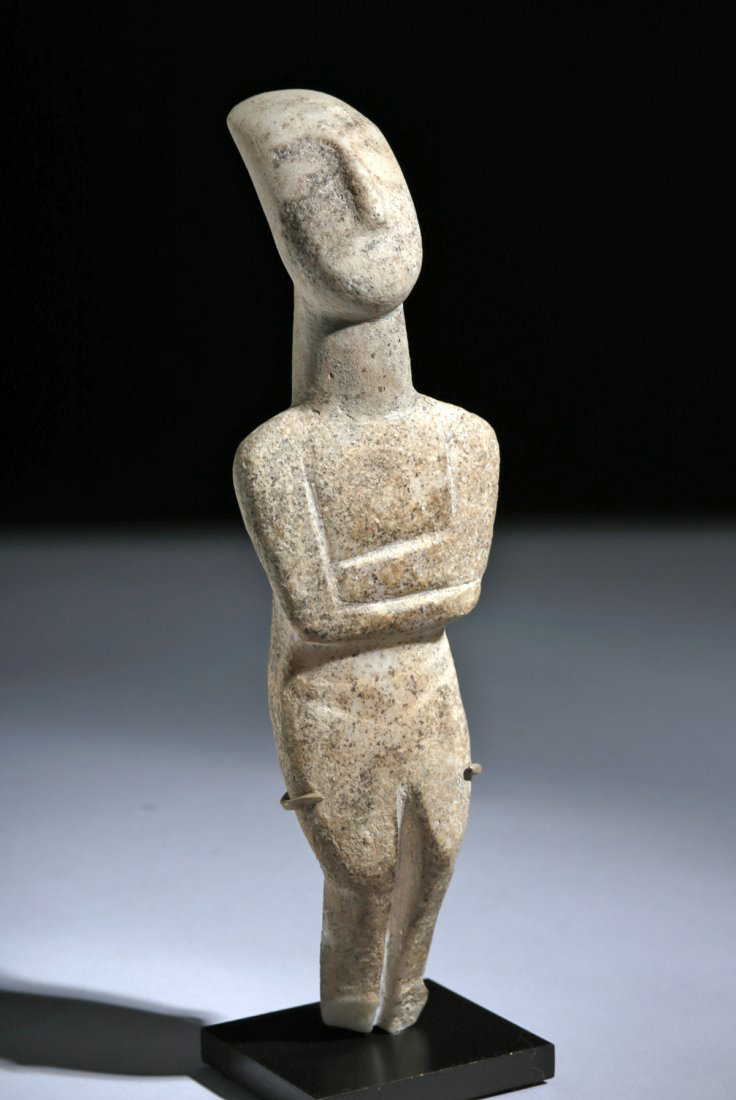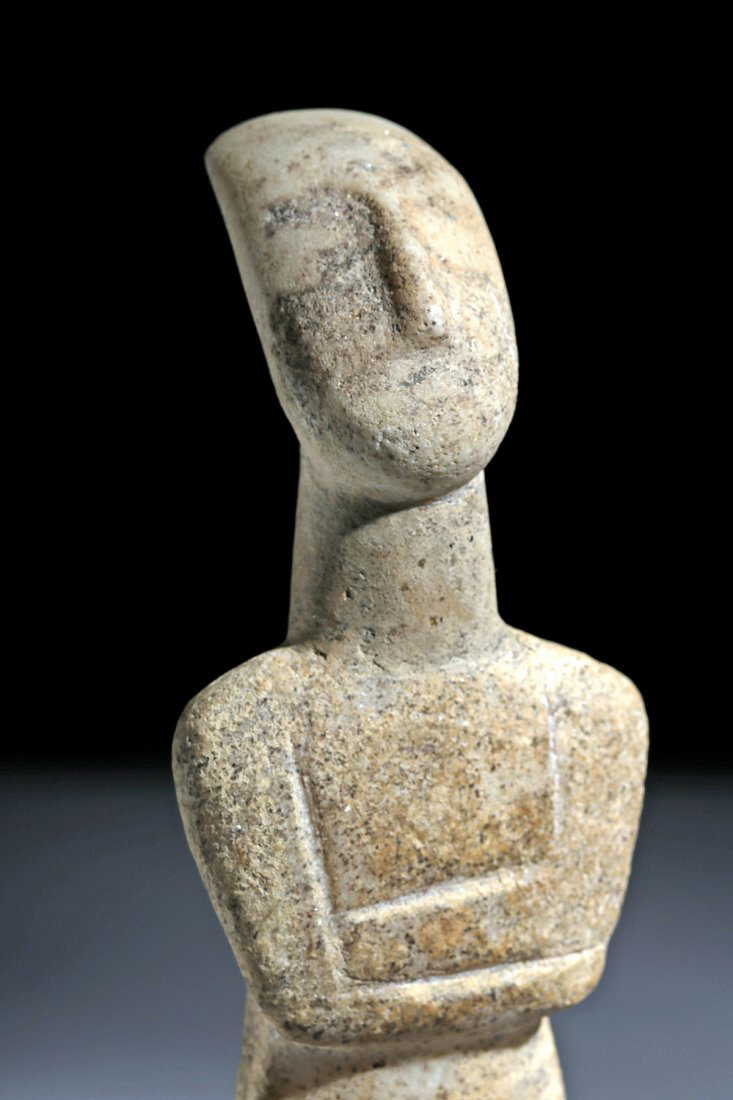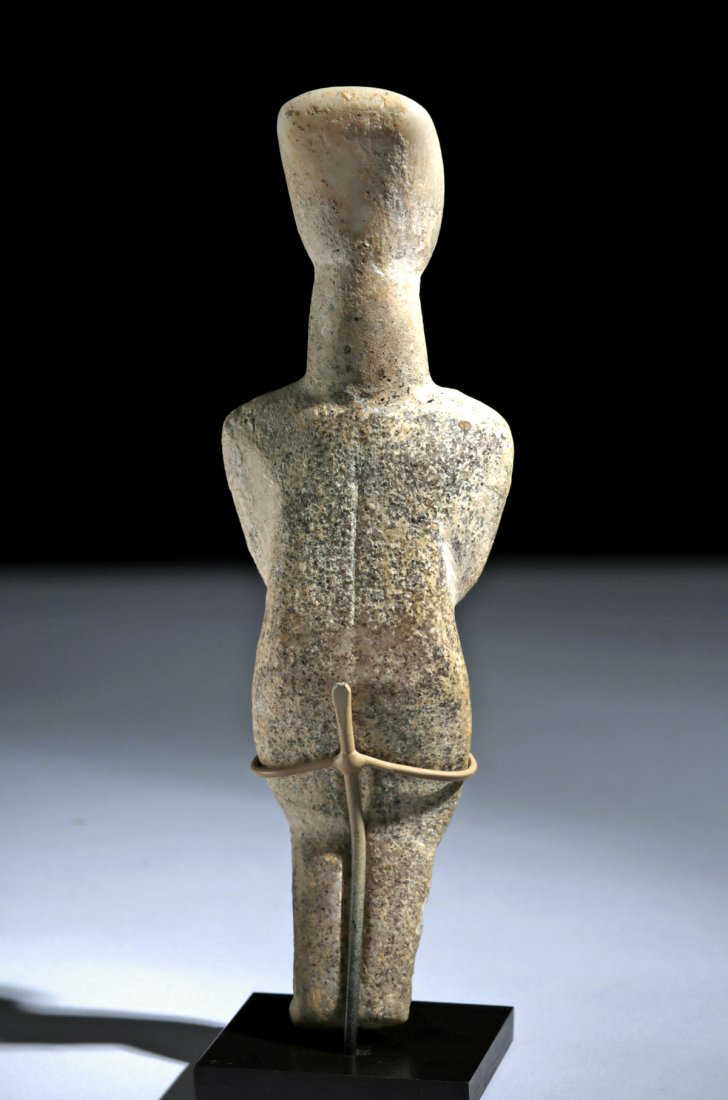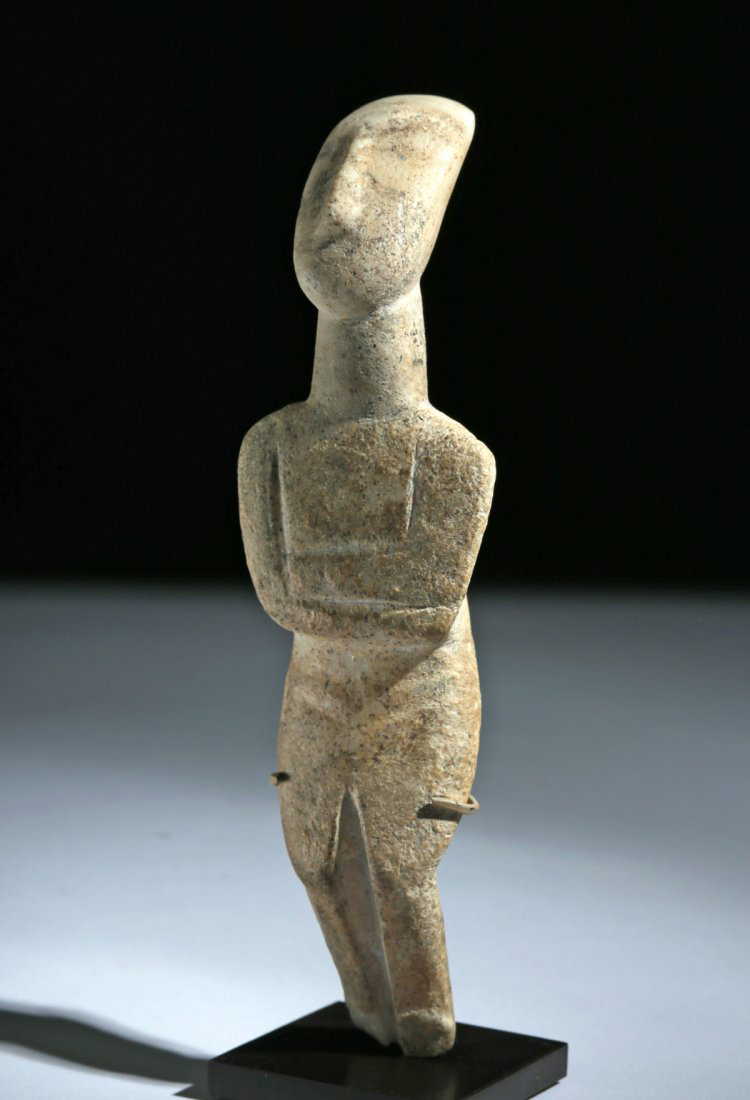 Lot 8A. Greek Cycladic Marble Figure of the Spedos Type, Ancient Greece, Cyclades, ca. 2500 to 2400 BCE. 6.5" H (16.5 cm). Estimate $100,000 - $150,000. Image provided by Artemis Gallery.
Finely carved from marble, a reclining female figure with her arms crossed, typical of the sculpture of the Cyclades in the mid-2000s BCE known as the Spedos variety, this name derived from an Early Cycladic cemetery on the island of Naxos. This canonical type is characterized by an elongated slender body with folded arms, a U-shaped head, and a sharply incised cleft between the legs. The anatomical details are characteristically minimized presenting a ?at, geometric quality. Incisions on the body delineate the arms crossed over the chest, define the abdomen and pubic triangle, and indicate knees. The breasts gently rendered as well. On the face, the protruding nose is pronounced, and it is possible that other details originally may have been delineated with brightly colored pigments. When viewed from the side, the back is straight and continues the line of the neck, while the head is dramatically arched and the knees bent and flexed, another characteristic trait of the Spedos type.
Note: See a stylistically similar female Late Spedos Type with folded arms in the Getty Museum:
Female Figure of the Late Spedos Type, Attributed to the Steiner Master (Cycladic, active 2500 - 2400 B.C.), Cycladic, Cyclades, Greece, 2500–2400 B.C. Marble, 59.9 × 12.2 × 4.5 cm, 88.AA.80 © J. Paul Getty Trust
Provenance: private East Coast, USA collection; ex-collection of Mr. Jens Rid of Germany who has owned the idol since the 1980s, and is an avid collector of ancient idols.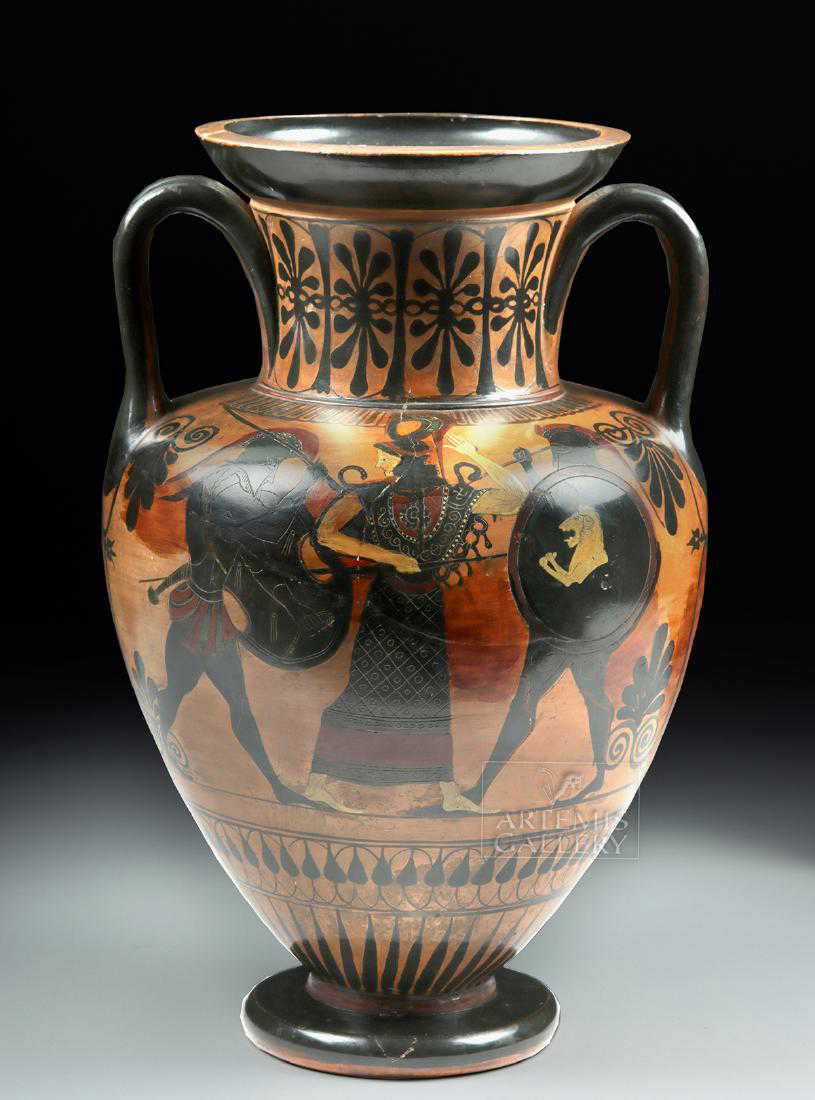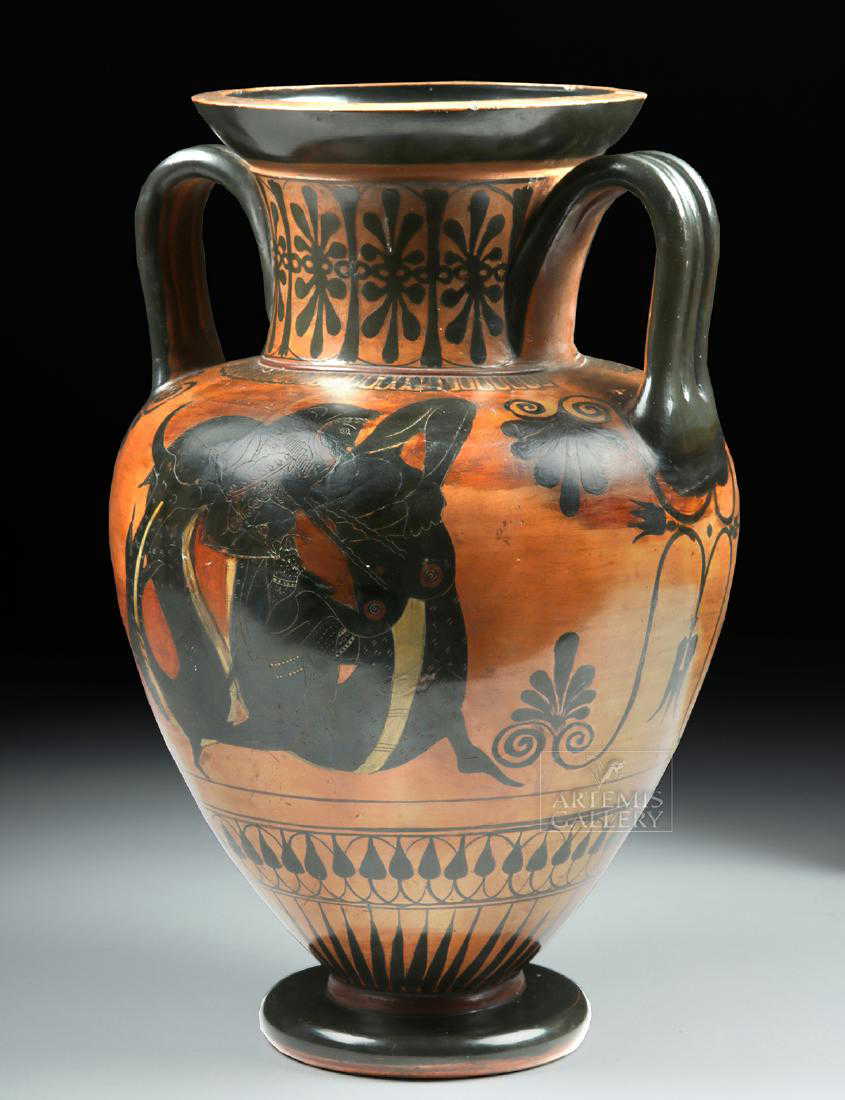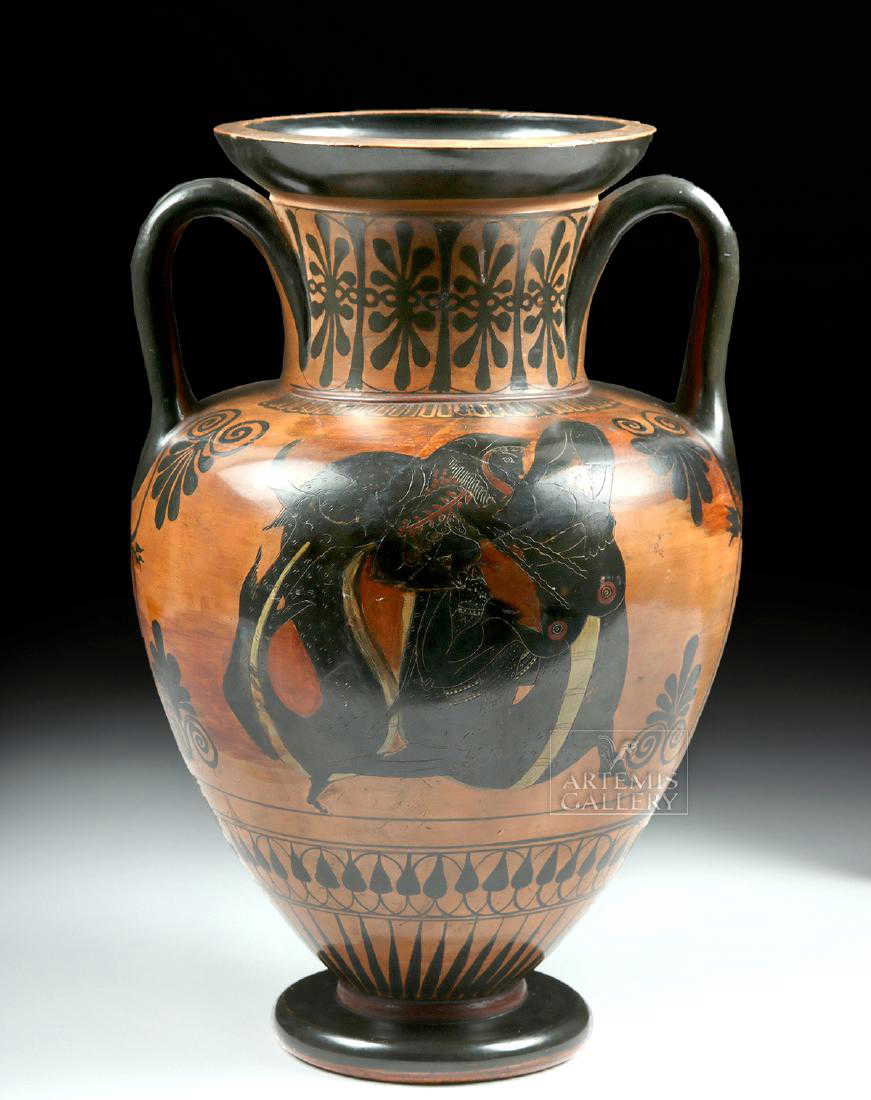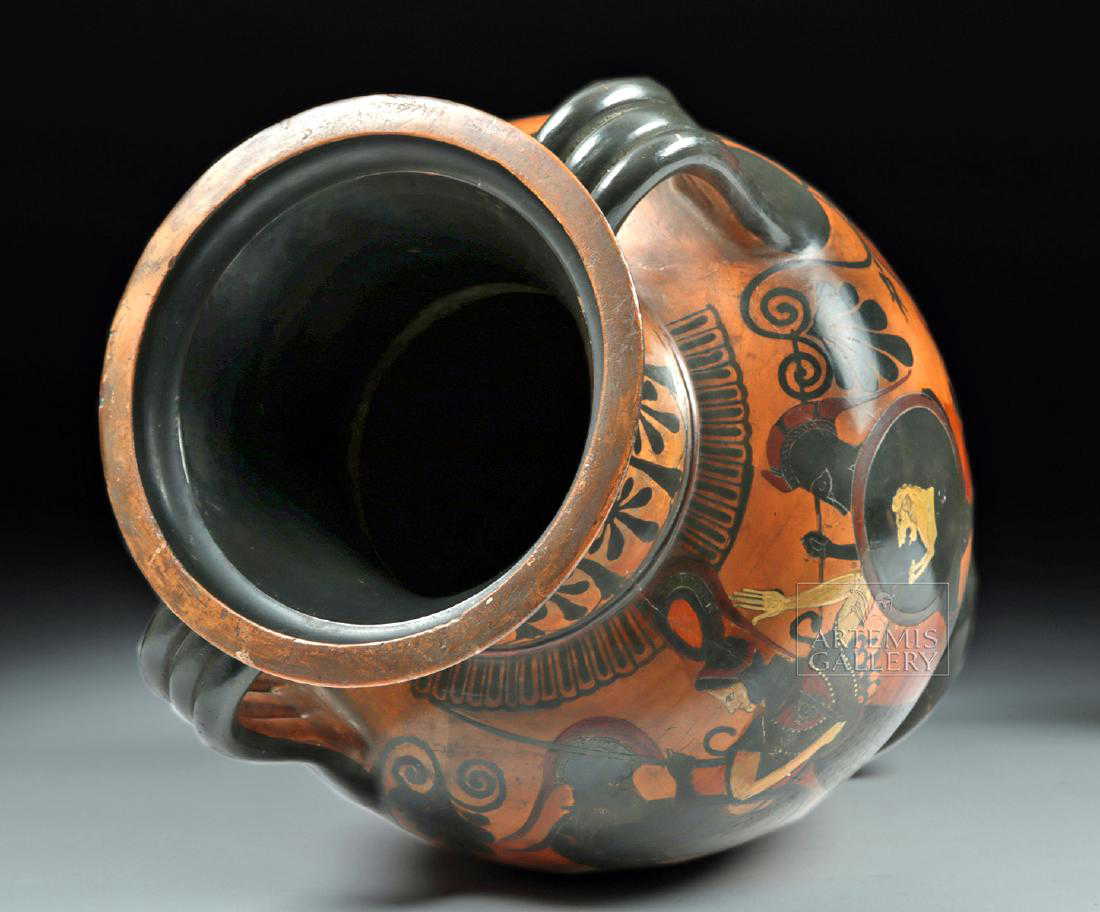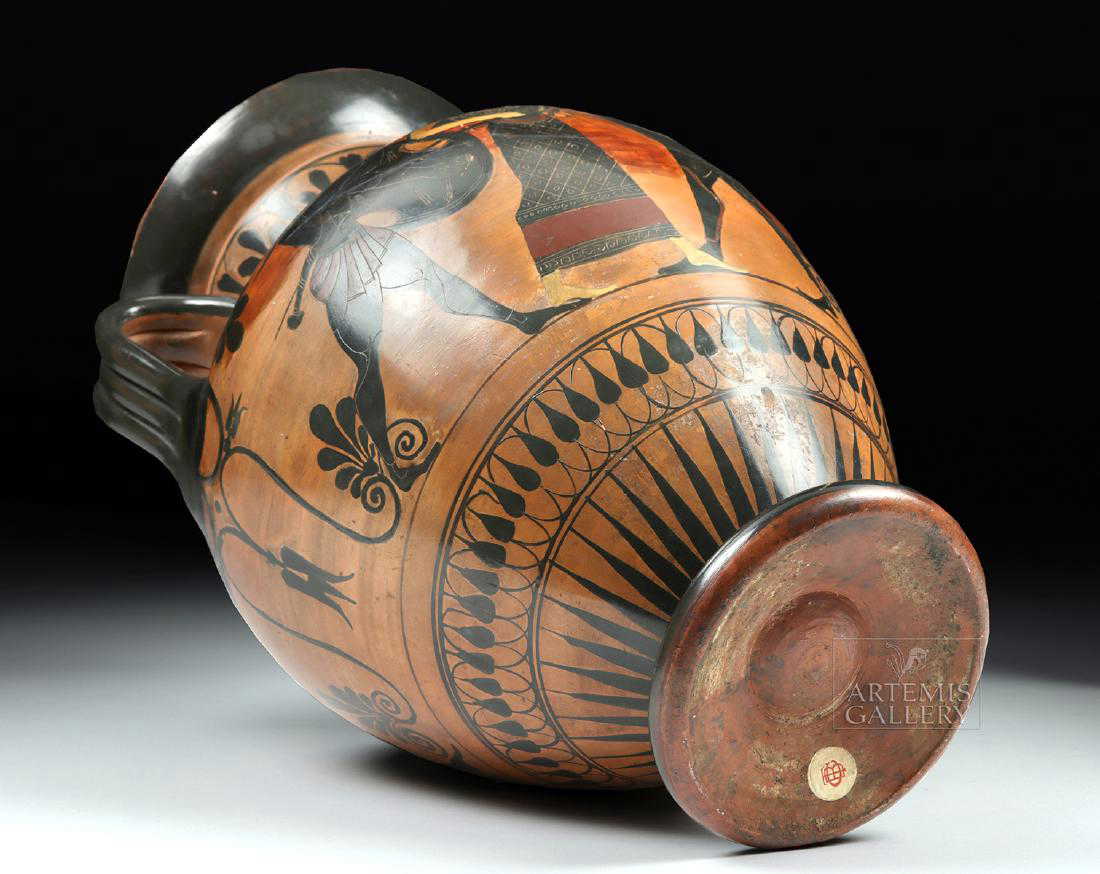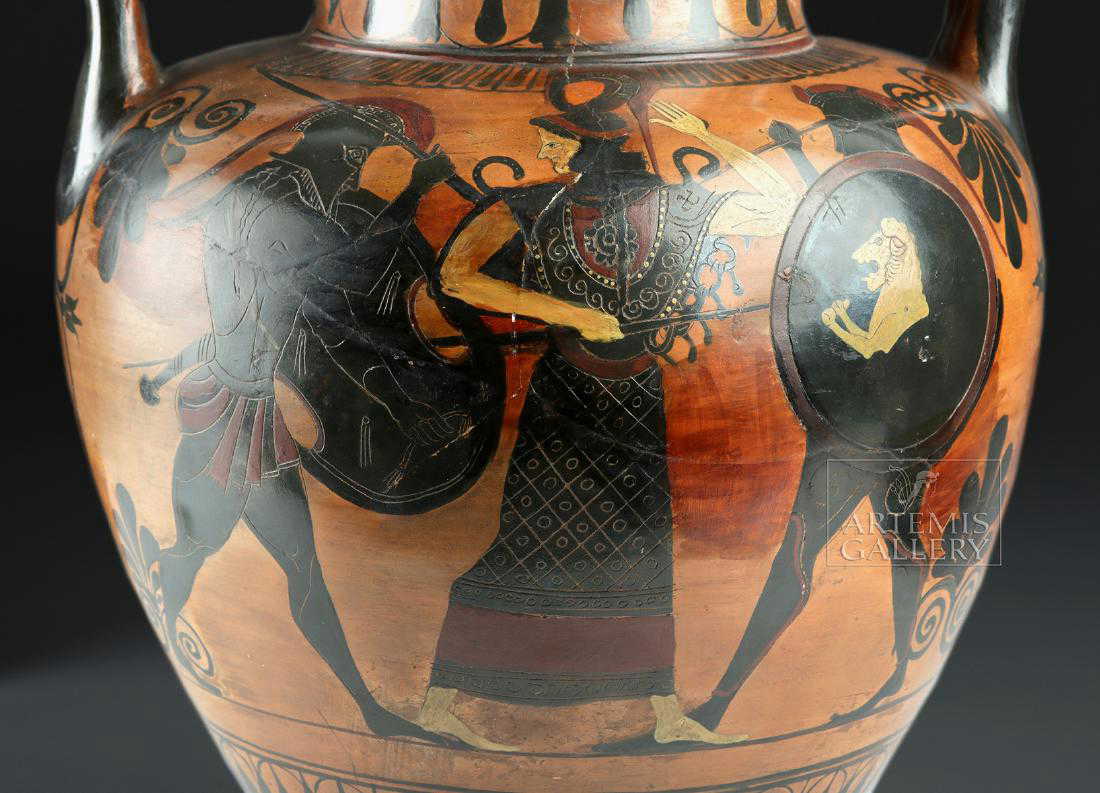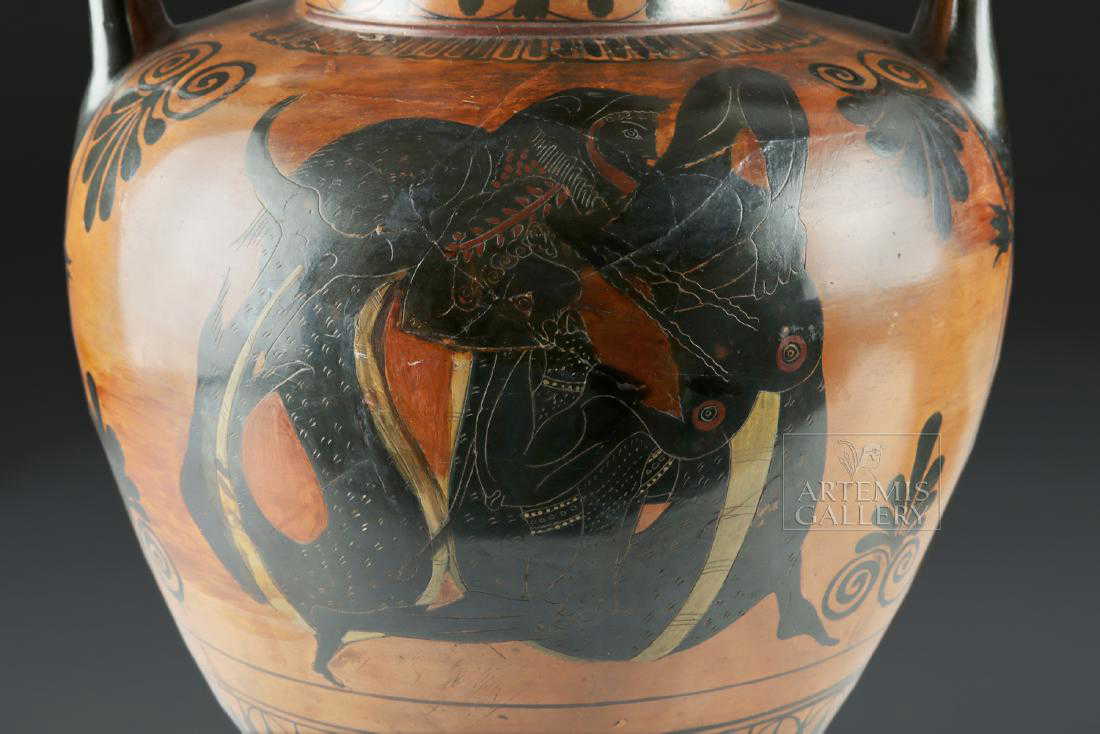 Lot 12. Greek Attic Amphora - Athena, Ajax, Achilles, Herakles, Ancient Greece, Athens, Early Attic, ca. 530 to 520 BCE. Size: 9.75" in diameter at widest point x 15.125" H (24.8 cm x 38.4 cm). Estimate $50,000 - $70,000. Image courtesy Artemis Gallery.
A very large and incredibly fine black-figure neck amphora of an exceptionally elegant, classic form - both sides expertly painted with mesmerizing mythological scenes. Side A features Herakles wrestling either the sea-god Triton or Nereus, the latter morphing into the former. The figures are engaged in an action-packed struggle involving major physical contortions - with details incised as well as delineated in red and white pigments. Side B presents an elaborately dressed Athena standing in composite profile as an interceder between a pair of fighting warriors - perhaps Ajax and Achilles - both donning helmets and wielding spears and shields (one shield adorned by an image of a roaring lion, an animal associated with Achilles). Athena is positioned between these leading men of the Greek army holding a spear of her own between them and raising her left hand in a gesture of protest.

Note: Interestingly, other Attic vases depict Athena between a gaming Achilles and Ajax, but these warriors, in contrast, are fighting. In this context, it is more customary to see a bearded herald as the interceder, as on a neck amphora in the Victoria and Albert Museum, which also has Herakles and Triton on the obverse.

Adding to the piece is the rich decorative program: the register of stylized palmettes adorning the neck; bands of tongue motifs just below; symmetrical floral vines below each tripartite handle; and beneath the pictorial imagery a register of fine-line, stylized laurel buds with looping stems followed by rays emerging from the base below.

Ancient Athenian painters, including the painter of this vessel, took advantage of the large size of Attic vases which gave them more room to explore their techniques, overlap figures, present complex interactions between figures, create depth and attempt renderings of perspective, as well as add other colors such as the red and white pigments on the scene of Herakles vs. the Sea God as well as Athena and the fighting soldiers.

An Attic black-figure neck amphora at the J. Paul Getty Museum features a somewhat similar scene attributed to the Leagros Group (active 525 to 500 BCE), though with the warriors sitting rather than standing. The curatorial staff writes, "This scene was very popular in Athenian vase-painting of the late 500s B.C. and was a favorite of the painters in the Leagros Group. Some scholars believe that this mythological scene also served as a contemporary political parable on the value of staying alert, since the tyrant Peisistratos had been able to take control of the city of Athens while the army was distracted."
Attic Black-Figure Neck Amphora. Attributed to Leagros Group (Greek (Attic), active 525 - 500 B.C.), Greek (Attic), Athens, Greece, about 510 B.C. Terracotta, 30.4 × 45.3 cm, 86.AE.81. © J. Paul Getty Trust.
This piece has been tested by Oxford Authentication using thermoluminescence (TL) and has been found to be ancient and of the period stated. A full report will accompany purchase.

Provenance: private Keating collection, Mill Valley, California, USA; ex-George T. Keating collection, acquired early 1950s
Moving on to art of the Roman Empire, the auction includes marbles, jewelry, stone mosaics, and coveted glass objects. One of top highlights in this category, a matched pair of hand-carved marble sarcophagus panels, circa 2nd-3rd century CE, depicts two youthful fishermen in relief. The skillfully executed panels could reach $8,000-$12,000 for the pair.
Near Eastern treasures include an Anatolian marble Kusura-Beycesultan idol, ex Christies, $5,000-$7,000; a massive Phoenician stone vessel from the 1st millennium BCE, $15,000-$25,000; and a published byzantine marble reliquary with a gabled cover, $12,000-$15,000.
The Asian art realm is culturally deep and geographically wide, as evidenced by the superb selection chosen for Artemis Gallery's October 11 sale. A monumental TL-tested Chinese Han Dynasty terracotta horse, circa 206 BCE to 220 CE, is entered with a $150,000-$225,000 estimate, while a gorgeous 3rd to 5th-century Gandharan seated Buddha Shakyamuni, carved of stucco, is entered with a $15,000-$20,000 estimate. There are also several lots of precious antique Indian jewelry and a circa-1850 Indian bronze chari bottle with 24K gold lid, $30,000-$45,000.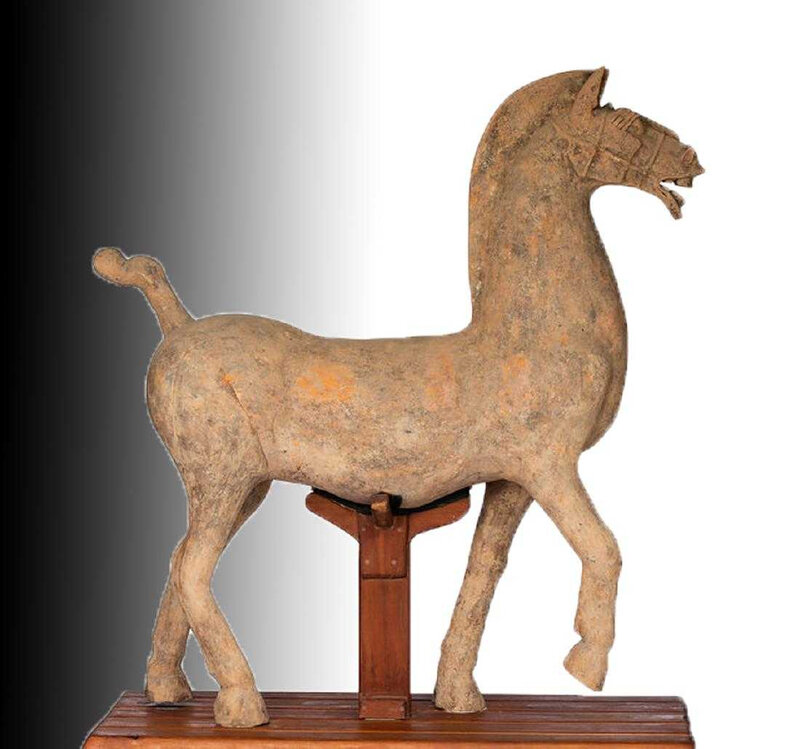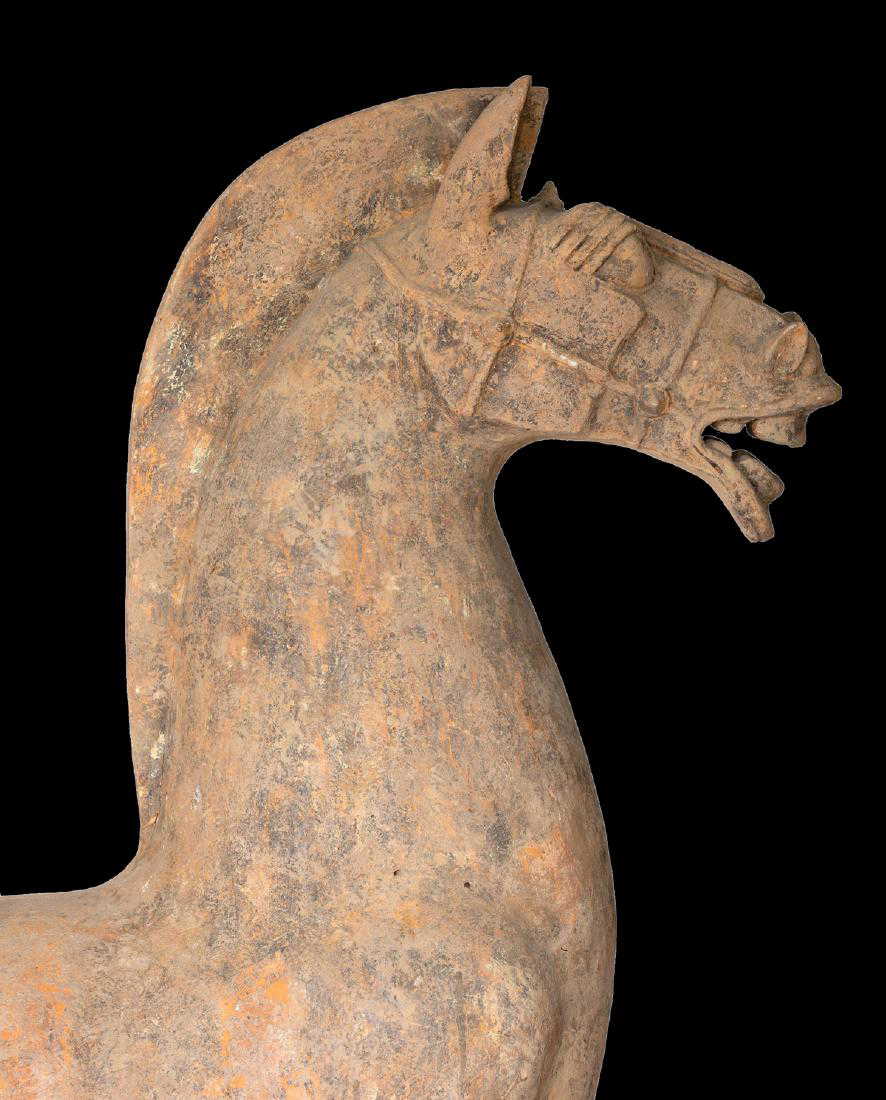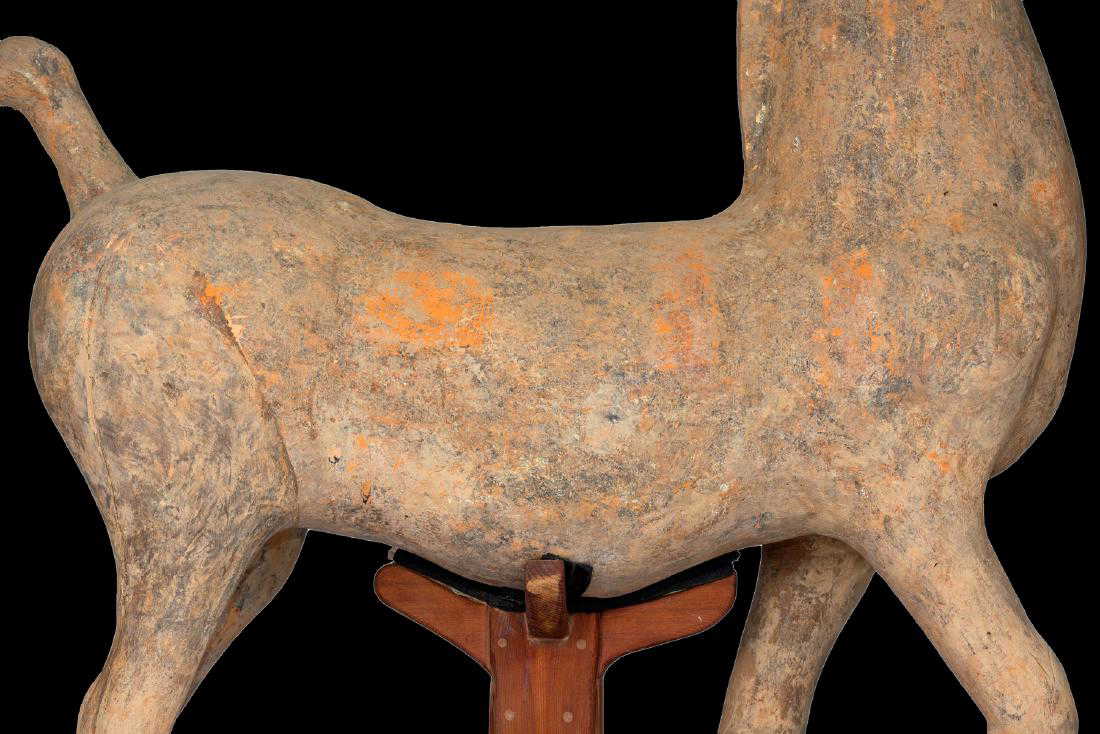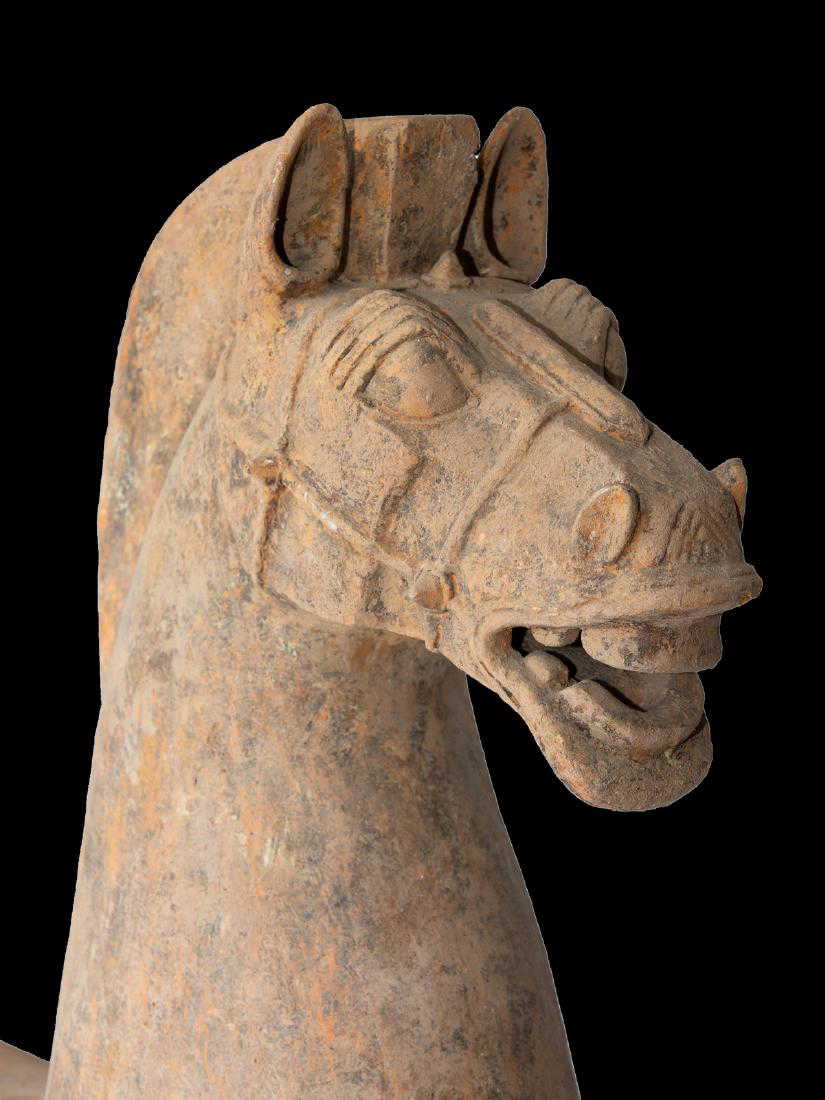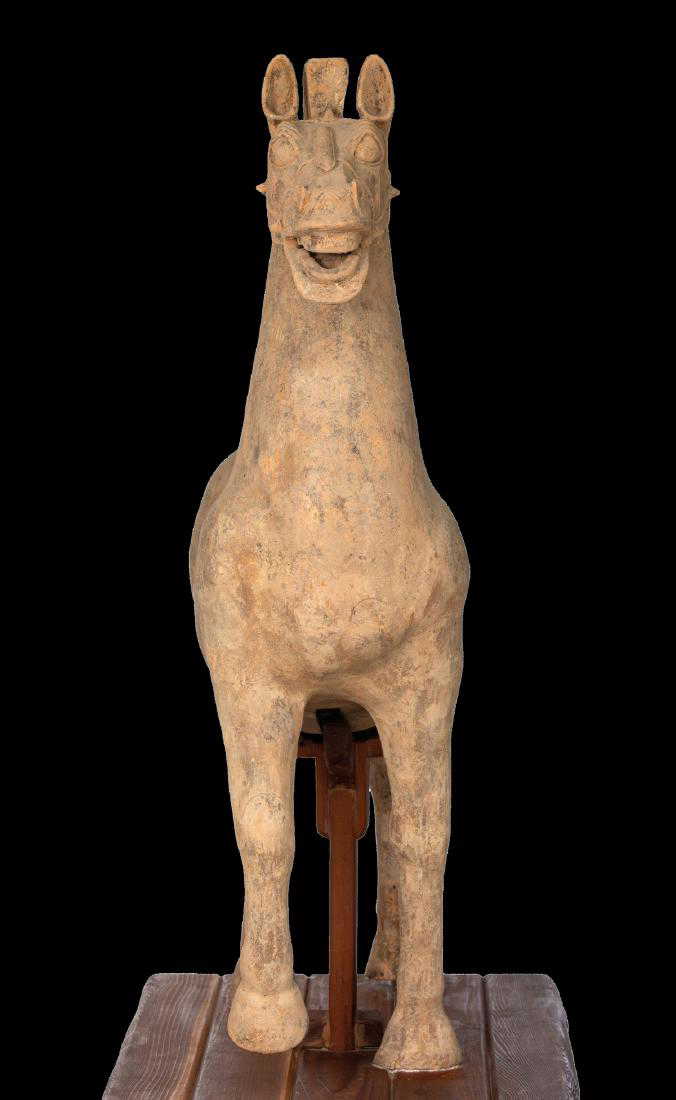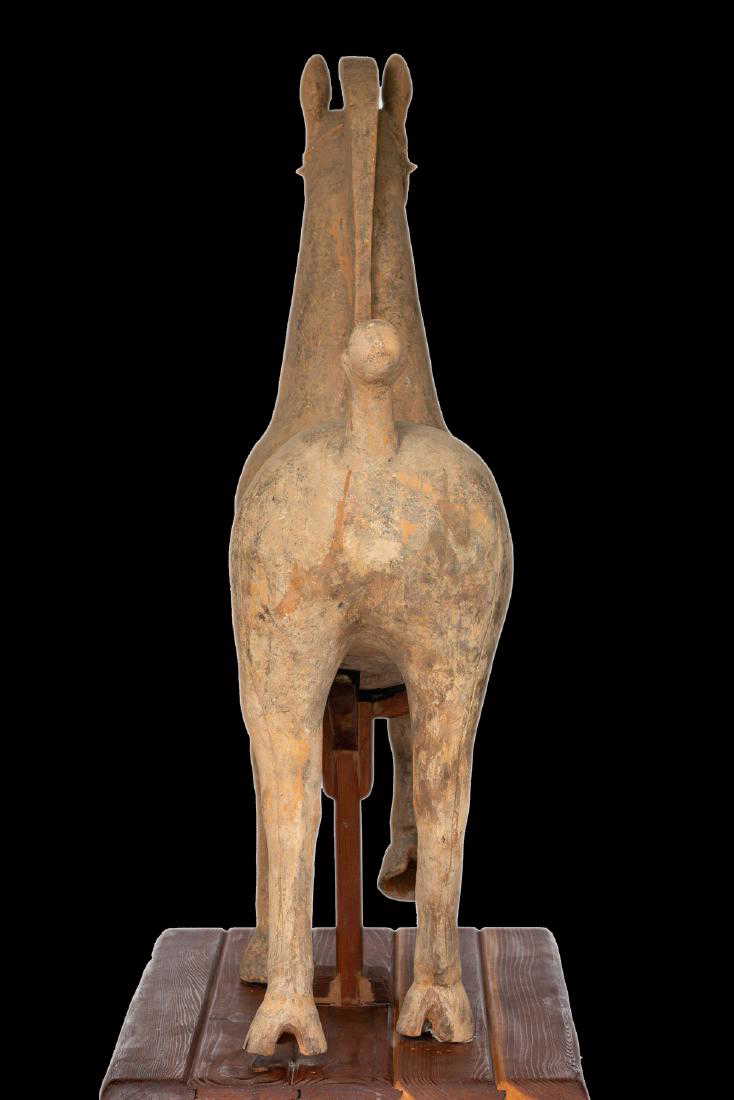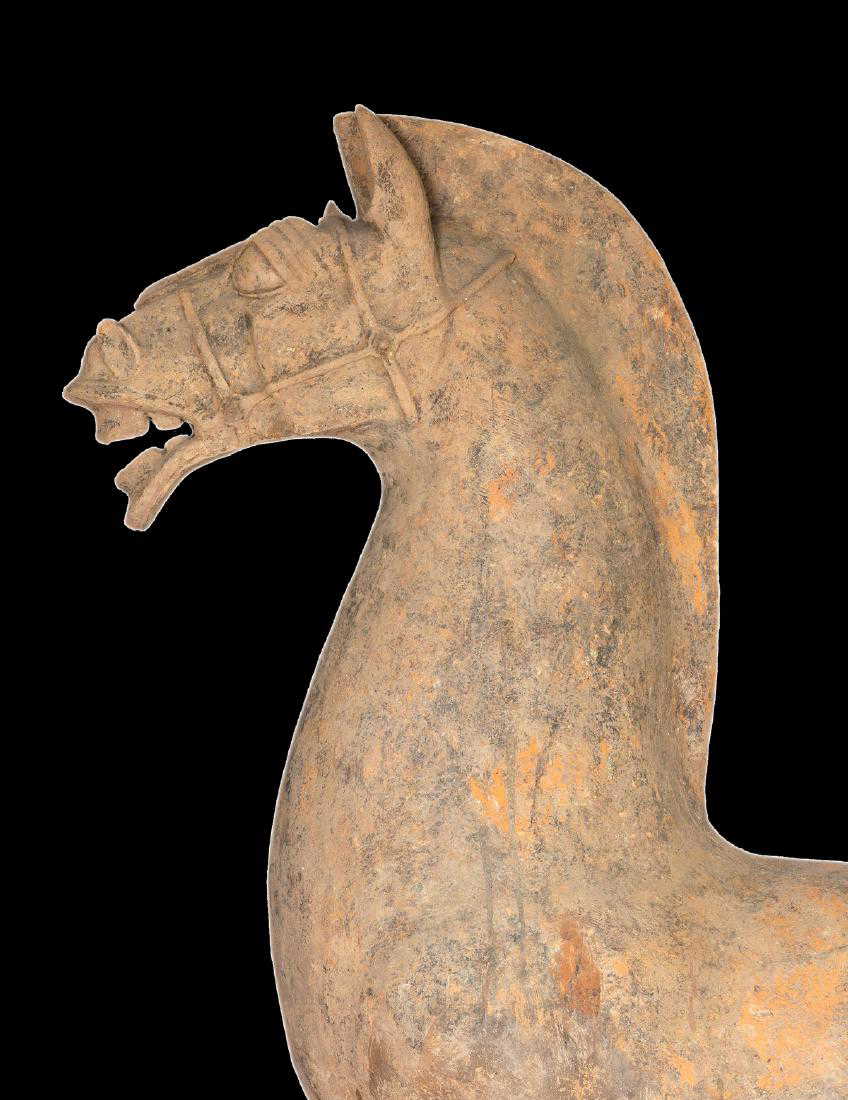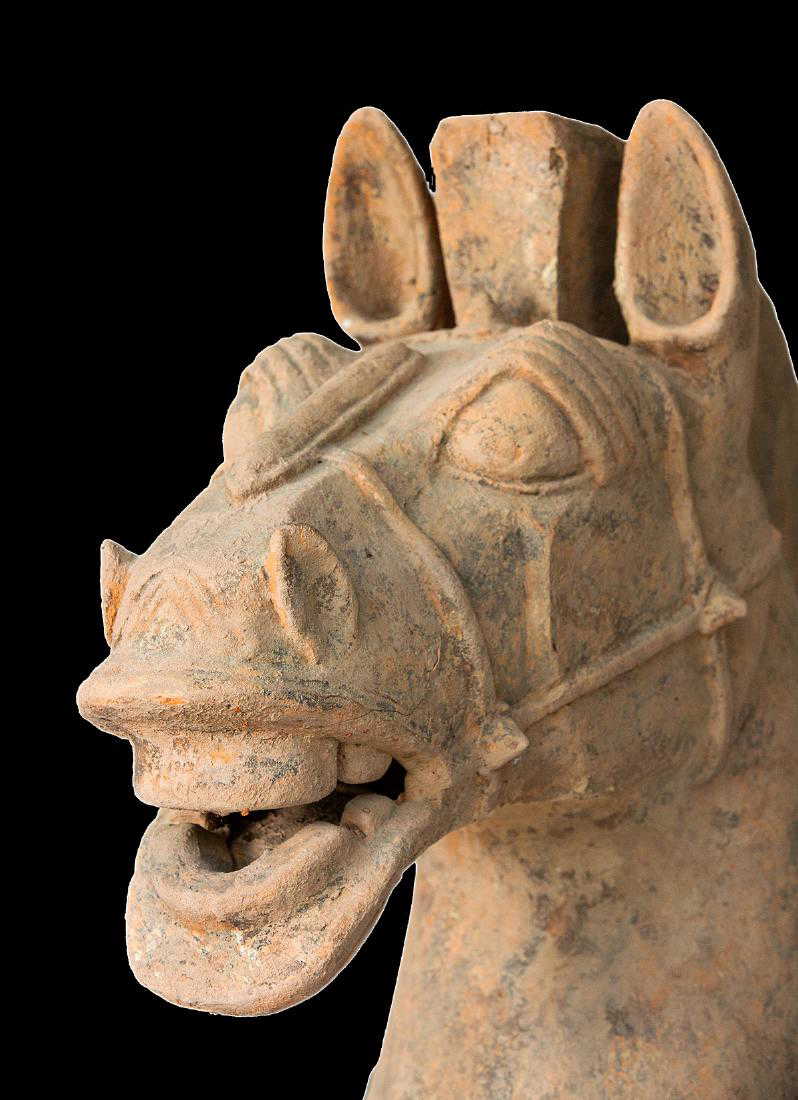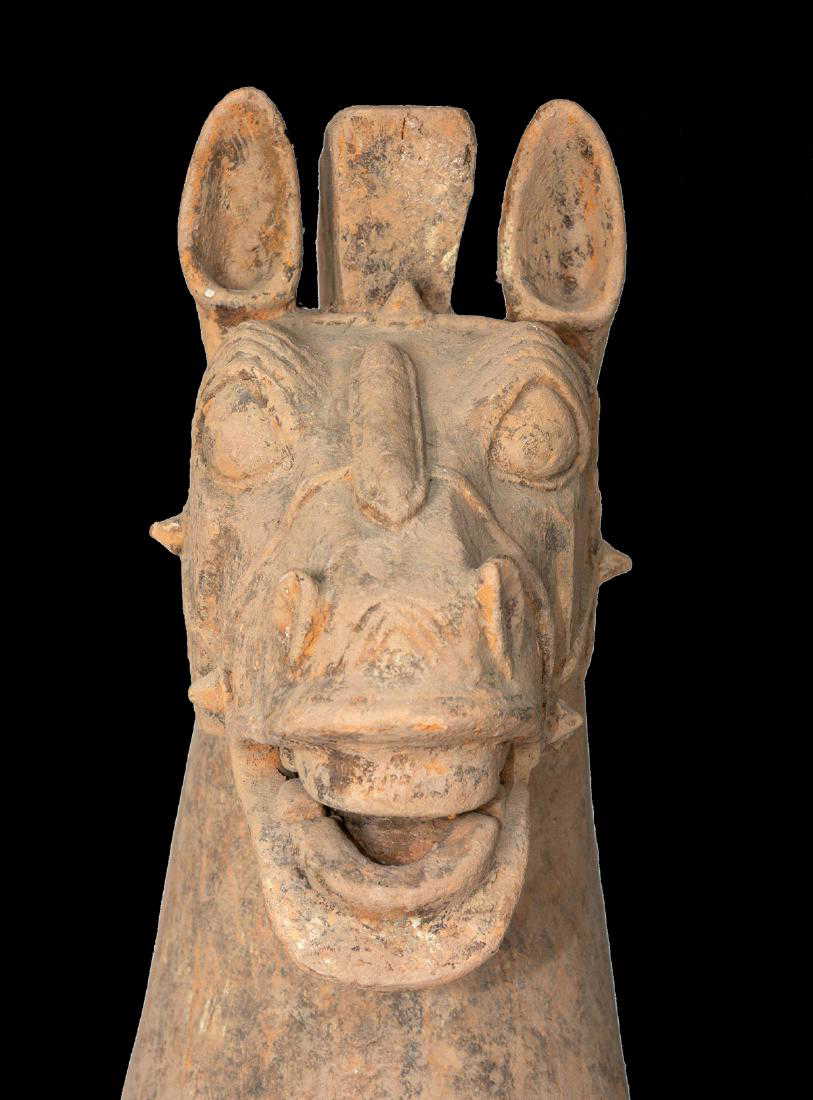 Lot 53D. Monumental TL-tested terracotta horse, China, Han Dynasty, ca. 206 BCE to 220 CE. Size: 51" H (129.5 cm); 58" H (147.3 cm) on included custom stand. Estimate $150,000 - $225,000. Image courtesy Artemis Gallery
An incredible Han Dynasty Horse, striding forward with his front right hoof lifted, presenting an expressive visage with wide-open eyes, a pronounced snout with flared nostrils and an open mouth revealing his teeth, raised alert ears, a neatly manicured mane, raised and curled tail, and a finely delineated relief bridle. During the Han dynasty, the ancients placed such model figures in tombs to ensure a safe journey to the afterlife. Note how the sculptor skillfully delineated the muscular body of this noble steed.

Note: During this period of Chinese history, horses came from the Ferghama Valley in Central Asia - present day Afghanistan. When elite individuals passed away, large "walking" terracotta Ferghama horses displaying an immense degree of attention to detail, like this example, were created to carry the deceased into the hereafter. The horse, second only in importance to the dragon, was believed to possess magical powers. The number of horses owned by an individual ensured his high status in the afterlife.

Funerary sculptures like this piece are part of a class of artifacts called mingqi - sometimes known as "spirit utensils" or "vessels for ghosts". They became popular in the Han Dynasty and would persist for several centuries. Alongside figures like this one were musicians, athletes, animals, structures … Even though they were mass produced, mingqi of the Han Dynasty often show a high level of detail and naturalism. These were designed to assist the po, the part of the soul of the deceased that remained underground with the body while the hun, the other part of the soul, ascended. Caring for the po seems to have taken on a new level of meaning in the Han period, with more elaborate rituals and tomb construction arising.

This piece has been tested using thermoluminescence (TL) twice - by QED Laboratoire and Artemis Testing Lab. According to both tests, the piece has been found to be ancient and of the period stated. A full report will accompany purchase. This piece was tested in 5 separate locations, all confirming the piece is authentic and ancient

Provenance: private collection of the late Karming Wong; approximate date of acquisition: late 1970 to early 1980. Horse was purchased by Karming Wong, who after leaving China during the Cultural Revolution became a private collector. Item was purchased from a dealer in Hong Kong and was transferred to Karming Wong's descendants upon his death in 2012.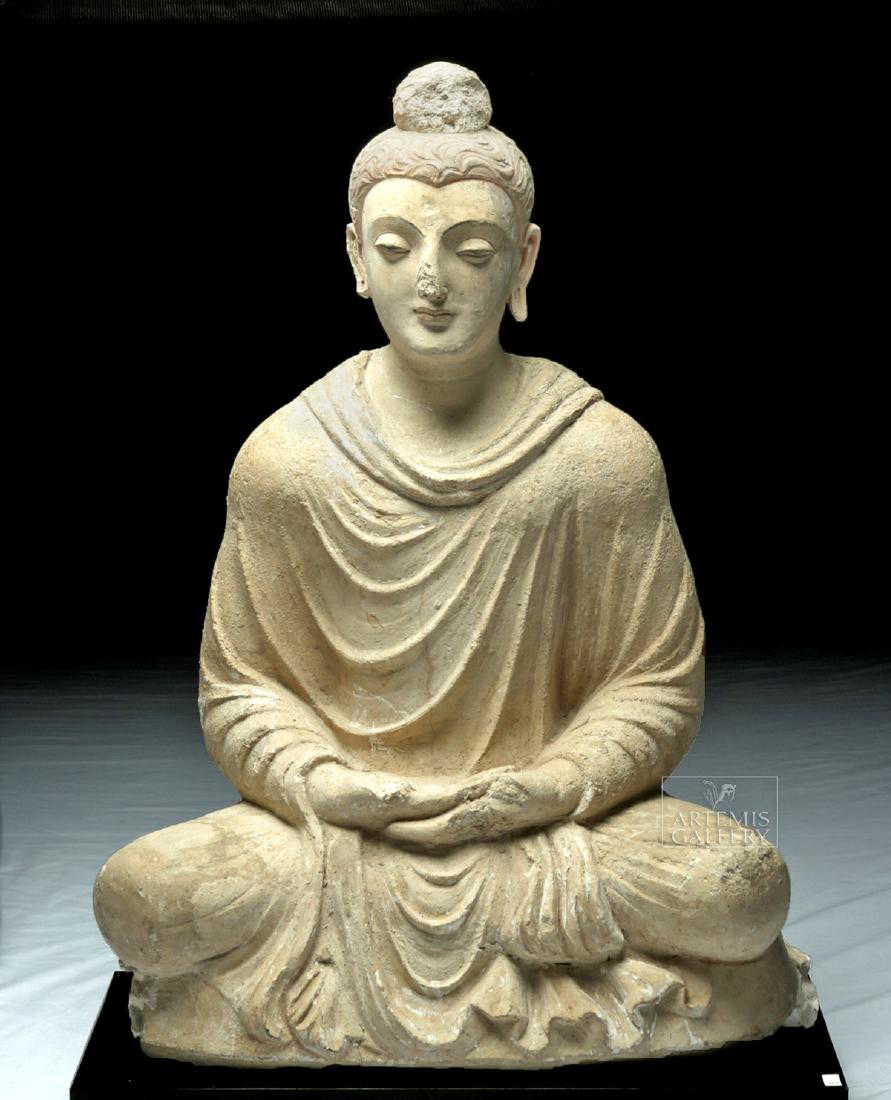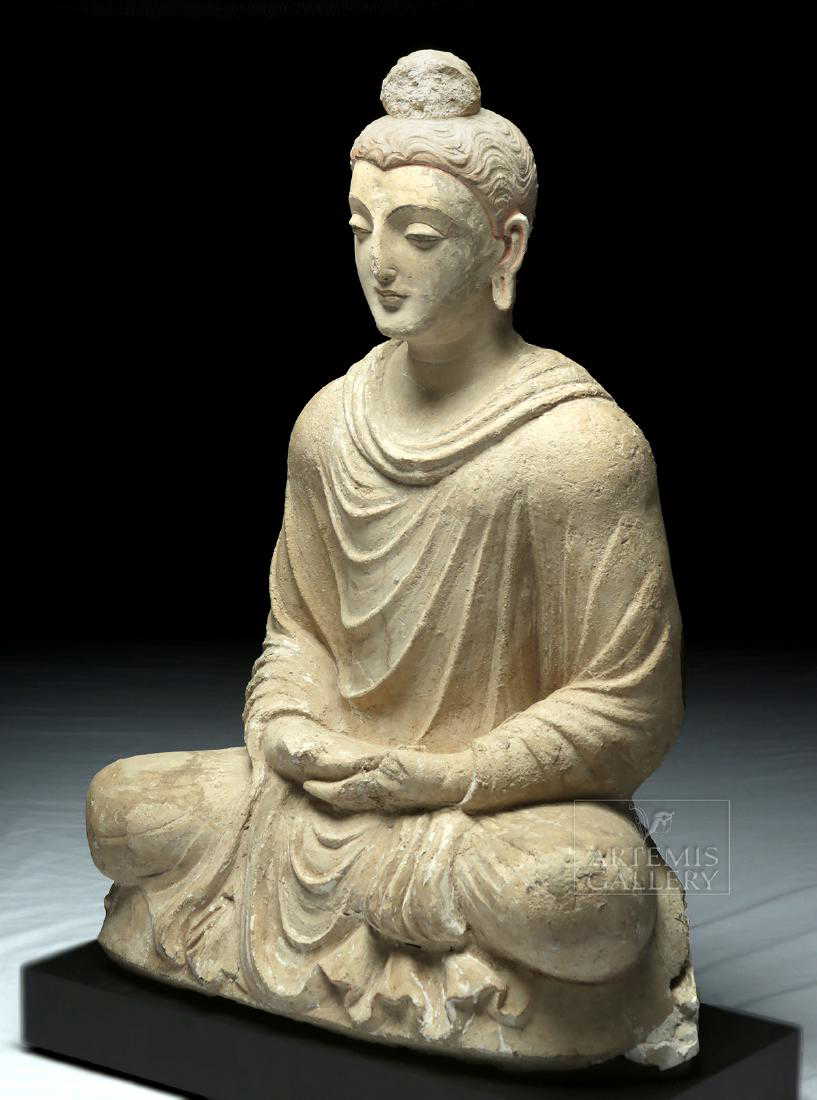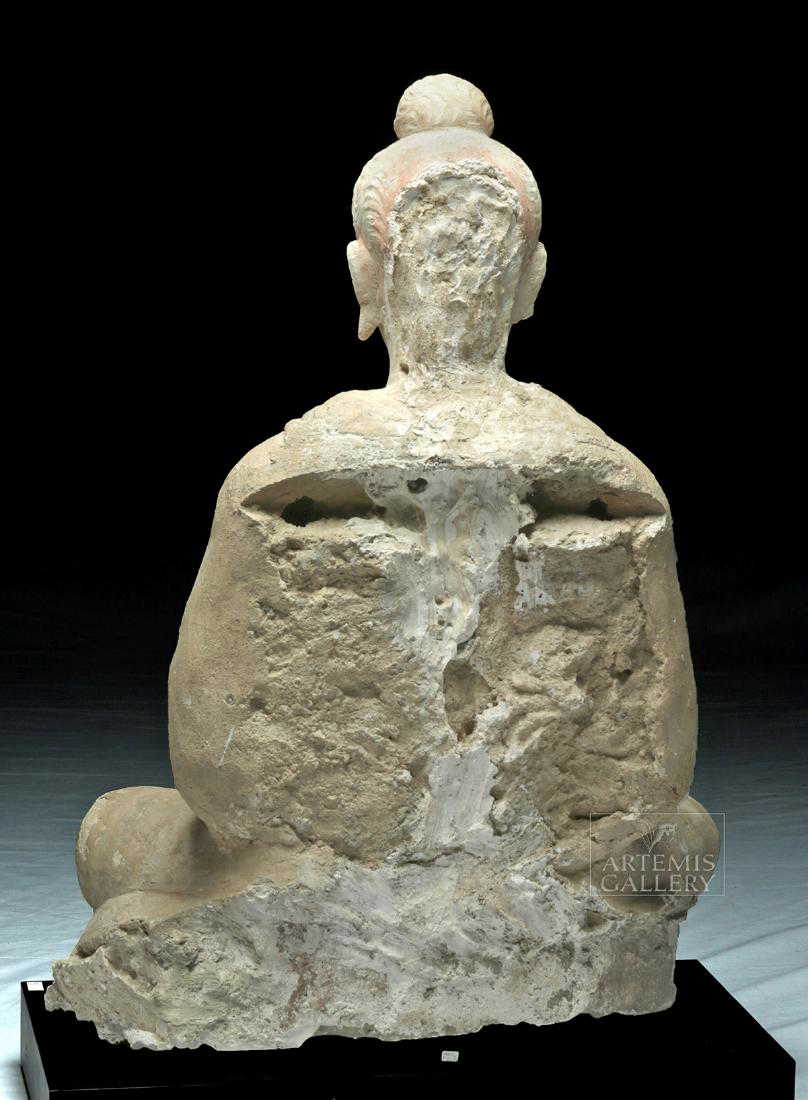 Lot 47E. Gorgeous Gandharan Stucco Seated Buddha Shakyamuni, Pakistan and Afghanistan, Gandharan Empire, ca. 3rd to mid 5th century CE. Size: 9" L x 20.75" W x 27.5" H (22.9 cm x 52.7 cm x 69.8 cm); 30" H (76.2 cm) on included custom stand. Estimate $15,000 - $20,000. Image courtesy Artemis Gallery.
A fantastic stucco portrayal of a youthful Buddha, known as Shakyamuni Buddha or Siddhartha Gautama, the crown prince of the Shakya Kingdom. He sits with his legs crossed, as if he is beneath a tree, meditating - how he would eventually come to enlightenment. He is seated on a low plinth and his hands rest in his lap in the Dhyana Mudra, used for meditation and deep concentration. His ears are long, emphasizing his wealth - they have been stretched from wearing large earrings. Here he is shown after his enlightenment, as evidenced by his large ushnisha, the rounded projection from the top of his head that symbolizes his newfound knowledge. Remains of a pale red pigment is on his hair, with black details on the eyebrows and eyelids. Mahayana Buddhism was very important in this region. Parthian, Greek, Roman, and Bactrian influences combined to create naturalistic human figures like this one.

Note: Gandharans are famous for schist and stucco carvings, with stucco replacing schist as the dominant material around the 3rd century CE. Vast monastic institutions like those at Takht-i-Bahi, Sahri-Bahlol, Jamal Garhi, Ranigat, and Thareli were decorated by skilled artisans with stucco representations of important figures, religious scenes, and artistic dedications. Stucco allowed artists more freedom in portraying lifelike features, as shown in the gentle curve of the brow here. During this time, Gandhara was exceptionally wealthy, profiting from trade along the Silk Road; patrons had resources to spend on the arts, creating a flowering of stucco artwork.

Provenance: private East Coast, USA collection.

The Pre-Columbian art category features a rare and fine 12-inch Tonosi (Panama, circa 600-800 CE bi-chrome double-tiered olla. This massive vessel is painted with the image of an enormous tarantula on each side and exhibits a form known as the "Metropolitan Vessel," so named because a similar example is held in the Metropolitan Museum of Art's distinguished collection. Formerly owned by private collectors in Hawaii and Florida, this remarkable piece is entered in the auction with a $15,000-$20,000 estimate.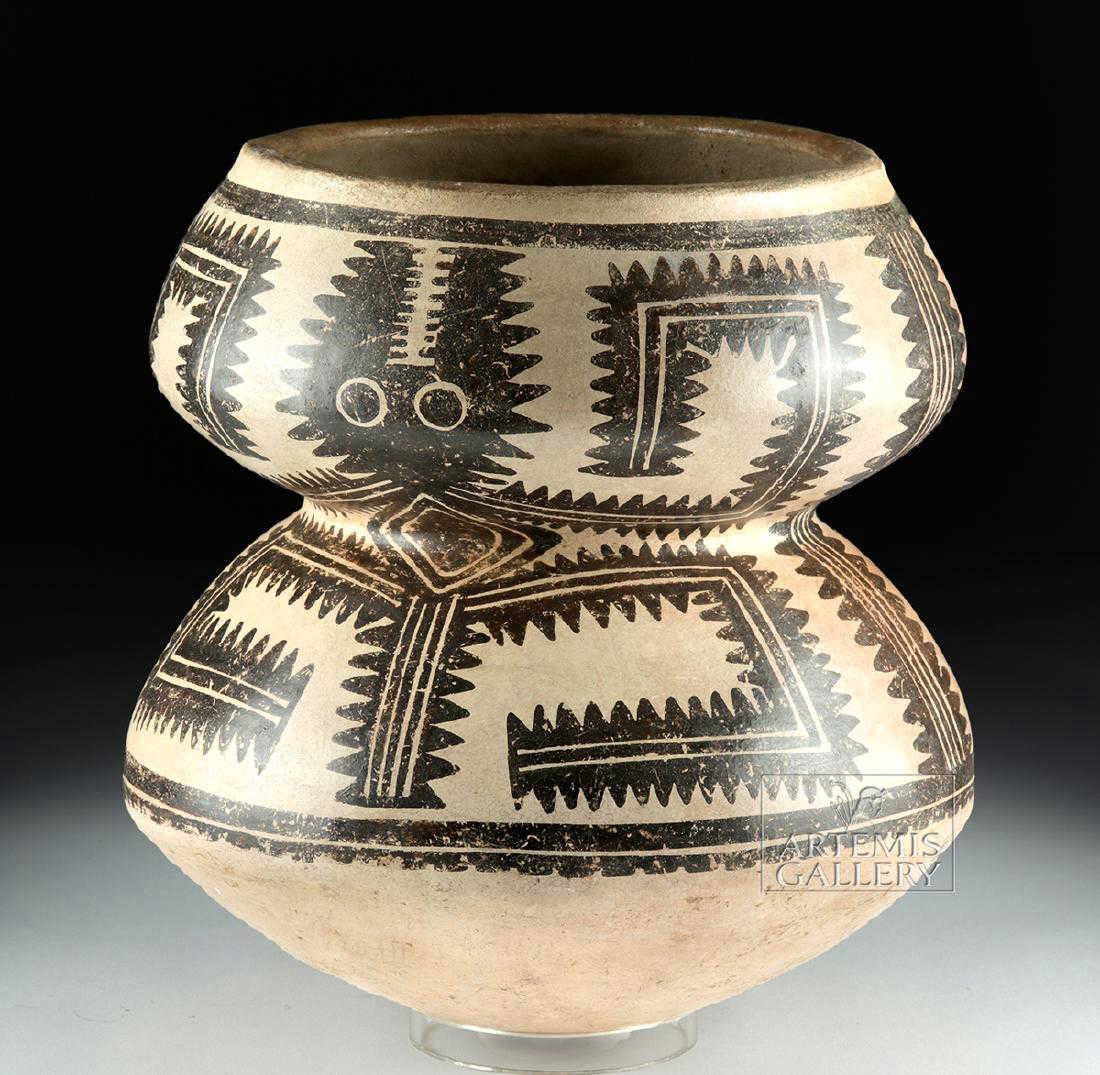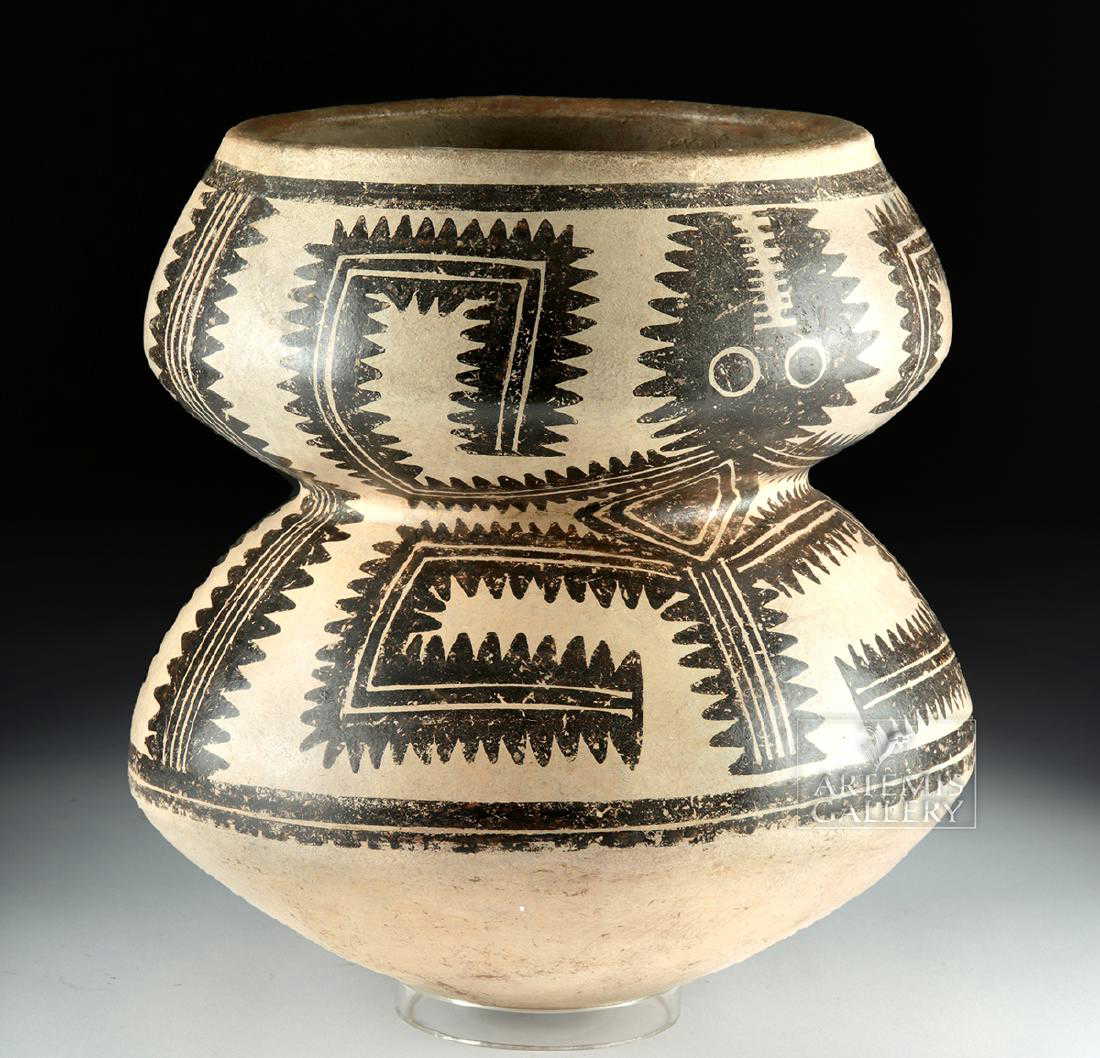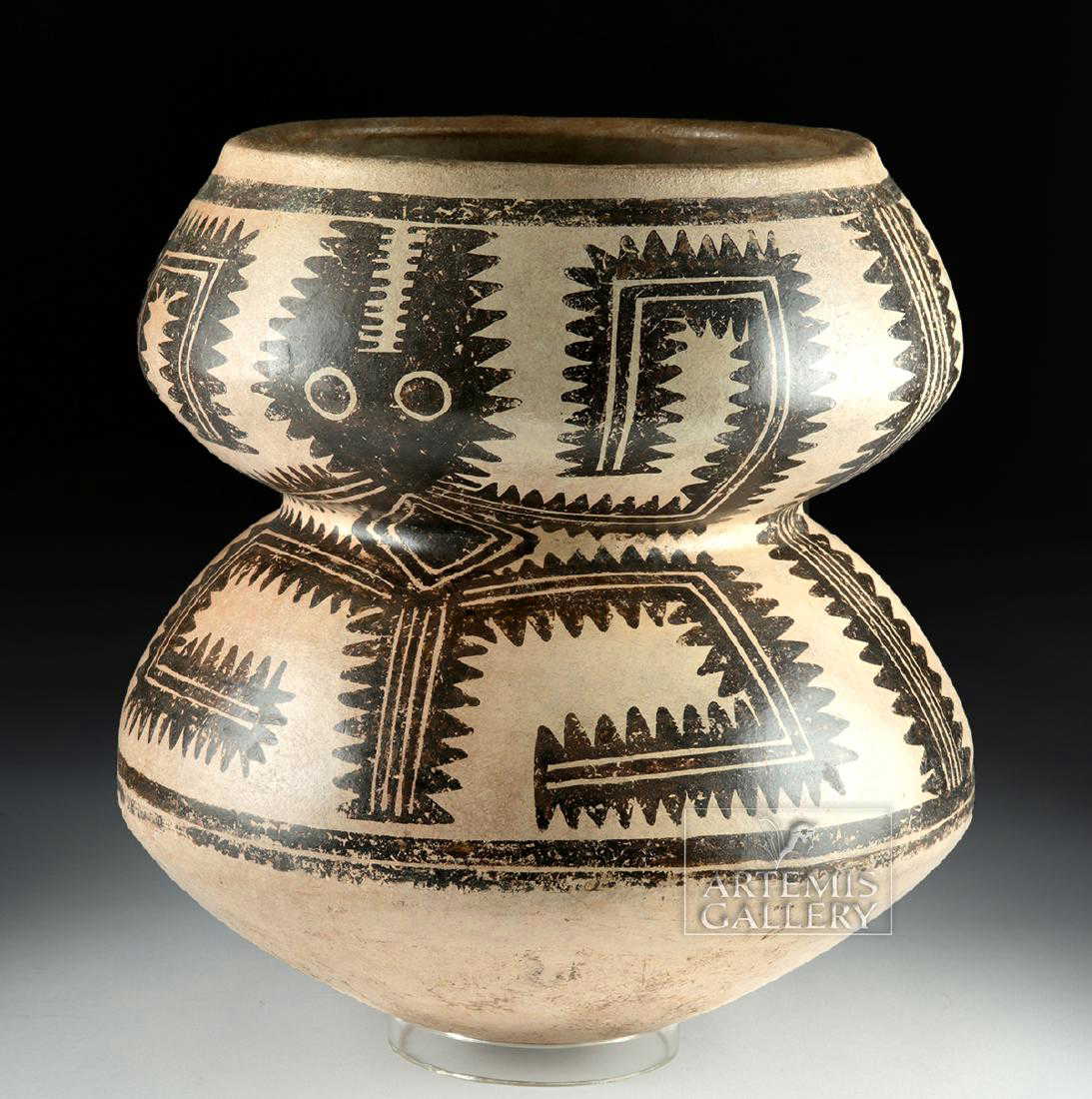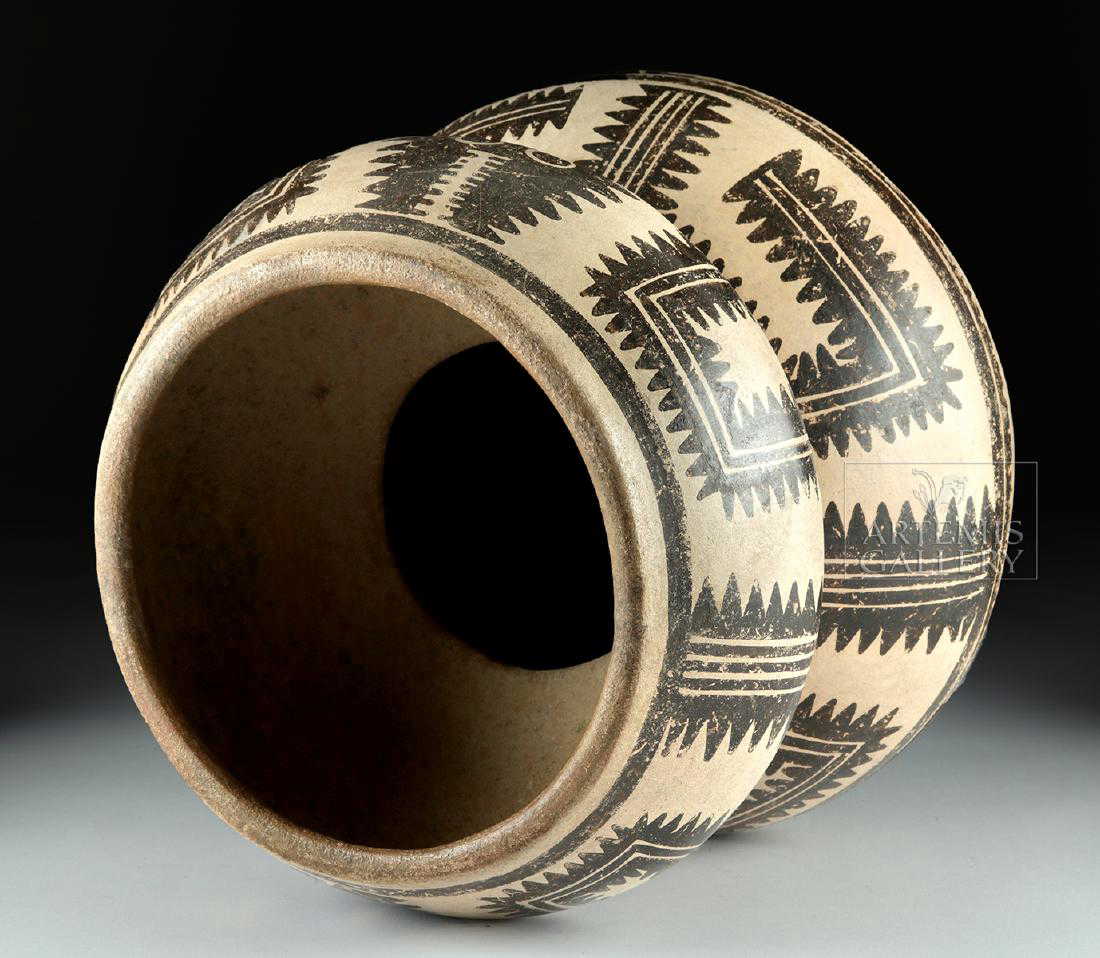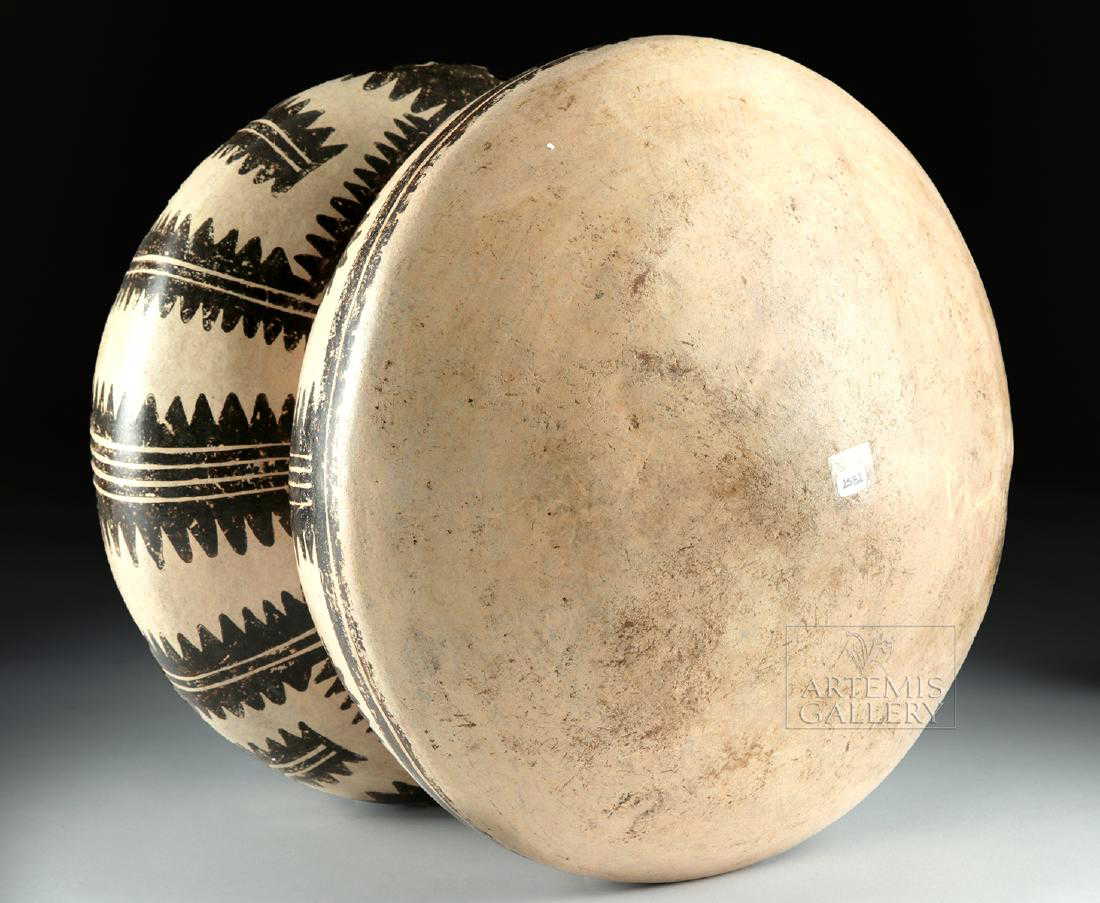 Lot 90. Rare Tonosi Bi-Chrome Double Tiered Vessel w/ Tarantula, Pre-Columbian, Panama, Tonosi, ca. 600 to 800 CE. Size: 12" H (30.5 cm). Estimate $15,000 - $20,000. Image courtesy Artemis Gallery
A sizeable bi-chrome pottery vessel, its massive form comprised of a double-tiered olla and beautifully painted with an enormous tarantula spider on each side - head, thorax, and outspread legs covering the entire surface! This very large double-tiered, round-bottomed, globular polychrome pottery vessel is a form dubbed the "Metropolitan Vessel" because the Metropolitan Museum of Art has a similar vessel - only with a different iconographic program. The bold depiction of each arachnid is quite expressive with a wide-eyed visage, outspread legs with ridged edges that connote kinetic energy and magical dynamism! Though it was created more than 1000 years ago, the imagery conjures depictions of spiders in modern art such as Louise Bourgeois' striking, nearly 9 meters tall sculpture entitled "Maman" which graces the exterior of the Guggenheim Museum in Bilbao, Spain.
See the Metropolitan Museum of Art's double-tiered Tonosi jar
Double-tiered jar, 3rd–4th century, Panama, Tonosi, Ceramic. H. 8 x W. 8 1/2 in. (20.3 x 21.6 cm). Purchase, Arthur M. Bullowa Bequest, 2007; 2007.297. © 2000–2018 The Metropolitan Museum of Art.
For additional examples of tri-color, double-tiered vessels see Armande Labbe's, "Guardians of the Stream: Shamans, Art and Power in Prehispanic Central Panama" (The Bowers Museum of Cultural Art; University of Washington Press, 1995, p. 127).
Provenance: private Hawaii, USA collection; ex-J. Berryman collection, Florida, USA
Other categories and selected highlights include Viking arms and jewelry; fine art, a fantastic array of fossils, an 18th-century Hebrew Torah scroll from Morocco, a 19th-century Italian giltwood and glass reliquary cabinet, and a framed 19th-century Mexican ex voto on canvas, ex Sotheby's.
There are many ways in which to bid in the Thursday, Oct. 11, 2018 auction, including absentee, by phone (please reserve line in advance), or live via the Internet. The sale starts at 10 a.m. Eastern Time and will be conducted simultaneously on three bidding platforms: ArtemisGallery.com, LiveAuctioneers.com, and Invaluable.com. An Artemis Gallery COA will accompany each and every purchase. Artemis Gallery ships worldwide and has its own in-house packing and shipping department to ensure quality control.