Alfred Stevens, Die japanische Pariserin, 1872. Öl auf Leinwand, 150 x 105 cm. Musée des Beaux-Arts de La Boverie, Lüttich © Musée des Beaux-Arts de La Boverie, Lüttich.
VIENNA.- "This isn't fashion, it's passion, it's madness" – thus did the French critic Ernest Chesneau characterise the mania of the Western public for the extravagant vases, lacquered boxes, fabrics and colour woodcuts that had arrived from the Far East and were on display at the 1878 World Exhibition in Paris.

Owing to pressure from the USA, Japan, after centuries of self-elected isolation, had in 1854 re-opened its ports for trade with the West; reformers in Japan moreover urged a presentation of the "new Japan" in the West, and the world exhibitions of 1867 and 1878 in Paris and in 1873 in Vienna offered eagerly taken opportunities as its platforms. Now, the elegant and exotic everyday objects, the exquisite textiles and most of all the brilliantly imaginative ukiyo-e – the colour woodcuts – rapidly conquered the European market and fulfilled the public's craving for a foreign and unknown culture and a new kind of aesthetic.
Emil Orlik, Japanisches Mädchen unterm Weidenbaum, 1901, Farbholzschnitt auf Japanpapier, 18,5 x 35,9 cm © Sammlung Dr. Eugen Otto, Wien.
Expeditions to East Asia were launched – Émile Guimet and Enrico Cernuschi laid the foundations for the great museums of East Asian art in Paris named after them – and in 1872 the critic Philippe Burty coined the term that is still used today: "Japonisme".

Japomania spread from Paris across the whole of Europe – in Germany, Belgium, Hungary, Scandinavia and Austria. In Vienna, the boom generated by the Far East aesthetic was in today's terms a genuine hype, triggered by the 1983 World Exhibition in Vienna and inspiring such artists as Gustav Klimt and Josef Hoffmann.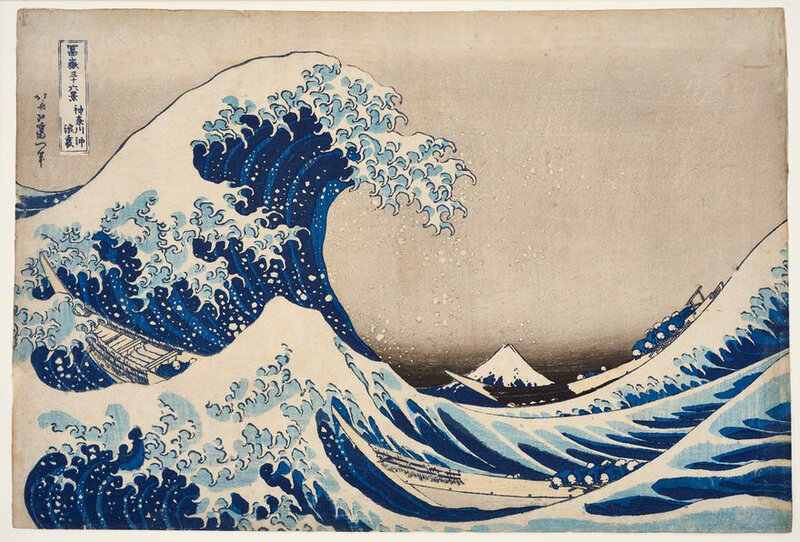 Kasushika Hokusai, 36 Ansichten des Berges Fuji: Unter der Welle bei Kanagawa, um 1830, Farbholzschnitt, 25,3 x 37,5 cm, MAK – Österreichisches Museum für angewandte Kunst/Gegenwartskunst, Wien © MAK/Georg Mayer
Above all, the exuberantly narrative colour woodcuts, pictures of the floating, ephemeral world, were coveted collectables, also for the artists who integrated the unaccustomed vocabulary of forms, the astonishing themes and motifs into their imagery. Monet, Manet, Van Gogh, Degas and Gauguin were the first, followed by the younger artists – Toulouse-Lautrec, Bonnard, Vuillard, Vallotton, Marc, Kandinsky, to name only the most significant.

Unusual compositional and conceptual novelties conquered Western art: extreme horizontal or pillar formats, curtailed figures in pronounced foreshortening, the combination of bird's-eye-view and stark close-up perspectives, also extensive empty spaces in front of a high horizon; compositions fusing decorative arrangements with snapshot views, black silhouettes and the subtle use of the line. Together with the rediscovery of radiant local colours, the incisive and witty observation of flora and fauna, of everyday activities or ghost scenarios, they enriched Western painting in the most multifaceted ways.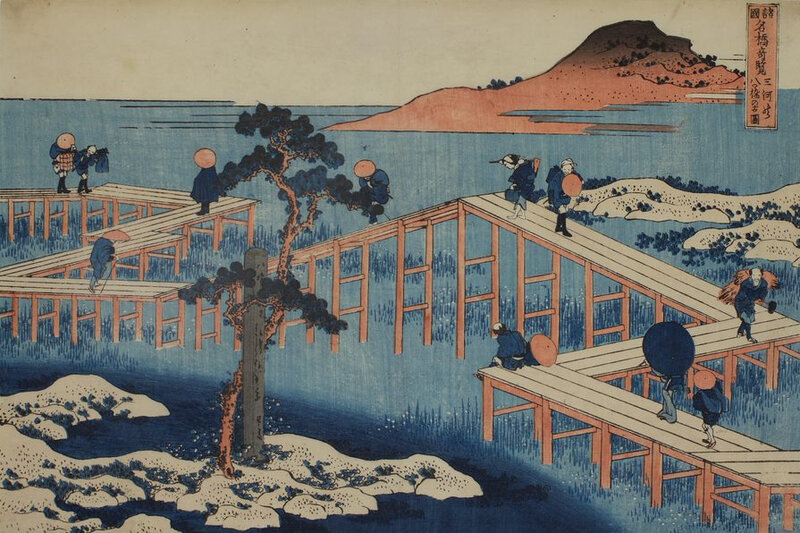 Katsushika Hokusai, Seltene Ansichten berühmter Brücken in verschiedenen Provinzen: Die achtteilige Brücke bei Mikawa, um 1831/32, Farbholzschnitt, 23 x 34,5 cm © Privatsammlung, Wien.
Subsequently the inspirations from the Far East fostered autonomous interpretation and translation into a new language of forms, leading to the upcoming modernism of the twentieth century – in which the trend towards abstraction and the rejection of the conventional picture space would develop as an independent movement of its own.

For the Bank Austria Kunstforum Wien exhibition, the artists Margot Pilz, Eva Schlegel and Stephanie Pflaum have taken up the theme of the teahouse as a place of encounter and, viewing it from different aspects, have developed their own individual reflections on it.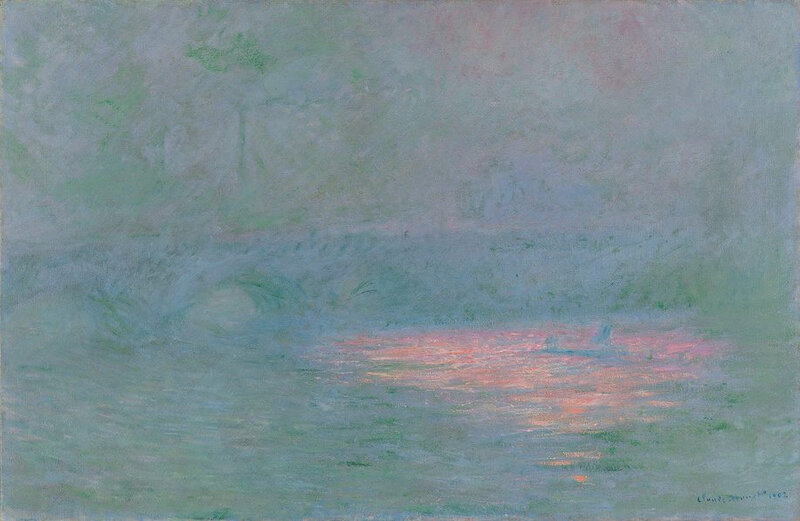 Claude Monet, Waterloo Bridge, 1902, Öl auf Leinwand, 65 x 100 cm © Kunsthaus Zürich, Geschenk Walter Haefner, 1995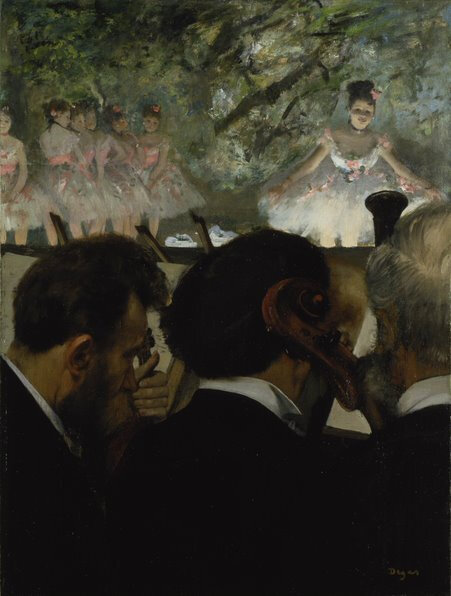 Edgar Degas, Orchestermusiker, 1872, Öl auf Leinwand, 63,6 x 49 cm, Städel Museum, Frankfurt am Main © Städel Museum/U. Edelmann/ARTHOTHEK
Kitagawa Utamaro, Elegante Personen im Stil Utamaros, um 1801, Farbholzschnitt, 35 x 23 cm © Privatbesitz, Wien.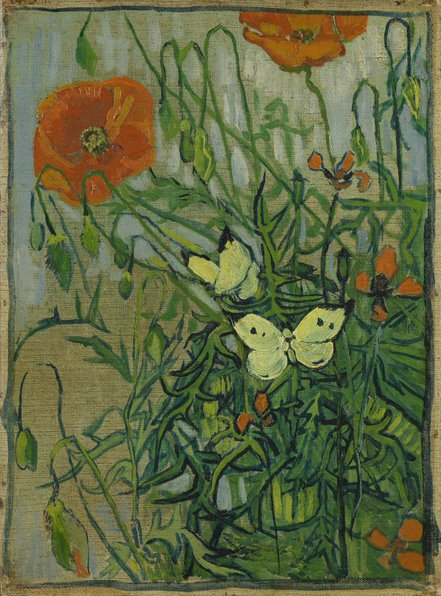 Vincent van Gogh, Schmetterlinge und Mohnblumen, 1889, Öl auf Leinwand, 35 x 25,5 cm © Van Gogh Museum, Amsterdam (Vincent van Gogh Foundation).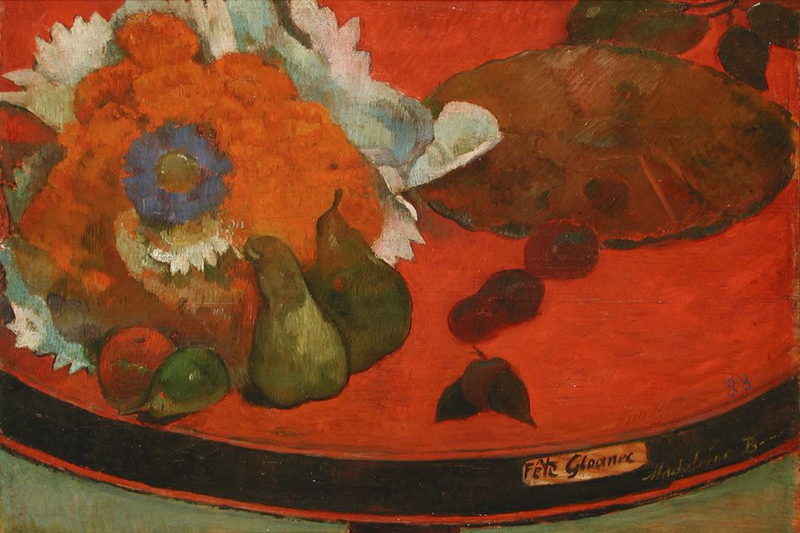 Paul Gauguin, Fête Gloanec, 1888, Öl auf Holz, 49 x 65 cm © Foto: François Lauginie © Musée des Beaux-arts, Orléans.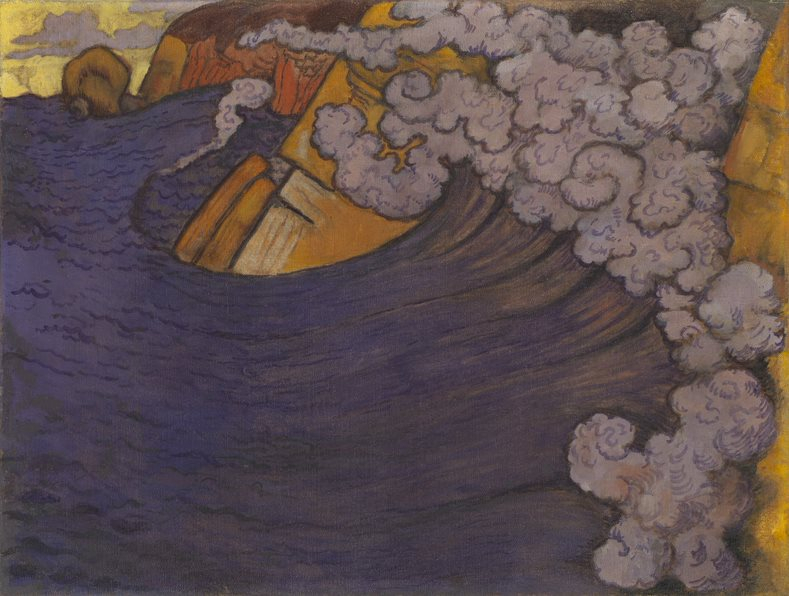 Georges Lacombe, Die violette Woge, 1896/97, Öl auf Leinwand, 47,5 x 62,5 cm, The George Economou Collection © Odysseas Vaharides / Courtesy The George Economou Collection.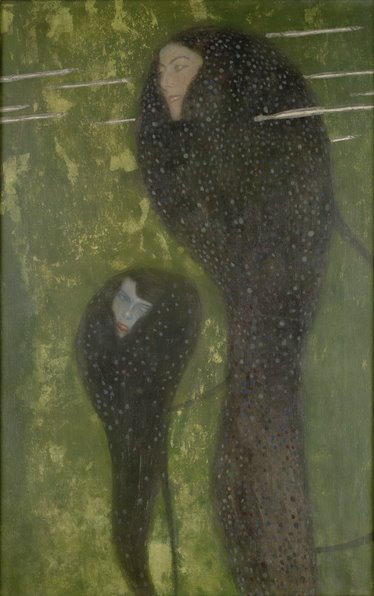 Gustav Klimt, Nixen – Silberfische, um 1902/03, Öl auf Leinwand, 82 x 52 cm © Bank Austria Kunstsammlung, Wien.
Wassily Kandinsky, Abenddämmerung, 1904, Holzschnitt, 15,7 x 31,5 cm Centre Pompidou, Paris, Musée national d'art moderne – Centre de création industrielle © Centre Pompidou, MNAM-CCI, Dist. RMN-Grand Palais, Paris/image Centre Pompidou, MNAM-CCI.
Franz Marc, Die weiße Katze, 1912 Öl auf Karton, 48,8 x 60 cm © Foto: Punctum/Bertram Kober © Kunstmuseum Moritzburg Halle (Saale), Kulturstiftung Sachsen-Anhalt.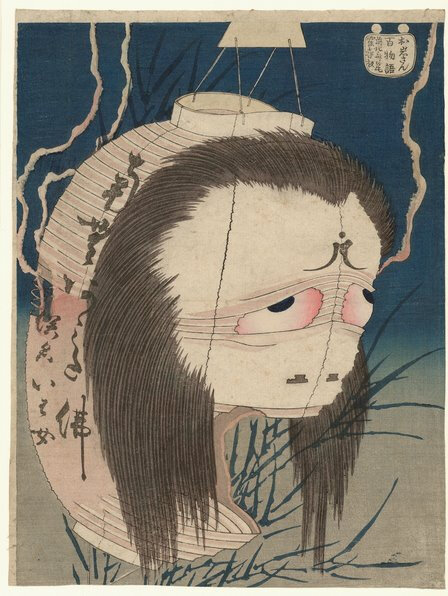 Kasushika Hokusai, 100 Erzählungen: Frau Oiwa, um 1830, Farbholzschnitt, 24,6 x 18,5 cm MAK – Österreichisches Museum für angewandte Kunst/Gegenwartskunst, Wien © MAK/Georg Mayer.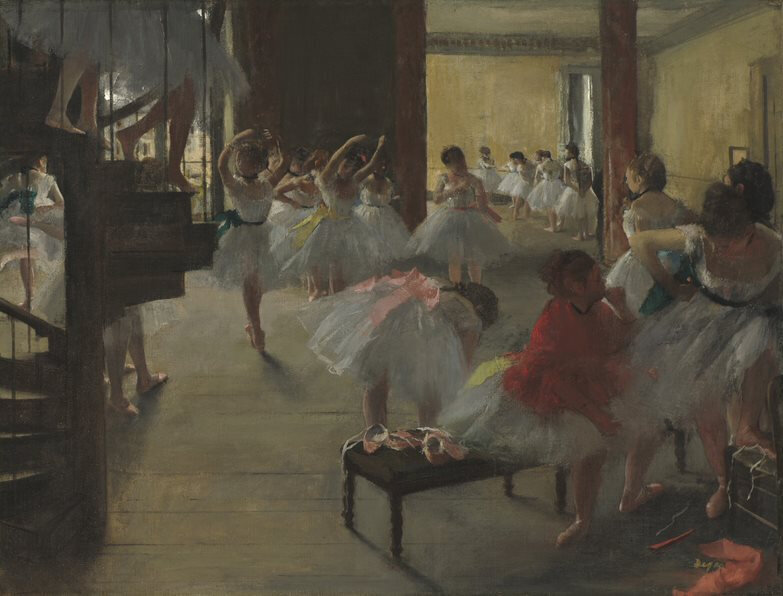 Edgar Degas, Der Tanzunterricht, um 1873, Öl auf Leinwand, 47,6 x 62,2 cm © National Gallery of Art, Washington, Corcoran Collection (William A. Clark Collection).