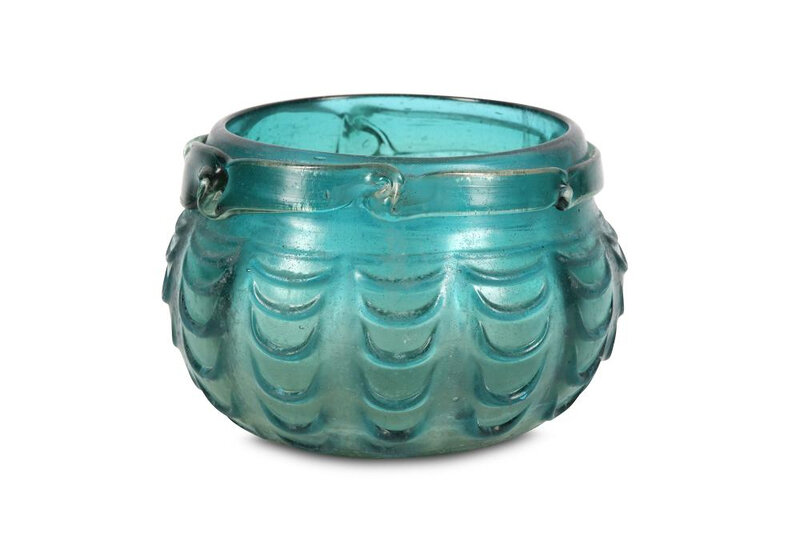 Lot 1. An early Abbasid deep green hot-worked glass bowl, Possibly Samarra, Iraq or Syria, 8th - 9th century; 12.6cm diam. and 11.2cm high. Estimate: £4,000-£6,000. © Chiswick Auctions.
Of compressed globular shape, on plain base with pontil mark, with circular straight rim ornate with a band of spiral designs, the exterior trailed with the same colour glass and combed upwards to produce a ridged effect on the surface.
Provenance: purchased in the German art market in the 1980s and in UK private collection since 1985.
Note: For a similar glass vessel, please see the Umayyad or Early Abbasid amber beaker successfully sold at Christie's London, 8 April 2008, lot 50. Both Christie's beaker and our bowl are decorated using an analogous technique in which the body is marked at regular intervals giving the impression of a reticulated web of ribs. Glass objects worked in this fashion are called hot-worked as the surface is manipulated and decorated whilst it is still hot and in a malleable state with the aid of tools (e.g. metal tongs) with circular or square ends rather than one- or two-part moulds (S. Carboni, Glass of the Sultans, 2002, pp. 101 - 114). According to Carboni, Syrian glassmakers, differently from their Egyptian counterparts, tend to ornate their productions with traditional patterns such as zigzags, circles and spiralling threads, similar to the ones present on our bowl, possibly suggesting a Syrian or Western Mediterranean origin.
Chiswick Auctions, Islamic & Indian Art, London, United Kingdom, October 26, 2018, 1:00 PM