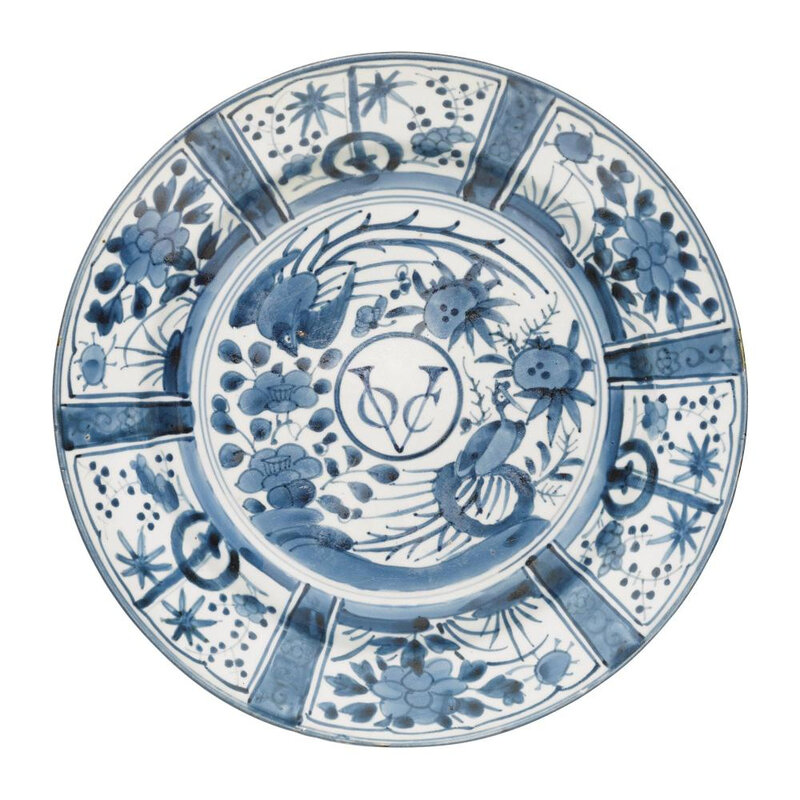 Lot 50. An Arita dish, Edo period, late 17th century; 39 cm, 15 3/8 in. Estimate £8,000 - £10,000. © Sotheby's
the circular dish with wide rim decorated in underglaze blue with a central roundel depicting the initials of the Dutch East India Company VOC (Vereenigde Oostindische Compagnie), surrounded by birds among foliage, bordered by six panels of flowers.
Note: Dishes with the VOC monogram demonstrate the role of the East India Company trade in East-West relations. The dishes are not mentioned in trade documents but were probably specially ordered for use by company staff at the factory on Deshima and other factories in Asia including Batavia.
For similar examples in the Ashmolean Museum Oxford see John Ayers, Oliver Impey and J.V.G. Mallet, Porcelain for Palaces, the Fashion for Japan in Europe, 1650-1750, an exhibition organised with the British Museum, (London, 1991), no.32 p.94; in the Metropolitan Museum of Art see Martin Lerner, Blue and White, Early Japanese Export Ware (New York, 1979), no.59, and see Oliver Impey, The Early Porcelain Kilns of Japan (New York, 1996), p.11.
For further discussion on this style of dish see Dr C. J. A. Jörg, Interaction in Ceramics, Oriental Porcelain and Delftware (Hong Kong, 1984), pl.63, p.108
Sotheby's. Fine Japanese Art. London, 06 Nov 2018, 10:30 AM