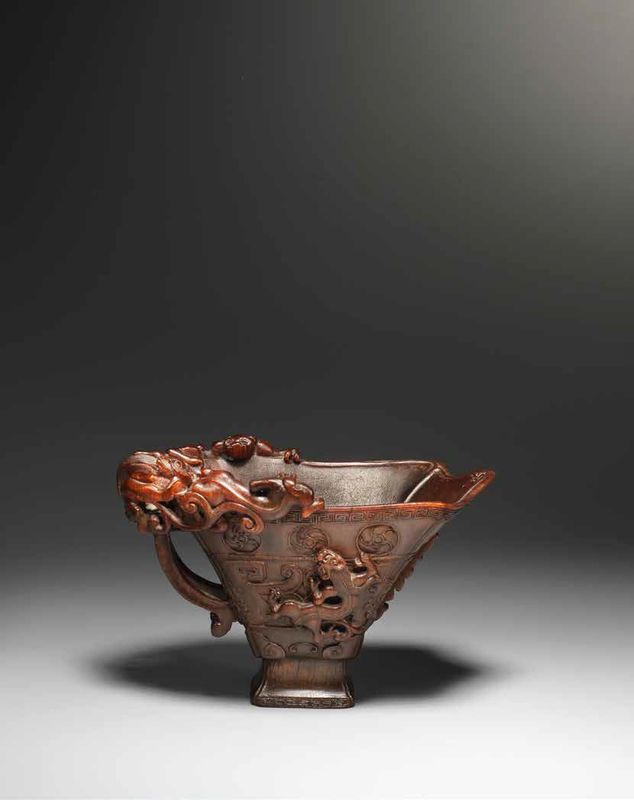 Lot 1. A finely carved rhinoceros horn 'chilong' libation cup, 17th century; 13cm (5 1/8in) long. Estimate £ 30,000 - 50,000 (€ 34,000 - 56,000). Sold for £ 68,750 (€ 78,875). © Bonhams.
The elegantly proportioned vessel, raised on a slightly recessed foot, well carved in high relief with five writhing chi-dragons clambering around the sides of the vessel decorated in low relief with a border of archaistic taotie masks divided by a curling flange on one side, the other side flanked by a curving double-strap handle, all below a border of whorl-circle medallions and above a band of ruyi-head lappets, the horn of dark caramel-brown tone.
Provenance: The Francqui Collection, Holland, from the 1920s, by repute
Gisèle Croës Arts D'Extreme Orient, Brussels, 2010
Jean-Yves Ollivier Collection.
Note: The present lot is a testament to the exceptional craftsmanship of rhinoceros horn carving achieved in the late Ming to the early Qing dynasty. The archaistic decoration of taotie masks, chilong, and florettes was adopted from ancient bronzes, reflecting the late Ming and early Qing trend of 'evidential scholarship' (kaoju xue 考據學) not only drawing from ancient texts, but also archaeology and inscriptions on archaic bronzes, as scholars sought an empirical approach to understanding their ancient heritage. This interest influenced craftmanship as evident in the present lot. Similar whorl-circle medallions can be found on a bronze lei, 12th-11th century BC, illustrated by R.Bagley, Shang Ritual Bronzes in the Arthur M.Sackler Collections, Cambridge MA, 1987, pp.424-425, no.76.

Compare with a related but larger rhinoceros horn libation cup, 17th century, carved with archaistic taotie masks and with chilong, illustrated by J.Chapman, The Art of Rhinoceros Horn Carving in China, London, 1999, p.140, pl.158.

See a related rhinoceros horn archaistic 'chilong' libation cup, 17th/18th century, which was sold at Bonhams Hong Kong, 29 May 2018, lot 52.
Bonhams. The Ollivier Collection of Early Chinese Art, London, 8 november 2018.