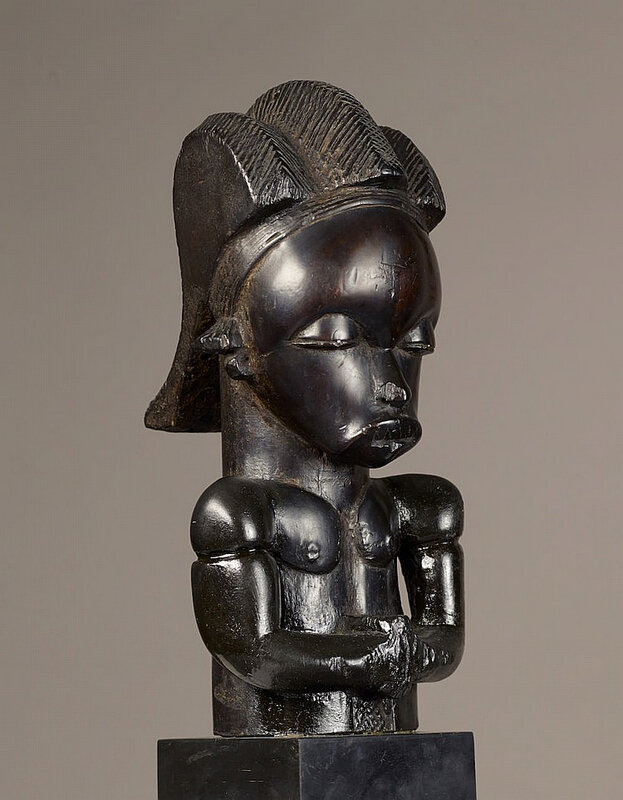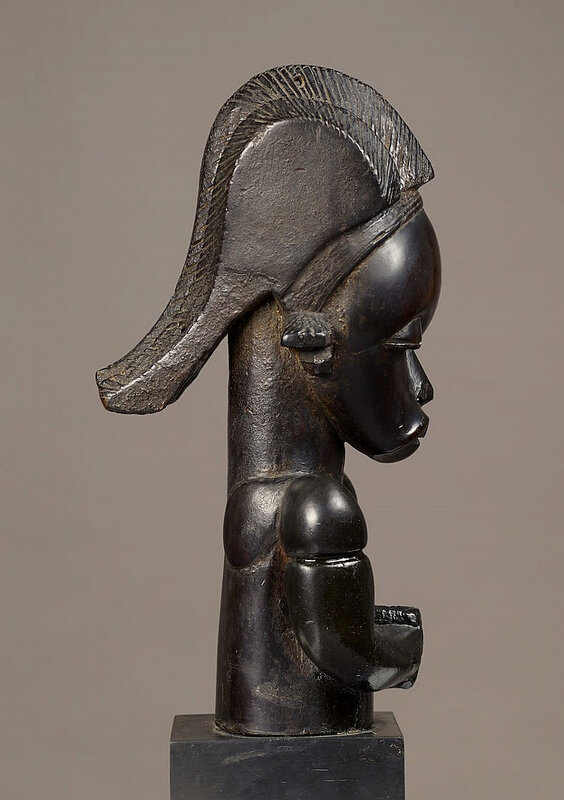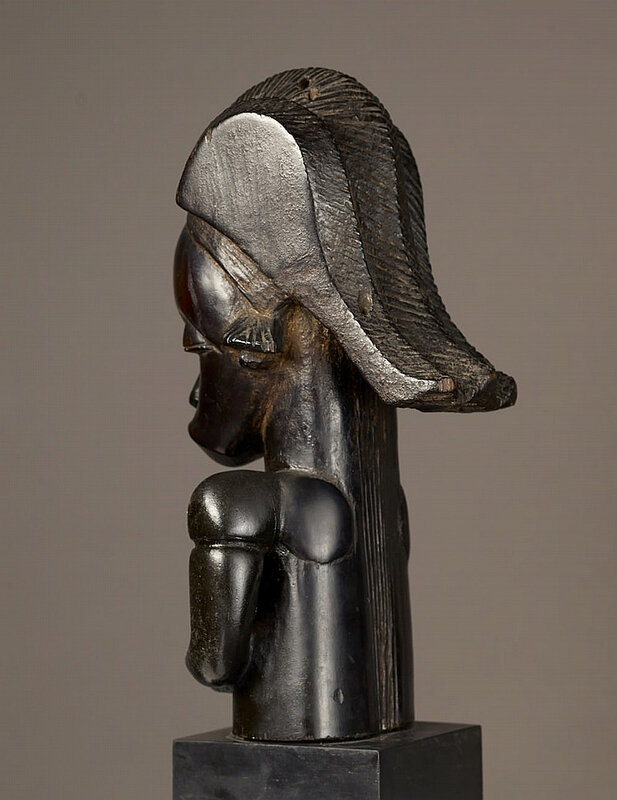 Lot 62. Buste de figure gardienne de reliquaire Byeri Fang Mvaï, Gabon (Vallée du Ntem). Bois. H. 29,5 cm. Estimation: €100,000 - €150,000. Adjugé 827 400 €. © Cornette de Saint-Cyr Paris.
Provenance: - Ancienne collection Jacob Epstein (1880 - 1959)
- Collection de M. et Mme P. (Très probablement acquis de Charles Ratton vers 1963)
- Transmis par descendance aux actuels propriétaires.
Exposé/Reproduit: - Londres, The Arts Council of Great Britain, The Epstein Collection of Primitive and
Exotic Sculpture, 25 mars - 23 avril 1960
- Fagg, The Epstein Collection of Primitive and Exotic Sculpture, 1960, n° 2
- Bassani et MacLeod, Jacob Epstein Collector, 1989, reproduit p. 41 n° 48 et p. 112, n° 267
- Apparait également en vitrine sur les photographies de G. Ireland prises sur place peu avant le décès de Jacob Epstein.

De par ses caractères stylistiques évidents, cette sculpture eyema byeri s'intègre à un des corpus les plus étroits et les plus prestigieux de la grande statuaire Fang dont Jacob Epstein constitua un des plus remarquables ensembles jamais réunis.
Le style Mvaï qui s'est développé au sein de ce petit sous-groupe du nord Gabon est de longue date considéré comme un des plus aboutis de la statuaire Fang dont les artistes Mvaï ont sans nul doute façonné quelques uns des chefs-d'oeuvre les plus marquants.
Au sein de ce micro-corpus, trois pièces manifestement sculptées par le même artiste sont unanimement considérées comme la plus parfaite expression du style Mvaï et généralement datées du XIX° siècle.
- Celle de la collection Leonce-Pierre Guerre (Marseille) H. 53 cm.
- Celle de l'ancienne collection Marc & Denyse Ginzberg aujourd'hui conservée au Dallas Museum of art (Inv. 2000.3) H. 54 cm.
- Celle de l'ancienne collection Katherine White aujourd'hui conservée au Seattle Art Museum (Inv. 81.17.783) H. 51 cm.
Oublié depuis plus d'un demi-siècle, le buste Mvaï de la collection Epstein présente toutes les caractéristiques formelles qui permettent de le rattacher à l'oeuvre du Maître ayant produit les trois chefs-d'oeuvre évoqués plus haut.
Parmi ces caractéristiques, on notera la coiffure en triple crêtes remontant nerveusement vers l'arrière, le traitement particulier des yeux avec inclusions de perles de verre, la bouche lippue laissant apparaître la dentition taillée en pointes, le torse aux pectoraux et épaules puissants, le traitement très particulier des doigts maintenant un réceptacle à offrandes, des scarifications abdominales, et les motifs gravés au dos descendant depuis la nuque.
La remise à l'échelle en tenant compte des proportions des autres sculptures du groupe permet d'envisager que cette sculpture a autrefois dû mesurer un peu plus de 50 centimètres comme les trois autres.
On notera enfin la superbe patine attestant d'un long usage arborée par cette sculpture, portrait d'un ancêtre au nom oublié, tout autant que celui de l'artiste qui l'a exécutée.
Références bibliographiques: - E. Bassani et M. MacLeod: «Jacob Epstein Collector» 1989
- L. Perrois, «Arts du Gabon. Les arts plastiques du bassin de l'Ogooué» 1979, - L. Perrois, Byeri Fang, 1992
- L. Perrois, Byeri Fang, 2006
- B. de Grunne. «Mains de maîtres. A la découverte des sculpteurs d'Afrique» 2001
Arts d'Asie - Art Tribal chez Cornette de Saint Cyr Paris, 75008 Paris, le 22 Novembre 2018 à 14h30. Expert : Cabinet Daffos-Estournel. Tel. : +33 6 09 22 55 13 – www.aaoarts.com.