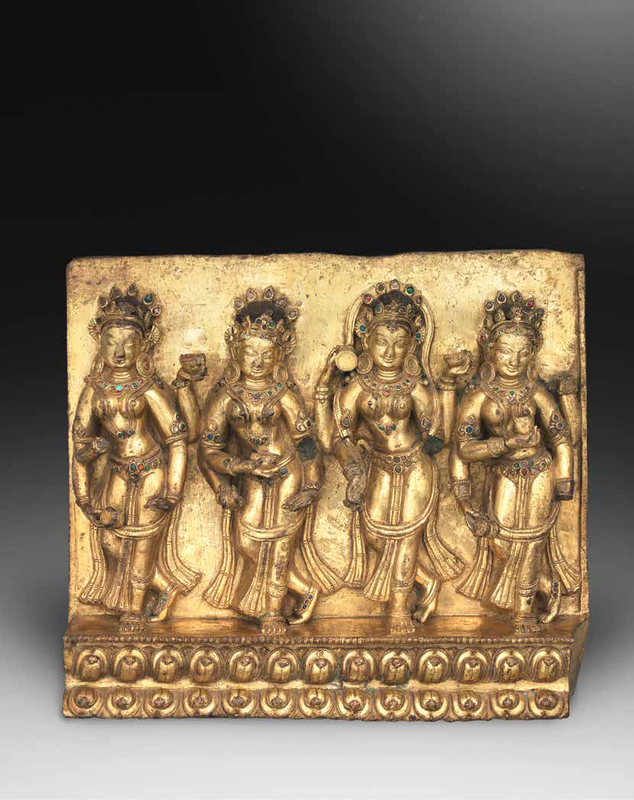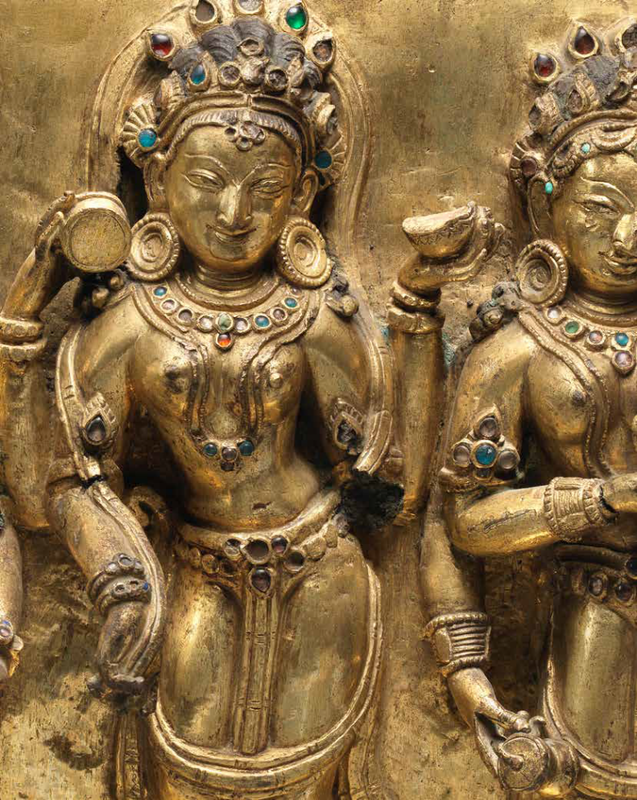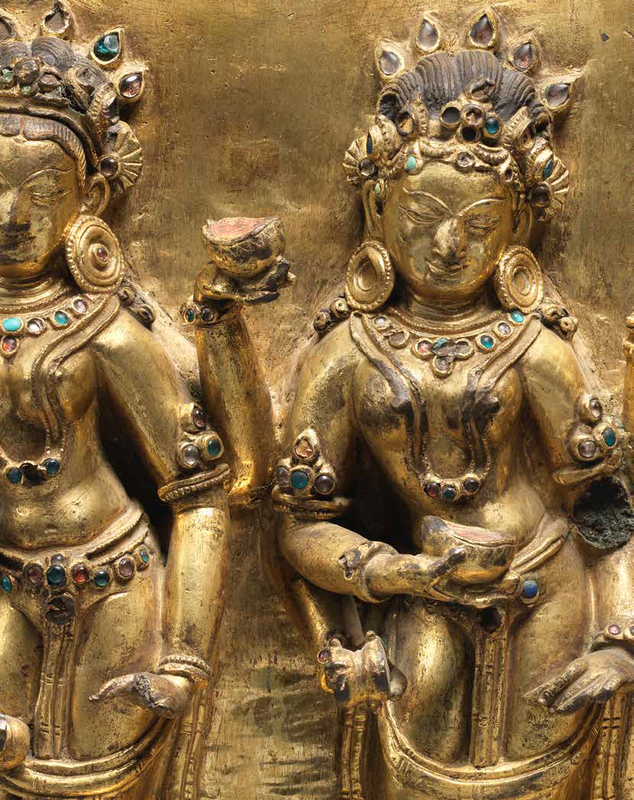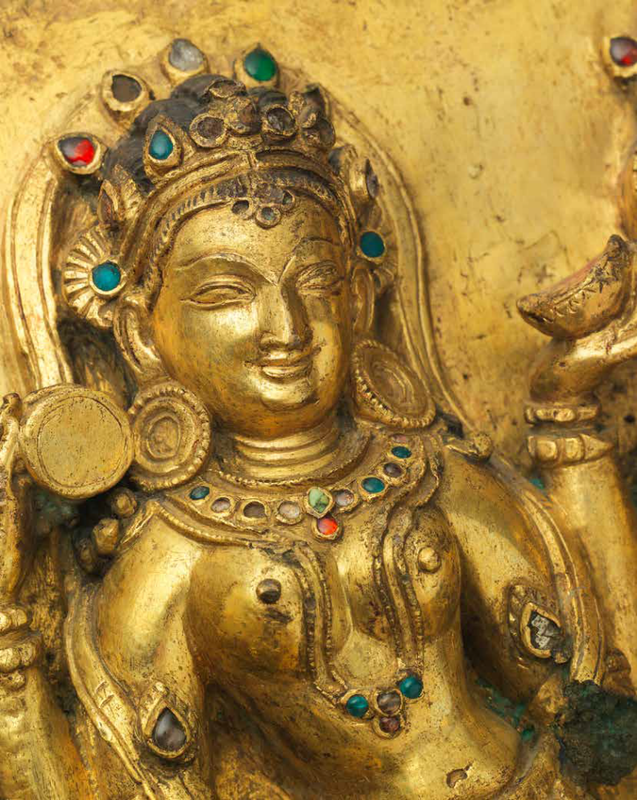 Lot 35. A fine and rare gilt-copper Densatil-style 'four dancers' frieze, 15th century; 37cm (14 1/2in) wide. Estimate £140,000 - 160,000. Sold for £ 175,000 (€ 201,026). © Bonhams.
The rectangular frieze heavily yet elegantly cast in high relief with four goddesses dancing on a single-lotus pedestal with a beaded rim, each figure with a serene expression standing with her right leg crossed over her left and head tilted to the left, holding musical instruments and ritual ornaments in four arms, all surmounted by tiaras and wearing long dhotis with a jewelled sash, adorned with large disc earrings and necklaces inlaid with various semi-precious stones, wood stand.
Provenance: Stephen K.C. Lo, P.C. Lu Works of Art Ltd., Hong Kong, 28 November 1995
Jean-Yves Ollivier Collection.
Note: The Kagyu monastic complex in Densatil, southeast of Lhasa, was founded in 1108, after the spiritual teacher Pagmodrupa Dorje Gyalpo travelled to the area near the Northern banks of the Tsangpo river. Pupils gathered at his side to form a simple monastery originally of grass huts, but after his death in 1170 the monastic complex was enlarged and a temple built.
From the mid 14th century, Densatil was ruled by the Phagmogrupa family, one of the most powerful ruling families of the time in Tibet. The family sought to extend its influence with a series of high-level gift exchanges with the Chinese emperors, and eventually they came to rule almost all of Tibet. Their wealth and influence is demonstrated by the astonishingly high quality of art produced under their patronage. The Densatil monastery became one of the richest in Tibet, and was renowned in particular for its metalwork and paintings by Newar artists from Nepal.
Evidence of the artistic importance and influence of Densatil can be seen in the records of the Italian traveller Giuseppe Tucci following his visit in 1948, and in the black and white photographs taken by the Italian photographer Pietro Francesco Mele who accompanied Tucci on the 1948 expedition; see P.Mele, Tibet, Calcutta, 1975.
Friezes such as the present lot would once have decorated the base of a stupa at Densatil, where eighteen large funerary reliquaries contained the mortal remains of the religious and political leaders of the Phagmogrupa. These friezes can now be found scattered in museum collections around the globe, including in the Musée Guimet and the Dallas Museum of Art. A similar frieze with four dancing maidens from the collection of Mr and Mrs John I.Eastman was included in the exhibition and illustrated in the catalogue by M.Rhie and R.Thurman, Wisdom and Compassion: The Sacred Art of Tibet, New York, 2000, no.240. See also a frieze from the collection of Philip Goldman, London, illustrated by von Schroeder, Indo-Tibetan Bronzes, Hong Kong, 1981, p.430, pl.113G.
Compare with a similar Densatil frieze with four dancers, 14th/15th century, which was sold at Bonhams Hong Kong, 27 May 2012, lot 281. Another similar Densatil frieze, 14th/15th century, was sold at Bonhams London, 8 November 2012, lot 260.
Bonhams. The Ollivier Collection of Early Chinese Art, London, 8 Nov 2018