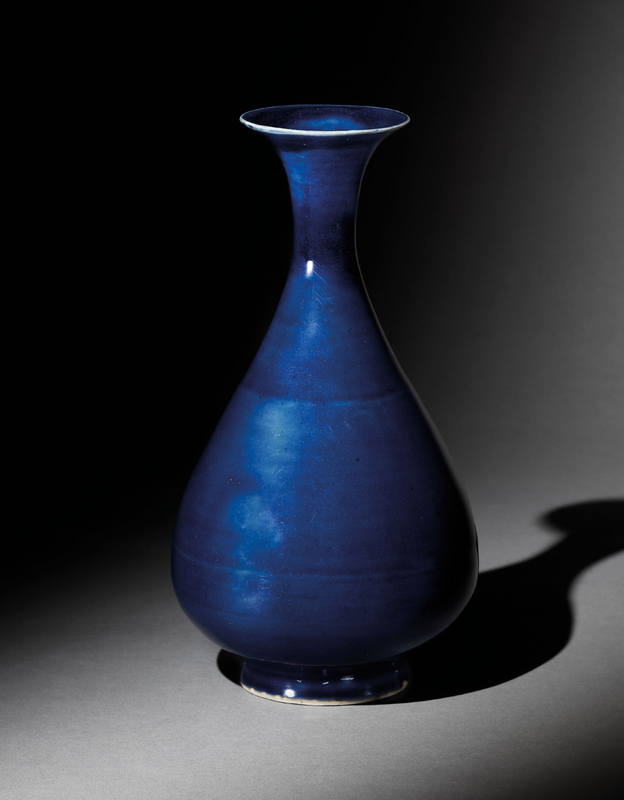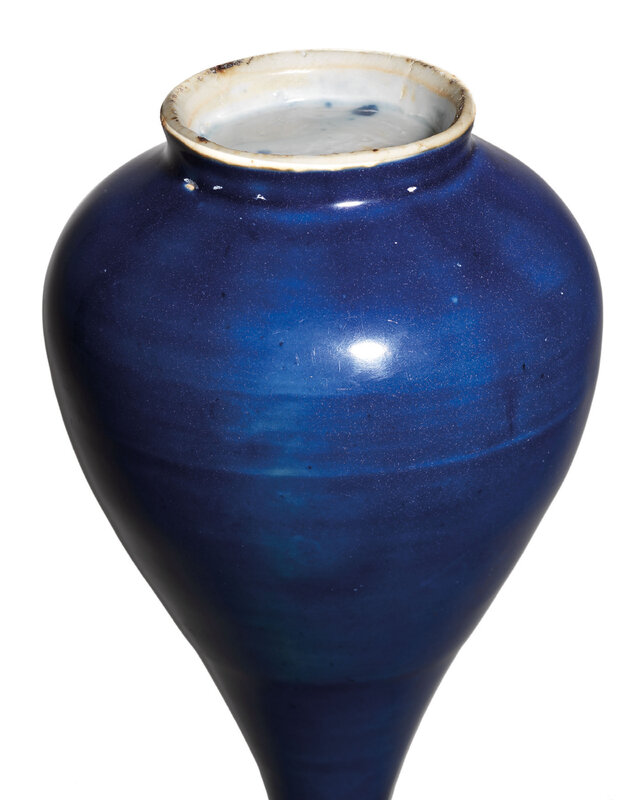 Lot 2903. An exceedingly rare imperial blue-glazed gilt-decorated 'dragon' vase, yuhuchunping, Yuan dynasty (1279-1368); 10 in. (25.5 cm.) high. Estimate: HK$3,000,000.00 - HK$5,000,000.00 (USD 384,525 - USD 640,875). Price realised HKD 4,300,000. © Christie's Images Ltd 2018.
The vase is elegantly potted with an elongated pear-shaped body rising to a slender neck and flared mouth, supported on a slightly splayed foot. It is covered inside and out with a rich, deep blue glaze, with traces of a dragon motif visible on the body. The base is applied with a transparent glaze, the unglazed foot ring revealing the fine white body Japanese wood box.
Note: The present vase, with traces of a dragon visible on the porcelain surface, would have originally been decorated with gilt, and is likely to be the only known example of a Yuan dynasty blue-glazed vessel decorated with a gilt dragon. Monochromatic blue glaze was first developed in Jingdezhen during the Yuan dynasty, with less than twenty known extant pieces today. There are three types of Yuan blue-glazed vessels. The first type is undecorated and applied overall with a monochromatic blue glaze, such as a pair of pear-shaped vases unearthed from a Yuan-dynasty hoard in Xingang Street, Fanchang County, Anhui province, illustrated in Yuanci zhi zhen, Beijing, 2009, pp. 77-78 (fig. 1). The second type is slip-decorated against a blue-glazed ground, such as a large blue-glazed charger decorated in slip with a three-clawed dragon motif, currently in the National Museum of Iran, exhibited in Splendors in Smalt: Art of Yuan Blue-and-white Porcelain, Shanghai Museum, 2012, pl. 38. The third type is gilt-decorated against a blue-glazed ground, like the present vase. Two examples including a blue-glazed bowl decorated with a prunus branch in gilt on the exterior, and a drinking vessel decorated on the interior with gilt cloud and leaf motifs, were excavated in Baoding, the latter is in the Palace Museum, Beijing, and illustrated in Monochrome Porcelain, The Complete Collection of Treasures of the Palace Museum, Hong Kong, 1999, no. 62 (fig. 2). However, no other example decorated with a gilt dragon appears to have been published, and it is very likely that the present vase is a unique example.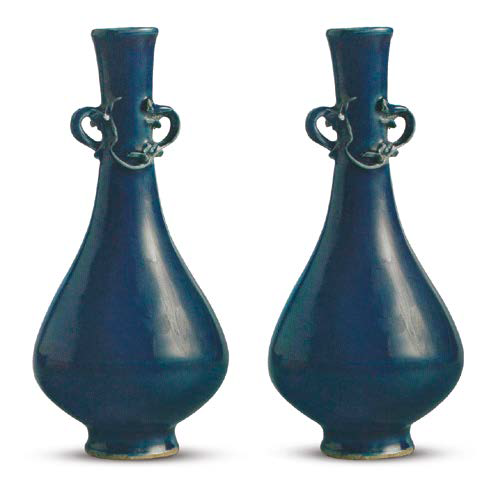 fig. 1 Pair of pear-shaped vases excavated in 1998, from the Yuan hoard at Xingang Road, Fanchang, Anhui province.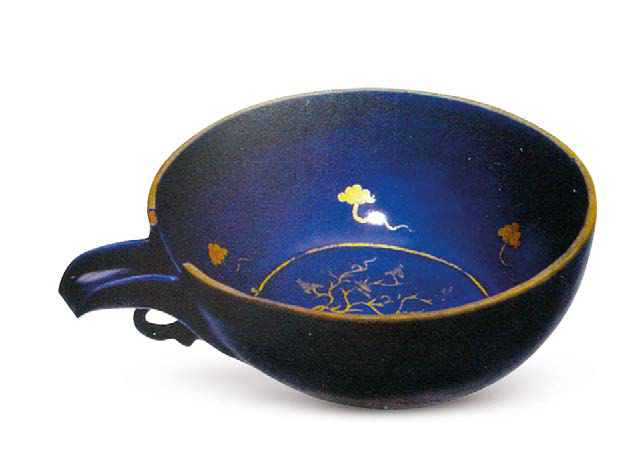 fig. 2 Drinking vessel decorated on the interior with gilt cloud and leaf motifs excavated in Baoding. Collection of the Palace Museum, Beijing.
According to Yuan Dianzhang (Compendium of Statutes and Sub-statutes of Yuan), published during the reign of Yuan Emperor Yingzong (1322-1323), Kublai Khan, upon establishing the Yuan Empire, decreed in 1271 that 'from this day onwards, no ceramics should be decorated with gold'. This explains why gilt-decorated blue vessels from the Yuan period are so rare.
Another historical document further illuminates why there are so few blue-glazed vessels decorated with dragon motifs. According to Yuan Shi (History of Yuan), compiled during the reign of the Ming Emperor Hongwu (1368-1398), the Yuan Emperor Renzong issued an edict in 1314 decreeing that 'commoners must not wear clothes decorated with dragons or phoenix, dragons meaning those with two horns and five claws'. Hence from 1314 onwards, the dragon motif was officially recognised as an Imperial symbol, reserved exclusively for the Yuan royalty. This accounts for the rarity of gilt dragons on Yuan-dynasty porcelains, and is also indicative that the present vase was very likely to be made for Imperial use.
Christie's. Important Chinese Ceramics and Works of Art, Hong Kong, 28 November 2018.