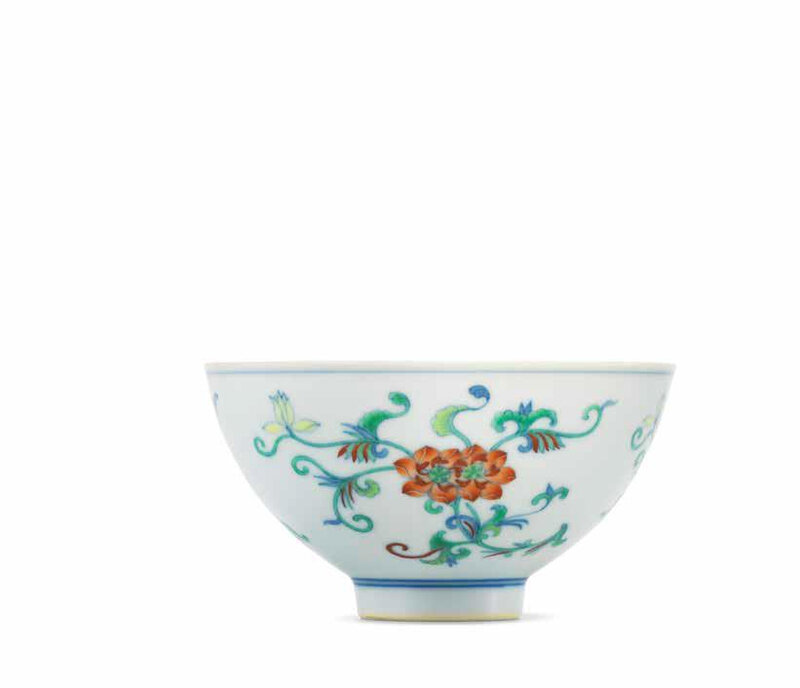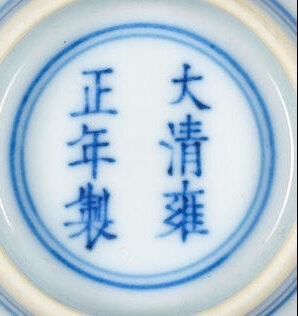 Lot 73. A very rare doucai 'double lotus' bowl, Yongzheng six-character mark and of the period (1723-1735); 12.3cm (4 3/4in) diam. Estimate: HK$600,000.00 - HK$800,000.00 (€ 67,000 - 89,000). Sold for HK$ 750,000 (€ 84,195). © Bonhams.
Elegantly and thinly potted, the exterior finely painted in soft underglaze blue with delicate outlines and brightly enamelled in vivid iron-red, soft yellow and green with three meanders of double-headed lotus issuing from foliate scrolls bordered by fine lines of underglaze blue, the centre of the interior with a similar medallion enclosing a lotus flowerhead, box.
Note: This form of bowl, sometimes known as a 'chicken heart bowl' (ji xin wan 雞心碗), with broad and deep curving sides atop a narrow, slightly inward-tapering foot, helps to create a greater sense of finesse, conforming to the exacting standards and aesthetic taste of the Yongzheng emperor. The Yongzheng emperor personally influenced the artistic direction of the Imperial kilns, achieving together with the celebrated kiln supervisor Tang Ying, an unsurpassed standard of quality, aesthetic subtlety and refinement. Such porcelain became known as the 'Inner Court manner' (Neiting gong zao zhi shi 內廷恭造之式), and is well represented in the present lot.

The motif of twin lotus flowers on one stalk provides the rebus for bingdi tongxin 並蒂同心, 'May you have a harmonious marriage and share the same ideas'. In the horticulturalist Chen Haozi's 陳淏子 (1612-?) book, The Flower Mirror (Hua jing 花鏡), he wrote that 'both among red and white flowers, there are those with one stem and two flowers'.

Compare with a very similar doucai 'double lotus' bowl, Yongzheng six-character mark and of the period, in the Palace Museum, Beijing, illustrated in Sun Yingzhou de taoci shijie, Beijing, 2003, pp.216-217. See also a closely related doucai'double lotus' bowl, Qianlong seal mark and of the period, in the Nanjing Museum, illustrated by Xu Huping, Treasures in the Royalty: The Official Kiln Porcelain of the Chinese Qing Dynasty, Shanghai, 2003, p.228.

See a similar pair of doucai bowls, Yongzheng marks and period, which was sold at Christie's Hong Kong, 1 December 2010, lot 3046.
Bonhams. Fine Chinese Ceramics and Works of Art, Hong Kong 27 november 2018.